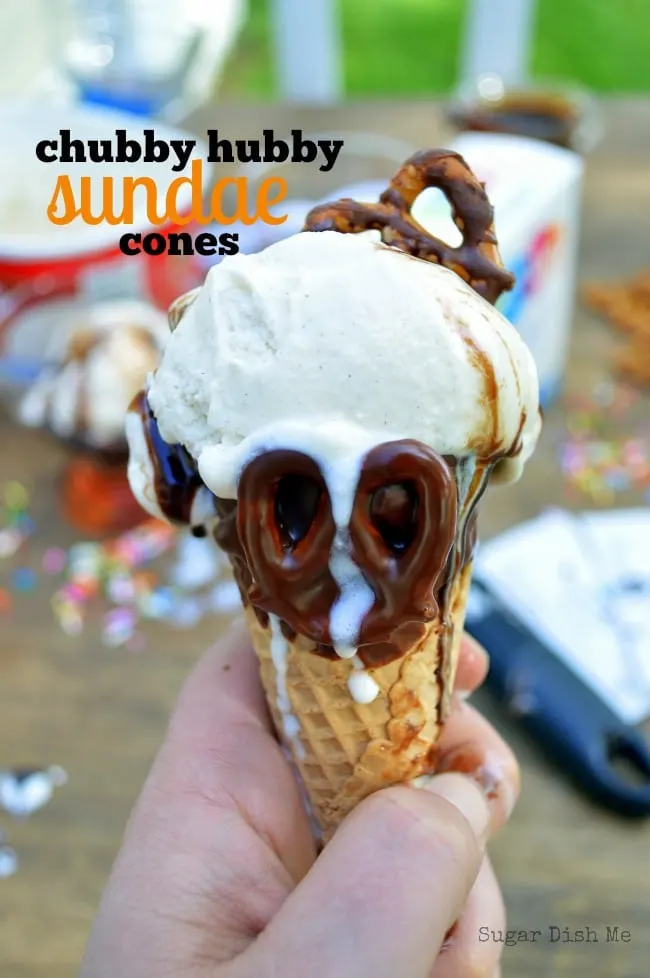 ***Disclosure*** This shop is part of a social shopper marketing insight campaign with Pollinate Media Group and Wet-Nap, but all opinions are my own. #pmedia #showusyourmess http://my-disclosur.es/OBsstV

You've probably noticed that I'm kind of messy.
For example… when I set up to photograph goodies for you to want to make and eat, some people have this amazing gift with elaborate tablescapes, pretty napkins, and perfectly placed utensils. I, on the other hand, am usually not satisfied until I have "decorated" the scene in front of me with an explosion of ingredients and a big giant mess.
The food tastes better that way. (#truth)
So on a perfect 83° day, you know I had to share a big, melty, perfectly chocolatey, peanut-buttery mess with you.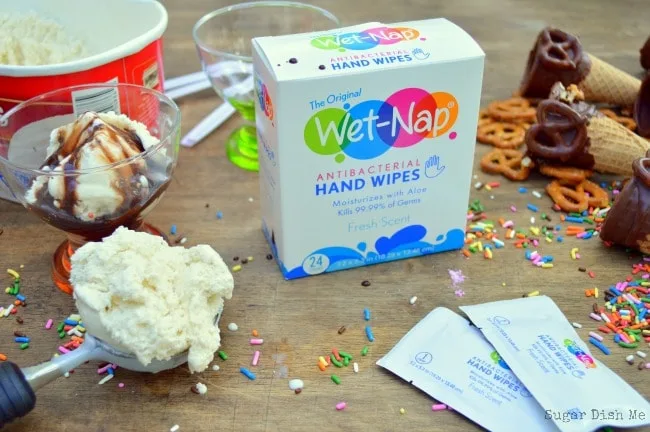 The even better news?
I learned how to clean it up.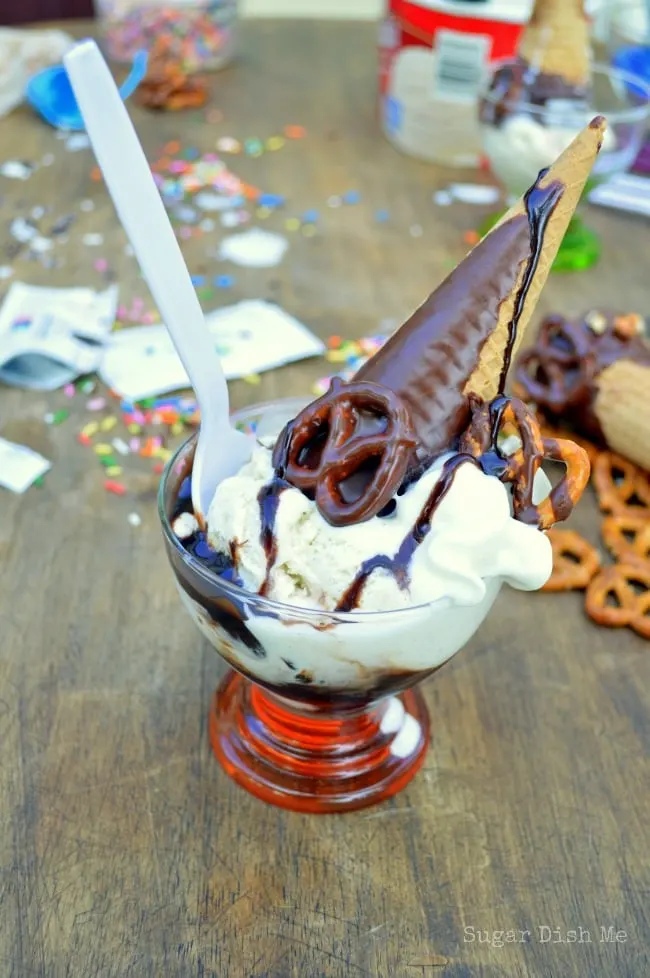 I made these Chubby Hubby Sundae Cones and set up this whole little sundae cone bar, complete with Wet-Nap wipes, to tell you all about how you'll love having them handy when you have sticky-fingered guests, or when your 11-year-old has a smudge of melted chocolate on his cute chub of a cheek, and it is no longer appropriate to lick your thumb and wipe it off. What I realized in the process is that I have no idea how I have gotten this far in my life as a mom, or my mess-making job without these things.
Drama! I knoooooowwwwwww!
But this is serious. When I'm working I always keep a damp cloth nearby because I try very hard not to gum up my expensive camera with frosting and cheese and pizza sauce. Often though, that damp cloth smells like onion or garlic or something because I just used it to wipe down my cutting board or wash a dish. And then my fingers smell like a combo of sticky dessert and old garlic funk. Ew. These little Wet-Nap singles totally solved that problem.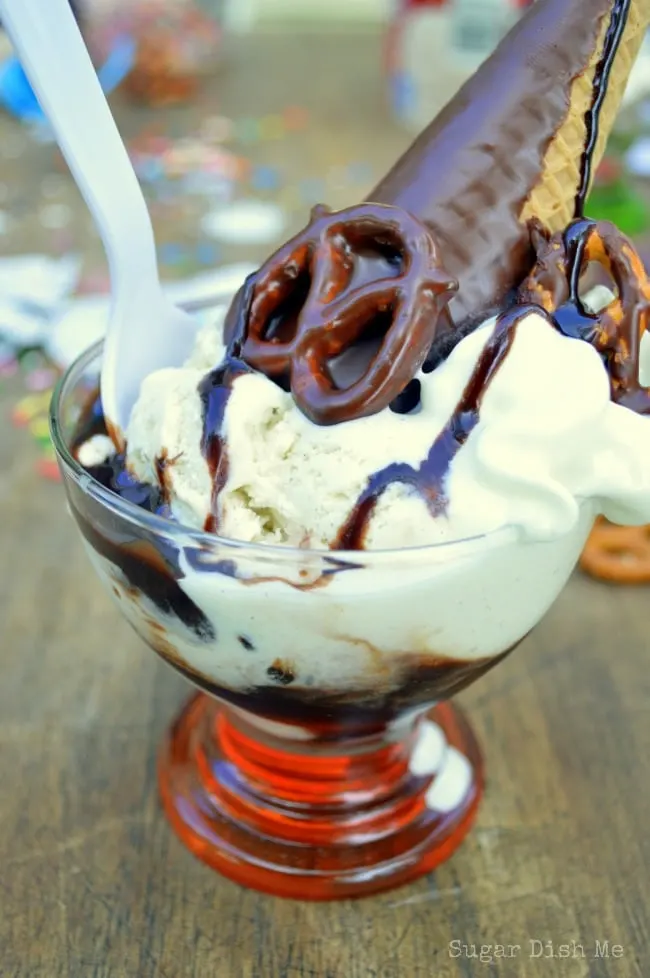 Probably most of you do not have a food blog though, and you actually eat your food rather than playing with it on a table situated on your front porch. I get it.
So I'll tell you where else I stashed these: My purse. My glove box (does anyone else keep a stash of drive-thru napkins in the glove box? I have since my boys were small, but these are 1000 times better than that). The kitchen. Chad's gym bag (yes.). The basket on the table where I made these cones into sundaes.
Sundae Cones for everyone!!!
And no more sticky fingers.
Setting up a Sundae Cone Bar is easy. You need ice cream (duh), chocolate sauce, whipped cream, pretzels, SPRINKLES, cute dishes that you found on clearance, spoons, Wet-Nap Packettes, and these Chubby Hubby Sundae Cones that will really make your life complete. No, really.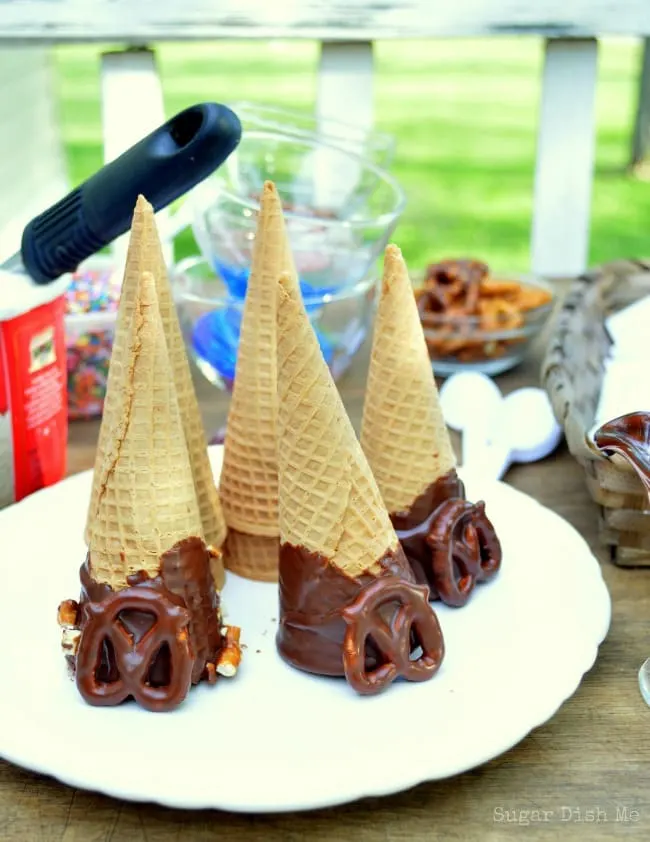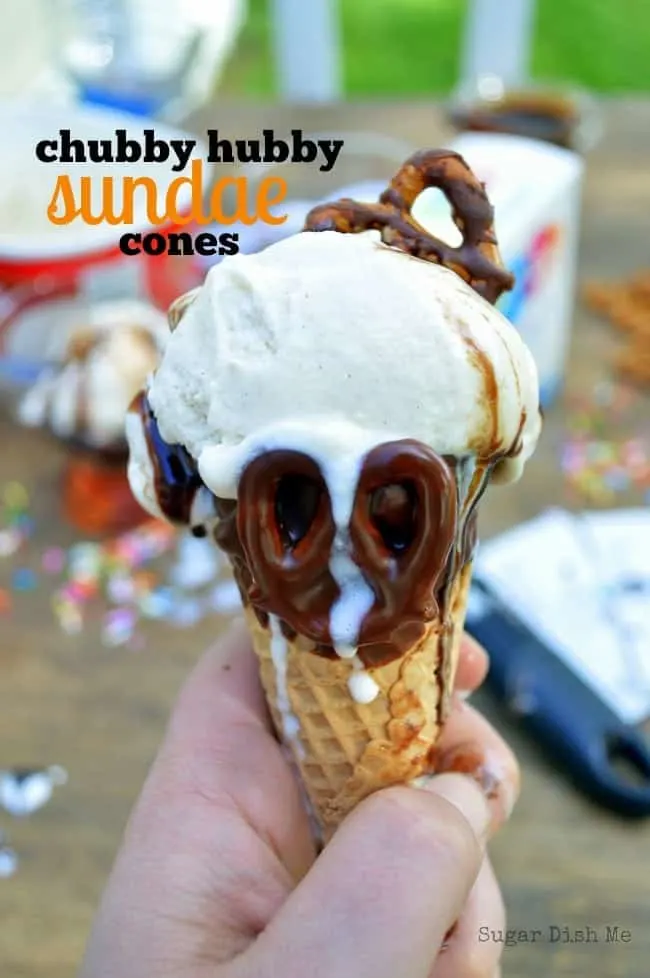 Yield:

6
Chubby Hubby Sundae Cones
Chubby Hubby Sundae Cones are sugar cones dipped in a chocolate peanut butter shell, and then fixed with dipped pretzels. Filled with ice cream, topped with chocolate syrup, more pretzels and whipped cream, these sundae cones are a delicious, EASY, FAST, summer ice cream treat!
Ingredients
6 sugar cones
1 teaspoon vegetable shortening
1/3 cup bittersweet or semi-sweet chocolate baking chips
2 tablespoons creamy peanut butter
12 mini pretzels
Instructions
Laying out a sheet of parchment or wax paper to place the dipped cones and pretzels on will be helpful!
Melt the shortening in a small saucepan.
Add the chocolate, stir once, and remove from the heat.
Continue stirring until the chocolate is smooth. Then add the peanut butter.
Stir until it's smooth. If your mixture is too cool to start with you may have trouble getting the peanut butter to melt completely. If that happens, return the saucepan to the stove on VERY LOW HEAT (no burned chocolate!!) and stir until the mixture is smooth.
Tip the pan sideways so the chocolate/peanut butter pools to one side. Dip the cones, swirling each to let the chocolate come about 1/3 of the way down, both outside and inside. Set them aside to cool.
Drop 6 of the pretzels in the chocolate/peanut butter to coat. Lift out with a fork, gently shake the drips off, and set them aside to cool.
Lay out the last 6 pretzels and drizzle with the chocolate/peanut butter. Let cool.
To fix the covered pretzels to the cone, spoon a little onto the side of the cone near the lip. Place a pretzel on top of the chocolate, spoon on a dab more, and let them set up (sometimes I use the freezer so they set up faster).
Fill each cone with ice cream, top, and eat
Notes
Quality chocolate will melt easier. Baking chips will also melt much easier than chocolate chips (chocolate chips have stabilizers in them). If you HAVE to use chocolate chips, you will have to stir longer and be more wary of the heat.
You can use coconut oil in place of vegetable shortening
Nutrition Information:
Yield:
6
Serving Size:
1
Amount Per Serving:
Calories:

440
Total Fat:

11g
Saturated Fat:

3g
Trans Fat:

0g
Unsaturated Fat:

6g
Cholesterol:

0mg
Sodium:

839mg
Carbohydrates:

79g
Fiber:

3g
Sugar:

14g
Protein:

10g
Wet-Nap is currently running a photo contest where you can upload photos of your messy kiddos and share the links across social media. The photo with the most votes wins $1,000 gift card to Walmart and a year's worth of product. More here:
http://contest.wetnap.com/
If you'd like to try the Wet-Nap products shown here, you can grab this coupon, good for 55 cents off regular price HERE. I found mine at Walmart where the everyday price was already low!