A simple, creamy, old fashioned favorite! This Creamy Egg Custard Pie is made with simple pantry staples, but uses Silk Cashewmilk in place of 2% for a smooth sweet and nutty flavor. Creamy Egg Custard Pie is based on a traditional family recipe with just a few small tweaks to make it all your own.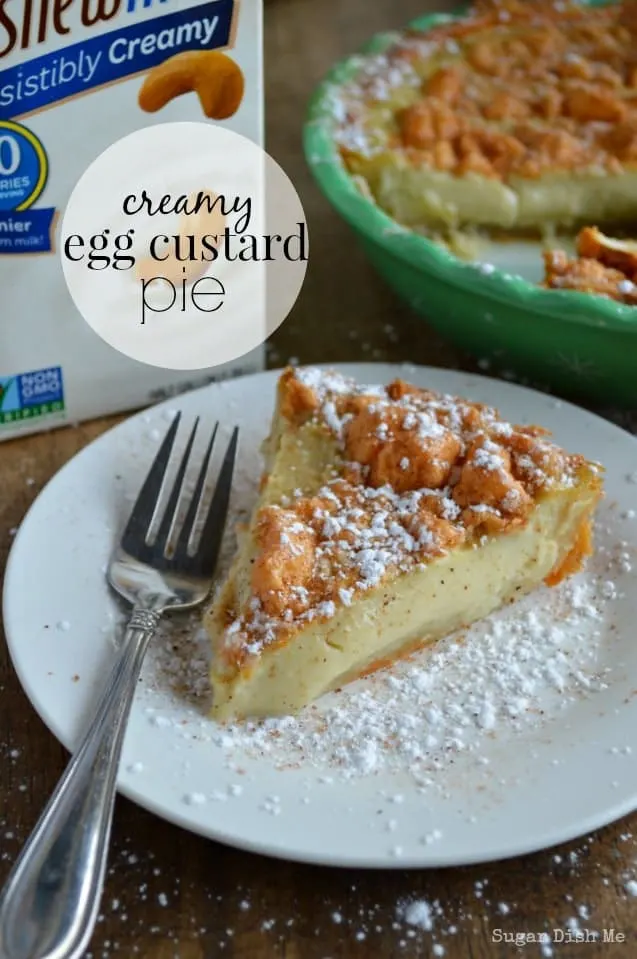 I have a confession.
I do not like milk.
At all. Ever. No way.
You might be surprised at the insane amount of cookies flying around this place and how they are all consumed without milk. Not a drop.
Please don't misunderstand me! I like all the things you make with milk – pie crusts and ice creams, cheesecakes and milkshakes, CHEESE. You guys know I love me some cheese! But I can remember my mom pouring me a glass of milk with my dinner as a kid, and me sitting there staring at it while I made my way through broccoli, peas, and even lima beans. But never ever my glass of milk.
I dribble just enough on cereal to get by.
I can remember my sister buying me calcium chews because she was concerned I was missing out on key nutrients, all while I tried to reassure her with my fridge full of yogurt.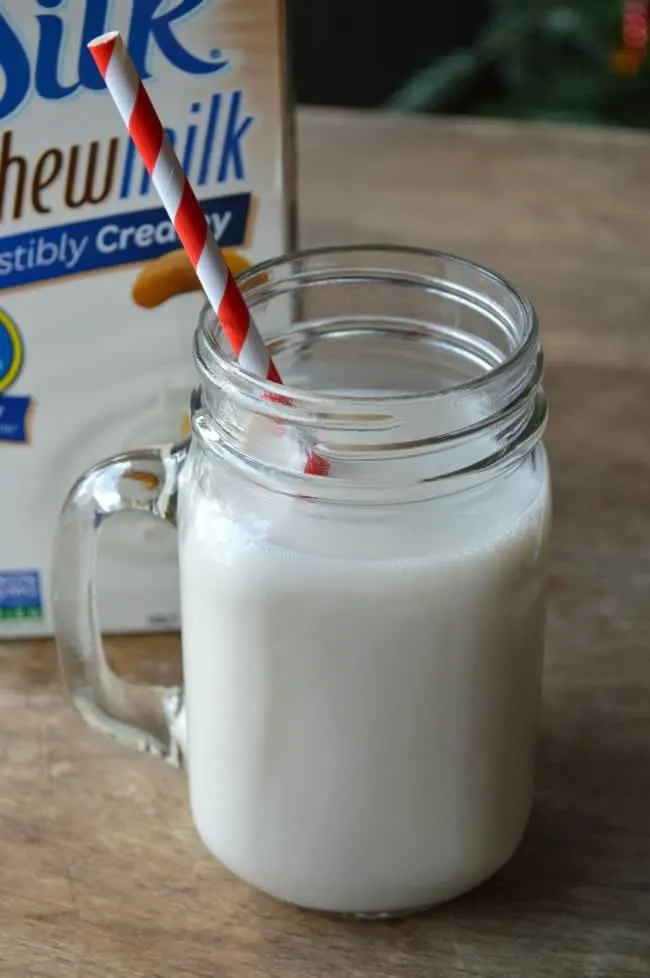 I feel like when I was younger there were not all these delicious alternatives to regular dairy milk hanging around. And if there were I had no idea they existed in my world of frozen broccoli and boxed mac 'n' cheese.
All of this is to say that if we'd had Silk Cashewmilk in the fridge I might have been a slightly less annoying kid at the dinner table. Unless there was creamed corn involved. That's one hurdle we are never jumping.
This stuff has 50% more calcium than dairy milk so my sister can stop worrying about my potential brittle bones. It's creamier than skim milk, and it has this very slight nuttiness that persuaded my taste buds that cashewmilk drinking is A-OK.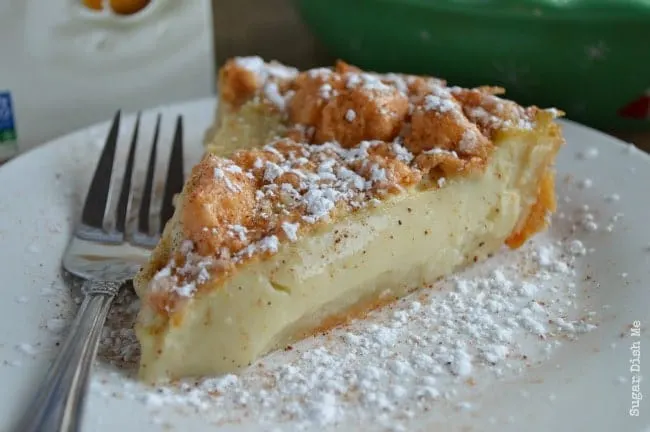 It was perfect on cereal – I even used more than a tablespoon!
But you guys know me — the true test for me with any product is to work it into a recipe.
This one was Chad's suggestion — I think the holidays have him craving his grandma's cooking and he has been asking me to make this egg custard pie. The traditional recipe calls for 2 1/2 cups of at least 2% milk, so I thought what better way to put creamy cashewmilk to the test than to use it as a substitute in a recipe that totally relies on creamy sweetness to help it thicken up and set.
It worked!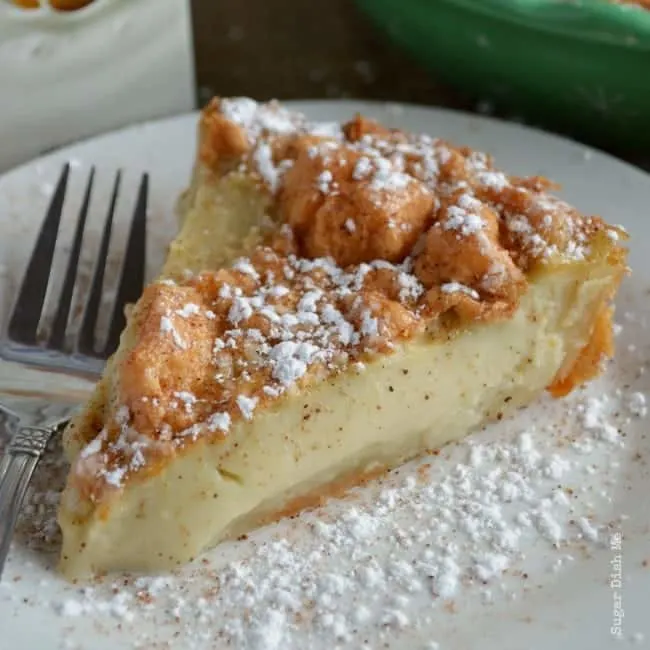 It took me a little longer to bake than a traditional egg custard and it has this just barely-there nutty flavor — but Chad didn't notice it. I may have detected it because I was looking for it, Chad may have NOT detected it because he inhaled two pieces like a grizzly bear.
That's how we know it's super good.
He also very happily had a glass with his No Bake Peanut Butter Nut Crunch Cookies (another favorite grandma recipe!).
The verdict:
Silk Cashewmilk is winning in this house. It's free of dairy, soy, gluten, lactose, cholesterol, eggs, casein, high fructose corn syrup, and MSG. It's also non-GMO verified. So basically it's all the things you want a product to be. I guess I sort of ruined the whole egg-free thing with all the eggs in this egg custard, but whatever. It's delicious. You'll see.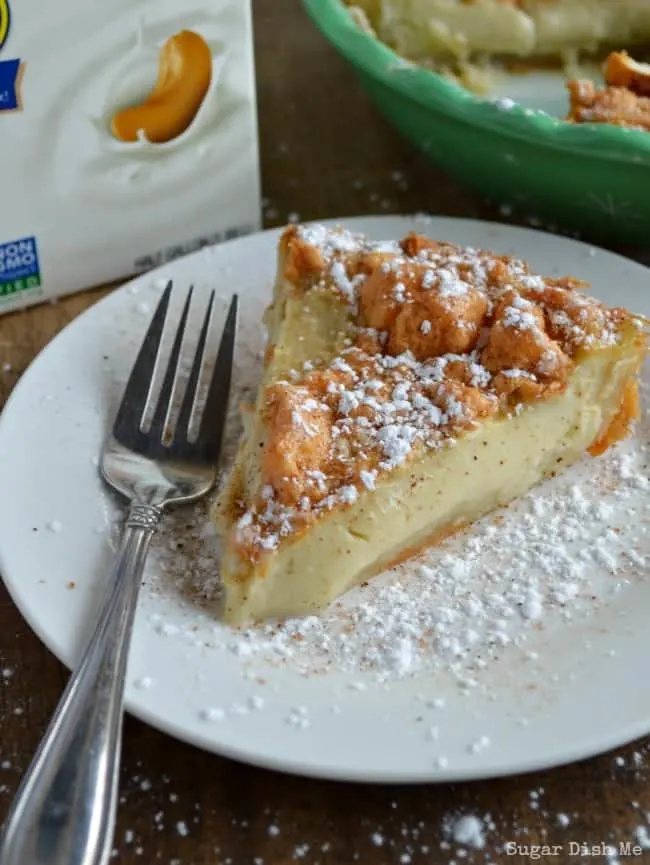 Creamy Egg Custard Pie
A slight twist on a traditional egg custard pie recipe! Just like your grandma used to make but with just a tad more sugar and Silk Cashewmilk! This pie is sweet creamy delicious with the option of a little meringue on top plus a pretty sprinkle of nutmeg
Ingredients
1 unbaked pie shell
4 eggs
¾ cup granulated sugar
¼ teaspoon salt
1 teaspoon vanilla
2½ cups Silk Cashewmilk
ground nutmeg for serving
Instructions
Preheat the oven to 450°F. Gently press the pie crust into an 8" pie pan and cut the excess off that's hanging over the side. Prick the shell all over with a fork. Cover with foil and bake for 8 minutes. Remove the foil and bake for 4 or 5 more minutes. Place the par baked crust on the counter while you prepare the filling.
Reduce the oven temperature to 350°F.
In a large bowl beat the eggs, sugar, salt, and vanilla until frothy. Slowly pour in the Silk Cashewmilk, whisking all the while. Careful pour the liquid into the pie crust. Cover the crust edges with foil.
Bake for 30 minutes. Remove the foil and bake for another 20 - 30 minutes. The crust edge will be golden and a knife inserted into the center will come out clean even though the custard will still look jiggly and not quite set. If you peek and feel like the crust or top is getting too dark during the last 30 minutes, you can tent the whole pie with foil.
Let the pie cool and then refrigerate.
I like this best served totally chilled with nutmeg sprinkled over the top.
Notes
You'll notice that the top of my pie has a weird fluffy meringue sort of appearance. If you'd like to try this you will make the filling with 3 eggs instead of 4. Separate the 4th egg placing the yolk in with the filling and the white in a separate bowl ( I used my stand mixer). Follow the instructions for making the filling. Beat the egg white until stiff peaks form. Gently fold it into the filling (it will not combine but will sort of float). Pour it into the crust and bake as directed.
You can sign up for the Silk newsletter for an instant coupon to try it for yourself (plus make this Creamy Egg Custard Pie)
After you try it out be sure to share what you think on the Silk Facebook Page (plus eat a slice of the pie you just made)
Follow the Silk Cashewmilk Pinterest board for other recipes and ideas
This conversation is sponsored by Silk. The opinions and text are all mine.