An easy no-bake cookie recipe using Planter's Holiday Nut Crunch, old fashioned oats, dark cocoa powder, and peanut butter! No Bake Peanut Butter Nut Crunch Cookies are a fast and fun treat based on a recipe that everyone's grandma has in her recipe box!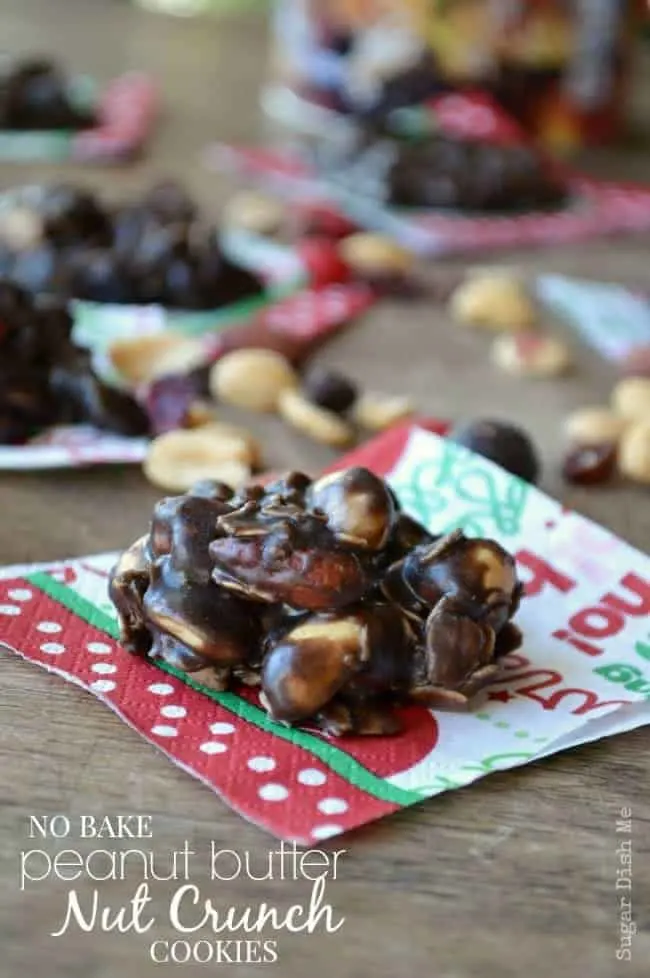 Content sponsored by #CollectiveBias and #GoNutsforNuts
Hello my name is Heather and I am a holiday snacker.
Also I am pretty much not sorry about that.
With all the social engagements and parties hosted, the holiday season is all about the awesome snacks [and drinks]. I mean… when else is it completely acceptable to trade a sit-down meal for a handful of crackers, or cookies, or some delicious herb dip? I am totally in my element. Because I love snacks.
Let's talk specifics.
Salty sweet is a requirement. You can't have all of one or the other on any spread. Or in any cookie box!
I've been mailing cookies like crazy, you guys. But we can discuss that another day (next Monday to be precise).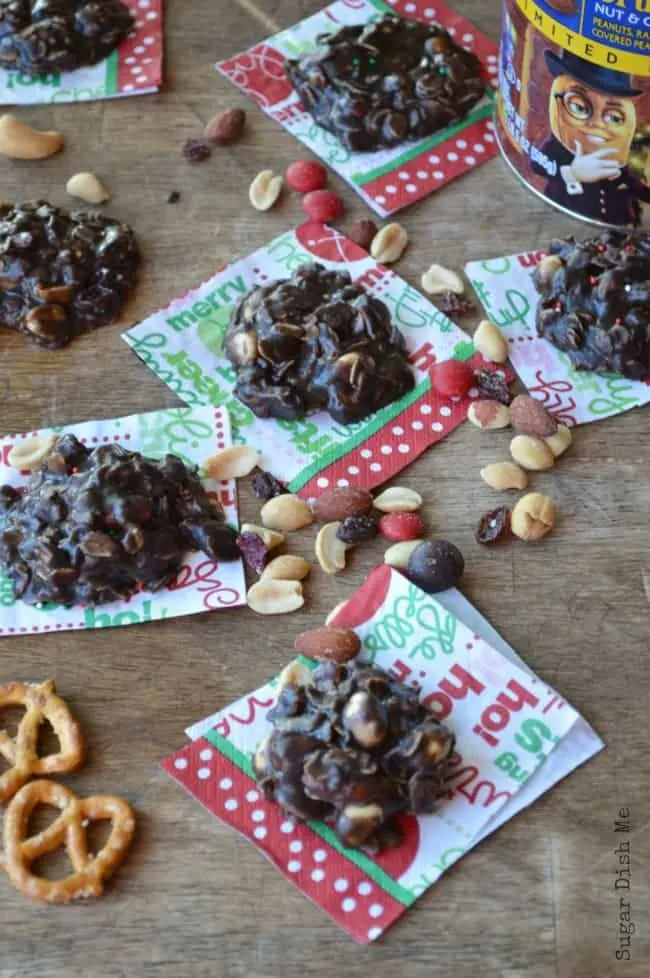 Because right now we need to discuss these No Bake Peanut Butter Nut Crunch Cookies and how they are basically like a combination of peanut clusters and those no bake oatmeal cookies that everyone's grandma makes. They are easy to make and ready to eat in less than 30 minutes. They make great hostess gifts, pack well in any cookie tin to be handed off to neighbors, and because of the oats AND all the nuts they offer some wholesome flavor to the salty sweetness.
And perfect for snacking.
Also they are a no-brainer because instead of buying 14 add-ins and spending $1000 on cookies you can just grab a tin of this Planter's Holiday Nut Crunch and stir it in.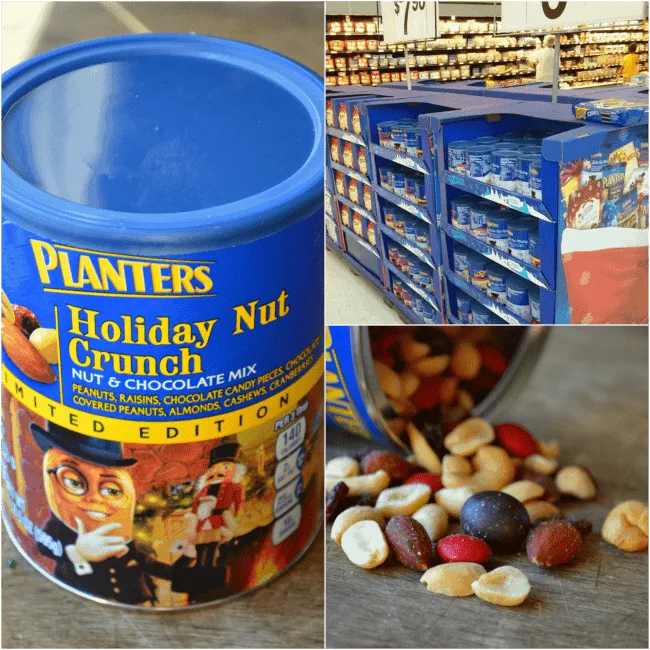 Full disclosure: I also bought the Planter's Brittle Nut Medley and planned to work it into some granola bars. But… it was too delicious and did not make it through the weekend between me and all the snack-lover's in this house.
The Holiday Nut Crunch has peanuts, raisins, candy-coated chocolate pieces, chocolate-covered peanuts, almonds, cashews, AND cranberries. It's like an all-encompassing holiday trail mix. And it was RIGHT ON in these cookies.
Alrightalrightalright.
sorry.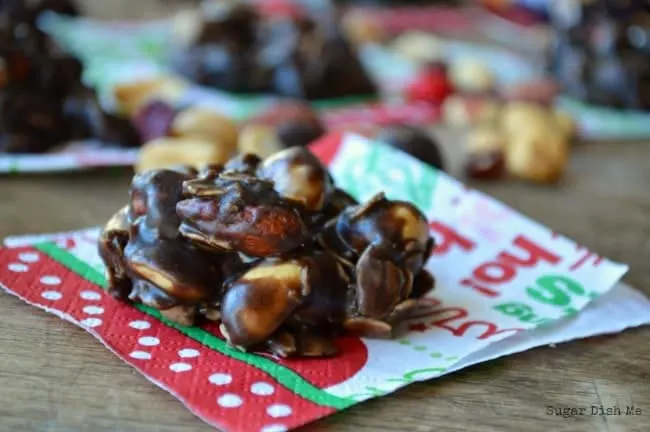 Seriously though, this is one of the easiest things I've made this holiday season! Such a fun twist on a familiar cookie.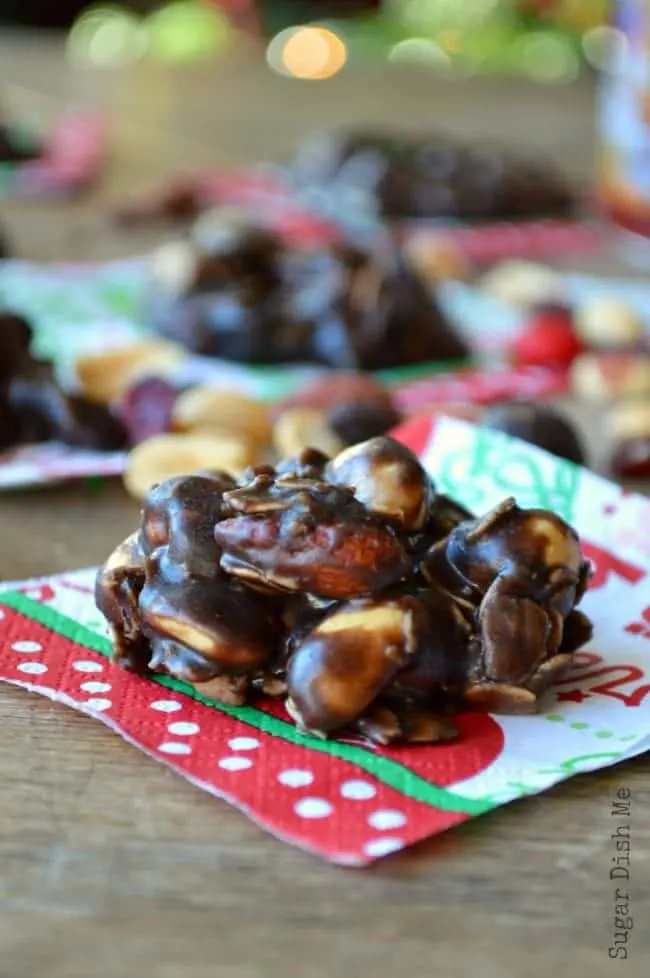 Notes:
I found my Walmart Planter's Holiday Sleigh Display at the end of the baking aisle near the refrigerated foods — it's colorful!!! You can't miss it.
You can also take a selfie with Mr. Peanut. I may or may not have done that … you will never know.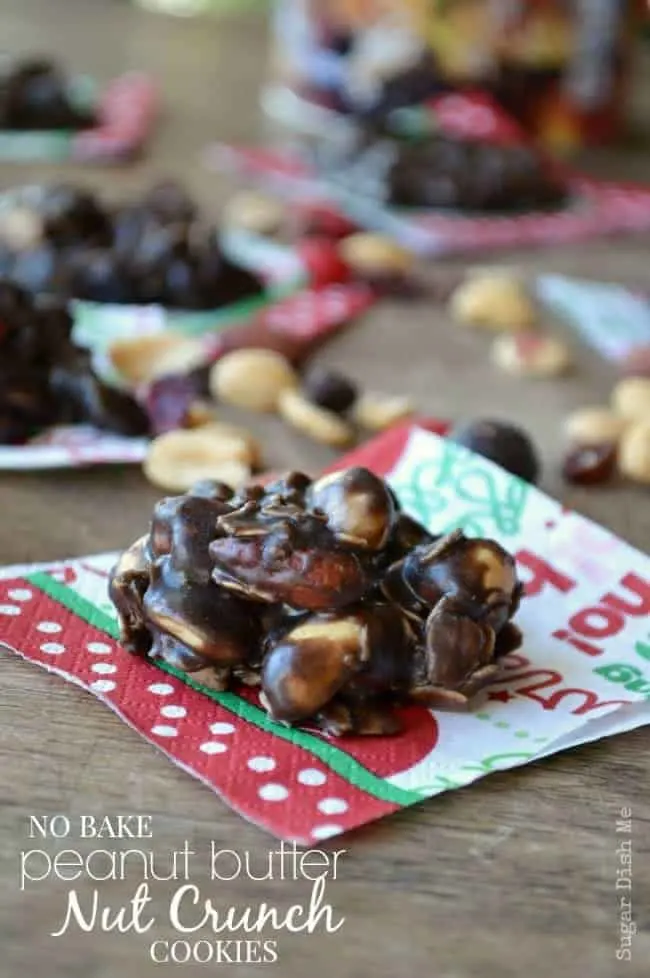 Yield:

30 cookies
No Bake Peanut Butter Nut Crunch Cookies
No Bake Peanut Butter Nut Crunch Cookies are made with dark chocolate, oats, peanut butter, and Planter's Holiday Nut Crunch. This is just a slight variation of that awesome no-bake cookie recipe everyone's grandma has in their recipe box, with nuts, chocolate candy pieces, and raisins mixed in.
Ingredients
1/2 cup unsalted butter
2 cups granulated sugar
1/2 cup milk
4 tablespoons dark cocoa powder
1/2 cup peanut butter
2 1/2 cups old fashioned oats
1 cup Planter's Holiday Nut Crunch
Instructions
Lay sheets of foil, wax paper, or parchment paper across a clean workspace.
In a large saucepan melt the butter. Stir in the sugar, milk, and dark chocolate cocoa powder. Bring the mixture to a low boil. Let it cook for no more than a minute.
Stir the peanut butter and vanilla into the hot liquid.
Fold in the oats and stir until they are coated. Then fold in the Planter's Holiday Nut Crunch.
Working quickly, spoon the mixture onto the prepared work surface by the rounded tablespoonful.
Let the cookies set up for at least 10 minutes before serving.
Nutrition Information:
Amount Per Serving:
Calories:

0
Cholesterol:

0mg
Sodium:

0mg
Carbohydrates:

0g
Fiber:

0g
Sugar:

0g
Protein:

0g
If you love quick Holiday treats you should also try…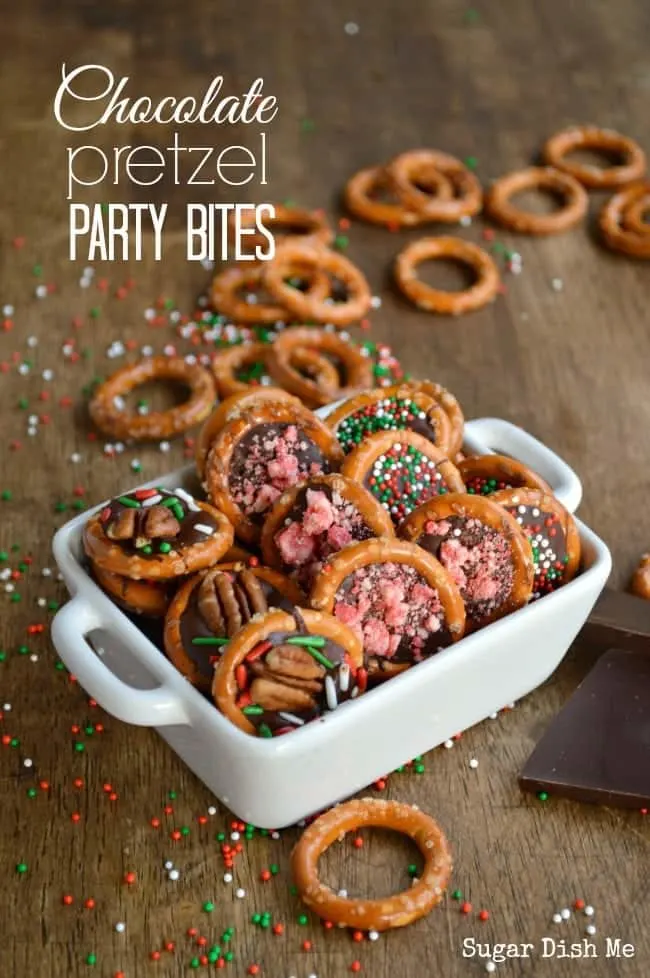 Chocolate Pretzel Party Bites!