Great on a biscuit, terrific on a salad, awesome with a side of potatoes. Crispy Cajun Chicken is dipped in hot sauce, breaded with Panko and homemade cajun seasoning, and then pan seared for the best crunch in town!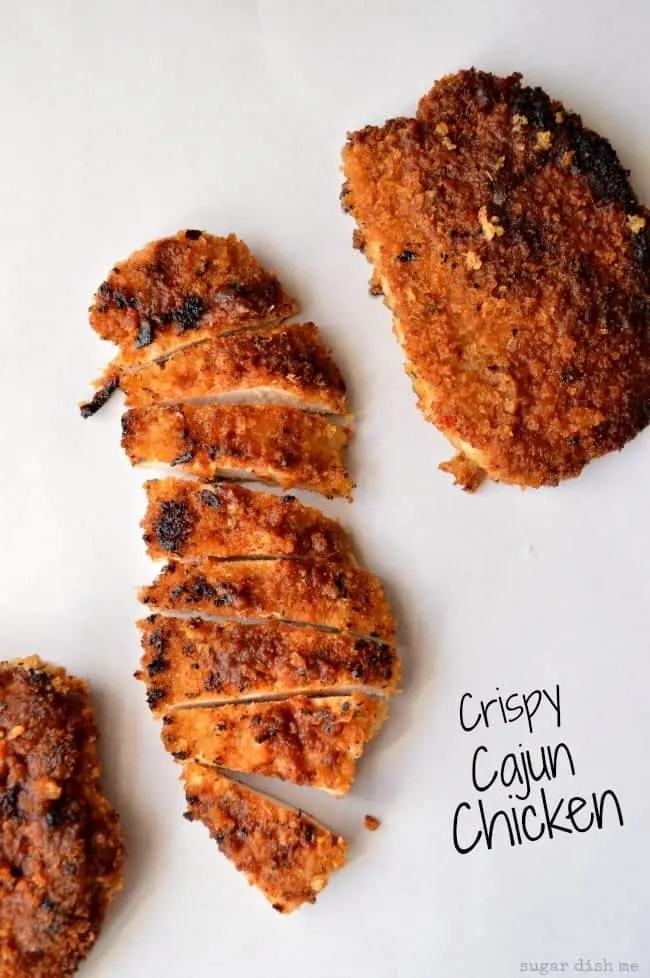 In the south there are a few foods you can always find without fail: fried chicken, and biscuits. And also banana pudding, but we'll save that for another day. Today I want to focus on this Crispy Cajun Chicken – inspired by fried chicken, but not quite fried.
Tomorrow we will tackle the big fluffy biscuits.
Crispy Cajun Chicken on a big 'ol buttery biscuit is one of my other half's favorite things to eat. And maybe I'm just picky, or I'm a terrible southerner (both?), but I'm hard pressed to find any chicken and biscuits here where I live that are un-greasy enough for me to eat. They taste good, but then after all is said and done I feel like a gross greasebomb. And if we are being real here I'd actually rather save the calories for Sour Cream Fudge Cake.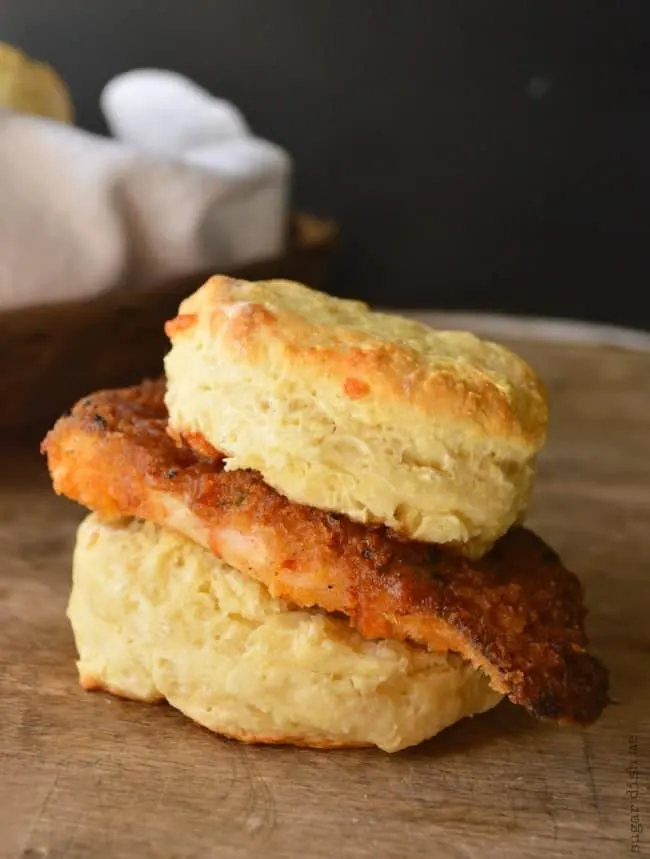 So I set out to make this crispy chicken classic at home, lightening things up a little bit while packing in as much flavor as possible.
Good Crispy Cajun Chicken starts with a good cajun seasoning. You can definitely purchase your favorite pre-made cajun seasoning if you don't have a stocked spice cabinet. Buying a bunch of spices you don't have/regularly keep on hand can be really cost-prohibitive. But if you DO have a good variety of dry spices hanging around, make your own cajun seasoning. You'll be so glad you did.
This is also a great way to start tapping into that pretty spice rack you got as a housewarming gift and never knew what to do with. You know what I'm talking about.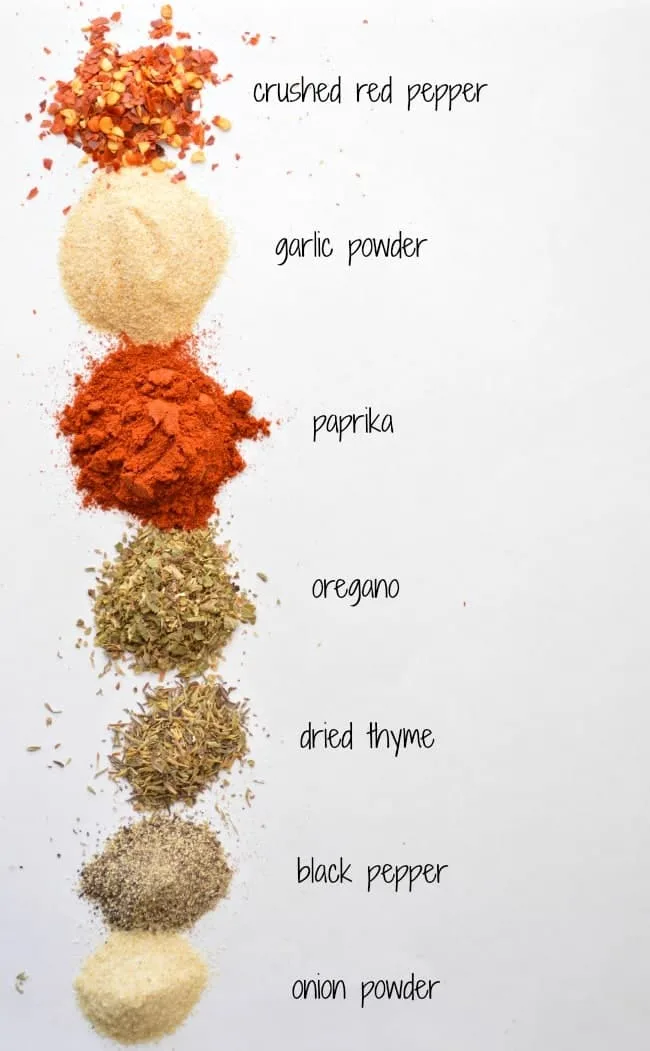 This is all you need!!!
Toss it all together with some plain Panko breadcrumbs and you have awesommmmmme coating for chicken. Bonus! this seasoning mix + the breadcrumbs makes enough for two batches, so divide it before adding the chicken and save some for later.
[socialpug_tweet tweet="Homemade Cajun Seasoning + Panko makes great chicken! Save half this recipe for batch #2″ display_tweet="Homemade Cajun Seasoning + Panko makes great chicken! Save half this recipe for batch #2″ style="1″]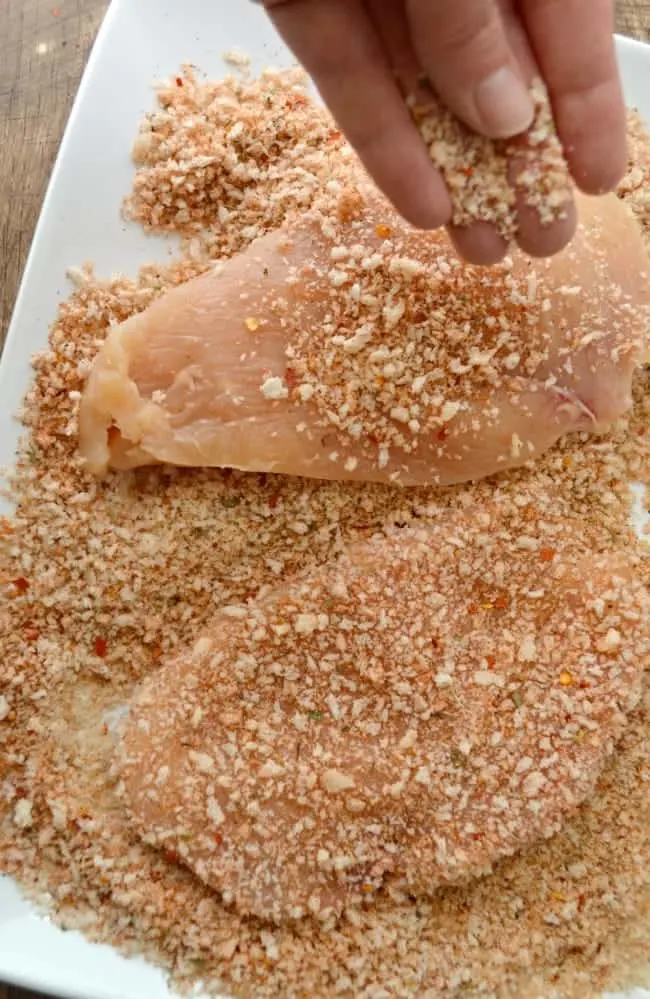 I opted not to really fry up this chicken. It's just sauteed in olive oil — enough to make it crispy crunchy, but not enough to make it greasy.
It's pretty much my favorite.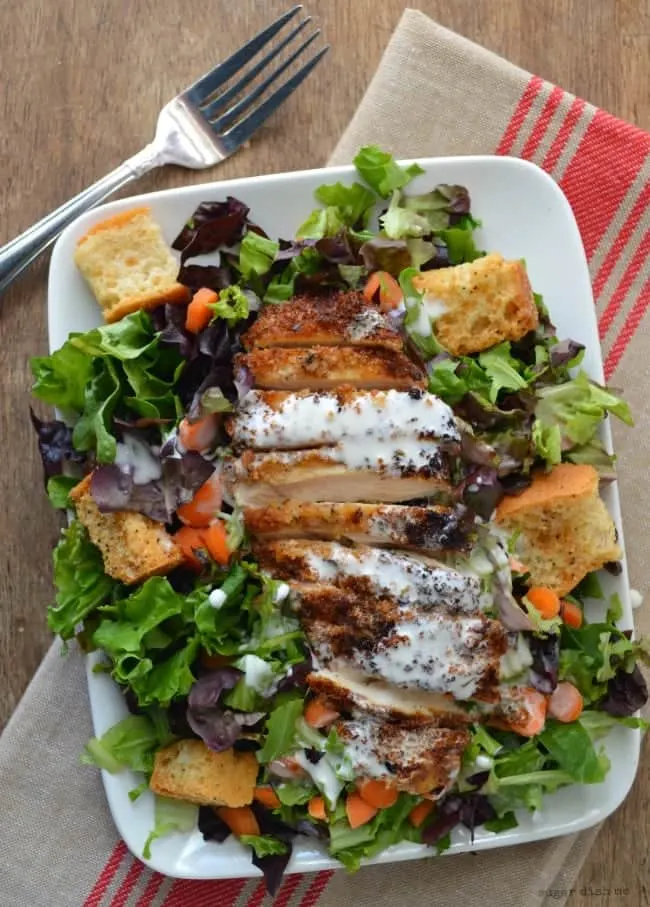 I am loving this chicken on a salad. It's perfect on biscuits. I love it with a side of potato salad.
It would also be perfect on a lettuce wrap or with a side of quinoa.
Crispy Cajun Chicken
Perfectly seasoned, breaded, and pan-seared, this Crispy Cajun Chicken is totally perfect on biscuits, chopped on a salad, or with a big 'ol side of potatoes. An easy, quick versatile recipe you will lo-ovvv-ve.
Ingredients
1 pound boneless skinless chicken cutlets (thinly sliced breasts)
¼ cup hot sauce of choice (I used Tabasco), plus more for dressing the finished chicken
3 tablespoons cajun seasoning (or 1 recipe Homemade Cajun Seasoning, shown below)
1½ cups plain Panko bread crumbs
3 tablespoons olive oil
Homemade Cajun Seasoning:
1 teaspoon crushed red pepper flakes OR cayenne pepper (see note)
1 teaspoon garlic powder
1 teaspoon paprika
½ teaspoon dried oregano
½ teaspoon dried thyme
½ teaspoon coarse ground black pepper
½ teaspoon onion powder
Instructions
Coat each piece of chicken with the hot sauce. I don't actually measure here, I just shake it onto both sides of the chicken.
Mix together the cajun seasoning and Panko breadcrumbs until they are evenly combined *** I like to divide this mixture in half so that the saved portion doesn't touch the chicken and can be used another day. I only use the second half if I feel like I don't have enough breading ***
Pour the breadcrumb/seasoning mixture into a shallow dish and evenly coat the chicken pieces on all sides. Gently shake off any excess.
Heat the olive oil in a large skillet.
Add the breaded chicken to the hot skillet. Cook over medium high heat for about 4 minutes on the first side.
Flip the chicken and cook for about 2 minutes on the second side. Cut a small slit in the fattest part of the chicken to check for doneness.
Remove the chicken to a plate lined with a paper towel and let it rest for 1 - 2 minutes before serving/ slicing.
Notes
1. I chose crushed red pepper for my cajun seasoning because I like the texture with the Panko bread crumbs. Cayenne pepper will coat the chicken more evenly with the heat and is great! Just use whichever you have on hand.