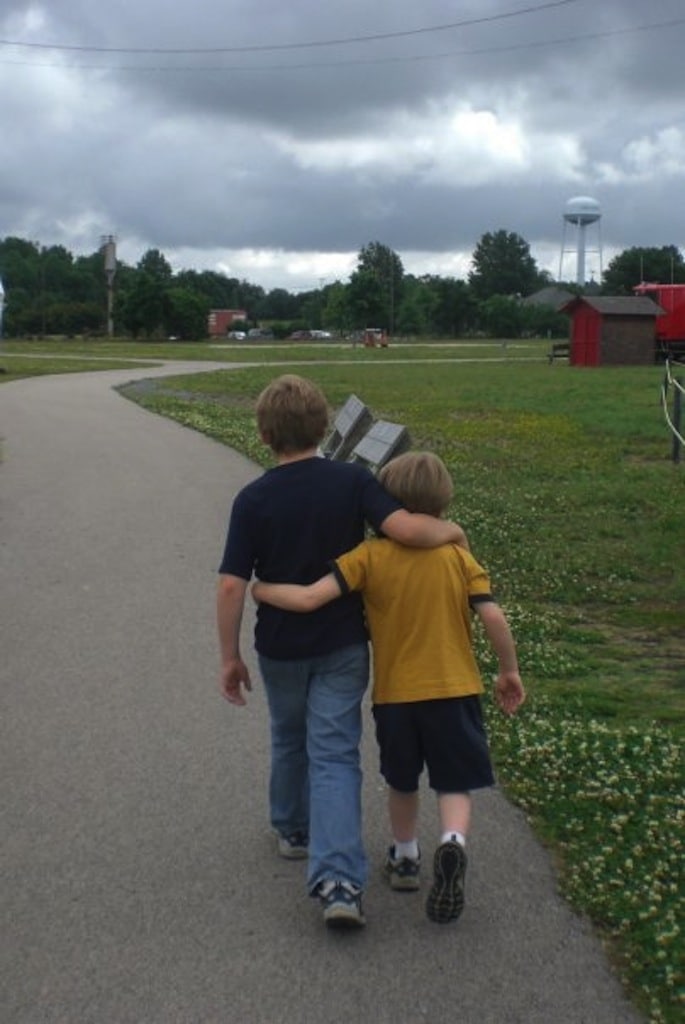 Originally published in February 2012. Always appropriate. True Love comes in so many forms.
This photo dates back to when my little boy was pocket sized and my bigger than little boy would still hold my hand.
To be fair, when this picture was taken, they were probably arguing about something. They are ALWAYS arguing about something.
But that's the beautiful thing about siblings. You pick and fight and take each other's things when you're small. You play games together and tell secrets and stories. You learn from one another (to this day my little sister still holds her pen some crazy way- just like me! – because when we were little we used to play school). You share a whole world of experiences. You grow together, no matter the difference in age. There are arguments and tears followed by laughter and good natured teasing.
These two cutie boys disagree every five minutes. They bicker and correct each other and deliberately get on each other's nerves. They tattle and storm off and drive each other bonkers. They heckle and harass… and sometimes they are downright mean.
But they also share whispers when they're supposed to be sleeping at night. They cheer each other on and lift each other up. The little one wants to be just like his big brother. Big brother always casts a watchful eye and a helping hand. They have inside jokes and contemplative conversations when they think no one is listening. Together they learn and ponder the world…
And they don't even know that it's true love. But one day they will.