Fluffy homemade biscuits made without the butter! These big and fat but still skinny Greek Yogurt Cheddar Biscuits ring in at just over 200 calories each. Perfect for breakfast, lunch or dinner, as a sandwich or on the side.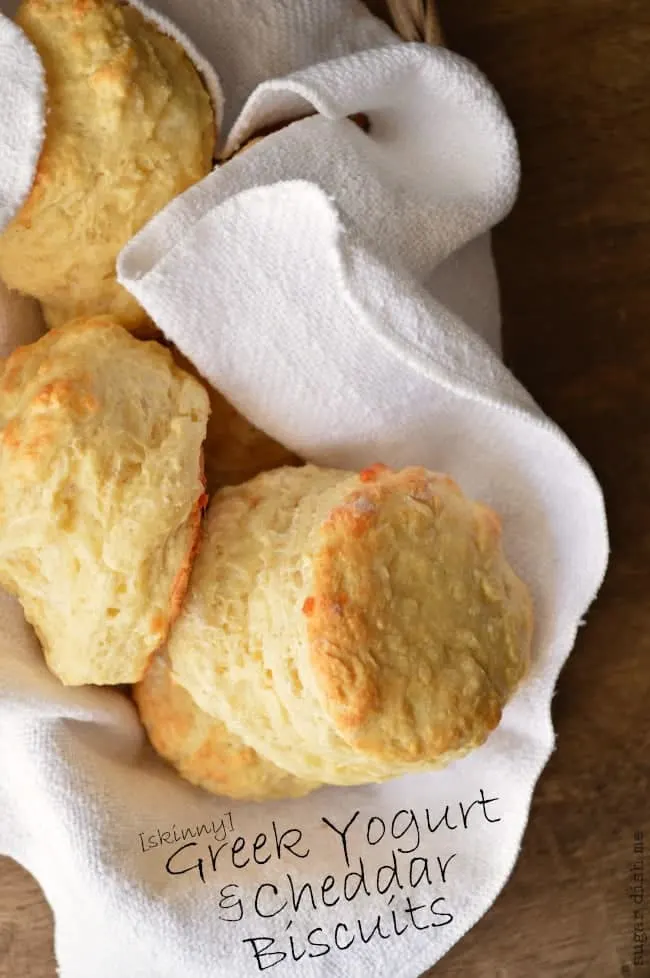 What good is Crispy Cajun Chicken without a big 'ol fluffy biscuit halves for it to be sandwiched in between?
I mean it's still good, but come on. You know your chicken needs a biscuit.
I spent YEARS trying to make good biscuits, you guys. If we are keeping it real here, I was basically happy with a can of flaky grands for the longest. And will still totally grab them for a quick breakfast casserole.
But with several years of practice ( wish I was joking — I definitely made this kitchen lesson 1000 times harder for myself than it really is) I finally got pretty good at making biscuits and savory scones — good enough to share quite a few recipes with you.
This one right here, though? It takes the biscuit cake.
What makes these the BEST Greek Yogurt Biscuits
There's lift. There's fluff. There's a little bite of cheddar and a buttery texture to the bread and omg it is like the most satisfying bite of biscuit you ever will have.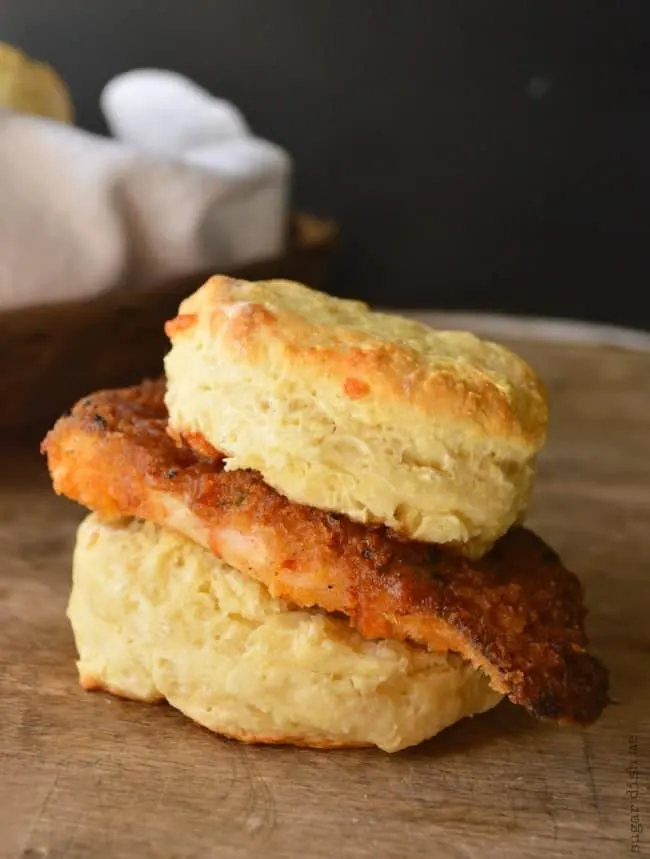 But I made them without any butter or lard at all. Which in Biscuit Land seems crazy.
This started with my favorite recipe for Jalapeno Cheddar Buttermilk Biscuits. I had this moment where I decided it would be really cool if I could make Greek yogurt stand in for the butter. I love a good buttery biscuit, but dang if I don't hate tallying up all those butter calories.
If you are looking for an AMAZING Big Fat Fluffy All Butter Biscuit Recipe, I have you covered.
Greek yogurt stands up well in baked goods so I figured it was worth a shot.
The cheddar was an afterthought, but a good one.
If you've made biscuits with me before, you know I really prefer to cut the butter into the flour using a box grater or cheese grater. It's an awesome method that also works well with pie crusts. It gives you nice uniform pieces and is less work than wrestling with two forks.
Since these biscuits are sans butter, there really wasn't a place to add the fat to the flour. –>> ENTER CHEESE <<–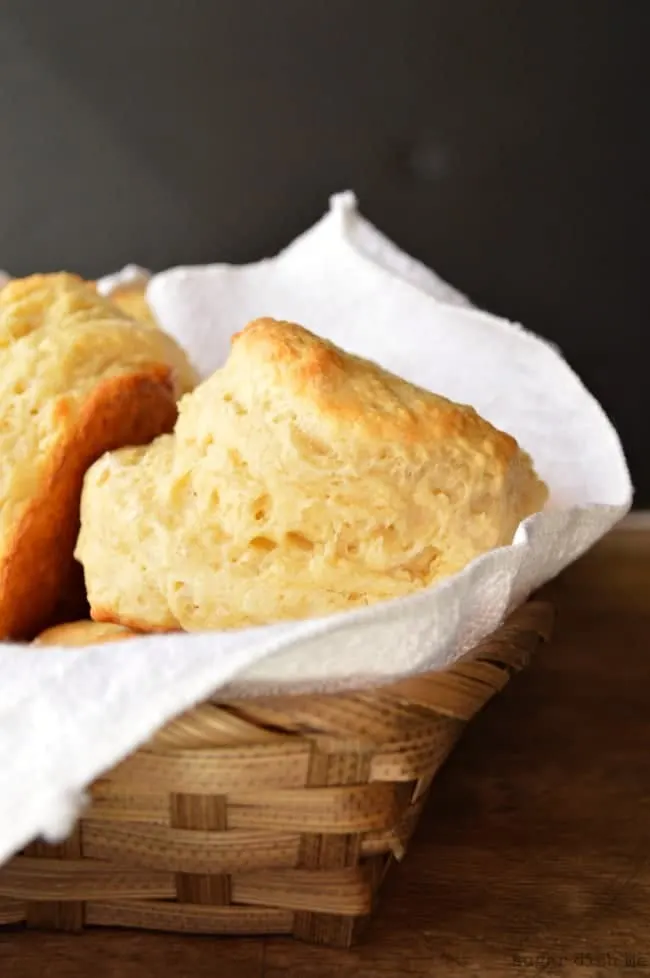 What do I need to make these biscuits with Greek yogurt?
So here's the place where I'm gonna school you on what products I used for this recipe. This is NOT sponsored content — I just think it's important to share with you what works well for me and why.
I used Cabot's Sharp Light Cheddar for these biscuits because I wanted taste and texture but wanted to cut the calories. It's my favorite "light recipe" ingredient — you can find it in other recipes like these Lightened Up Cheesy Broccoli Potatoes.
I also opted to use Cabot's Plain Greek Yogurt to make these, because it is INSANELY creamy and perfect and THICK. The thick quality is crucial here because hellooooo … there's no butter. If you have a favorite Greek yogurt that you think will stand up then go for it. For me Cabot is it.
Okay, so Tip #1 is thick yogurt + light cheese. Tip #2 is to keep everything COLD. Sort of like with cookie science. Cold = Fluffy.
[socialpug_tweet tweet="Thick @cabotcheese Greek yogurt + Light Cheddar make for AMAZING lightened up biscuits!" display_tweet="Thick @cabotcheese Greek yogurt + Light Cheddar make for AMAZING lightened up biscuits!" style="1″]
Baking is weird.
But Greek Yogurt Cheddar Biscuits are freaking delicious.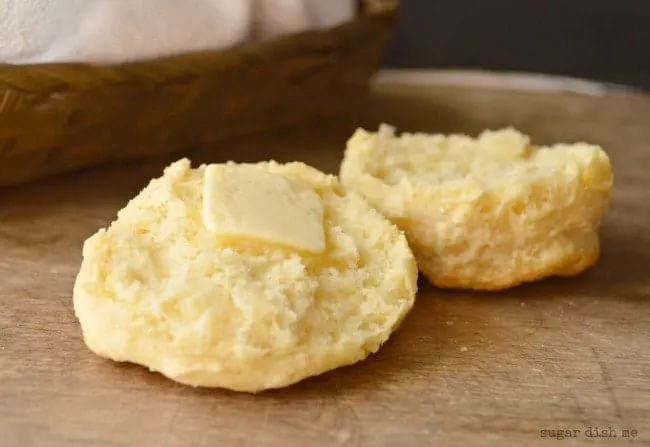 If you missed the recipe on Crispy Cajun Chicken you can find it here. Your biscuits are gonna need a good piece of chicken.
But they are also perfect with jam or with a fried egg tucked inside. They love bacon. too.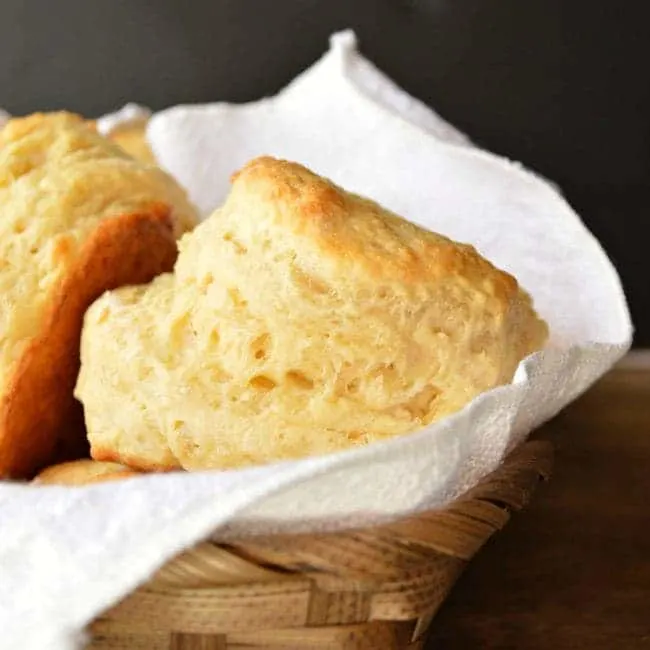 Yield:

8 biscuits
Greek Yogurt Cheddar Biscuits
Fluffy biscuits made without butter! Greek yogurt and light cheddar replace the traditional fats in this easy biscuit recipe for a lightened up biscuit that is loaded with protein!
Ingredients
2 cups all purpose flour (plus more for the work surface)
1 tablespoon baking powder
1/2 teaspoon baking soda
1 teaspoon kosher salt
3/4 cup THICK plain Greek yogurt
1/2 cup cold sharp light cheddar cheese, shredded
1/2 cup cold milk (or buttermilk)
1 large cold egg
Egg Wash:
1 egg + 1 tablespoon water
Instructions
Preheat the oven to 400F. Line a baking sheet with parchment paper or lightly spray with non-stick cooking spray.
In a large bowl whisk together the flour, baking powder, baking soda, and salt. Spoon the Greek yogurt into the bowl and add the cheese but don't combine the ingredients yet -- put the bowl in the freezer.
Measure your buttermilk or milk into a liquid measuring cup and whisk in the egg. Put the mixture in the fridge for a minute while you mix up the egg wash and flour the counter where you'll be working.
Grab the bowl from the freezer and the milk/egg mix from the fridge. Pour the milk into the bowl and use a rubber spatula to combine everything. Add a little more flour if the dough seems too sticky.
Turn the dough out onto the prepared work surface and with floured hands pat it out to about 3/4" thick. Cut 16 circles using a 2" biscuit cutter or a floured juice glass. If you are making "regular" biscuits you can just place the dough rounds on the prepared baking sheet, about 1 1/2" apart. If you are making BIG FAT biscuits (as pictured; approximately 208 calories each), then you're going to stack the rounds you just cut out. There's no need to pinch the dough together or anything. Just stack two together and place them on the baking sheet about 2" apart.
Brush the tops of the biscuits with the egg wash and then bake for 12 - 14 minutes (for "regular" biscuits you can check them at 10 minutes).
Serve warm.
Notes
I highly recommend making the big fat fluffy version of these biscuits. The taste is still there with the smaller version, but there's more fluffy biscuit texture with the big fat stacked version. This recipe will make 8 BIG or 16 regular biscuits
Nutrition Information:
Yield:
8
Serving Size:
1
Amount Per Serving:
Calories:

210
Total Fat:

7g
Saturated Fat:

3g
Trans Fat:

0g
Unsaturated Fat:

2g
Cholesterol:

63mg
Sodium:

652mg
Carbohydrates:

26g
Fiber:

1g
Sugar:

1g
Protein:

11g