So I guess this week I'm stuck on sandwiches.
They are basically the easiest thing to feed a house full of guys. SANDWICHES. Put all the food groups between two slices of bread and then run them out of the kitchen.
Also– 3 days ago I think I found Grocery Store Mecca.
We are plagued here by the worst of the worst grocery stores. These places make the Piggly Wiggly (please tell me you know what I'm talking about) at the beach look like Whole Foods. Might I mention though that we have not a Whole Foods or Trader Joes in sight? Can I get a Super Target out here? Dang.
I'm left with the store that rhymes with SchmalMart and two other grocery stores that seem to really like making buying food (which I obviously love) the most annoying chore on earth. Which explains the section on the blog called In a Pinch— a whole category dedicated to food I made with cabinet scraps because I could NOT make myself go to the grocery store.
Anyway. Now that you understand my serious #firstworldproblems, let me tell you about Grocery Store Mecca.
We were in the neighborhood we are house shopping in and decided to swing by that store on our way back home. When I first walked in the door a giant section was cordoned off with a sign that said, "Starbucks, Coming Soon." Do you guys even know how far I have to drive to get to Starbucks?!? This is a luxury that I definitely took for granted before I moved to the Twilight Zone. And then … the produce.
I found a store that sells more than iceberg lettuce and apples!!!!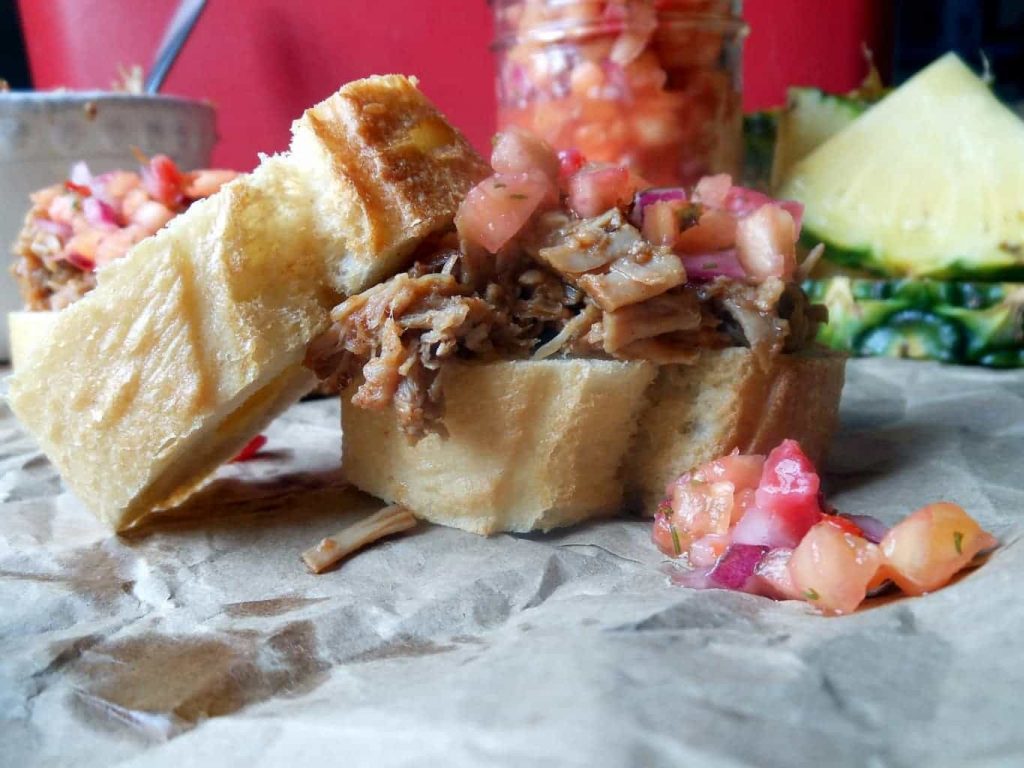 Right after I bought more fruits and vegetables than any family should reasonable consume, I found the deli. And they had Havarti Cheese. And they didn't look at me like I was stupid when I asked for prosciutto.
But the best part was the bread. They had gorgeous artisan breads to infinity. So I bought a ton. And now you get sandwiches. LOTS and lots of sandwiches.
P.S. I can't wait to live near that grocery store. Then we can really get down to business.
If you follow on Facebook, Twitter or Instagram, you know a couple of things– first, that Chad likes to grow ridiculously hot peppers and they are EVERYWHERE at our house. Second– this pineapple salsa might be the hottest pineapple salsa in the universe. I used a pepper called the Carolina Reaper in mine. It is one of the hottest peppers on earth. But all the fruit and natural sweetness and lime juice REALLY balance the spice. If you are not a fan of heat, go slow and just add a little bit of a milder pepper such as jalapenos. Remember that the heat will increase as it sits, but the fruit will also become sweeter. The flavors packed into in these little sandwiches are AMAZING.

Crock Pot Pork Sandwiches with Sweet and Spicy Pineapple Salsa
Super easy crock pot pork shredded and tossed with your favorite BBQ sauce and then topped with a sweet and spicy pineapple salsa loaded with fresh pineapple, strawberries, lime juice, and the hottest peppers you can stand.
Ingredients
For the Pork:
1½ pounds of pork steaks or pork chops
1 cup beer (see note)
1 tablespoon chili powder
1 tablespoon brown sugar
1 teaspoon cumin
½ teaspoon onion powder
½ cup BBQ sauce (! used Stubbs-- all natural & super good)
For the Pineapple Salsa:
2 cups diced fresh pineapple
½ cup diced red onion
½ cup diced fresh strawberries
2 tablespoons chopped fresh cilantro
1 lime, juiced
1 hot pepper, finely diced (see note)
For the Sandwiches:
Bread of your choice. (see note)
Instructions
Throw the pork in the crock pot. Dump in the beer. Add the chili powder, brown sugar, cumin, and onion powder. Turn the pork pieces a few times so they are coated with the seasoning. Cover and cook on high for 4 hours or low for 8 hours.
Toss all the ingredients for the pineapple salsa together and set aside until you are ready to serve.
When the pork is done, shred it with a fork and discard any bones or fat. I pull the shredded pork out of the cooking liquid.
Toss it with the BBQ sauce.
Place the shredded pork on the bread, top with the pineapple salsa, and serve.
Notes
#1- In place of the beer you can use chicken stock. #2- HOT PEPPERS!!! I used 1 little tiny Carolina Reaper pepper in this salsa. It is one of the hottest peppers in the world and has a fruity flavor. But really-- it is HOT. You might find them at a farmer's market but you might not, so I would recommend using the hottest pepper you can stand. Jalapenos, Serranos, Habaneros-- any of those would work well here. If you don't like hot food, just add a teensy bit and adjust accordingly. If you REALLY don't like hot food, use a little sweet green bell pepper. #3- I used slices of soft baguette. Kings Hawaiian Rolls would be GREAT, especially if you use a super hot pepper. BBQ picnic rolls or any bun you like would also be delicious.