Easy to customize with your favorite dried fruit, nuts, pretzels, or even peanut butter! Dark Chocolate Candy Cups are fun hostess gifts, great snacks, and are a favorite little pick me up!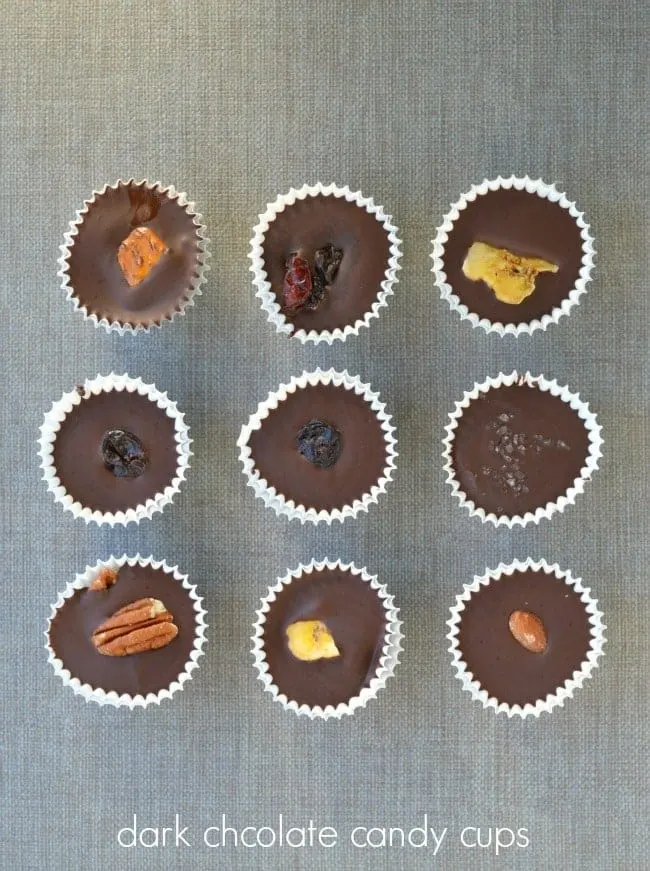 So… my Christmas tree has been up since Saturday, but only has lights about halfway up, and there are 3 big containers of ornaments and decorations hanging out in the hallway. I managed to wash all my grandma's pretty china by hand but it is still waiting to make it's way back into the correct cabinet for safe-keeping. Also it is December 1st and i haven't bought one. single. present.
I'm a smidge behind to say the least.
But! I did manage to make you these Dark Chocolate Candy Cups.
They are insanely easy and if you find some pretty boxes they make really terrific gifts! These plus a bottle of wine = happy hostess wherever you may be.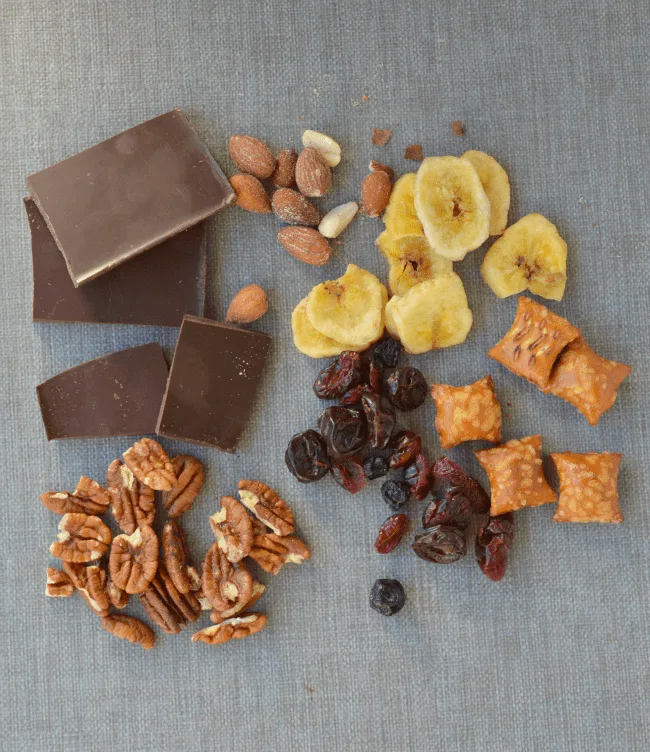 I grabbed a bunch of random stuff from my pantry for filling. Salted almonds, banana chips, peanut butter filled pretzels, dried cherries and berries, pecans — you can really throw in whatever you'd like. I even did one with a small spoonful of peanut butter! You can completely cover your chosen fillers, but I like to leave a little peeking out of the top so I can easily identify which one I'm grabbing.
Favorite flavor combos include:
Chunky Monkey! Dried bananas + chopped walnuts
Black Forest! Dried Cherries + a little dollop of cream cheese
Peanut Butter Cup! A teaspoon of peanut butter
Honestly? You really can't go wrong here.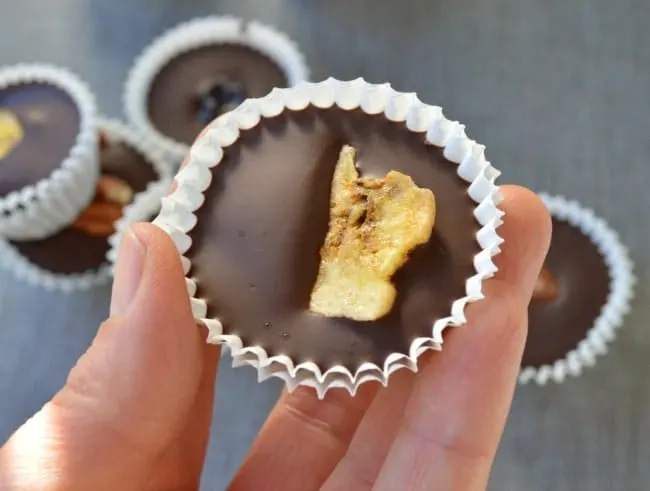 Dark Chocolate Candy Cups
Ingredients
mini muffin liners
dark chocolate (at least 70% cacao)
nuts, dried fruit, pretzels, sea salt, etc
Instructions
Lay out your mini muffin liners and place your desired filling in each one. You can use as much or as little as you'd like. The candy cups pictured are mostly chocolate but you can certainly make them mostly nuts, or fruit, etc.
Over low heat, melt the chocolate, stirring constantly. Remove the chocolate from the heat.
Gently spoon the melted chocolate into each cup. Let them set up at room temperature. You can store in the refrigerator if you'd like, but it's not required. (see note)
Notes
Like with any chocolate, make sure you store this at a consistent temperature. As long as your house isn't super warm, room temperature is totally fine! You just want to avoid repeated temperature changes because it can make the chocolate appear chalky.