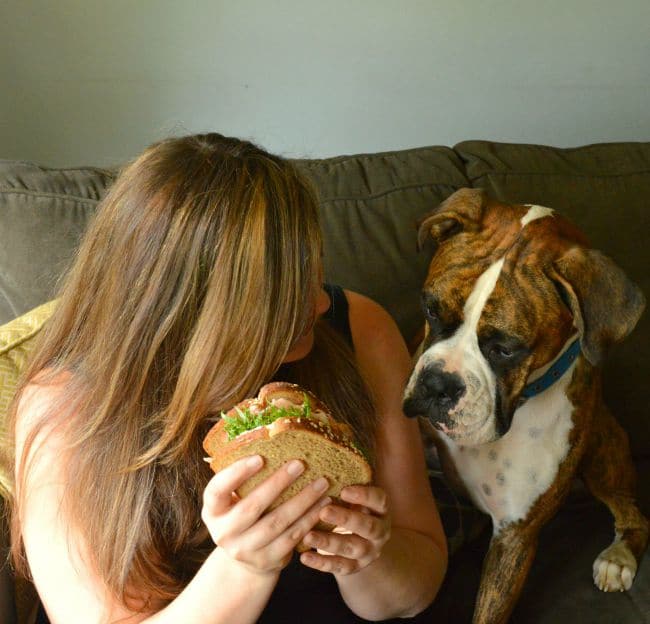 This post is sponsored by our friends at Purina. All opinions and photos are my own.
Have you ever seen anyone want a ham sandwich so badly?
Today I get to talk about my favorite friends – Charlie, Lucy, Betty, and Gertrude. These four take up a huge chunk of all my days, and I would not have it any other way. If you've never read my About page, and you haven't formally met my babies, then let me take a minute to introduce you.
This is Charlie.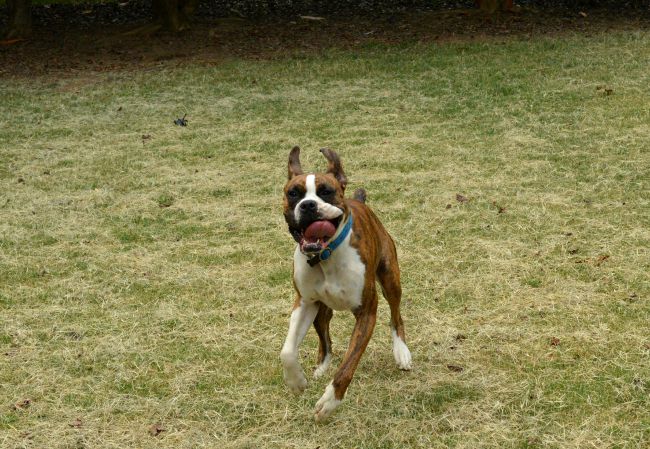 Ohhhh my heart. Charlie is 80 pounds of happy. He is the most good-natured creature I have ever had the pleasure of sharing a house with. This week Charlie, who is 1 1/2 years old, finally learned how to play fetch. And by that I mean he finally realized that if he brings the ball back, I will throw it again.
This is my little girl Gertrude.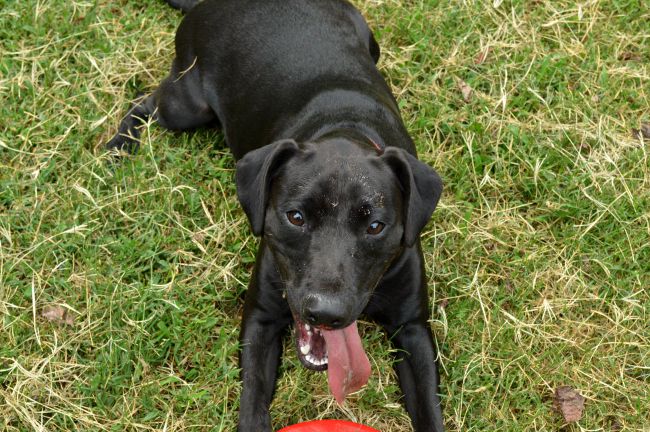 Gertie is the baby – she's just barely 1. Devoted and sweet, this pretty lady has endless energy. She loves her frisbee like there is no tomorrow and is the dog that will carry a ball around in her mouth all day.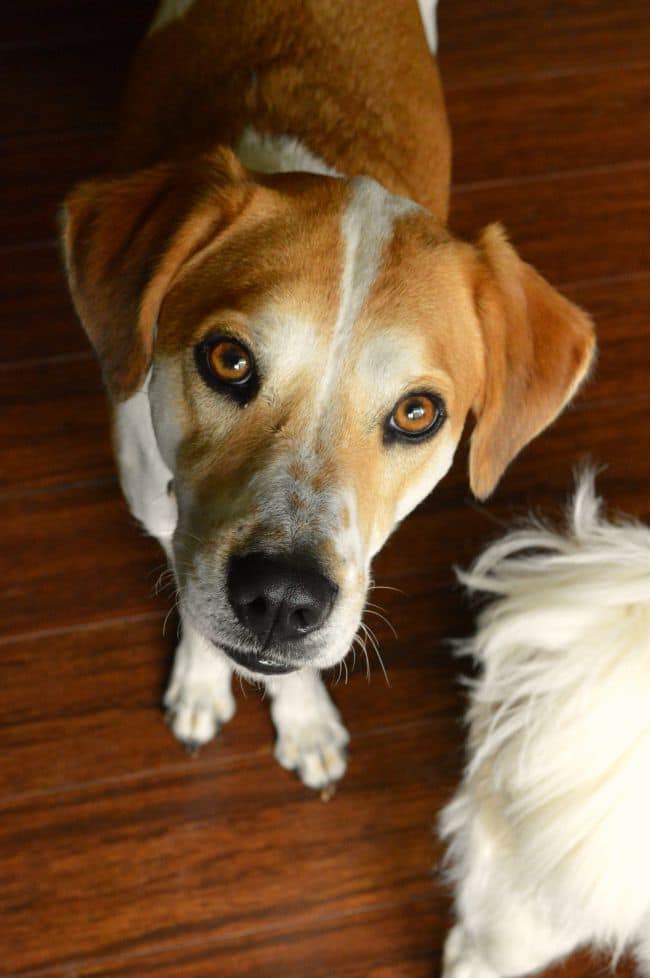 If you have been reading here awhile, you might recognize Lucy. She was our first rescue and is the girliest girl. She never plays in the mud and thinks I bought the sofa for her napping pleasure. Lucy is smart and well-behaved, and you have never seen anyone get more excited to go on a walk.
And then there's Betty.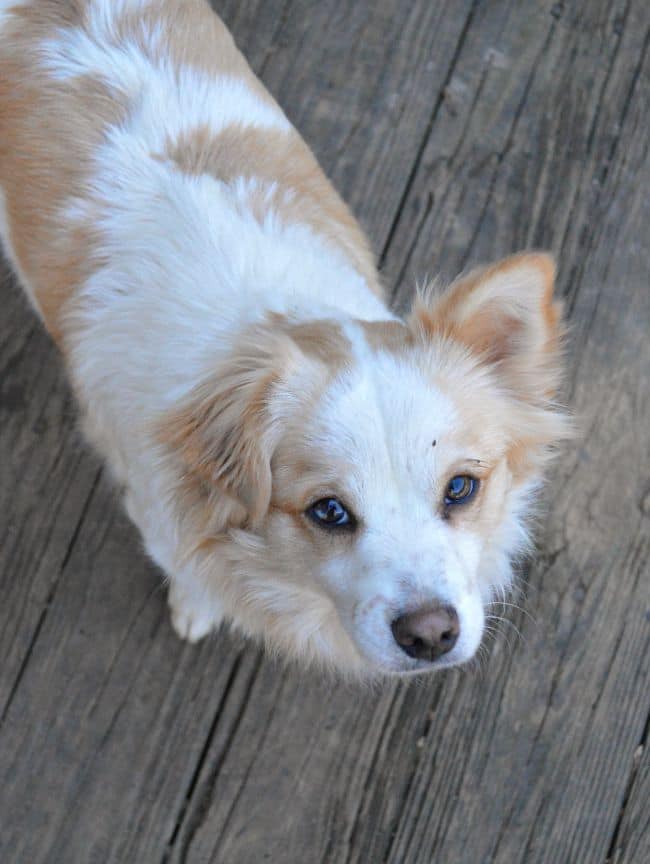 One thing you should know about Betty is that she is IN CHARGE. Of everything.
Betty is the tiniest, sassiest, most bossy little dog. She struts around here telling all the other dogs what to do. Betty steals chewy toys when Charlie turns his head, and is the only dog that gets to sleep on the bed because neither Chad nor I is able to tell her no.
We looooooove our babes.
I spend all my days sharing with you what I feed my family. I'm always telling you which of my boys hoarded the pizza I made, or how much Chad was all about those smoked ribs. It only seemed fitting to discuss what I feed the other half of our family.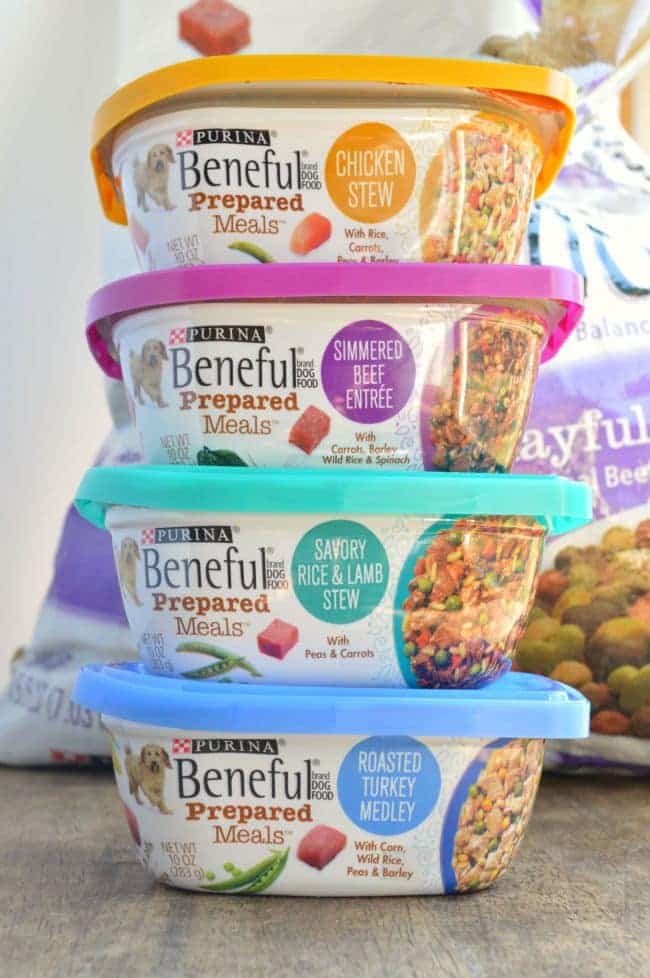 Beneful is made with the same good-for-you ingredients (like real meats and vitamin-rich veggies) that grace our own dinner table. They believe in variety, health, and flavor, and our dogs could not agree with their philosophy more.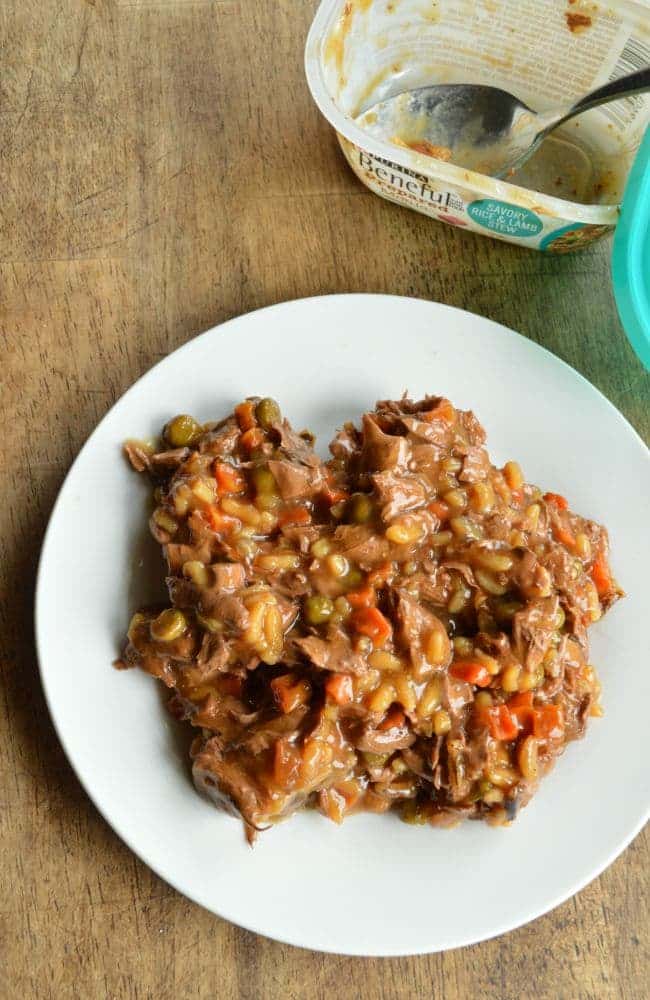 This Savory Lamb and Rice Stew looks straight up like a serving of my From Scratch Stew Beef. Charlie was totally impressed. And I have to say that this plate makes my ham sandwich look kinda sad.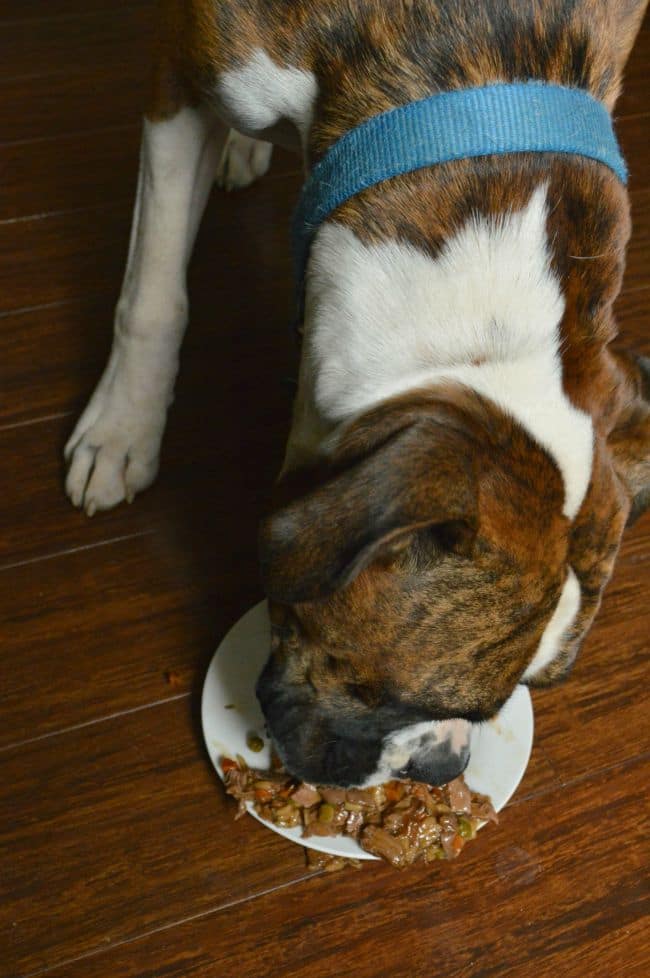 Also, please note that this mess is why we serve our dogs out of bowls instead of plates.
We serve dry dog food on a daily basis — the Beneful Prepared Meals are really more of a sometimes treat around here — and because our sweeties have such an active lifestyle we nearly always buy the Beneful Playful Life variety with real beef and egg. In the colder months I mix in a few servings of Beneful Healthy Weight. It's made with chicken, apples, carrots, and green beans, a description that reminds me of my Chicken and Apple Cheddar Dumplings, and has 100% of the nutrients these guys need.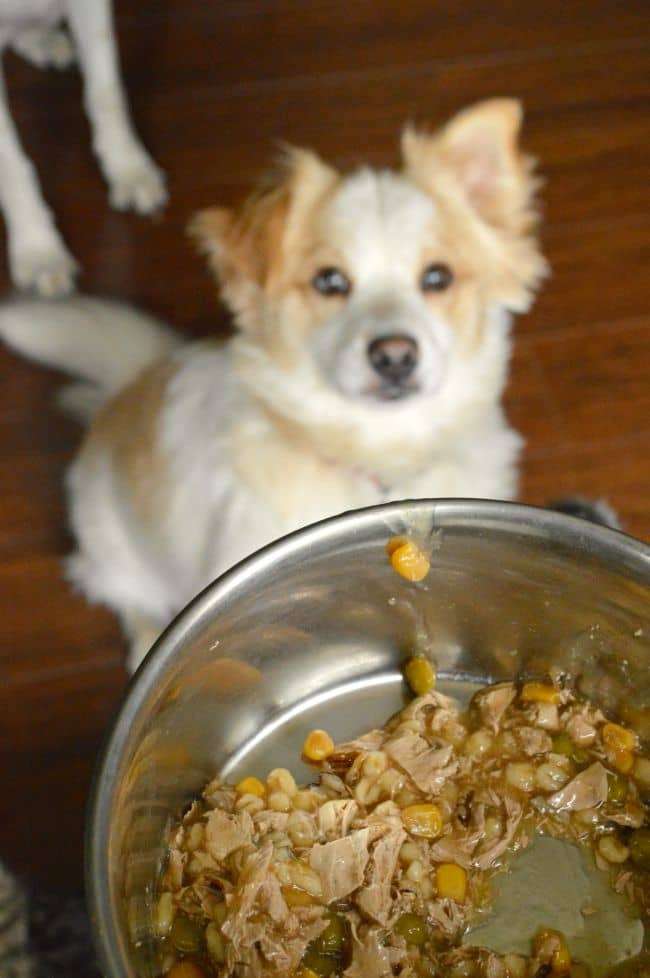 Mesmerized.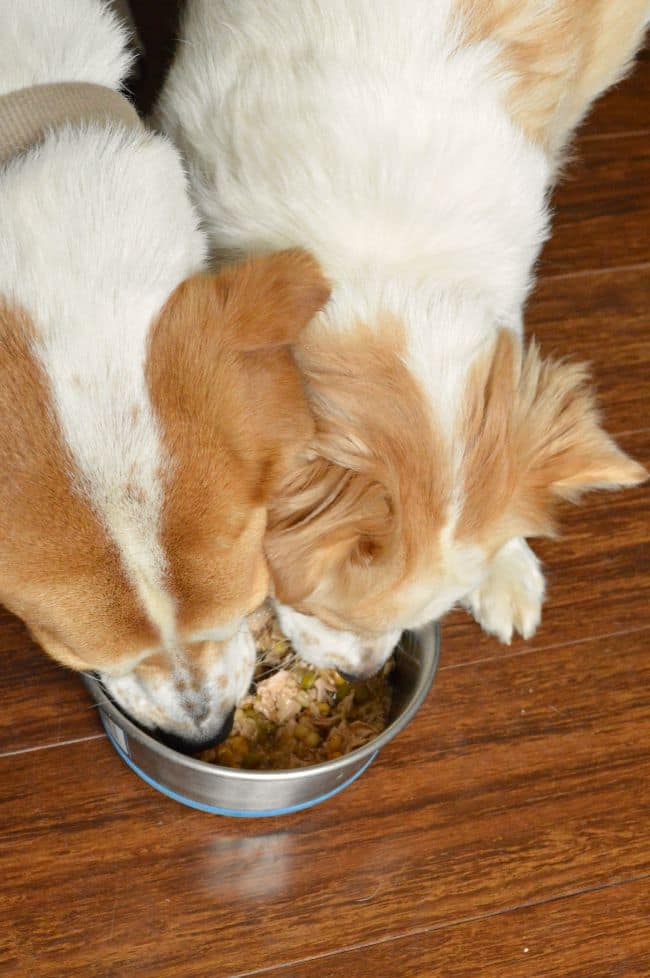 The sweetest Dinner for Two.
Actually, Betty was being pretty gangster about eating this food right here. She was obsessed with the big pieces of turkey and visible vegetables. . (pictured: Beneful Roasted Turkey Medley)
Beneful believes in filling bowls with the goodness of healthy and the joy of happy. Mission accomplished, I think.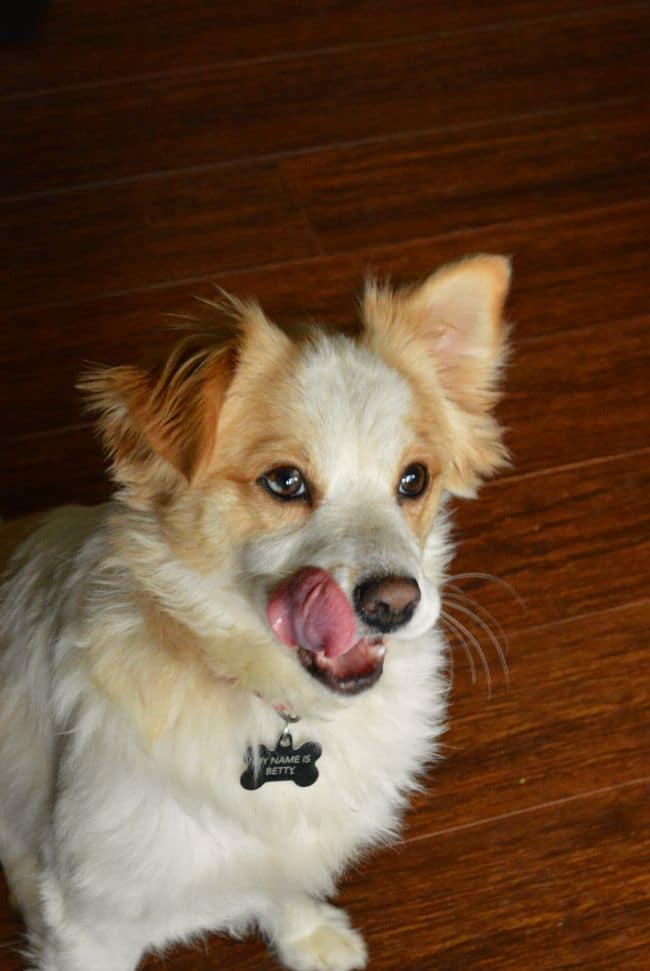 Beneful lets us share the goodness of meal time with the 4-legged half of our family. They put together a series of cooking videos with really awesome human recipes (It's called Dinner for Two ), but you can toggle the voice so it's basically a cooking video narrated by the dog. A cooking show with two points of view! You guys. It's hilarious. Start with the Honey Lime Flank Steak Recipe. Also if you make it, please invite me for dinner.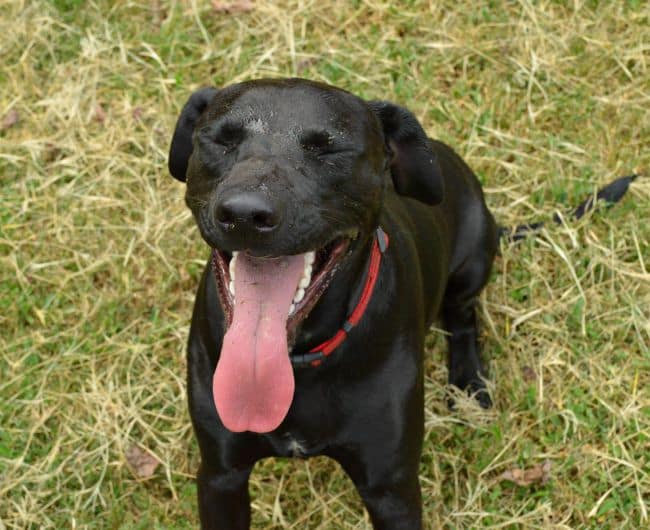 This is a sponsored conversation written by me on behalf of Purina. The opinions and text are all mine.