Death by Chocolate Brownies – what a way to go! Thick fudgy brownies are loaded with chocolate chunks, topped with rich chocolate ganache and crushed Oreo cookies. These are all dressed up for Halloween, but they are sure to quell that chocolate craving all year round!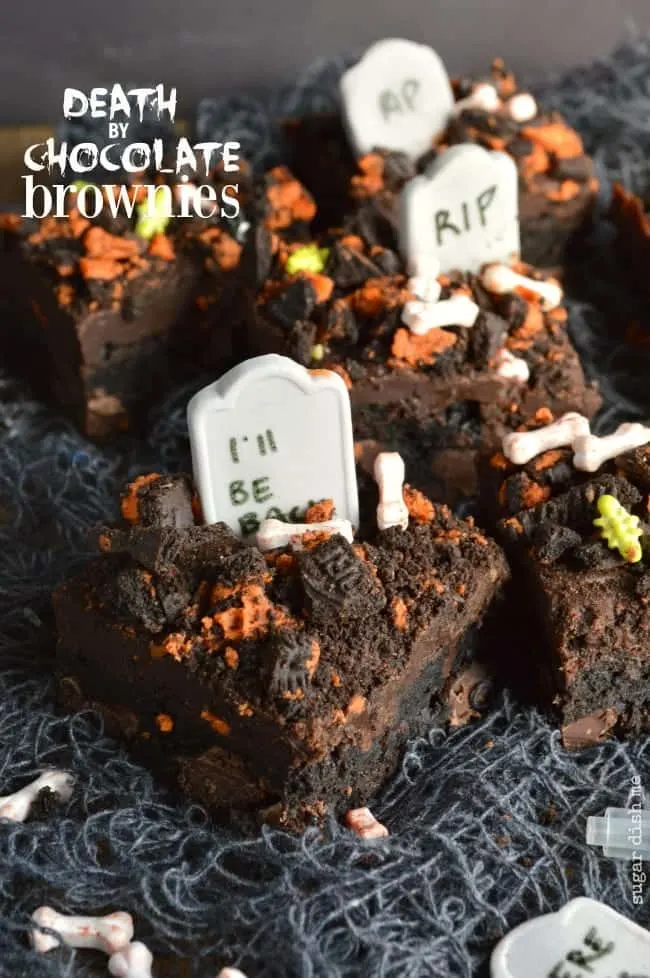 Ohhhh these brownies.
I've been planning them for awhile, but I was waiting for just the right opportunity to make them because I was afraid I'd eat significantly more than my share. #jobhazard.
This past weekend I had the perfect chance to work these brownies out when Chad and I took Annie to a rescue adoption and fundraising event in Charlotte. And even though the rain put a serious damper on our fundraising traffic, these Death by Chocolate Brownies were still a huge hit with my fellow volunteers and the bar staff. And with my boys. Those two knocked over more than their fair share of brownies.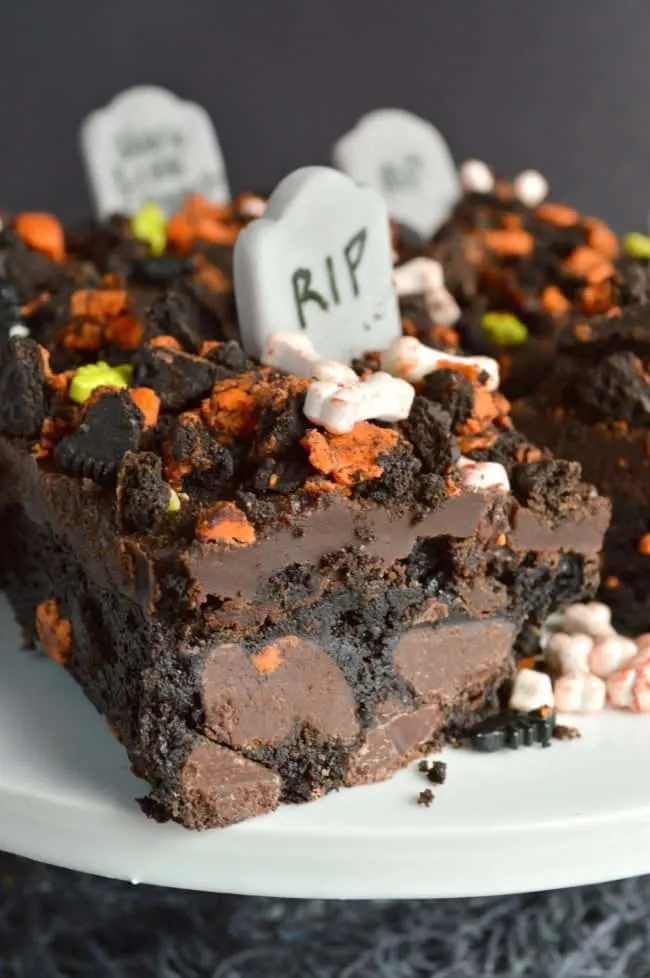 I based this recipe on one of my favorites from last year, Pinot Noir Brownies. I took out the wine (calm down), and added chocolate chunks. The ganache on top is glossy and buttery, and then I topped that with crushed Oreos. Halloween Oreos to be more specific.
I bought the Halloween Oreos like a month ago and have had the unopened package in what I thought was my secret stash of a high up cabinet ever since. Except my secret cabinet is not so secret because Andrew has bothered me every day for said month to open the Oreos, and he does not understand my "special food" hoarding tendencies.
You have to save the special Oreos for a special dessert! These Death by Chocolate Brownies are IT.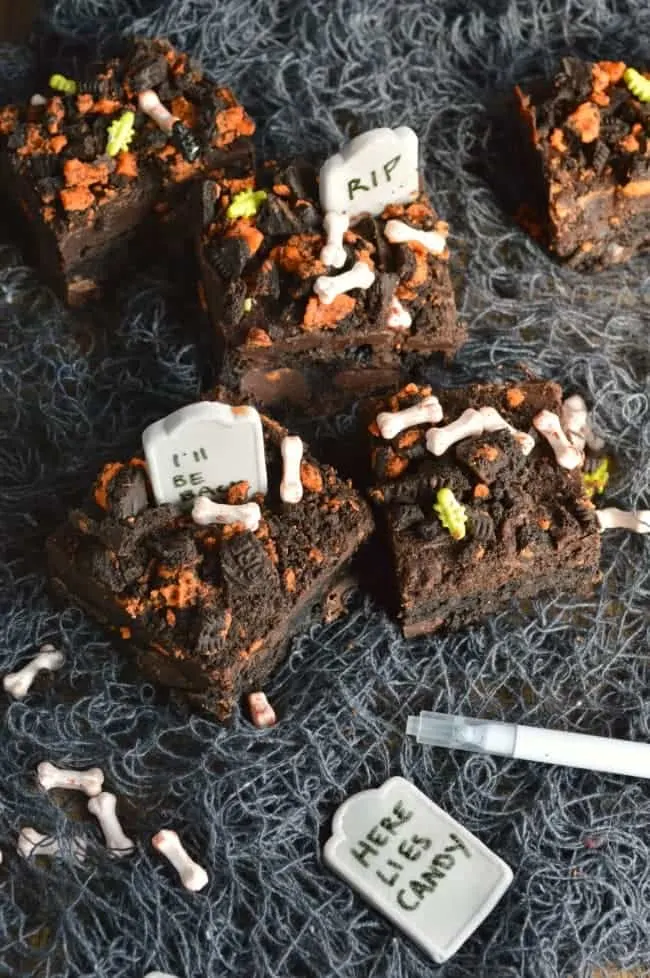 Note: I used this Wilton Graveyard Decorating Kit for the cute little headstones and bones. I found mine at the craft store but it's just as easy to order via Amazon Prime.
Death by Chocolate Brownies
Thick, fudgy brownies loaded with chocolate chunks, topped with rich chocolate ganache, and a layer of crushed Oreos. These Death by Chocolate Brownies will make any chocolate lover swoon! Don't forget the milk.
Serves:
36 small brownies
Ingredients
1 cup butter, melted
2 cups granulated sugar
4 eggs
2 teaspoons vanilla
1 cup all purpose flour
¾ cup dark chocolate cocoa powder
½ teaspoon baking powder
½ teaspoon salt
1 (11.5 ounce) package chocolate chunks
For the Frosting:
¾ cup heavy cream
2 cups semi sweet chocolate chips
2 tablespoons butter
10 Oreo cookies, coarsely crumbled
Instructions
Preheat the oven to 350°F. Butter a 13 X 9 baking dish. Line it with parchment paper or foil, and then butter the parchment or foil (this ensures extra easy removal from the pan).
In a large bowl whisk together the melted butter and granulated sugar until it's nice and fluffy. Beat in the eggs one as a time, mixing well between each addition. Then mix in the vanilla.
In another medium bowl, whisk together the flour, dark chocolate cocoa powder, baking powder, and salt. Gradually mix it into the wet mixture. Then stir in the chocolate chunks.
Pour the batter into the prepared pan and spread it out evenly. Bake for 30 minutes, or until a pick inserted in the center comes out clean.
Let the brownies cool completely.
In a small sauce pan bring the heavy cream to a simmer. Remove it from the heat and stir in the chocolate chips until smooth. Then stir in the butter. Pour the frosting over the brownies and spread evenly. Refrigerate to speed up the ganache set-up. Top with the crushed Oreos.
I like to refrigerate these before cutting but it's not required. Lift the foil or parchment from the pan, and peel away from the sides of the brownies. Cut into 36 small squares.