I smashed all of my favorite cookie flavor things into one delicious cookie.
Chocolate– there is plenty. Almonds? Double dose. Soft brown sugary cookie base? You got it. Loads of sprinkles? Of course!!
Double Chocolate Almond Sprinkled Cookies. YES.
I'm pretty sure that cookies are my favorite things to bake. They are perfect vehicles for all manners of delicious candies and chips, nuts, glazes, frostings, sprinkles… I am singing my cookie love from the rooftops right now. My roof isn't that high up, but whatever. You get the idea.

I also like to put all my fun cookie creations in my boys' lunchboxes.
Cookies give your kid superstar lunch status, in case you didn't know that.
A few days ago I was shuffling around the kitchen pulling all the bags of pretzels and carrot pieces together for bag lunches at 6-something-a.m. and I noticed that I was stepping on an unreasonable amount of Rice Krispies in the floor. Not my idea of a good time before I've had my second cup of coffee.
So I asked Evan what was the deal and can't you pour a bowl of cereal without getting half of it on the floor, you are ten years old for crying out loud?!
He laughed at me. Then he told me that Andrew oh-no-no'ed him.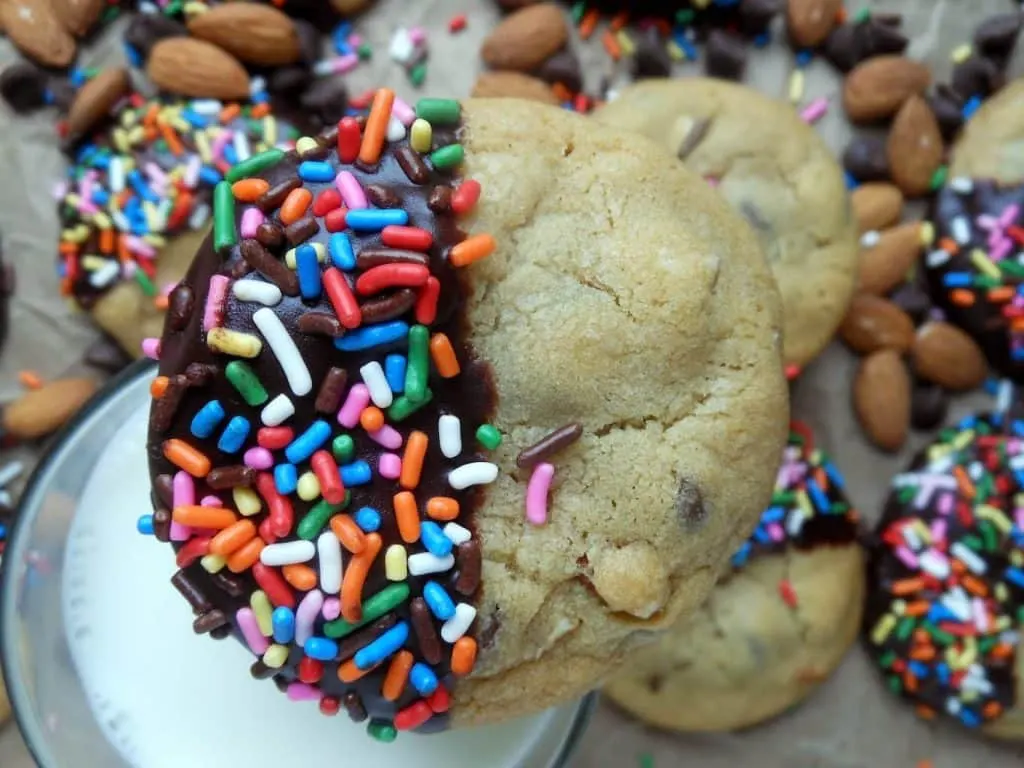 I'm sorry, what?
And then I remembered THIS COMMERCIAL.
Basically Andrew ran through the kitchen at full speed and smacked the cereal box out of Evan's hand mid-pour and said, "Oh No No!"
Which is going to be my tactic next time one of them reaches for a cookie.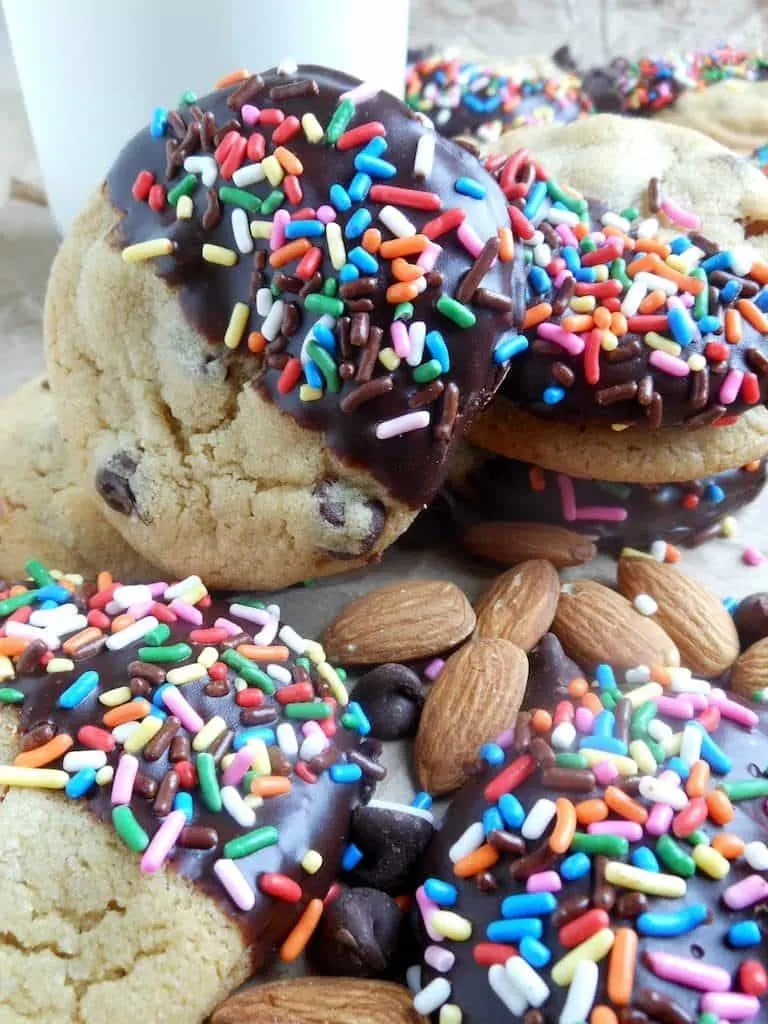 Double Chocolate Almond Sprinkled Cookies
Chewy brown-sugar based cookies loaded with chocolate chips and natural almonds, with a hint of almond extract. Dipped in chocolate and covered in sprinkles- these cookies are a reason to celebrate.
Ingredients
¾ cup unsalted butter, at room temperature
¾ cup brown sugar, packed
½ cup granulated sugar
1 egg
½ tablespoon almond extract
½ teaspoon vanilla extract
2 cups all purpose flour
1 tablespoon cornstarch
1 teaspoon baking soda
¾ teaspoon kosher salt
2 cups semi-sweet chocolate chips, divided
½ cup natural almonds, coarsely chopped
3-4 tablespoons heavy cream (or milk)
½ cup sprinkles
Instructions
Pre-heat the oven to 350 and line a baking sheet with parchment paper.
In a large bowl beat together the butter and sugars until fluffy. Add the egg, almond extract, and vanilla extract. Beat until just combined.
Add the flour, cornstarch, baking soda, and salt. Mix until the dough comes together.
By hand stir in 1 cup if the chocolate chips and the ½ cup of chopped almonds.
Drop by the heaping tablespoon about 2 inches apart onto the prepared baking sheet.
Bake for 8-9 minutes, until the tops are golden brown. Do not over-bake.
Let the cookies cool slightly before moving them to a wire rack to cool completely.
While the cookies cool, heat 3 tablespoons of the cream in a small saucepan over medium heat-- just until it simmers. Don't let it burn! Stir in the chocolate chips and remove the pan from the heat. Keep stirring until the chocolate is smooth, adding more cream a tablespoon at a time if necessary.
Lay out a sheet of parchment or wax paper.
Dip half of each cookie into the melted chocolate, lay the dipped cookie on the paper, and then cover the chocolate with sprinkles. Repeat for each cookie.
Let the chocolate set before serving-- refrigerate to speed up the process if desired.
The base for this cookie recipe is
The Perfect Cookie Base
from Shelly at
Cookies and Cups
. It IS indeed the perfect cookie base! No refrigeration required and it produces that slightly chewy, awesomely golden bite of brown sugar-based cookie dough. Check out Shelly's blog– it is loaded with serious goodies that make my gym efforts totally worthwhile.
These cookies are part of the first Thursday of the month Leftovers Club!
Check out the other Leftovers Club participants. Shippable delicious goodies from bloggers across the country!
If you would like to participate in the Leftovers Club and exchange good stuff with other food bloggers once a month follow The Leftovers Club link below.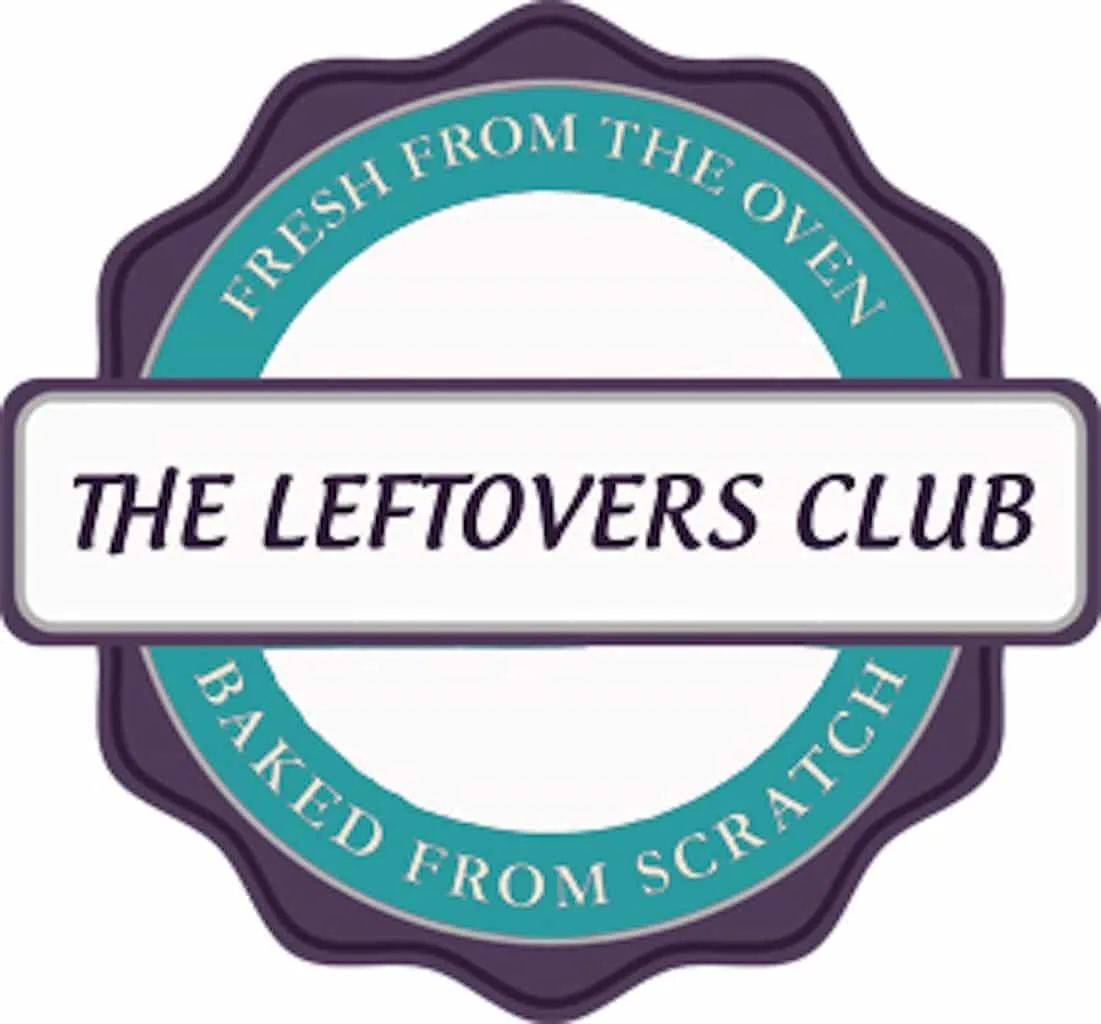 More Cookies I Love…