Today I turn 33.
So I've spent some time trying to figure out what I've learned in 33 years and some things I need to keep in mind.
Also I made cupcakes.
#1- I need to remember that life is not a race. Sometimes it is easy for me to get caught up in milestones– markers of achievement that I feel sure I should have checked off my list by now. Comparison is a soul-crusher. And I need to keep in mind that I am ME… nothing to compare that to. Same goes for you. And everybody! Own it.
#2- It is completely fine to sing very loudly in the car. Everyone sounds amazing in the confines of a vehicle. Seatbelts also make for most excellent dancers. And no one can see you through the windows unless you are at a stoplight. #science. We are all on our own roads and mine tends to be a little bumpy so I am determined to make it as fun as possible.
#3- LOVE. Have lots of it. For everyone and everything. All the time.
#4- It is part of my genetic makeup to run into things, trip over things, drop stuff, and spill.
#5- Make the most of it.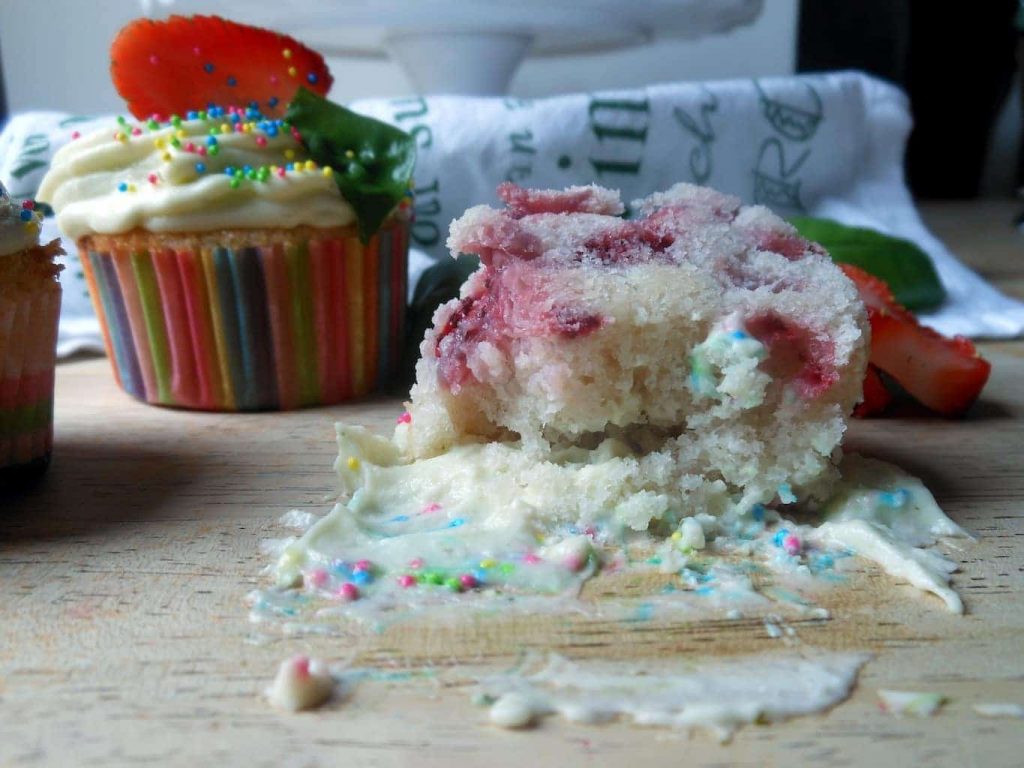 So obviously I have learned more than 5 things in 33 years. If not I'd be in trouble. But I feel like these are the things I need to keep with me every day all the time.
Cake.
Don't be intimidated by the basil cream cheese frosting!!! These are kid friendly and I wouldn't steer you wrong. Basil and strawberries compliment each other like the best of friends. I have a ridiculous sweet tooth and I would NEVER post substandard goodies! But. If you aren't feeling adventurous, leave out the basil & heavy cream and just make a basic cream cheese frosting. Strawberries and cream are good friends, too.

Fresh Strawberry Cupcakes with Whipped Basil Cream Cheese
Ingredients
1 cup milk at room temperature
6 egg whites at room temperature
2 teaspoons almond extract
1 teaspoon vanilla extract
2¼ cups cake flour
1¾ cups granulated sugar
4 teaspoons baking powder
1 teaspoon salt
¾ cup butter (1½ sticks), softened but still cool (see note)
2½ cups chopped fresh strawberries
2 tablespoons flour (all purpose or more cake flour)
Whipped Basil Cream Cheese Frosting:
½ cup heavy cream or milk
½ cup fresh chopped basil
1 (8 ounce) package cream cheese, softened
½ cup unsalted butter, softened
1 cup powdered sugar, sifted
½ teaspoon vanilla
Sprinkles, Basil Leaves, and Sliced Strawberries to decorate!!
Instructions
Whisk together the milk, egg whites, almond extract, and vanilla in a large liquid measuring cup. Set aside.
Pre-heat the oven to 350 and line a standard muffin pan with paper liners.
In a large bowl, whisk together the 2¼ cups cake flour, sugar, baking powder, and salt. Cut the butter into small cubes and drop them into the flour mixture.
Using a hand (or stand) mixer, mix the butter into the flour mixture on low speed for a couple of minutes until coarse crumbs form. **If you don't have any kind of mixer, use my favorite method for cutting in butter-- use COLD butter and grate it into the flour blend using a box grater. You can use a fork or your hands to blend the flour + butter and form the coarse crumbs**
Beat the egg/milk mixture with a fork one more time and pour all but ½ cup of the liquid into the flour mixture. Beat at medium speed fot about 1½ minutes. Scrape down the sides, add the last ½ cup of liquid, and mix on medium for another minute.
Toss the strawberries with the 2 tablespoons flour. Fold them into the cake batter.
Divide the batter between the prepared muffin cups (I use a ¼ dry measuring cup to dip the batter) and bake for 18-22 minutes. A pick inserted in the center should come out clean and the tops should be golden.
Let the cupcakes cool completely before frosting.
To make the frosting, heat the cream over medium/low heat until it just simmers. Add the basil and reduce the heat to low. Cook for 20-30 minutes, stirring frequently so the cream (or milk) doesn't burn. Most of the liquid will evaporate and you'll have a little liquid and a pan full of milky herbs. Pour the mixture into a blender or food processor and puree.
In a large bowl beat the softened cream cheese and butter. Add the powdered sugar and vanilla. Beat until fluffy. Add the basil/cream blend and beat until it's completely incorporated. You can add more sugar to thicken if necessary.
Frost the cupcakes and decorate with the sprinkles, basil leaves, and sliced strawberries
Notes
Ingredient temperatures are CRUCIAL to the success of this recipe! Room temperature milk and eggs are super important. Make sure to set your ingredients out ahead of time.
The white cake portion of this recipe is from
The Perfect White Cake
recipe by Amanda at
i am baker
. If you aren't familiar with Amanda's blog, first of all– where have you been?! And second please take a minute to go see all the insanely creative, beautiful desserts and cakes she has to offer.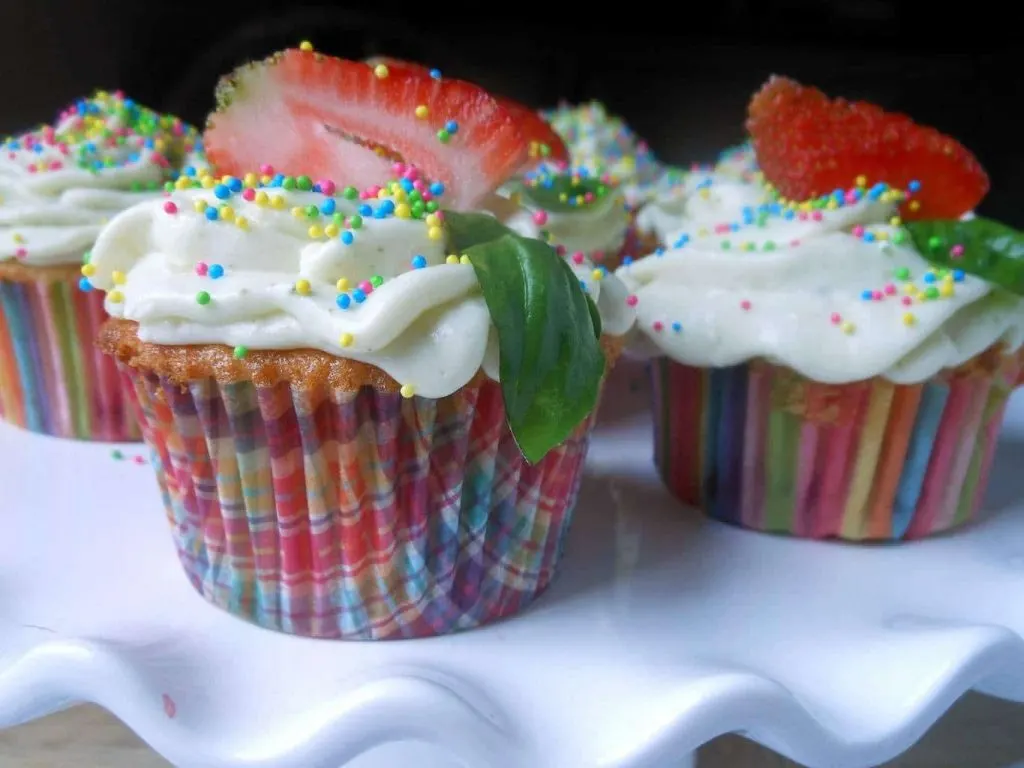 More Cupcakes I Love…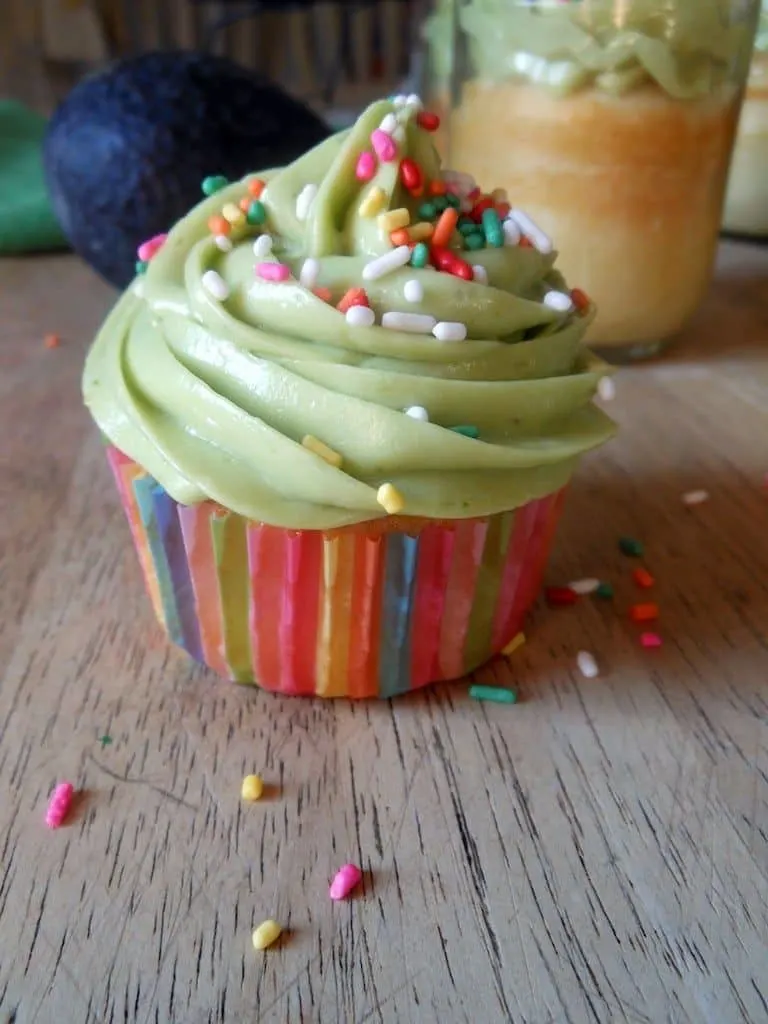 Perfect White Cupcakes… In a Jar
Chocolate Chip Cookie Dough Cupcakes