Layers of corn tortillas, spicy shredded pork, caramelized onions, and loads of cheese make this Easy Cheesy Tamale Casserole a family favorite! Just a few ingredients and not much effort turn out one of my favorite cheesy dinner recipes.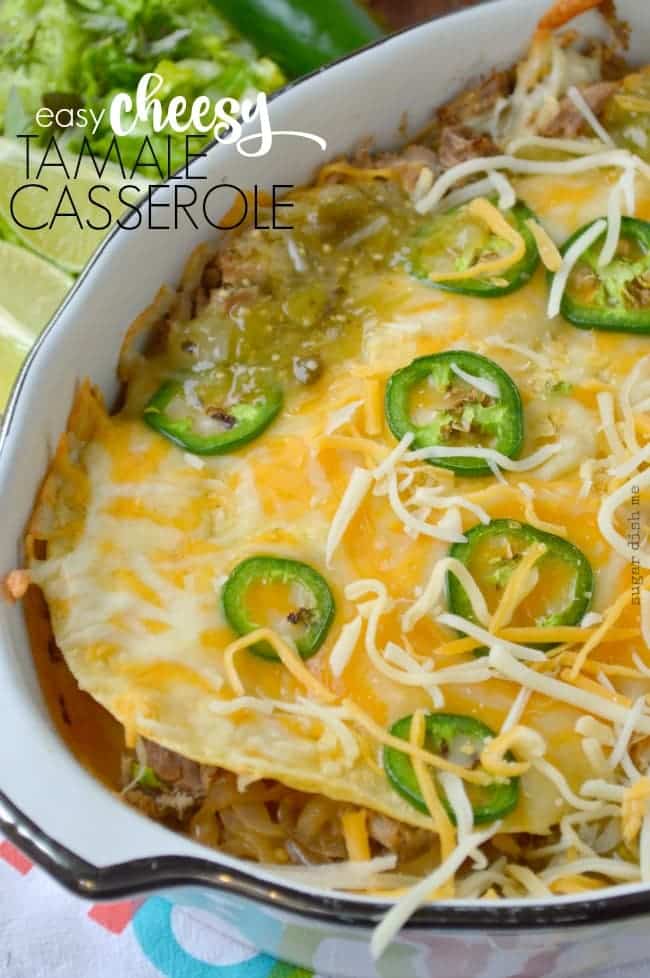 This is a sponsored conversation written by me on behalf of Sargento®
Last month I wrote an article for Food.com called "How to Make Tamales". If you have EVER made tamales, you know it can be a time consuming sort of all-day endeavor. But they taste SO good. But how often do you have all day to make tamales? I think it's easier to find a food truck and wait in line. That's about the extent of my patience.
After my day of tamale making I was craving the flavors and I needed a fast solution.
I also needed more cheese because while my tamales were delicious, they were decidedly lacking in the cheese department.
This Cheesy Tamale Casserole WILL NOT disappoint.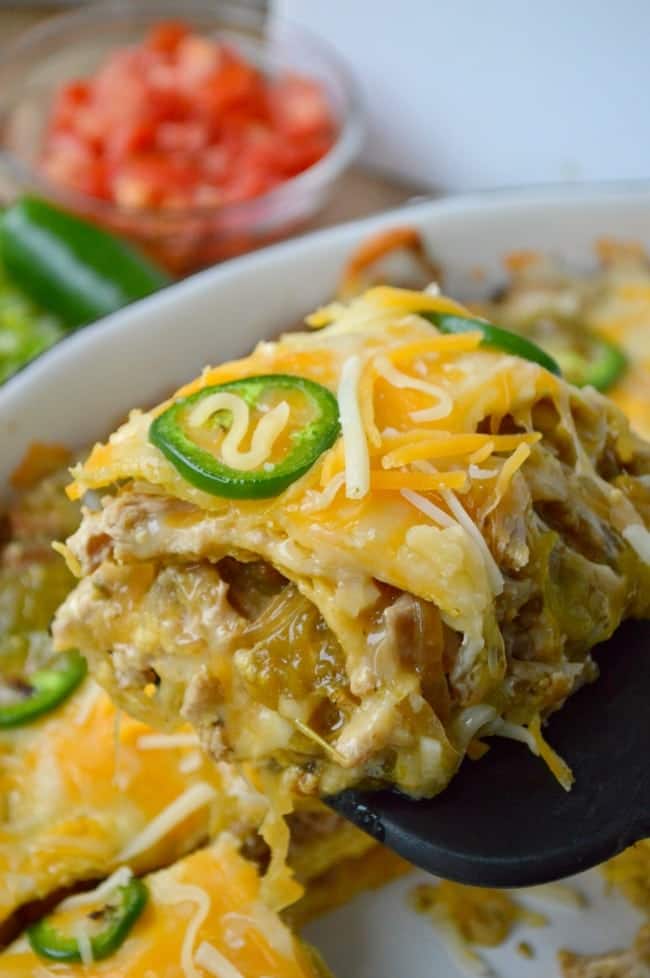 I'm not super sure why I've never ventured into the Mexi-casserole territory. It's about a billion times easier than making my kids 100 tacos each. I used Sargento® Fine Cut 4 Cheese Mexican to up the cheese factor in my casserole. It added a creamy, smooth flavor and I looooove the off-the-block freshness it gave without me standing around shredding 4 blocks of cheese by hand.
This is also the cheese I grab when Evan asks me to make him yet another quesadilla.
I keep thinking he will get burned out on cheese quesadillas, but so far no. He will eat them morning noon and night.
He was also a fan of tamale casserole though — he even helped me tackle some leftovers. It's just as cheesy and ultra good on day two.
Easy Cheesy Tamale Casserole
Ingredients
2 teaspoons olive oil, divided
1.5 - 2 pounds lean boneless pork (you can use chops or a tenderloin cut into medallions)
16 ounces salsa verde
1 medium onion, thinly sliced
1 teaspoon kosher salt
10-12 yellow corn tortillas
3 cups Sargento® Fine Cut 4 Cheese Mexican
sliced jalapenos to garnish
Instructions
Heat 1 teaspoon of the oil in a medium stock pot. Add the pork and brown it on all sides over medium high heat. Reduce the heat to medium, cover, and cook until the pork is fork-tender (approximately 30 mins).
While the pork cooks, add the remaining teaspoon of oil to a medium skillet. Add the onions and sprinkle them with the salt. Cook over medium heat until they are caramelized and soft.
Preheat the oven to 375°F. Spray a 3 quart casserole with non-stick cooking spray. Layer 4-5 tortillas across the bottom. Cover with 1 cup of the cheese.
When the pork is tender, lift it from the pot with a slotted spoon. Shred and spread half over the cheese. Spoon salsa over the pork. Then top the pork with half of the caramelized onions. Repeat the layers ending with 2-3 tortillas across the top. Cover the tortillas with the remaining cup of cheese. Add the sliced jalapenos.
Bake for about 20 minutes. You are just heating everything through and melting the cheese.
Serve hot with shredded lettuce, diced tomatoes, avocados, and sour cream.
TIP: I found my Sargento® Fine Cut 4 Cheese Mexican Blend at Kroger!
Look for Specially Marked Packages of Sargento® Shredded Cheese for $1 Savings at your local Kroger
This is a sponsored conversation written by me on behalf of Sargento®. The opinions and texts are all mine.