Strawberry Mojito Ice Cream is EXACTLY as awesome as it sounds. Creamy with fresh strawberries, mint, rum, and a splash of lime. Celebrate in style.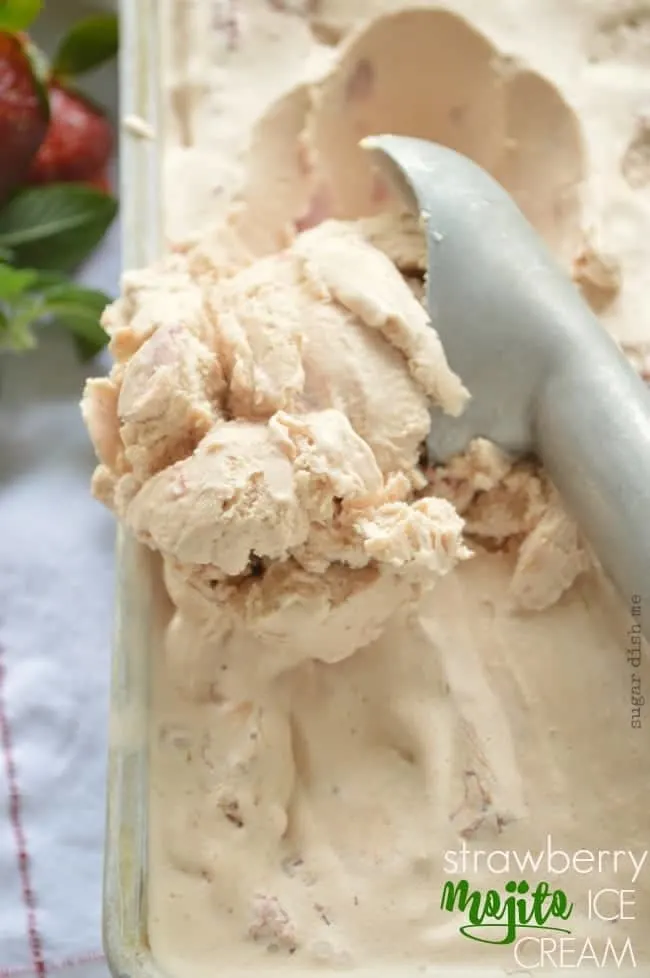 Why yes, I did make ice cream out of a strawberry mojito. Because this fine line we are walking between late spring and early summer needed a theme food. It's HOT already here in NC, and the air is thick with the humidity of afternoon thunderstorms. WE NEEDED ICE CREAM!
This one is my gift to you.
Heads up: you will need an ice cream churn for this recipe. Someday soon I WILL make you a no-churn ice cream, but this was honestly the first time I broke my little countertop churn out since we made Brown Sugar Cinnamon Ice Cream. I was a little bit excited. If you have space to store a small appliance, I'd recommend an ice cream maker over something like a toaster oven any day of the week.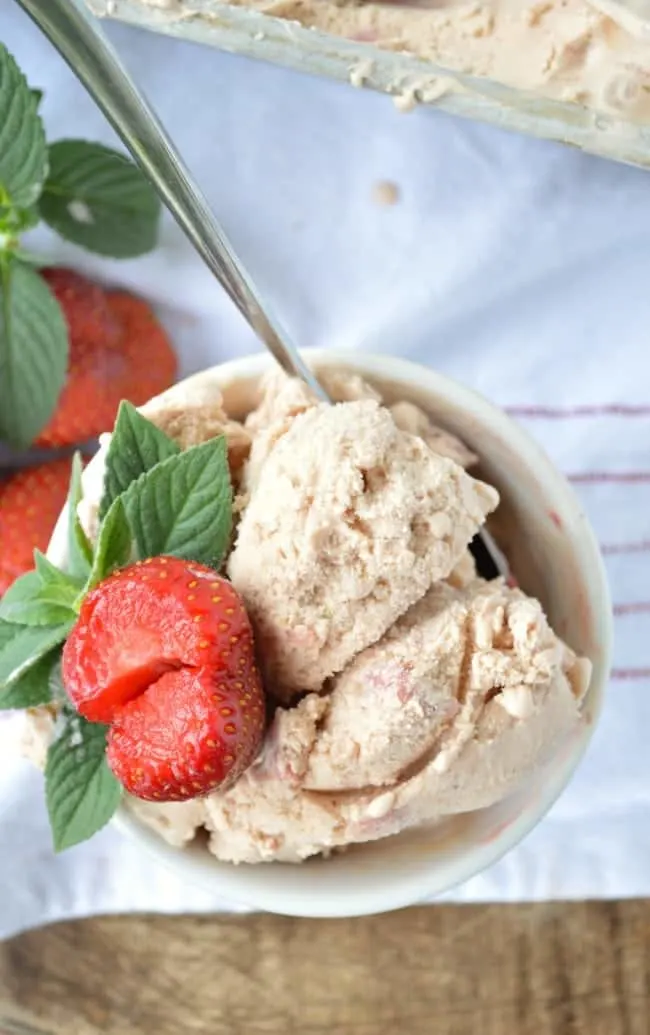 I don't have much else going on in the dialogue department today. I just need you to join me in the making of homemade boozy ice cream. There's fresh strawberry, a hint of mint, a little zap of lime, plus COCONUT RUM.
Side Note: Don't get weird on me about eggs in the ice cream, okay? Eggs make the best, creamiest ice cream.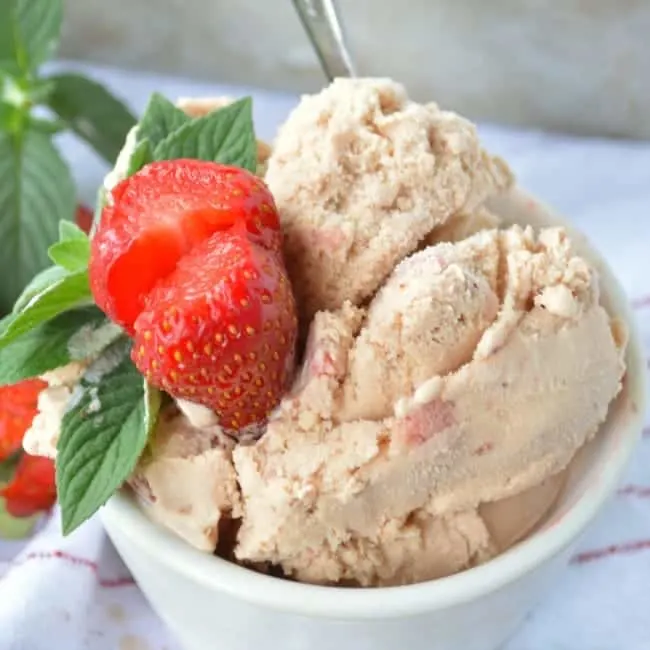 Strawberry Mojito Ice Cream
Note that this recipe will need to chill before churning you might want to make it a day ahead. The prep time listed includes the chill time.
Ingredients
2½ cups chopped fresh strawberries
½ cup coconut rum
⅔ cup granulated sugar
pinch of kosher salt
2½ cups heavy cream
1 teaspoon lime zest
1 teaspoon vanilla extract
½ teaspoon peppermint extract
5 large egg yolks
Instructions
BEFORE YOU BEGIN: This recipe calls for an ice cream churn. You can use any kind you like, but make sure if you are using the countertop variety, that you put the canister in the freezer while you mix up the sweet cream base and let it chill so everything is ready to go at the same time.
Place the strawberries, rum, sugar, and salt in a medium bowl and stir to coat. Let the berries macerate in the rum and sugar for at least 30 minutes (I did mine overnight in the fridge).
In a medium saucepan whisk together the heavy cream, strawberries and lime zest. Bring it just to a simmer, stir, and then remove from the heat. Stir in the vanilla and mint extracts.
In a medium bowl, whisk together the yolks. Stirring constantly, add about ½ cup of the hot liquid to the egg yolks. This helps to temper them, cooking them super slowly and bringing the temperature up gradually. Whisk in another ½ cup of the hot liquid, and then one more.
Pour the egg mixture back into the saucepan and cook over medium heat until the mixture is thick enough to coat the back of a spoon.
Scrape the mixture into a container and cover (I like to use plastic storage containers like Gladware or Tupperware for this - prevents spills in case anyone bumps it in the fridge!). Chill for at least 4 hours or overnight.
Add the chilled base to the canister of your ice cream churn, and churn according to manufacturer's instructions.
You can eat the ice cream now -- it's ready! But it will have a more soft serve consistency. I like to scrape mine into a freezer-safe container and let it freeze for a couple of hours more so it's more hard-dipped.