Cake bites get a little patriotic boost with red, white, and blue! These Stars and Stripes Crispy S'mores Cake Bites are perfect for all your summer gatherings!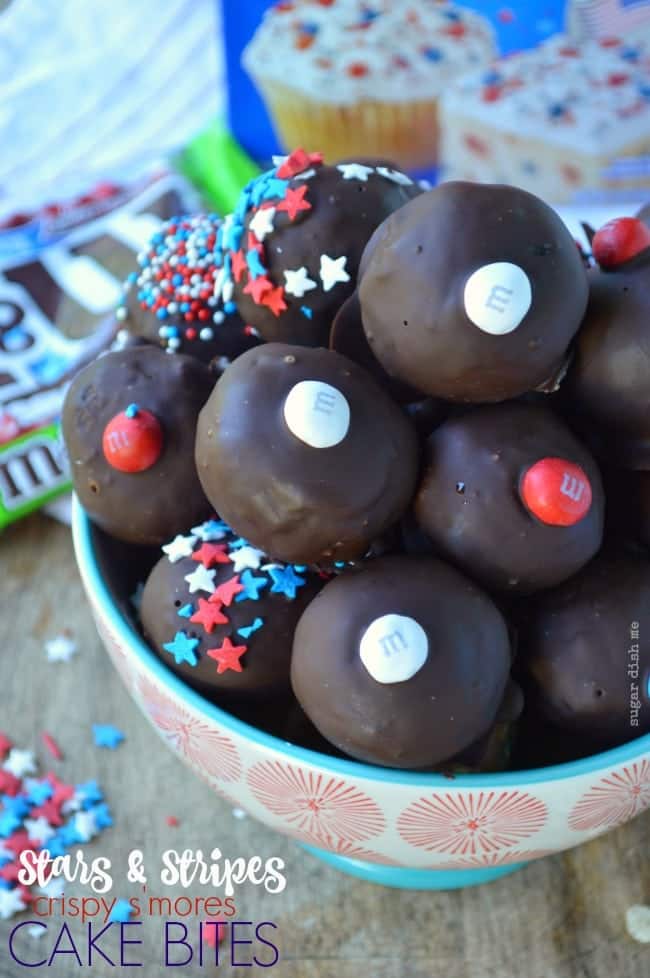 This post is sponsored by MARS, but all opinions, the original recipe, and the photos are my own.
It's time to get our patriotic grooves on. I know this because pastel candy wrappers and chocolate eggs have been strategically replaced with coolers, citronella candles, plastic folding chairs, and all the red, white and blue they could muster in the seasonal aisles of all my favorite stores.
I went to Target last week and accidentally bought all the new lawn chairs and outdoor pillows, which, of course I did, since I actually went to Target to buy a replacement pair of sunglasses.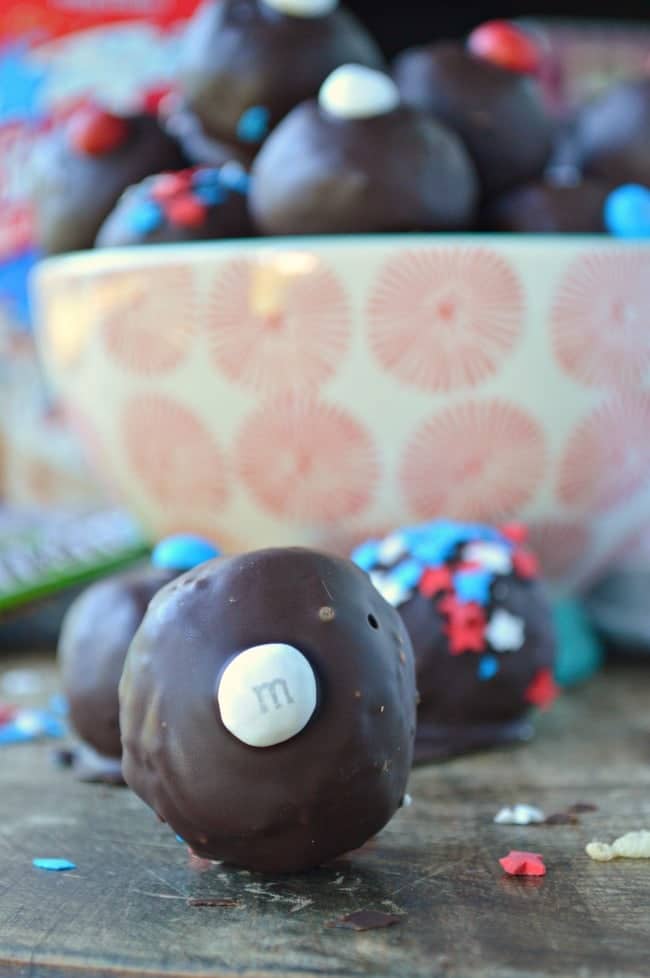 Sometime in the middle of adding new chairs, outdoor pillows, and some really cute lanterns that I seriously could not pass up, to my list of things I could no longer live without, I also started mentally planning this party of sorts… because planning a wedding isn't keeping me busy enough I guess? I've probably slightly lost my mind, but summer makes me want to sit on the deck all evening and throw the ball for the dogs. And wear flip flops. And grill all the things. And invite people over to share in the sitting + grilled things. PLUS!
I found this Pillsbury Stars & Stripes Funfetti® Cake Mix that is completely perfect for everything from Memorial Day to the 4th to Labor Day, and all the summer celebrations in between. Then there were these Crispy S'mores M & M's calling my name and I thought they were SO perfect for my impromptu party happening in my brain. They are pretty perfect, right?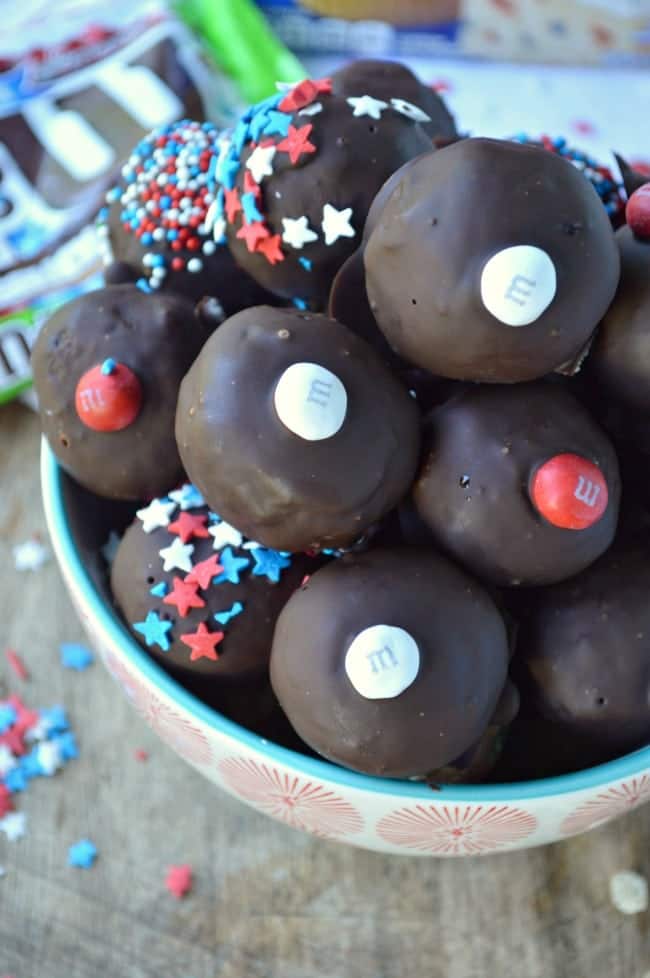 I turned my fun food purchases into these cake bites, which, I realize I am behind the cake bite curve. It's not a dessert I ever make because I have always felt like other people are so much better at it than me, with their fancy rolled gummy shapes and fondant and things. If you know me at all you know I have zero patience for things like that, and also that my decorating skills basically start and end with sprinkles. So this cake bite recipe is for those of us that are challenged in the decorating department. It's crazy easy and look! Super pretty without much effort.
I added some crispy s'mores inspired things to these as well. Skip the frosting with this recipe. I melted marshmallows all cereal treat style and added some crisp rice cereal for extra crunch. I also inserted a Crispy S'mores M & M into the center of each cake bite. Covered in melted chocolate, more sprinkles, and more of those fab-o M & M's and we have super festive party treats that make you feel professional without any actual skills required. You're welcome.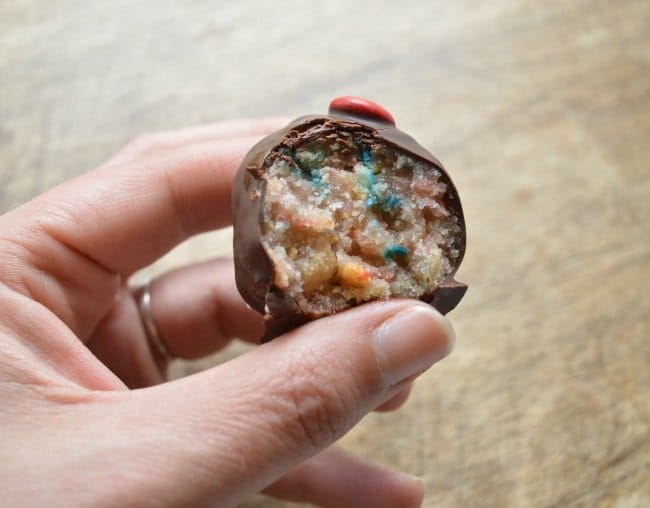 Also thanks for being so understanding about my lack of patience for things like piping bags.
If you would like to try your hand at these easy little treats, the recipe follows.

Stars and Stripes Crispy S'mores Cake Bites
Ingredients
1 (15.25 ounce) box of Pillsbury Stars & Stripes Funfetti® Cake Mix + the ingredients required to bake the cake (3 eggs, ½ cup oil, 1 cup water)
1 ¼ cups crisp rice cereal
½ cup Extra red, white, and blue sprinkles (optional), plus more for decorating
3 tablespoons butter
1 (10 ounce) package of mini marshmallows
1 (8 ounce) package Crispy S'mores M & M's (available only at Target)
18 ounces chocolate, Chopped
Instructions
Prepare the cake according to package instructions for a 13 X 9 pan. Let the cake cool after it bakes. Lay out a baking sheet covered with parchment paper or wax paper.
In a large bowl, crumble the cooked cake until there are no large bits of cake. Stir in the crisp rice cereal and as much as ½ cup of additional red, white, and blue sprinkles.
Melt the butter in a medium saucepan. Stir in the marshmallows over medium low heat until they are melted and smooth. Scrape the melted marshmallows into the bowl with the crumbled cake.
Use a rubber spatula to stir and turn all the ingredients until they are combined.
Roll the mixture into balls about a tablespoon at a time. Space them out on your prepared baking sheet. Insert a Crispy S'mores M & M into the center of the cake bites and then reshape into balls. Refrigerate for at least an hour.
Melt the chocolate over medium low heat in a medium sauce pan. Us a fork to dip each ball in the chocolate to coat it on all sides. Place the chocolate covered cake bite back on the prepared baking sheet and top each with more Crispy S'mores M & M's and/or sprinkles before the chocolate sets up.
Store in a cool dry place or refrigerate.
Note: I encourage you to shop at Target for everything because Target is
thaaaaa besssst
(and I need you to understand how I went for sunglasses and came home with a party)
,
but you will have to shop at Target for the Crispy S'mores M & M's because it's the only place that sells them. Find them HERE