A fast and delicious dinner solution! Easy Chicken Cutlets with Pan Sauce are browned and then covered in a rich sauce made with onions, mushrooms, broth, and beer! This is a one-pan recipe you'll love!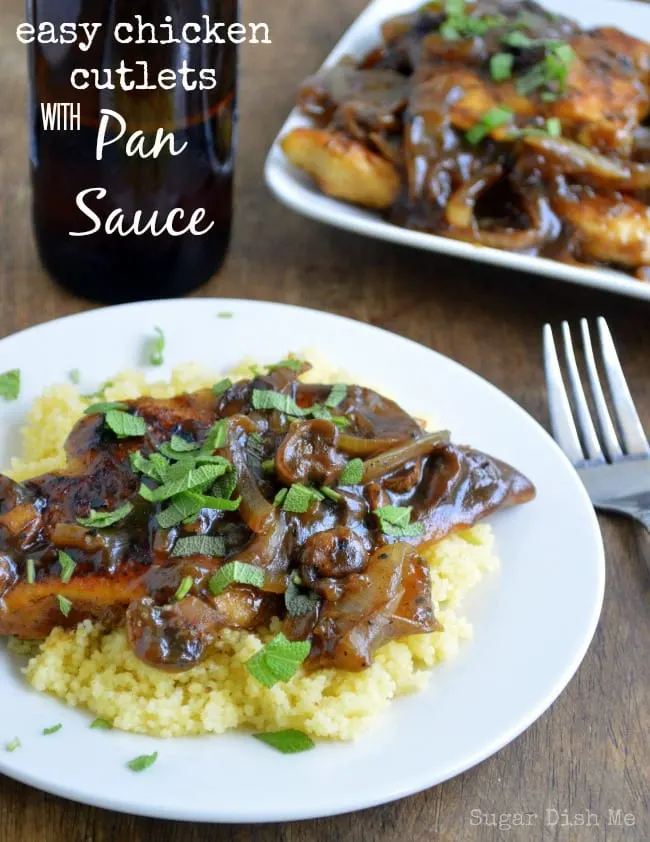 I have to tell you a story about my dog Lucy, who might just be THE BEST DOG EVER.
The day that I made this chicken for photos I'd been in the kitchen since 8 a.m., and it kind of looked like a bomb had gone off. Mess-maker extraordinaire right here.
So anyway. this was my 3rd go with this particular recipe over about a week; I had it down to a science and knew I could make it really fast before I had to get in the carpool line to pick up my kiddos.
I set up the table, directed the sunlight, cooked the chicken, made a little couscous, plated everything a few ways, and started taking photos. I was pretty happy with what I had, so I went to put my camera away and the dryer buzzed downstairs.
Obviously that distracted me so I ran down to grab out the clothes to fold them before they got all wrinkley. PLUS my dryer is one of those that will run the fluff cycle and just keep buzzing at you like there's an emergency if you don't go make it be quiet.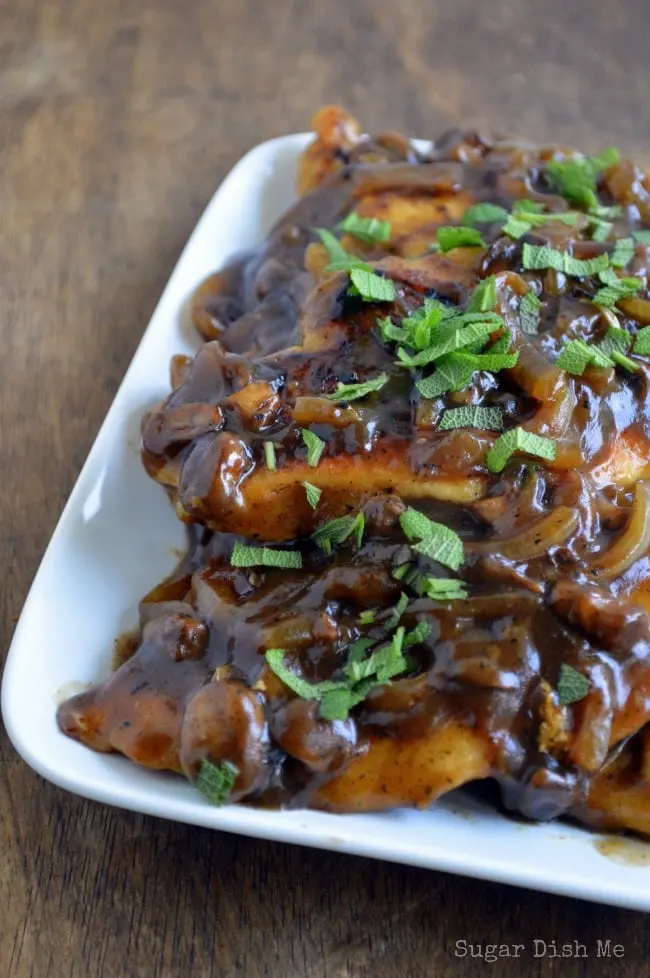 So I'm downstairs folding and I look at the clock, and I realize that I'd better get in the car ASAP before my kids think I forgot them.
I run up, put Betty in her crate (because she is a small, adorable, destructive monster), tell Lucy to be a good girl, and head out the door.
Leaving Lucy out of her crate is a recent development. At the old house she could NOT be trusted. I'd try to let her stay out, only to come home 30 minutes later to find a loaf of bread strewn all over the living room or a beheaded stuffed animal. My favorite incident was when she dragged all the coffee grounds out of the garbage. That was awesome.
I got halfway to Evan's school and realized that I left that entire plate of chicken you see above sitting out in the open on the table.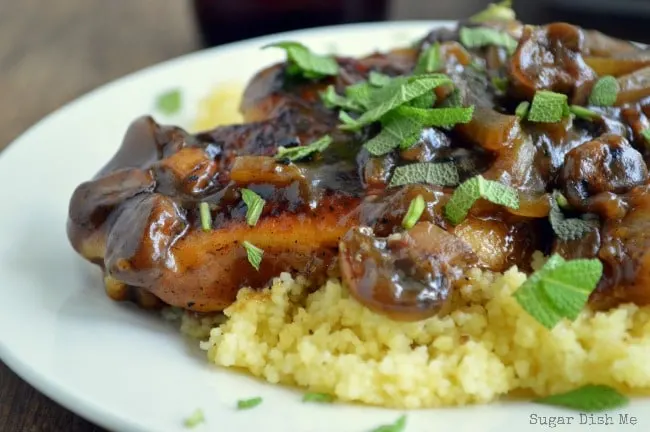 But there was no turning around. You cannot abandon your kids at school to save a plate of chicken.
I was pretty much resigned to the fact that the chicken was going to be gone when we got home, and I was going to have to cook dinner all over again.
I knew when I got home Lucy would either be hiding in her crate (guilty), or would be over the moon proud of herself waiting on the stairs. The kids and I were taking bets on where she would be.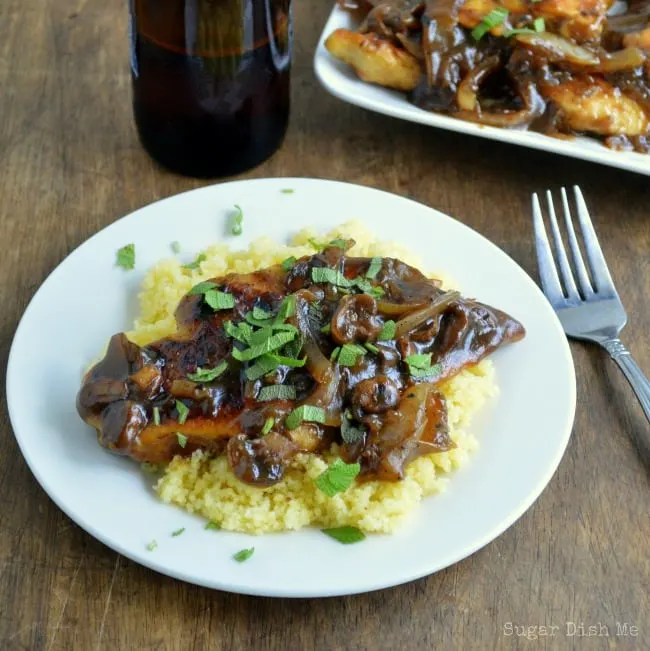 When I unlocked the front door, there was my Lucy girl sitting on the stairs, quivering from head to toe with excitement – SHE DIDN'T EAT THE CHICKEN.
I was shocked. I'm still shocked. Lucy was the best dog ever!
Until we left her for a couple of hours a few days later and came home to her huddled under the kitchen table in a circle of stuffed animals, and one little dragon with all the stuffing torn out.
Let's talk about this chicken for a minute though — it's amazing! And fast. I've made it several times, with several variations, but this one boasting a rich pan sauce made from beer and a little broth was the fastest, most cost effective, tasty awesomeness ever! You're gonna love it.

Easy Chicken Cutlets with Pan Sauce
A deliciously easy one-pan dinner! Chicken cutlets are lightly floured, browned, and then covered in a rich pan sauce made with beer, onions, and mushrooms.
Ingredients
4-6 thinly sliced chicken cutlets
salt and pepper
¼ cup flour
3 tablespoons olive oil
1 medium sweet onion, halved and thinly sliced
8 ounces button mushrooms, cleaned and sliced
⅓ cup beer (I went with a darker amber here)
1 cup low-sodium chicken broth
1 tablespoon cornstarch
fresh sage to garnish
Instructions
Sprinkle the chicken with the salt and pepper. Dredge the pieces in the flour to coat, shaking off any excess.
Heat 2 tablespoons of the oil in a large skillet over medium high heat. Add the chicken pieces and brown for a few minutes on each side (2-4, depending on the thickness of your chicken). You want to reach an internal temperature of 165°F.
Remove the chicken to a plate and set aside. Add the remaining 1 tablespoon oil to the skillet.
Add the onions and mushrooms and cook for about 5 minutes, until they are caramelly and soft. If your pan seems dry you can go ahead and add a splash of the beer to cook the vegetables.
When the vegetables are soft, pour in the beer. Cook for 1-2 minutes. Stir together the broth and cornstarch and then pour that into the pan. Reduce the heat to medium.
Stir the sauce until it starts to thicken. Add the chicken back to the pan and let it cook for another minute or two to soak up the sauce.
Garnish with the fresh sage and serve.
Notes
If you don't have beer, this is also delicious with wine OR bourbon! You may need to use a little more broth with the bourbon though because it evaporates in the hot skillet a little more quickly.
I like to hit the finished dish with a little sea salt. Yum!