Fluffy buttermilk pancakes loaded with fresh shredded zucchini, cinnamon, nutmeg, and brown sugar. Zucchini Bread Pancakes are a perfect summer breakfast and a great way to use up some of those garden veggies!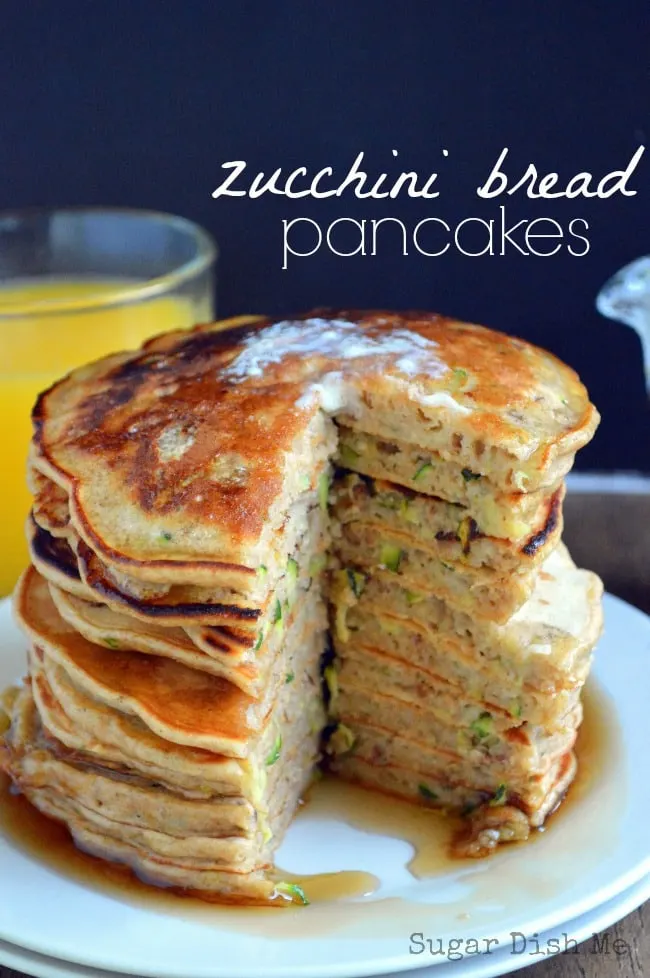 I can't think of a better way to start a Saturday.
Hot fluffy buttermilk paNCAKESSSSS!!!! [<<Oprah voice]
You guys know how much I love my breakfast. And my second favorite thing about summer meals is being able to lazily linger over the breakfast table with one more cup of coffee and a book or something (first favorite thing = late lazy dinners; no more freaking out at 5 p.m.!).
In the summer, in this little farming community, zucchini is ehhhhvurrrywhere. I used to work in this little store that dealt heavily in local produce and I swear 3 people a day would stop with bags full of zucchini and squash to unload. Their little home gardens produced so much, so fast, that they were driving up and down the road trying to give the stuff away. If you've ever had an even f successful home garden you know what I'm talking about.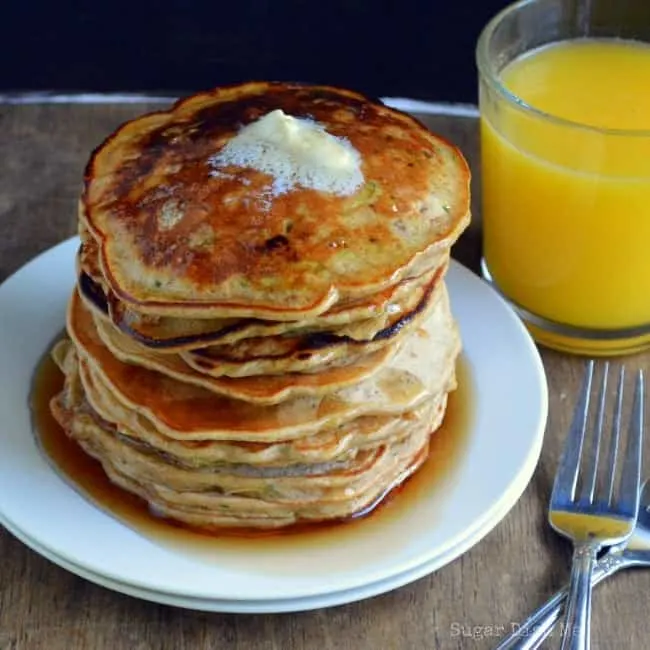 Even if you don't have a garden though, one trip to the grocery store or farmer's market in the summer will tell you to buy all the zucchini.
And Then you'll have 177 zucchini squash (-es? I feel like that word should be 'squashes' but that seems wrong and spell check only corrects things that are actual words like 'bundt') hanging around and you'll be adding it to everything, and making mock apple crisps, and trying to unload loaves of zucchini bread on your neighbors, and in your head you'll be screaming, "whyyyyy did I have to have all this zucchini?!"
Or is that just me?
Maybe I should put my produce-hoarding tendencies in check.
But not before I sell you on these pancakes.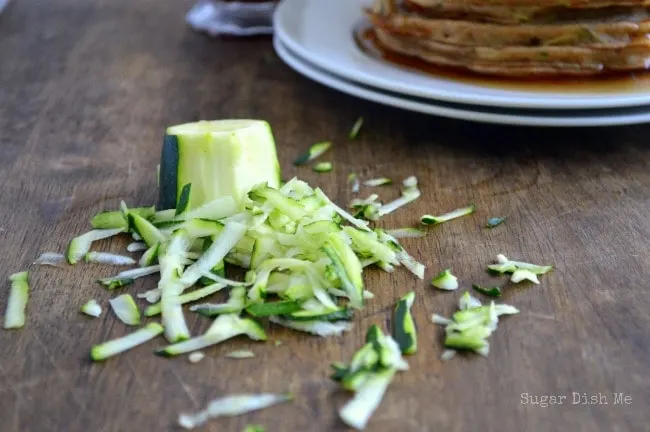 Shredded zucchini in pancakes works a lot like shredded zucchini in bread. It's moist, it's sweet, and it's happy to be covered in brown sugar, cinnamon, and nutmeg.
I didn't add a lot of sugar to this recipe – just 2 tablespoons of brown sugar in the whole big batch of pancakes, because I like the sort of earthy flavor I get with the whole wheat flour and pecans.
Oh! I forgot to tell you about the pecans! I added pecans to the batter. The crunch is perfect. You could opt for walnuts, too, or leave the nuts out completely if they aren't your thing, but I'm telling you the pecans give these pancakes just a little more oomph.
Also buttermilk. I always have it on hand because I love to bake with it and it usually has a pretty long use-by date. But if you find yourself buttermilk-less, you can always use that fail-safe formula:
1 tablespoon white vinegar (or lemon juice) + enough milk to equal a cup = 1 cup buttermilk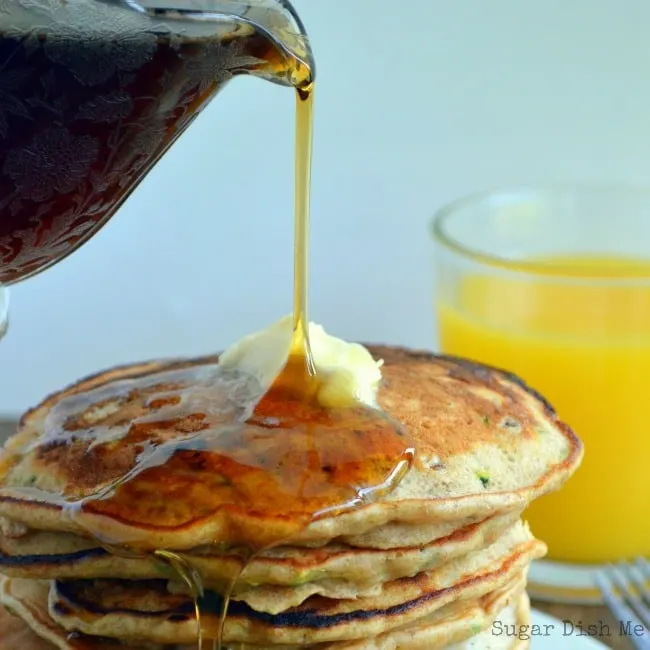 Make the most of your produce this weekend!
Got Pancakes on the Brain? Here are a few more pancake recipes to try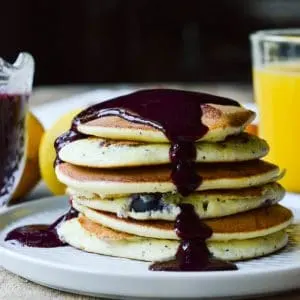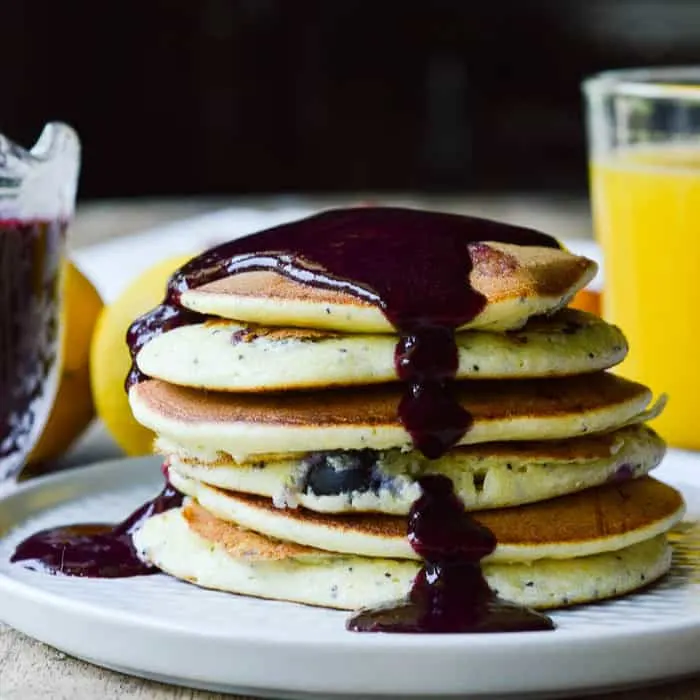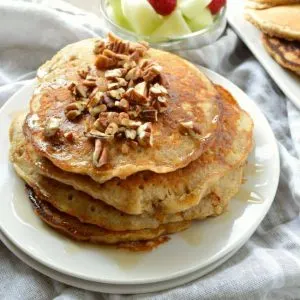 Lemon Blueberry Poppy Seed Ricotta Pancakes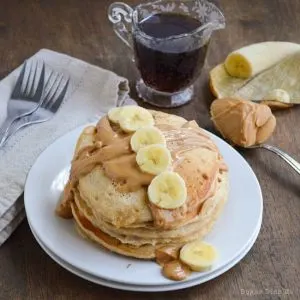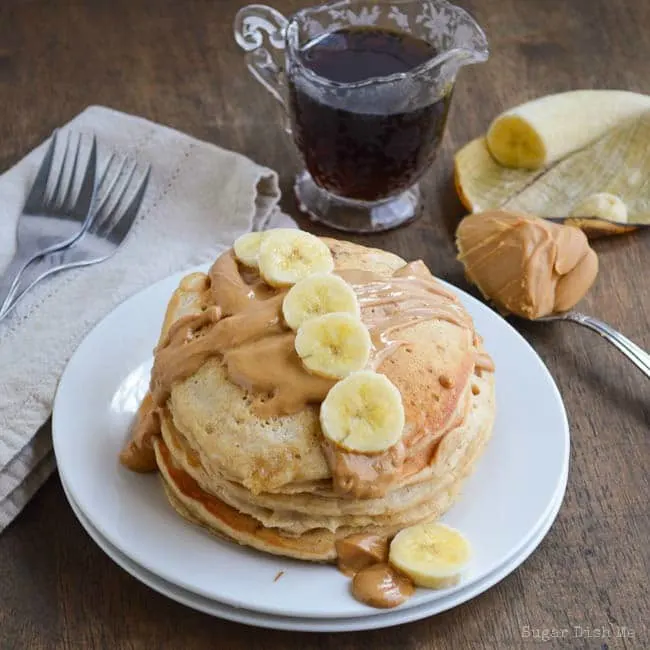 Peanut Butter Banana WholeWheat Pancakes
Cinnamon Raisin Bread Pancakes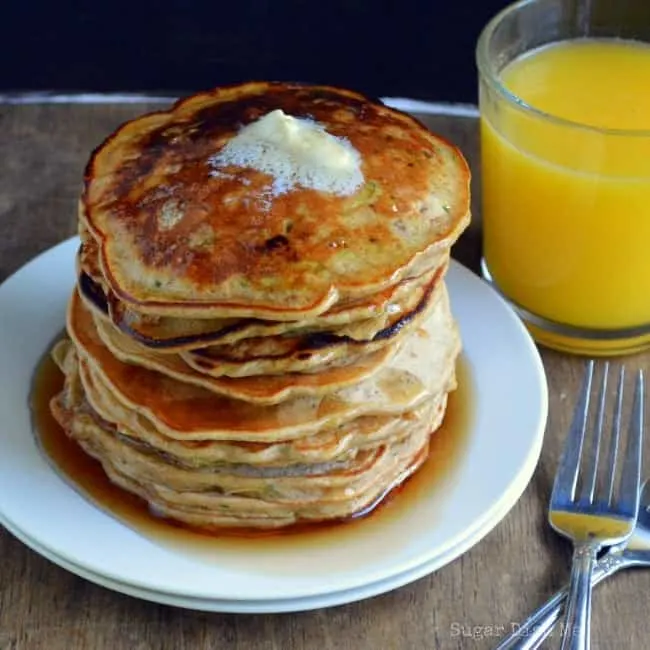 Yield:

4-6
Zucchini Bread Pancakes
Buttermilk pancakes made with half whole wheat flour, and stuffed full of shredded zucchini and pecans. These pancakes are a great way to use up all that summer produce!
Ingredients
1 cup whole wheat flour
1 cup all purpose flour
2 tablespoons brown sugar
2 teaspoons baking powder
1 1/2 teaspoons cinnamon
1/2 teaspoon nutmeg
1/2 teaspoon kosher salt
2 cups buttermilk
2 eggs, lightly beaten
1 teaspoon vanilla
1 cup finely shredded zucchini (see note)
1/2 cup chopped pecans or walnuts (optional)
butter and syrup for serving
Instructions
In a large bowl whisk together the flours, brown sugar, baking powder, cinnamon, nutmeg, and salt.
Pour in the buttermilk, eggs, and vanilla. Stir until just combined, making sure to scrape the bottom of the bowl so there are no pockets of dry mix.
Stir in the shredded zucchini and walnuts.
Heat a griddle or skillet over medium high heat (I usually set the electric griddle to about 375°F). I like to butter the griddle for pancakes. It gives them a slight buttery crisp on top.
Pour the batter onto the griddle to make your pancakes. I find that a 1/4 cup measure works perfectly for scooping batter and pouring.
Let the first side cook until bubbles appear. Flip and cook on the second side for 1 -2 minutes. Repeat until you've used all the batter.
Serve with butter and syrup!
Notes
In the photos here I shredded my zucchini with a box grater to acheive larger pieces that you could see. This is one option and I was good with the taste, but since pancakes don't cook as long as bread, the fibers in the zucchini don't break down as much. You may want to shred your zucchini a little more finely or even throw the shreds in the food processor for a second.
I also did not peel my zucchini. I love the green. But it's a matter of preference. You can peel yours if you'd like.
Recommended Products
As an Amazon Associate and member of other affiliate programs, I earn from qualifying purchases.
Nutrition Information:
Yield:
6
Serving Size:
1
Amount Per Serving:
Calories:

344
Total Fat:

12g
Saturated Fat:

3g
Trans Fat:

0g
Unsaturated Fat:

8g
Cholesterol:

70mg
Sodium:

544mg
Carbohydrates:

51g
Fiber:

4g
Sugar:

15g
Protein:

11g