This Hunka Burnin' Love Elvis Banana Bread is moist and fully loaded with peanut butter and mini chocolate chips, and it's topped with candied bacon! It really doesn't get much better than this.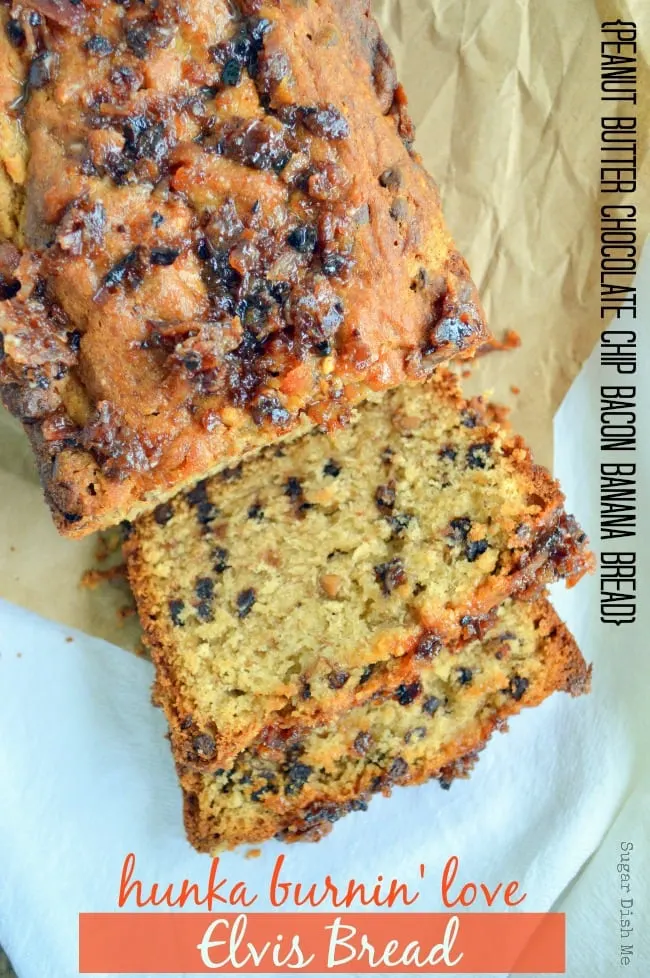 Um, yes.
I totally went there.
Because yummy-everyone-loves-it banana bread needed some spiffing up.
Did I ever tell you that banana bread was the very first thing I learned how to make all by myself? It is the base for all my kitchen love. Cream butter, add sugar, slowly beat in eggs, then add bananas. <<– words to live by.
I gleaned those little nuggets of wisdom from one of those church cookbooks with the red plastic binding and lots of recipes that call for things like Cheez Whiz and oleo when I was 9 or so.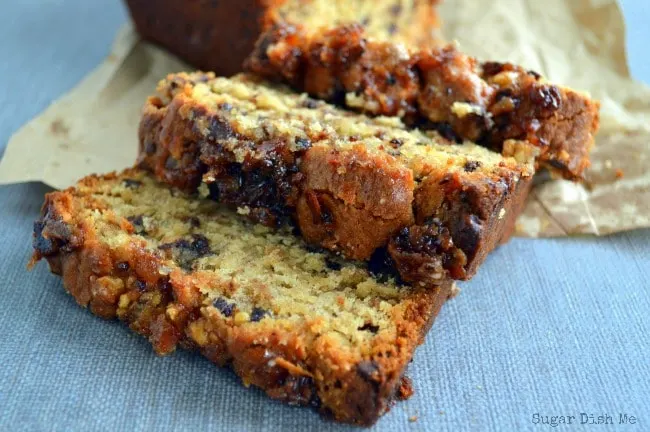 So I had this whole little train of cooking thought to share with you, but our regularly scheduled programming has been interrupted by my family, quite possibly the most distracting people in the universe.
While I sit on the sofa with my laptop trying to tap out a few sentences that make sense sans 10000 grammatical errors, I have Chad, my awesome other half, to my right, watching YouTube videos of very grunt-ey and gross weight lifting guys doing stupid things to look like they have no neck. Betty, my very adorable and mouthy puppy, is laying at my feet doing this under-the-breath bark thing, just in case there is an intruder. Gidget, otherwise known as The World's Most Annoying Cat, decided that she needed to not only be on my lap, but that she had to drape herself over my arm with her happy claws of doom pricking the skin through my tank top.
And then, just to see if I was close to my breaking point, Chad started chewing ice.
It's really only a matter of time before one of the kids comes up the stairs and tells me that Piccachu has 4326 Smurf points and has exploded all the Creepers in Clash of Clans or some kind of garbledy gook like that.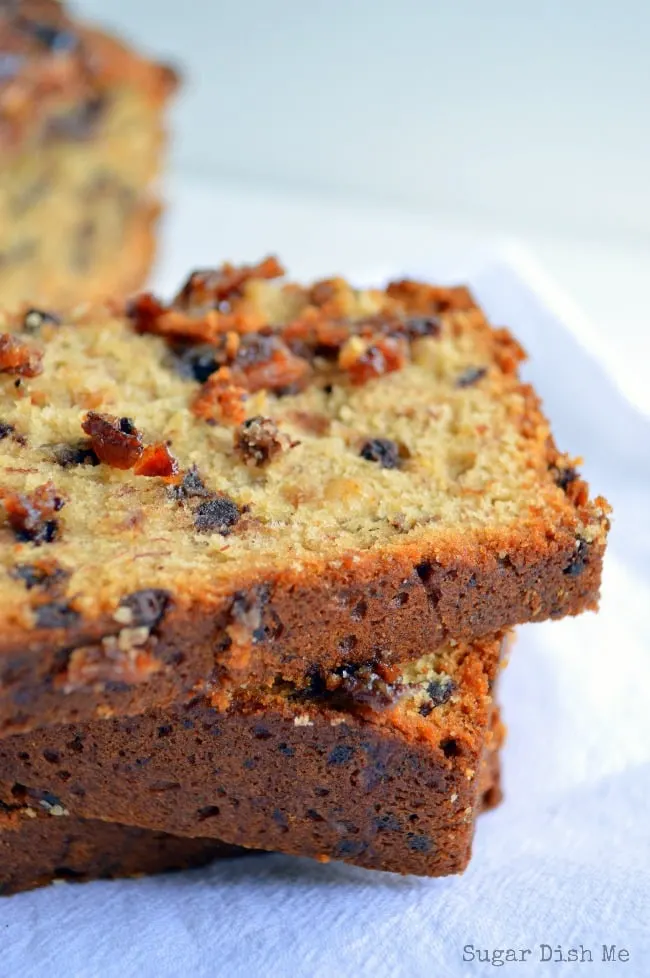 I'm not sure why I waste my time (and limited patience) trying to work after 5 p.m.
It is also interesting to note that no one seems to bother me while I am washing dishes…
Anyway, I guess we'd better get down to bread business before someone realizes I have typed almost 400 words.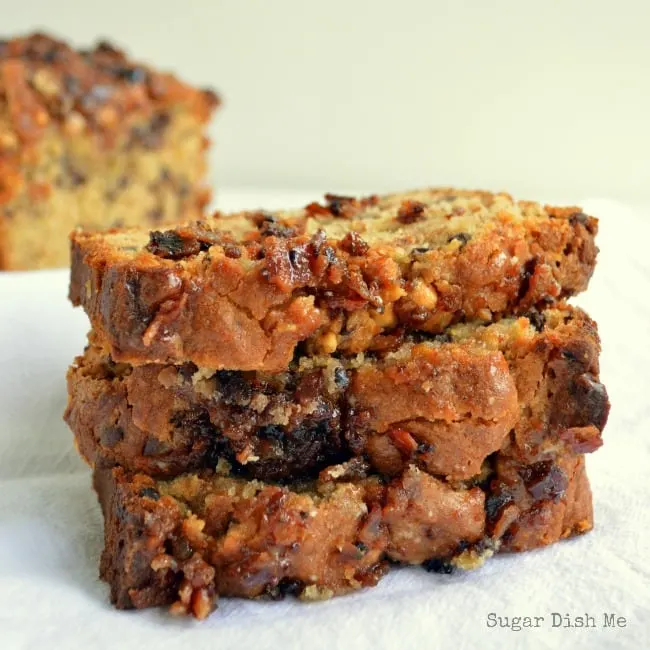 I put peanut butter in the banana bread! Crunchy peanut butter. You can use creamy peanut butter, but I was aiming for flavor AND texture, and I decided that everything about this bread needed to be over the top. So I added mini chocolate chips. AND THEN I topped it with a teensy bit of glaze that holds candied bacon in place.
Yes. I said Candied. Bacon.
What's great is that with everything going on here, this bread is not tooooooooo sweet, or even too rich. There's a nice balance between salty peanut butter and sweet bananas, soft bread, and crunchy bacon. This banana bread has a really tight crumb which I love, but it's also a really sort of fluffy bread. Basically, Elvis Banana Bread has got it going on. The King knew what was up.
And with that I am going to break up an argument about who would win in a battle between Iron Man and Batman. Recipe follows.
Elvis Banana Bread
The King would give this Hunka Burnin' Love Banana Bread his stamp of approval! Elvis Banana Bread has crunchy peanut butter, mini chocolate chips, and is topped with candied bacon!
Ingredients
For the Bread:
¾ cup unsalted butter, at room temperature
1 cup crunchy peanut butter (see note)
2 cups granulated sugar
2 eggs
1½ cups mashed bananas (about 3 medium bananas, mashed)
1 teaspoon vanilla
3 cups all purpose flour
½ teaspoon baking soda
½ teaspoon baking powder
½ teaspoon salt
1 cup mini chocolate chips
For the Candied Bacon:
8 strips bacon
3 tablespoons brown sugar
½ teaspoon cinnamon
For the Glaze:
⅓ cup powdered sugar
2-4 tablespoons milk (as needed)
Instructions
Preheat the oven to 350°F. Butter two 8½ X 4½ bread pans.
Cream the butter and peanut butter. Add the sugar and mix until combined. Slowly beat in eggs and vanilla. Then add the bananas.
In another bowl whisk together the flour, baking soda, baking powder, and salt. Add the dry mixture to the wet and mix until just combined.
Stir in the mini chocolate chips. Divide the batter evenly between the two prepared pans and bake for 45 - 50 mins (see note).
While the bread bakes, place a wire rack on a baking sheet. Mix the brown sugar and cinnamon together in a shallow dish and sort of dredge the bacon strips through the mixture. Lay the bacon strips flat across the wire rack, careful to tuck in any excess so it's dripping on the baking sheet and not in the oven.
During the last 15 minutes of baking, loosely tent the bread to keep it from getting too dark on top. Place the pan with the bacon in the oven on the rack below the bread.
You'll want to watch the bacon closely -- bake time can range from 7 to 15 minutes depending on the thickness of your bacon. It will be crisp and golden when it's ready; not too dark.
Let the bread and the bacon cool just a bit before turning out of the pans. Make your glaze by stirring together the powdered sugar and milk, adding the milk just a little at a time to reach a good consistency. Spoon it over the cooling loaves (it's best to do this while they are still warm). Crumble the bacon over each loaf.
Let them cool almost completely before slicing to serve.
Notes
1. I used crunchy peanut butter for a little extra texture but you can certainly use creamy peanut butter.
2. BE SURE TO CHECK your bread with a pick in the center before removing from the oven. You will have bits of melted chocolate on the pick -- you just want to watch for anything doughy or that looks like uncooked banana. Sometimes the bake time is a little longer than is called for.
Oh and hey! It's Leftovers Club Day! This month I was paired with Michele from Alwayz Bakin' . I realized AFTER I mailed the bread that she just posted some delicious looking Peanut Butter Banana Muffins so… great minds think alike, and also I hope she likes peanut butter and bananas as much as Elvis because there's a lot of that going on in her life. If you'd like to join Leftover Club and swap baked goodies with another food blogger, you can sign up here.