This Homemade Fresh Tomato Sauce is one of my favorite ways to use up summer tomatoes. Whether you have a garden or just found a great sale, this delicious sauce comes together easily in just 30 minutes!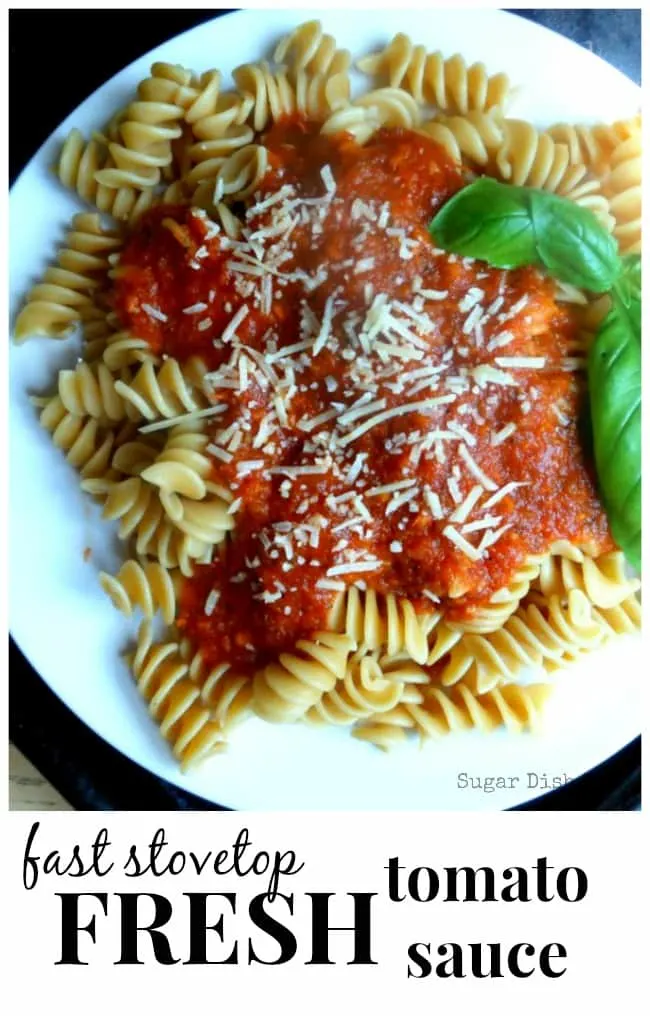 Last year Chad built me a gorgeous raised garden bed for my birthday. We planted a few tomatoes and they went crazy (tomatoes REALLY like garden compost). But we had no idea what we were doing.
So this year we decided to try tomatoes again since Chad very clearly has a green thumb and likes staying in touch with his farm boy roots.
We planted 6 Cherokee Purple Heirloom Tomato plants that we got from a local farmer in early spring. I don't know if you have any experience with growing Cherokee Purple tomatoes, but the punchline here is that I have 6 super humongous tomato plants covered in 564687867 super humongous tomatoes. Last year the basil took over my life. This year it's the heirloom tomatoes.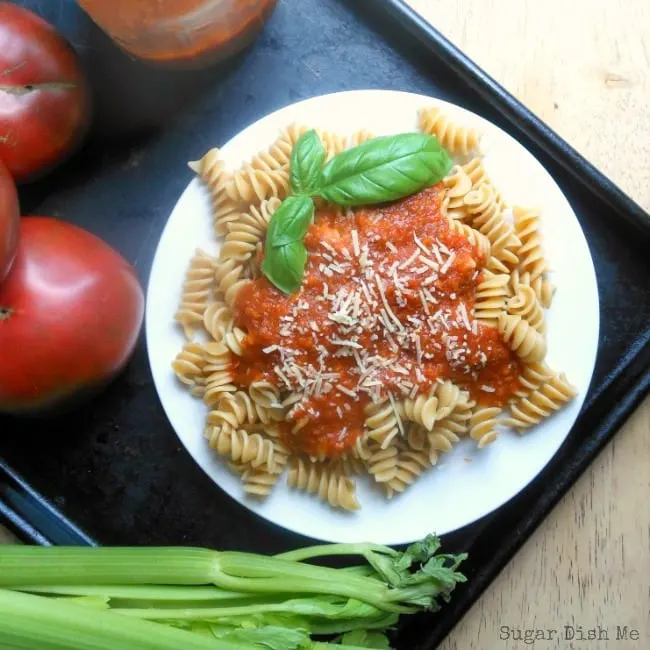 So I've been making my way through the usual suspects: Roasted Tomato Basil Soup, Fresh Tomato Bruschetta, Big Fat BLT Sandwiches on soft sandwich bread… I'm basically one giant walking ball of Vitamin C. Last year I shared Roasted Tomato Sauce from SOLE Food Kitchen. It is really simple and fresh and has so much tomato flavor packed into it, like tomato concentrate but in an awesome garden-ey way, not in a OJ-from-the-can way. I love using it as a dipping sauce (hellooooooo baked mozzarella).
But to roast tomatoes you have to turn the oven on. And if I have to turn the oven on this week I might actually die because it is so ridiculously, horribly, miserably humid and hot. This might be a slight exaggeration because later this week you will see that I made a cake which definitely requires the oven but whatever. Sauce and cake are not the same thing.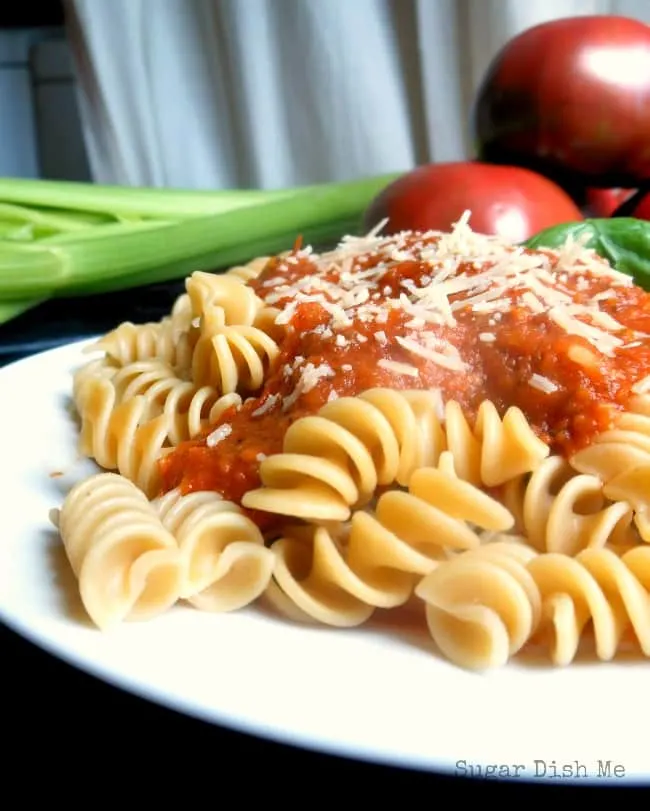 So THIS Homemade Fresh Tomato Sauce is amazing. It is one big ol' pot of fresh tomatoes & veggies. It comes together on the stove in about 30 minutes. It freezes well. It is AWESOME on pasta. Makes a crazy good stovetop lasagna. I've been known to just kinda find some bread and use it for dipping. Pizza Sauce? Um, definitely. Use whatever tomatoes you like — there is no such thing as too many.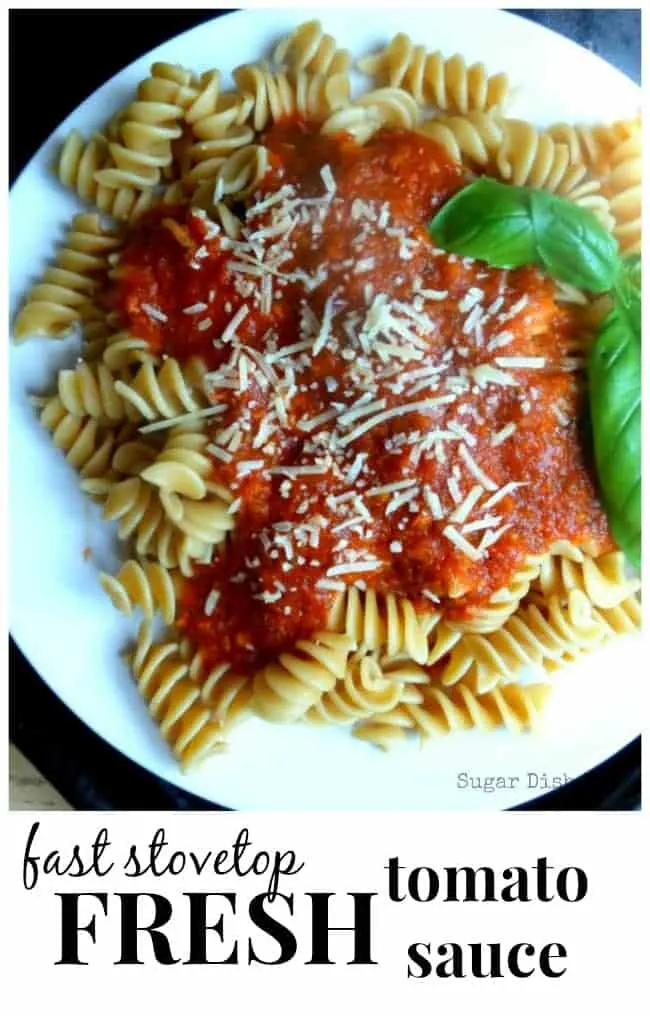 Yield:

2 quarts of sauce
Homemade Fresh Tomato Sauce
Homemade Fresh Tomato Sauce that comes together on the stovetop in about 30 minutes! Full of veggies, fresh and delicious-- you can use this sauce for anything!
Ingredients
2 tablespoons olive oil
1 medium onion, chopped (about 1 cup)
1/2 cup celery + leaves, diced
1/2 cup carrots, peeled and diced
3 cloves garlic, minced
1/2 cup white wine (or broth)
4 1/2 cups fresh tomatoes, cored and chopped
1/4 cup fresh basil, chopped (about 1 1/2 tablespoons dried)
2 tablespoons chopped fresh oregano (about 3/4 tablespoon dried)
1 teaspoon kosher salt
1/2 teaspoon coarse ground black pepper
1/4- 1/2 teaspoon crushed red pepper flakes (optional)
Instructions
Heat the oil in a medium to large saucepan.
Add the onions and cook for about 2 minutes over medium high heat until translucent. Add the celery + leaves and carrots. Continue cooking for about 4 minutes stirring occasionally.
Add the garlic and cook for about a minute until it's soft. Pour in the wine, and stir. Cook for another minute or so.
Add the tomatoes, basil, oregano, salt, pepper, and red pepper flakes. Stir and bring the whole pan to a simmer. Reduce the heat to medium, cover and let it cook for about 20 more minutes, stirring occasionally.
When you remove the sauce from the heat, pour it in the blender (or use a stick blender) and pulse until it's smooth.
Serve, can, or freeze!
Recommended Products
As an Amazon Associate and member of other affiliate programs, I earn from qualifying purchases.
Nutrition Information:
Yield:
6
Serving Size:
1
Amount Per Serving:
Calories:

99
Total Fat:

5g
Saturated Fat:

1g
Trans Fat:

0g
Unsaturated Fat:

4g
Cholesterol:

0mg
Sodium:

380mg
Carbohydrates:

10g
Fiber:

3g
Sugar:

5g
Protein:

2g