Chipotle Beef Burritos are made with thinly cut beef that's cooked with spicy chipotle peppers and lime, and then wrapped in a flour tortilla with rice, beans, and fresh pico de gallo.
This post includes recipes for fresh pico de gallo and for beef burritos with chipotle spice.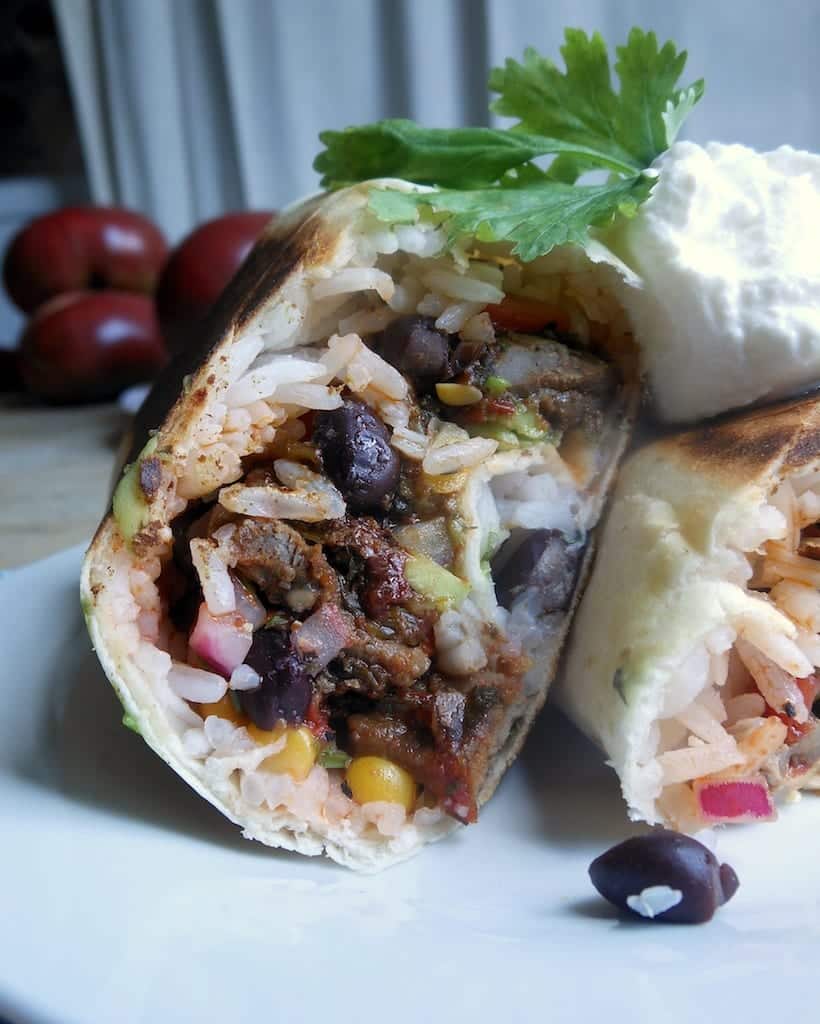 So before we get things confused here, let me just clarify that this burrito is cooked with chipotle peppers, and is not some kind of hopeful ode to Chipotle the restaurant. Qdoba for the fast-casual burrito win in my book. 🌯
This recipe is an ode to fast-casual-style burritos at home. It's quick, but I have a few great shortcuts to make execution even faster.
Chipotle Peppers in Adobo Sauce
Do you cook with chipotle peppers? I fell in love with these rich, smoky, versatile peppers in my early 20's, when I was just venturing into home-kitchen creativity.
They are dried jalapeños that are smoked and canned with a tomato sauce that has hints of onion and vinegar, and can be slightly sweet. And, just like jalapeños, chipotle peppers in adobo sauce are usually moderately hot, but every now and then you get a pepper that packs an unexpected HOT 🔥 punch.
I use them often because they are REALLY flavorful (and cheap!). Probably my favorite recipe using these peppers is my Mole Chili con Carne, but they also star in my Sweet Potato Chili (an EXCELLENT vegetarian option!), Honey Chipotle Lime Baked Wings, and these Baked Peach Chicken Taquitos.
They should be a pantry staple if they aren't already.
Okay so, in this recipe for Chipotle Beef Burritos, we are just quickly cooking thin strips of beef with the chipotle peppers, lime juice, cilantro and salt.
Tips for Tender Beef
This recipe is perfect for those little pre-sliced trays of fajita meat they sell at the grocery store. But! If you are purchasing a whole cut to slice yourself, flank, skirt, and sirloin are all great options. Sirloin will be a little more tender than flank or skirt steaks.
For the most tender beef in a burrito:
Cut against the grain. This helps to break down the muscle fibers that are red meat. 🥩
If you are prepping the meat ahead of time, marinate it in equal parts oil to acid. For this recipe that means the juice of 1 lime (about 2 tablespoons) + 2 tablespoons vegetable oil. You can also add a dash of soy sauce. Soy sauce contains enzymes that help to tenderize meat.
NOTE: If you choose to marinate your beef in advance, you will not need to add oil when you brown the meat.
NOTE 2: Up to 12 hours or overnight is the recommended maximum for marinating beef in lime juice. The color may change and a glass or stainless steel bowl is recommended. NOT ALUMINUM!
Make the Pico de Gallo
This step can also be done in advance.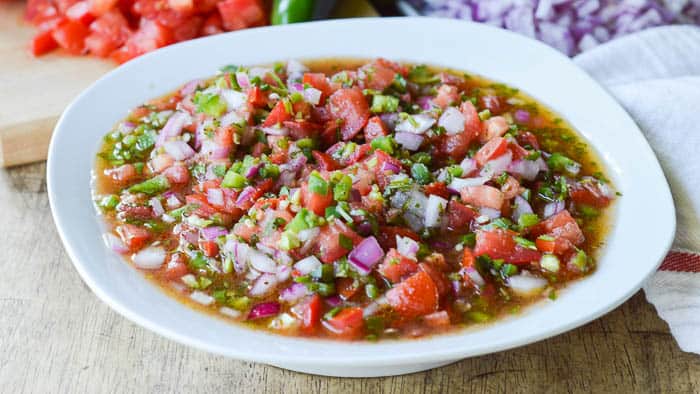 The pico recipe included makes a pretty good bit. But honestly who ever thought there was TOO MUCH pico? Definitely not me. Use the leftovers for dipping tortilla chips, or make this Southwestern Chicken Salad. It is one of my favorite things.
How to Make Chipotle Beef Burritos in a Hurry
I promised you shortcuts. I keep my promises.
We all have busy nights from time to time, and we still have to eat. Here's how not to end up in the Taco Bell drive-thru.
Purchase pre-sliced fajita meat. This is usually readily available where your supermarket sells fresh meat.
Replace the fresh pico de gallo with purchased pico de gallo. This can usually be found in the produce section of the grocery store, wherever prepared foods are offered.
Alternately, you can replace the pico de gallo with prepared salsa. Just grab your favorite jar.
Microwave your rice. This is my go-to weeknight shortcut, especially when I am just cooking for 1 or 2. My favorites are these pouches of Organic Seven Grains Rice Blend from Seeds of Change.
Can I Freeze Beef Burritos?
Yes! If you are a meal-prep person, you can definitely make these burritos in advance. However, when you assemble the burritos, leave out the pico de gallo (or salsa if you go that route) and avocado.
You can add in sliced peppers, onions, and/or corn if your plan is to freeze these. You can also add cheese.
Be sure to let all of your ingredients cool before assembling. Then wrap the burritos tightly with plastic wrap.
Tips for reheating frozen burritos
Microwave on defrost. Timing depends on your microwave as well as how stuffed your burritos are.
Once the filling has thawed, toast the burrito on both sides in a dry skillet over medium high heat. the tortilla will crisp.
Serve with pico, salsa, sour cream, and sliced avocado.
If you don't eat red meat you could easily substitute chicken in this recipe. If you don't eat any meat try cooking the beans with the chipotle peppers and lime juice. Need a low carb variation? Leave off the rice & tortilla and throw the rest of the burrito filling onto a nice green salad. A little salsa and low fat sour cream make an excellent dressing (totally my lunch today, f.y.i.).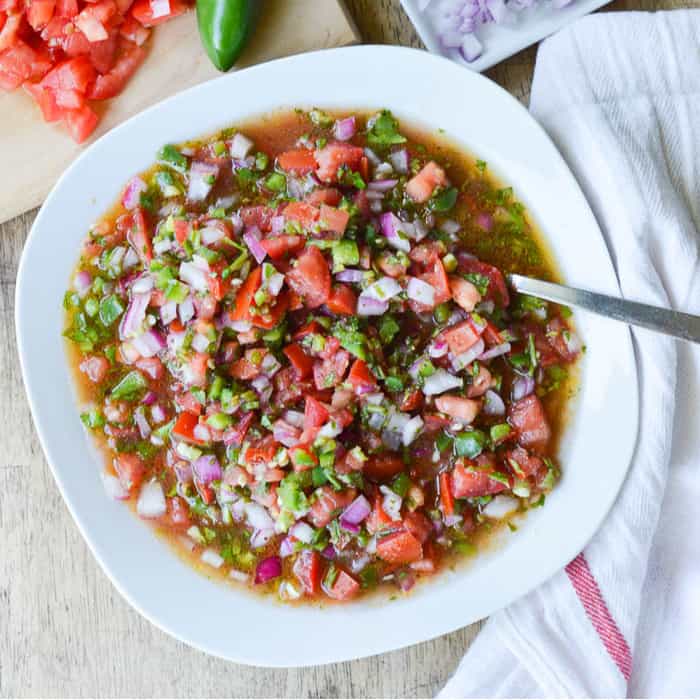 Yield:

serves 12
Easy Pico de Gallo
This quick and fresh Easy Pico de Gallo is at the center of so many great dishes! If you are making tacos, a good southwest salad, burgers, or if you just have a summer vegetable garden gone wild, this recipe will come in handy.
Ingredients
1 1/2 cups diced roma tomatoes
1/2 cup diced red onions
1/4 cup minced jalapeno pepper
2 heaping tablespoons chopped cilantro
1/2 teaspoon black pepper
1/2 teaspoon kosher salt
1/2 teaspoon garlic powder
1/2 teaspoon onion powder
1/3 cup red wine vinegar
2 tablespoons olive oil
Instructions
Add all ingredients to a medium bowl and stir to combine.

Serve with tacos, chips, burgers, salads, and more.
Recommended Products
As an Amazon Associate and member of other affiliate programs, I earn from qualifying purchases.
Nutrition Information:
Yield:
12
Serving Size:
1
Amount Per Serving:
Calories:

38
Total Fat:

3g
Saturated Fat:

0g
Trans Fat:

0g
Unsaturated Fat:

2g
Cholesterol:

0mg
Sodium:

109mg
Carbohydrates:

3g
Fiber:

1g
Sugar:

2g
Protein:

1g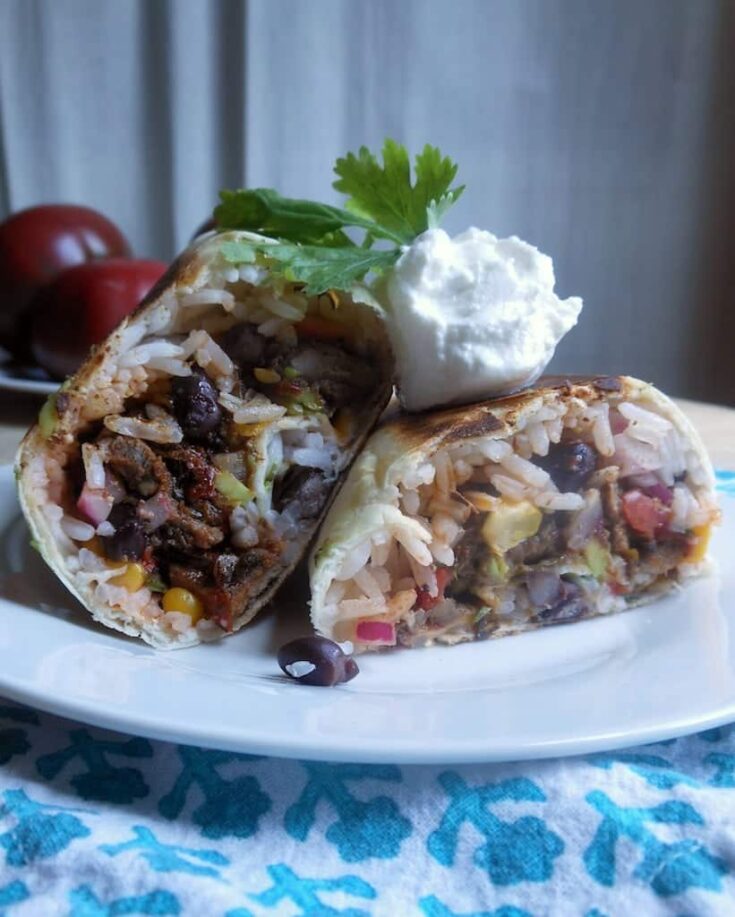 Yield:

serves 6
Chipotle Beef Burrito
Chipotle Beef Burritos are made with thinly cut beef cooked with spicy chipotle peppers and lime and then wrapped in a flour tortilla with rice, beans, and fresh pico de gallo.
Ingredients
For the Beef
1 tablespoon vegetable oil
1 pound lean stew meat or flank steak, cut into 1/2" thick slices
3-4 chipotle peppers in adobo sauce, finely chopped
1 lime
¼ cup chopped fresh cilantro
½ teaspoon kosher salt
¼ cup water (as needed)
For the Burritos
6 burrito-sized flour tortillas
1 (15 ounce) can black beans, drained & rinsed
1 cup cooked rice
1 avocado, sliced
sour cream & salsa for serving
Instructions
Heat the vegetable oil in a large skillet over medium high heat. Add the beef and brown for about 2 minutes.
Add the chipotle peppers in adobo sauce and stir. Slice the lime in half and squeeze all the juice into the skillet. Stir, reduce the heat to medium and keep cooking.
Add the cilantro and salt. Let the meat simmer, stirring occasionally. If the pan looks dry, add the water, stir, and continue cooking.
Cook rice according to package instructions.
To assemble the burritos, lay out a tortilla. Spoon a little rice in the middle. Top with the black beans and pico. Add the beef and top with sliced avocado.
TO FOLD YOUR BURRITOS: Fold two sides of the tortilla in (short sides first; so if your filling were a horizontal line in the middle, start with the left and right sides perpendicular). Fold the third side up and towards the middle and keep folding/rolling -- like a tortilla envelope. Repeat this with all the burritos.
OPTIONAL: For a crisp, toasted burrito, heat a clean dry skillet over medium high heat. Place the burrito seam side down in the hot skillet for about a minute. turn it to the other flat side and repeat.
Serve with salsa & sour cream.
Recommended Products
As an Amazon Associate and member of other affiliate programs, I earn from qualifying purchases.
Nutrition Information:
Yield:
6
Serving Size:
1
Amount Per Serving:
Calories:

793
Total Fat:

31g
Saturated Fat:

10g
Trans Fat:

1g
Unsaturated Fat:

18g
Cholesterol:

116mg
Sodium:

1356mg
Carbohydrates:

80g
Fiber:

15g
Sugar:

6g
Protein:

50g