Firecracker Shrimp Macaroni and Cheese is a homemade copycat version of a popular restaurant dish, but its been lightened up and simplified. Crispy breaded baked shrimp that has been marinated in your favorite hot sauce is scattered over creamy homemade macaroni and cheese for easy and filling comfort food at its best.
Sometimes you just hafta let the food do the talking…
Firecracker Shrimp Macaroni and Cheese does an awful lot of talking.
This meal packed such a punch I was rendered a little bit speechless.
I was inspired by a blurb on a restaurant menu– I only read the title "Firecracker Shrimp Macaroni and Cheese" and squinted my eyes at a little thumbnail picture. I didn't order it, but I filed the idea away for later. I'm so glad later FINALLY came.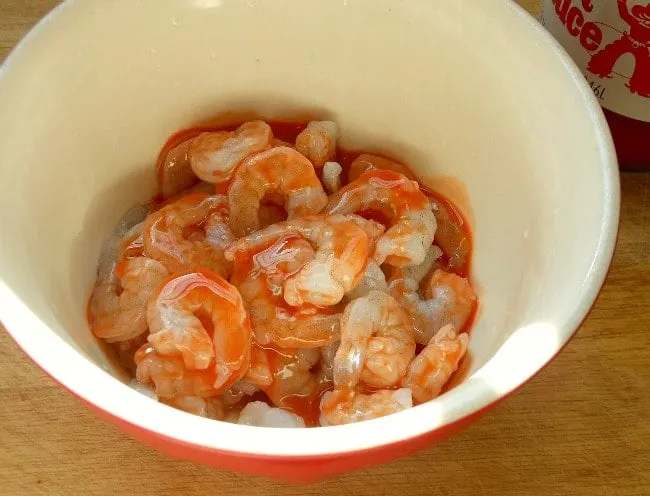 I marinated raw shrimp in my favorite hot sauce.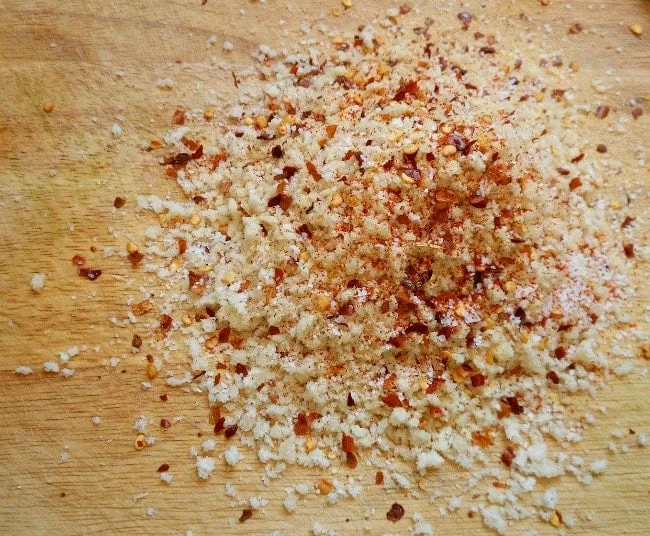 I cut crushed red pepper, garlic powder, a little cayenne pepper and a pinch of kosher salt into panko bread crumbs.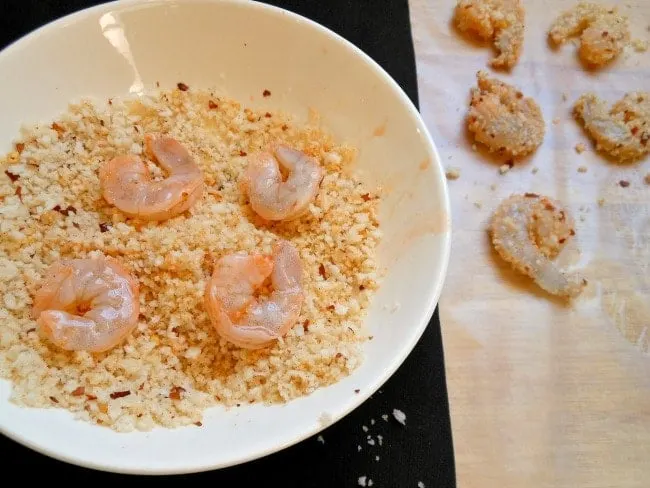 I dredged my marinated shrimp in the breadcrumb mixture and lightly oiled a baking sheet. I spread them across the baking sheet in an even layer and baked them at 350 for about 15 minutes- the crust turned out crispy and the shrimp pinked up nicely without being chewy.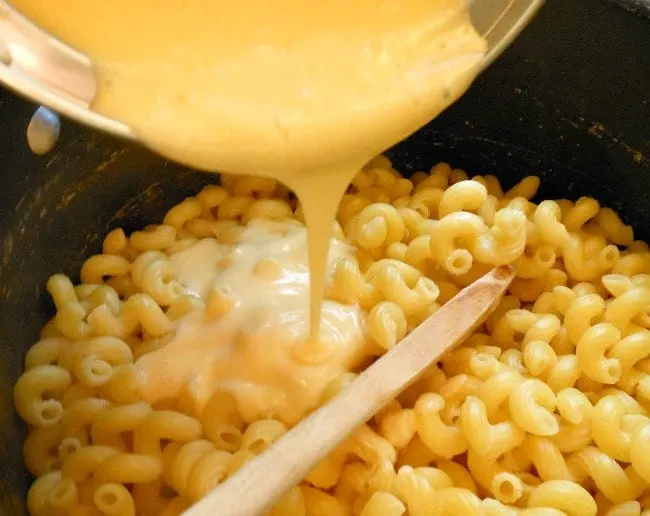 I made my mac'n'cheese with this recipe from Andie @ Can You Stay for Dinner? This is the recipe I ALWAYS use for macaroni & cheese… (and we rock the buffalo part when we're feeling spicy). If you've never read this blog, put it on your to do list.
When the shrimp comes out of the oven, toss it on top of the creamy macaroni & cheese, and sprinkle generously with some chopped green onions.
Snip the ends off of fresh green beans. Toss them in a pot of boiling water for 4 or 5 minutes and then drain (love my beans with a little crunch). Heat some olive oil in the pan and toss in a couple cloves of chopped garlic. Saute the garlic until it's soft. Drizzle the oil and garlic over the green beans.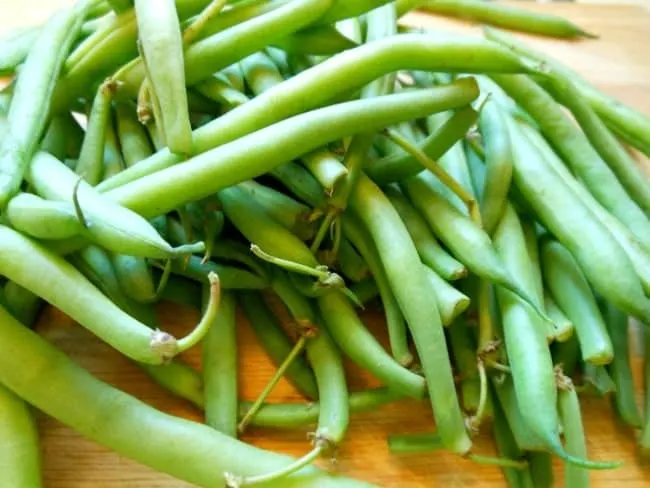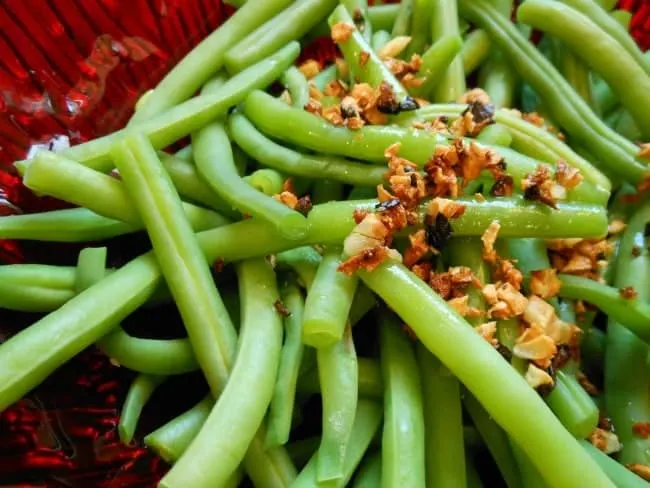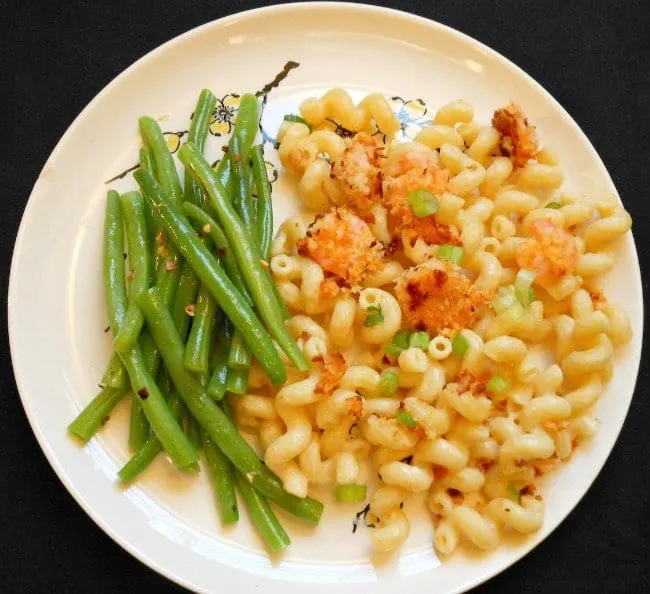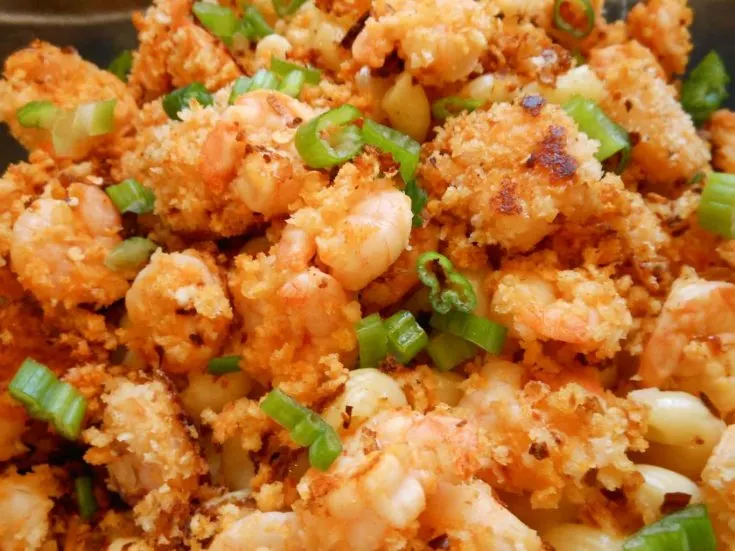 Yield:

6-8
Firecracker Shrimp Macaroni and Cheese
Ingredients
1 pound raw, peeled & deveined shrimp, tails off
1 cup Texas Pete
1 cup panko breadcrumbs
1 tablespoon crushed red pepper
1 teaspoon garlic powder
1/2 teaspoon kosher salt
1/4 teaspoon cayenne pepper
1 pound uncooked pasta (I used cavatappi)
1 cup cold milk (I used lowfat milk)
1 tablespoon cornstarch
1 tablespoon butter
3/4 cups sharp cheddar cheese, shredded (I used lowfat cheese)
2 chopped green onions for garnish ***optional***
Instructions
At least 30 minutes before you're ready to cook, pour the Texas Pete over the shrimp in a medium sized bowl, cover, and place in the fridge to marinate. The longer the shrimp sits in the sauce, the spicier it will be.
Combine the panko bread crumbs, crushed red pepper, garlic powder, cayenne pepper, and kosher salt in a food processor OR cut the ingredients together with a knife.
Preheat the oven to 350 and lightly oil a baking sheet.
Dredge the marinated shrimp in the bread crumb mixture and place on the prepared baking sheet in a single layer.
Bake for about 15 minutes (shrimp will be pink, breading will be crisp).
While the shrimp cooks, bring a large pot of water to a boil and cook the pasta according to package instructions.
Whisk the cornstarch into the cold milk and then bring to a boil. Reduce the heat stirring constantly and melt the butter in the liquid. Stir in the cheese, keep stirring until it's all melted into a happy sauce.
Pour over the cooked pasta and toss to coat. Cover the macaroni & cheese with the crispy cooked shrimp and garnish with the green onions.
Thank you to Andie @
Can You Stay for Dinner
for posting to the most delicious (and simple to make + cut some calories) macaroni and cheese. And thank you to the
Copper River Grill
for putting something as obscene as Firecracker Shrimp Macaroni and Cheese on your menu to give me something to fantasize about.