This recipe is the ultimate in comfort food. From Scratch Stew Beef turns out tender beef tips in homemade gravy that is amazing served over rice, egg noodles, or in a bowl with vegetables!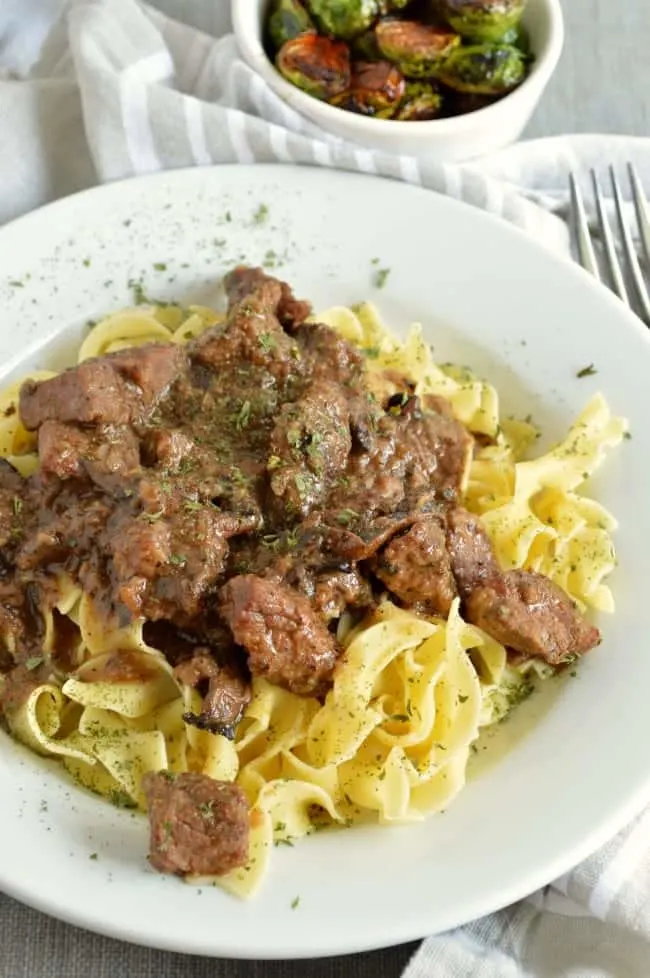 Note: This post is from 2013 but I updated the photos and added a few notes. Be sure to check the comments for reader feedback and suggestions! This is still one of my favorite cold weather meals. You have to try this From Scratch Stew Beef!
This is how our evening meal planning goes around here:
Me to Chad: "What do you want for dinner? Got a taste for anything?"
Chad to Me: "Just whatever… it don't matter."
Me to the Boys: "Guys? What do you wanna eat? Any ideas?"
The Boys to Me: "PIZZA!!!!!!" (That is always their answer.)
And so, the meal-planning always falls on me. Which I guess is fine because I have 78657992 newspaper and magazine clippings full of ideas but the problem is that my good ideas get spent on this blog and then my brain is tired. Honestly, by the time 5 pm rolls around most days I'd be totally happy with peanut butter and jelly. But that would never fly around here. No way.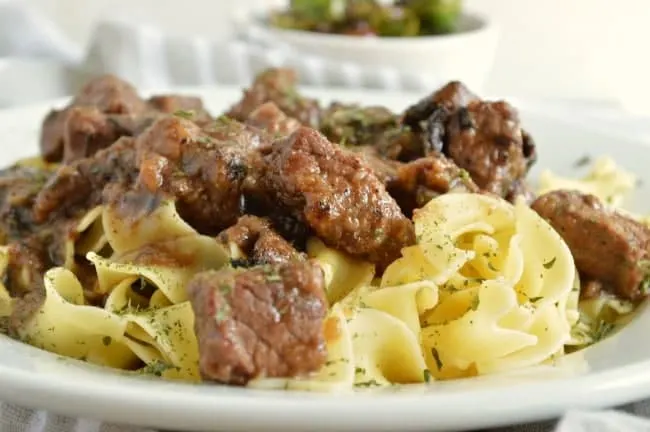 So anyway, Chad never ever ever ever ever ever makes meal requests. But last week he said, "I'd really like to have like some stew beef or something. That sounds really good." (I think the cool weather we are having is inspiring more than just me!!) I was SO happy that I didn't have to figure out what the plan was that I made it happen immediately!!!
"Beef 'n' Rice" was my favorite meal as a kid. I can remember my mom making this and the whole house would smell amazing. I posted the shortcut version using packaged seasoning way way way back forever ago in the first days of my blog when everything I did was embarrassing. So I decided you guys needed the real deal– the good stuff from scratch.
The packaged seasoning tastes good, but that's because it's mostly salt and mono-something-or-other. Not being able to read the ingredients sort of scares me. PLUS we have to do something with that giant spice rack full of bottles that you keep dusting.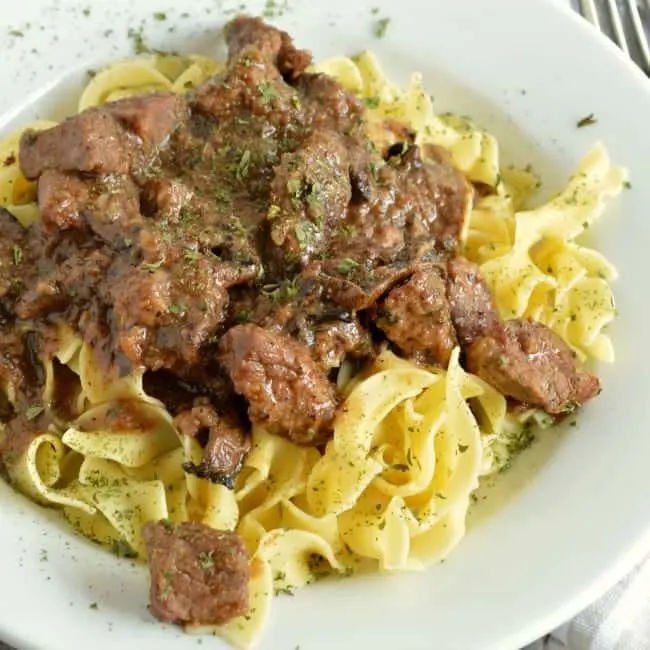 This is a really simple meal that comes together pretty quickly. As a kid I remember thinking it took FOREHHHHVUUUR to make this but that was probably just the anticipation (and my serious lack of patience). It is delicious over rice, egg noodles, or mashed potatoes. If you are feeling fancy, add mushrooms. If you are feeling really fancy, add a little more liquid and some vegetables and you have a yummy beef stew [Side Note: while this was cooking Andrew asked me what was for dinner and so I told him, "stew beef," and he totally turned his nose up and said, "but I don't like stew or soup," and I said, "fine. be hungry." He cleaned his plate. And had seconds.]
Notes:
You can replace half of the water with beef broth or red wine for more flavor. I highly recommend the wine!
If you decide to make this into a stew, add your cut carrots and potatoes (make sure the pieces are relatively uniform in size and are not too large) when you add the water and cook until the veggies are tender
I love this over rice, but egg noodles are also an excellent option!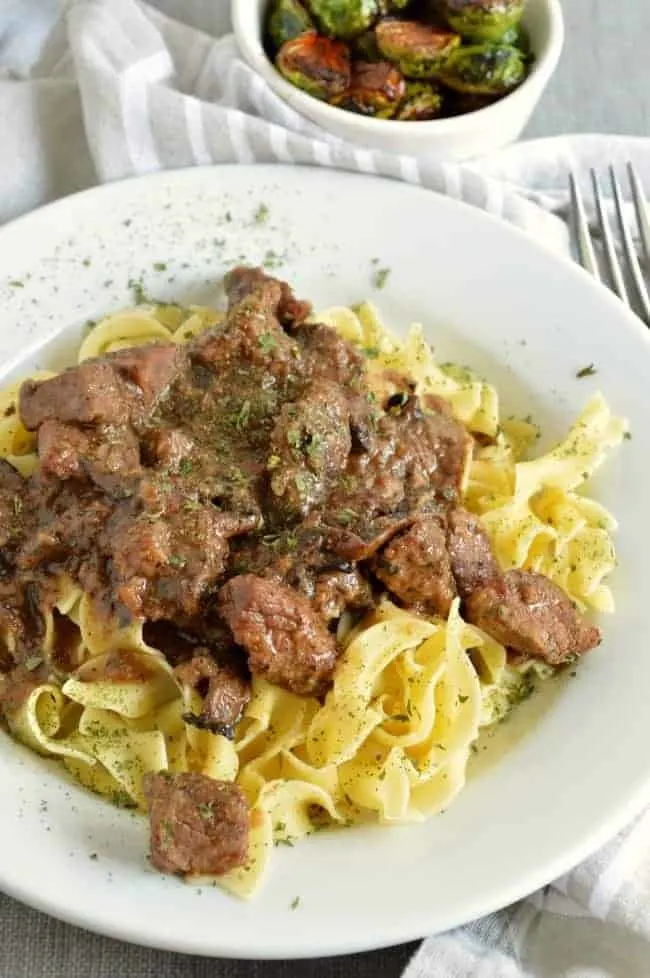 Yield:

4-6
From Scratch Stew Beef
From Scratch Stew Beef is a comfort food favorite! Tender beef tips in a well-seasoned, from-scratch brown gravy. This dish is warm, cozy, and will stick-to-your-ribs.
Ingredients
1 1/2-2 pounds lean stew meat
1 cup all purpose flour
1 tablespoon vegetable oil
1 teaspoon onion powder
1 teaspoon paprika
1 teaspoon kosher salt
1 teaspoon dried parsley
1 teaspoon cornstarch
1/2 teaspoon black pepper
1/2 teaspoon garlic powder
1/2 teaspoon dried basil
3 cups water (more if needed)
Instructions
Cut the beef into small pieces- about 1". Spread the flour on a plate and dredge each piece of beef through the flour, coating on all sides.
Heat the oil to medium high in a large skillet or pot (one that has a lid). Add the beef to the hot oil a few pieces at a time. Once all the beef has been added, stir it a few times to brown the pieces on all sides.
Add all the seasonings, stir, and then pour in the water. Bring the liquid to a boil, reduce the heat, cover, and simmer until the beef is tender (about 40 minutes), stirring occasionally. If the gravy is too thick you can stir in a little more water while cooking.
While the beef cooks I prepare the rest of my meal. Serve warm!
Notes
You can use red wine or beef broth in place of some of the water for added flavor
Recommended Products
As an Amazon Associate and member of other affiliate programs, I earn from qualifying purchases.
Nutrition Information:
Yield:
6
Serving Size:
1
Amount Per Serving:
Calories:

390
Total Fat:

13g
Saturated Fat:

4g
Trans Fat:

1g
Unsaturated Fat:

8g
Cholesterol:

150mg
Sodium:

460mg
Carbohydrates:

17g
Fiber:

1g
Sugar:

0g
Protein:

51g