This Easy Apple Butter Waffles Recipe is the perfect blend of crunchy outside, soft, fluffy inside, and delicious apple butter flavor. Topped with cinnamon syrup, this breakfast recipe will totally make you swoon.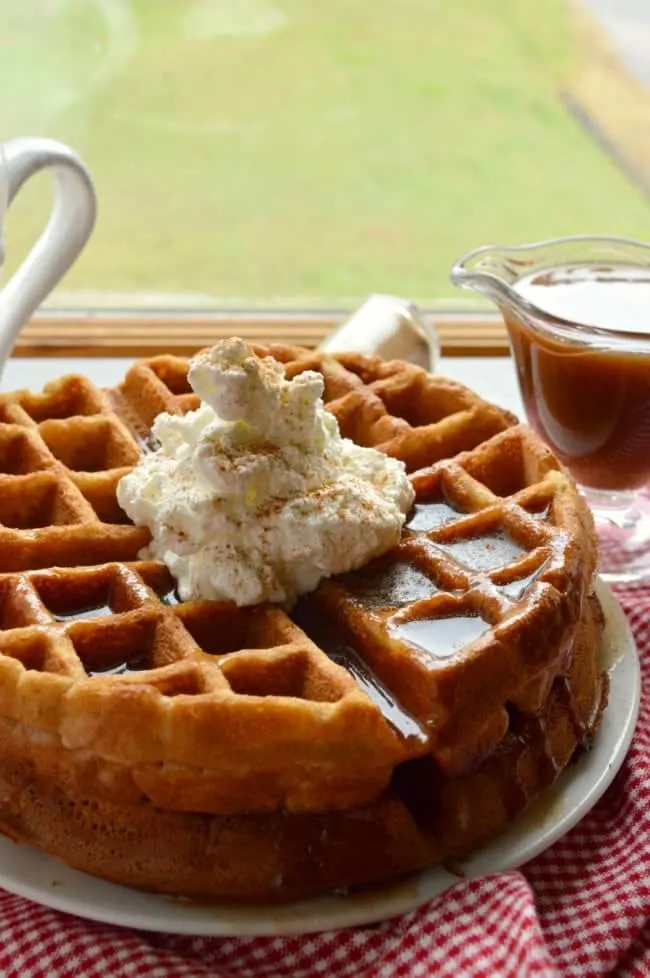 This post is sponsored by Musselman's! I am so thrilled to be partnered with them again this year to bring you some fun ways to use apple butter in your kitchen. As always, all opinions, photos, and original recipes are my own.
I finally bought a waffle iron, you guys. FINALLY. And honestly? I have no idea what took me so long!
Someone should have been more pushy and forced me to order this fun kitchen gadget sooner is what I'm saying. Because I L.O.V.E. waffles. They are fabulous. But when we go out for breakfast and I am overwhelmed by choices, I don't usually end up ordering the waffle.
I think it's because you never know if they are going to bring you a big fluffy masterpiece or what amounts to the frozen toaster variety. It's a gamble I don't usually take, and then I end up with a scramble or a stack of pancakes.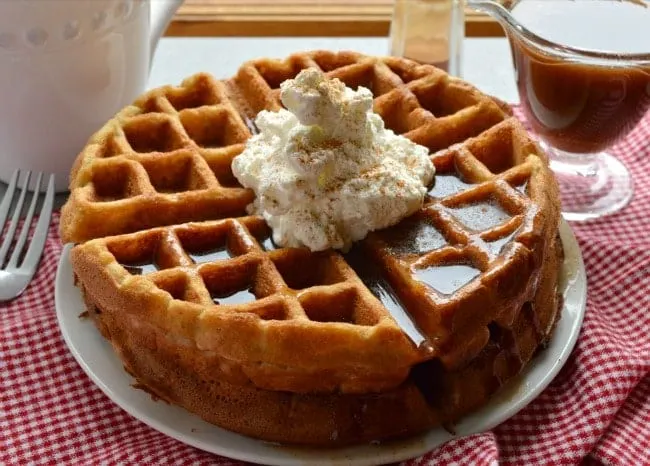 Now that I can make them at home though? Game on.
I've made like 17 varieties of waffle since my little gadget splurge last month, but this one is BY FAR my favorite yet. These Apple Butter Waffles are perfectly spiced and fragrant with all the things that make me think of fall.
Cinnamon, apples, brown sugar, cloves. So good. Most of the sweetness and flavor in the waffles comes from the Musselman's Apple Butter (which, P.S., has removed high fructose corn syrup from this product and that makes me love it even more).
The cinnamon syrup is optional — you could totally run wild with maple syrup here and you'll still love this waffle recipe — but if you decide to make it, the cinnamon syrup adds a sweet, buttery topping that I could basically drink.
But I won't. I'm exercising syrup restraint.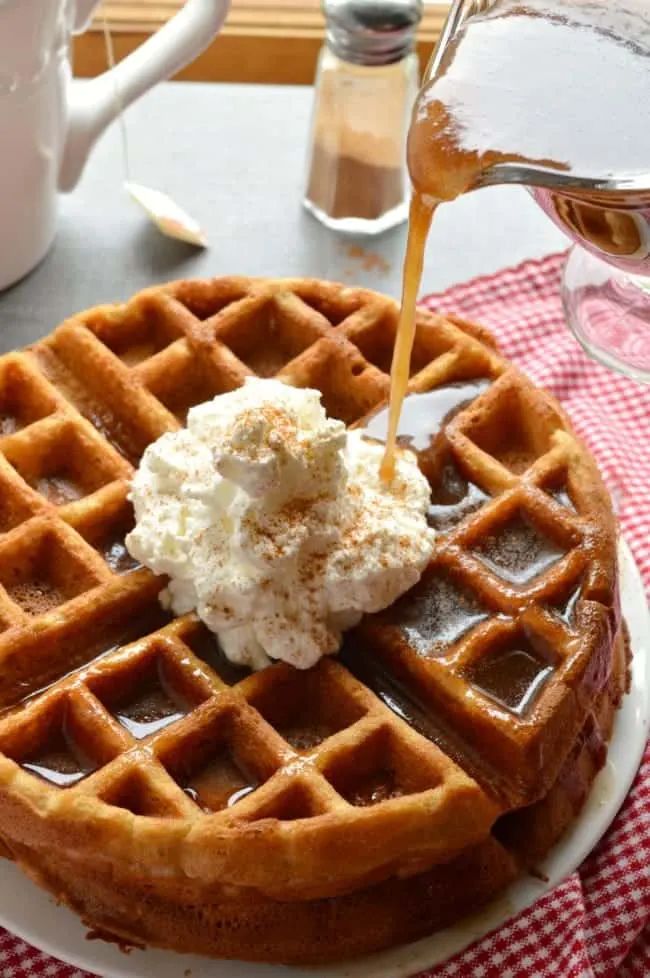 And if you have not yet made yourself buy a waffle iron, this is your reason.

Apple Butter Waffles with Cinnamon Syrup
An easy, fluffy waffle recipe with just the right amount of crisp on the outside, and the perfect level of sweetly spiced apple butter flavor on the inside. This warm waffle recipe will be a breakfast/ brunch favorite!
Serves:
4-6 large waffles
Ingredients
2 cups all purpose flour
¼ cup brown sugar
4 teaspoons baking powder
¼ teaspoon salt
1 ¼ cup milk
½ cup Musselman's apple butter
2 eggs
2 tablespoons vegetable oil
nonstick cooking spray for the griddle
For the Cinnamon Syrup:
1 cup brown sugar
1 teaspoon ground cinnamon
2 teaspoons cornstarch
1 cup water, cold
2 tablespoons butter
1 teaspoon vanilla extract
Instructions
Preheat your waffle iron. I set mine to 4, which seems to be just right (see your waffle iron's instruction manual for guidance on settings).
In a large bowl whisk together the flour, brown sugar, baking powder, and salt.
In another bowl (or I like to use a large liquid measuring cup) whisk together the milk, Musselman's apple butter, eggs,and vegetable oil.
pour the liquid mixture into the dry mixture and stir to combine.
Spray the waffle iron with nonstick cooking spray and spoon the batter onto the heated griddle. Close and cook according to your waffle iron's instructions. Mine takes about 3 or 4 minutes to cook completely.
To make the cinnamon syrup, add the brown sugar and cinnamon to a small saucepan. In a liquid measuring cup, whisk the cornstarch into the cold water. Pour it into the pan with the brown sugar and cinnamon and bring to a simmer over medium heat. Stir and continue cooking until the brown sugar dissolves completely. Remove it from the heat, stir in the butter and vanilla.
Serve the Apple Butter Waffles with the Cinnamon Syrup (and whipped cream!)
NOTE: For extra fluffy waffles you can separate the eggs and beat the whites separately until stiff peaks form. If you go this route, fold the whites in at the very end, after the batter is mixed and before you add it to the waffle iron.
Musselman's
is the brand I have worked with consistently since launching Sugar Dish Me in 2011. So I have LOTS of great apple butter recipes. You can also find more by visiting their
Apple Butter Recipes Page
. And follow along in social media for all the newest ideas!
Facebook
,
Twitter
, and
Pinterest
!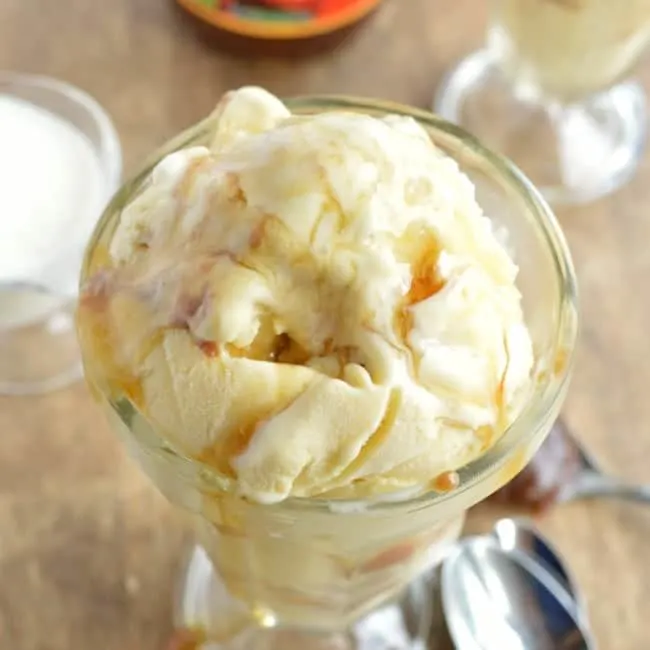 Sweet Cream Apple Butter Ice Cream