This simple recipe for One Pot Garlic Chicken Thighs with broccoli and penne is perfect for busy weeknights. Made in one pot, tossed with penne and broccoli it's fast, fresh, and satisfying.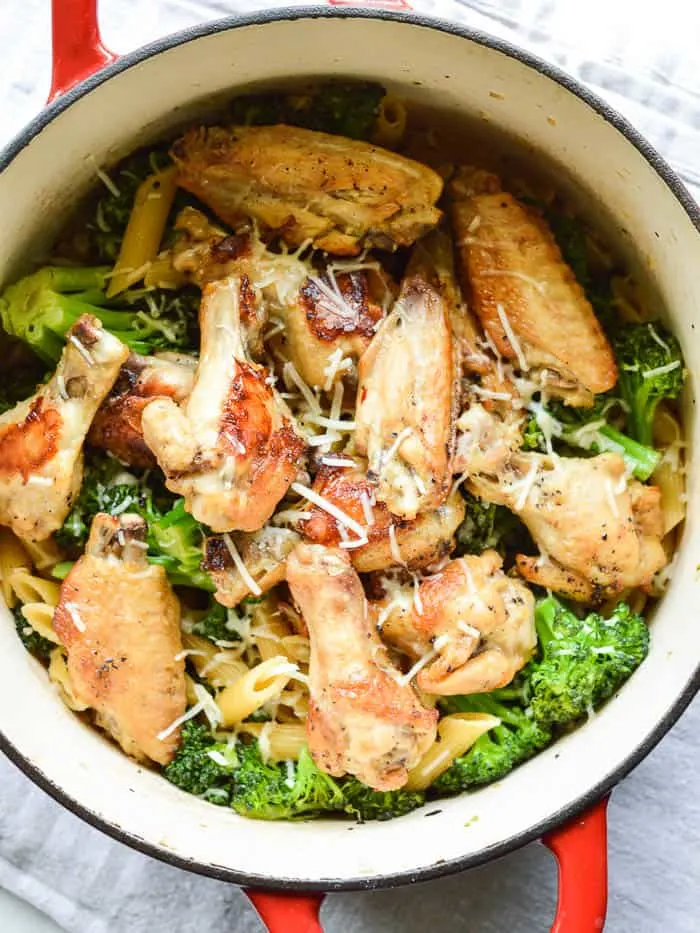 Fast food Fridays! Also known as how I cook in real life most days. AFTER all the recipe development. Minus all the photo shoots.
Of course we eat EVERYTHING I share here. Many of those recipes fall squarely in my weekly rotation. But Fast Food Friday is a little peek into me, hungry boys, limited time, and zero desire to go back to the grocery store.

Fast Food Fridays are all about fewer photos, fewer words, and good food you can feed your family. One Pot Garlic Chicken Thighs with Broccoli and Penne is a simple, budget-friendly recipe, and it has come together easily for me every time.
But since I published this recipe in 2016 I've had lots of questions in the comments, so I spent some time revisiting this to give you some tips and tricks so that your One Pot Garlic Chicken Thighs with Broccoli will turn out every time. It's the easiest – I promise.
What do I need to make One Pot Garlic Chicken Thighs with Broccoli?
First things first – for this recipe you DO need an oven safe pot. A cast iron skillet will work, but I have never had one that's quite deep enough. I use this Lodge 6 Quart Enameled Dutch Oven. I've had it for a couple of years and it had help up okay. If you are looking for a kitchen item to splurge on (or people are looking to buy you presents) DEFINITELY go for the Le Creuset Dutch Oven. 7.4 quarts if you can swing it. The next size down will be a little small.
Aside from an oven safe pot that's deep enough for this whole meal, you will also need:
olive oil
bone-in, skin-on chicken thighs; wings and drumsticks also work!
kosher salt and cracked black pepper
garlic
cooking liquid; I recommend wine (or beer!) and chicken broth
dry penne pasta
fresh broccoli florets
Parmesan cheese
You'll notice in some of these photos I used wings and drummettes here; I didn't change anything about the preparation that round. I just accidentally bought a few odd packages of chicken. And since Fast Food Fridays are all about keeping it real, I made the executive decision to just roll with it. Now you know that you can accidentally buy wings or drumsticks and it's all good.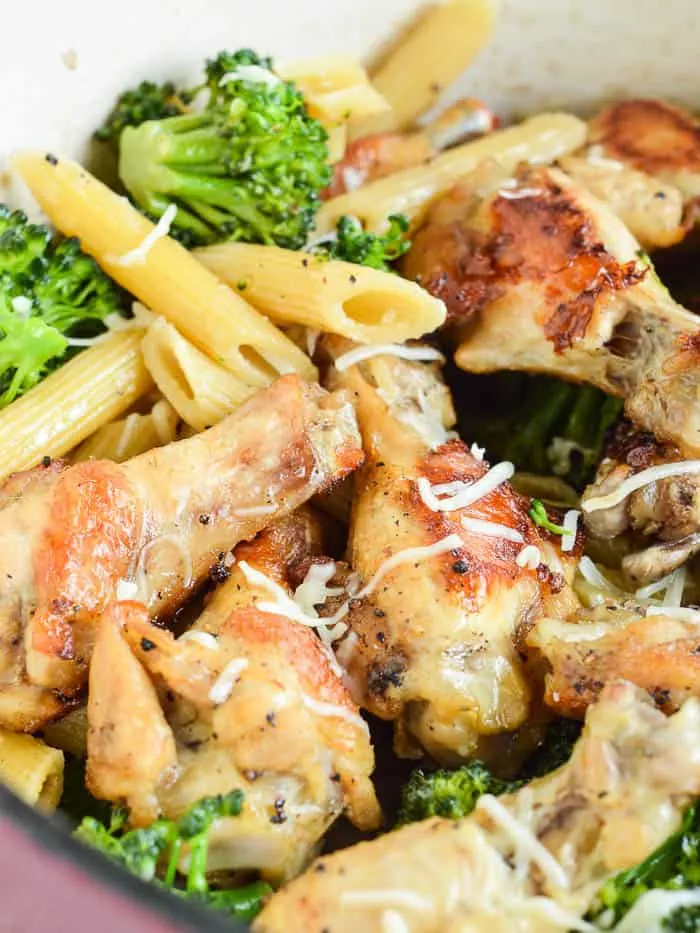 Liberal Salt and Pepper
Season your chicken WELL. Seriously. Don't skimp. This salt + pepper and the garlic is how you are seasoning this entire dish, so grab your salt and pepper and USE IT. You'll want to season both sides of the chicken pieces before cooking them, and I like to go heavy on the side with the skin. That way when you are cooking with the skin-side down you are sealing in all the flavor, but also are seasoning the oil you'll be cooking everything else in.
Someone once commented that her finished dish was lacking flavor, and if that was the case, this is for sure where she went wrong.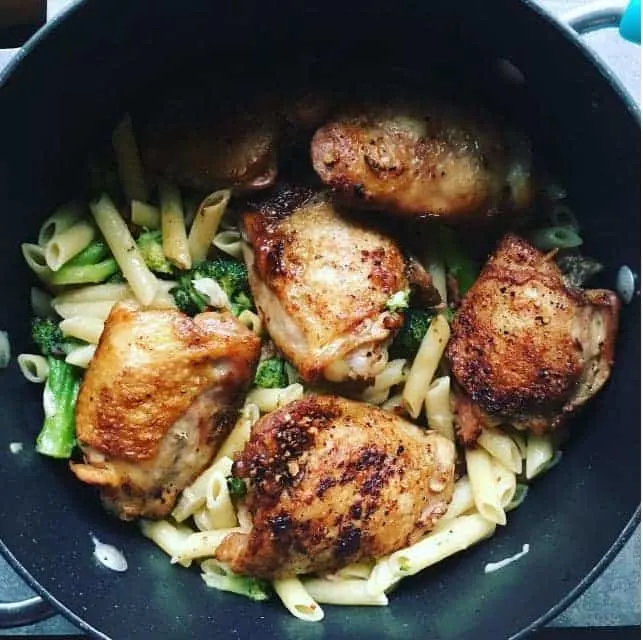 How Much Liquid Do I Need?
This is the part of the recipe that seems to trip everyone up. So first let's talk about a one pot pasta versus traditional pasta.
With traditional pasta you are draining the excess water from the pan. With one pot pasta you want the pasta to soak it all up. This means that measurements matter. Too much liquid and you have a soupy mess. Not enough and your pasta isn't done.
The first time you are adding liquid to this recipe is to quickly braise the chicken after browning. In order you are going to brown the chicken, skin-side down to get the skin nice and crisp. Turn it and cook for another 3-4 minutes, and then for the best results here, remove the chicken to a plate so that you can add and cook your garlic. Once you've sauteed the garlic, you are adding 1 1/2 cups of liquid to deglaze the pan and then braise the chicken.
My favorite way is to use 3/4 cup white wine to loosen all the garlicky goodness. That lets most of the alcohol start to evaporate BEFORE you put the pan in the oven. Then add 3/4 cup chicken broth, add the chicken back to the pan SKIN SIDE UP, and bake uncovered.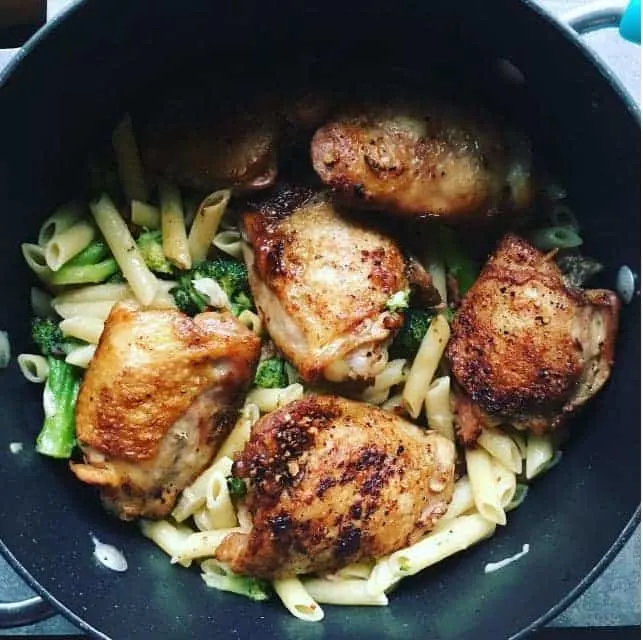 Yield:

serves 4
One Pot Garlic Chicken Thighs with Broccoli
One Pot Garlic Chicken Thighs with Broccoli is a super quick and easy meal to make in a pinch. Crisp chicken thighs, garlic, penne pasta, and tender broccoli florets - you can't go wrong!
Ingredients
2 tablespoons olive oil
6 chicken thighs (bone-in, skin-on)
1 1/2 teaspoons kosher salt (or to taste)
1 1/2 teaspoons cracked black pepper (or to taste)
4 cloves garlic, minced
1 1/2 cups chicken broth - see notes
2 2/3 cups dry penne pasta (approximately 2/3 cup per person)
5 cups fresh broccoli florets
garnish with a little more olive oil and Parmesan cheese if desired
Instructions
Step 1

Preheat the oven to 400°F. In a large OVEN SAFE Dutch oven, heat the oil over medium high.

Step 2

Sprinkle the chicken thighs liberally with salt and pepper and place them in the heated Dutch oven skin-side-down. Let them cook for 3-4 minutes. You want to crisp the skin. Turn the chicken and cook for 3-4 more minutes, adding the garlic after 2 mins. Move the garlic around so it cooks and becomes fragrant but DOES NOT burn.

Step 3

Add the liquid to the hot pot and then place it in the oven. Cook for 20 mins or until the internal temperature of the chicken reads 160°F.

Step 4

CAREFULLY place the hot dutch oven on a burner. Remove the chicken. Leave the liquid and cooked bits. Add 2 cups of water. Bring it to a boil. Add the pasta, reduce the heat to medium, and let it cook for about 6 minutes. Then add the broccoli florets. Stir and cover.

Step 5

Cook for 3 more minutes or until the broccoli is tender but still bright green and the pasta is al dente.

Step 6

Garnish with a little more olive oil and a sprinkle of Parmesan cheese if desired.
Notes
You DO need an oven safe pot for this recipe to be "one pot".
If you don't have a cast iron Dutch oven (or enameled like Le Creuset) don't fret!! You can use a cast iron skillet for the chicken and then just cook the pasta on the stove according to package instructions, adding the broccoli florets to the boiling water near the end. If this is the method you choose you will need to drain the excess liquid.
Notes on the liquid: I use whatever I have handy. If I have an open bottle of wine I didn't love, I use that. Beer always works. The different liquids will change the flavor slightly, but in a good way! DO NOT USE ONLY WINE OR BEER though, or you are in danger of creating a tiny explosion in your oven. Temper the wine or beer with broth or water.
If you want to cook the whole pound of pasta you will need closer to 4 cups of water or broth in step 4.
Recommended Products
As an Amazon Associate and member of other affiliate programs, I earn from qualifying purchases.
Nutrition Information:
Yield:
6
Amount Per Serving:
Calories:

0
Cholesterol:

0mg
Sodium:

0mg
Carbohydrates:

0g
Fiber:

0g
Sugar:

0g
Protein:

0g
You can see my last Fast Food Friday recipe for
Easy Greek Chicken and Potatoes
#FastFoodFriday <<<— HERE