My cure for the Thanksgiving holiday food hangover…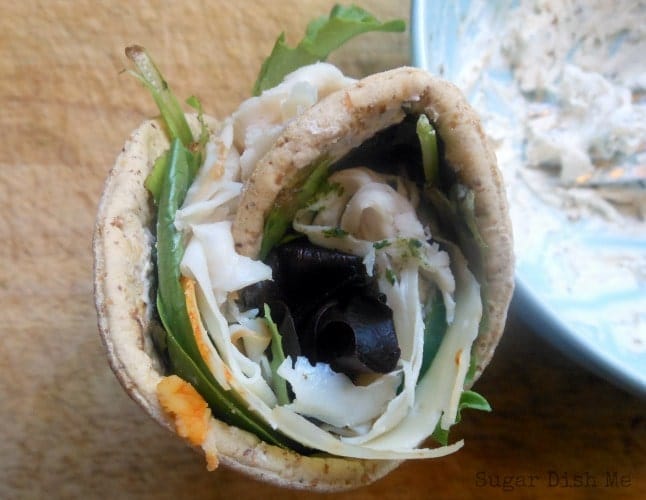 … involved wrapping my porch in a gajillion strands of soft white lights, shopping online because Black Friday is a really bad idea for me, purchasing THE MOST amazing Christmas tree from a local grower, and some garlic-herb cream cheese spread that complimented every bit of leftovers perfectly. In fact, it complimented every bit of everything perfectly so I made a whole bunch of it.
We used to have a Bruegger's Bagel Bakery around the corner from our house growing up and going there for lunch was one of our most favorite things. This was like the pre-Panera Bread era when your only fresh lunch options involved some romaine lettuce and artificial bacon crumbles that fast food joints tried to pass off as caesar salad (might I mention that my 13-year-old self flipping loved those things), so Bruegger's was faaaaaaaancy.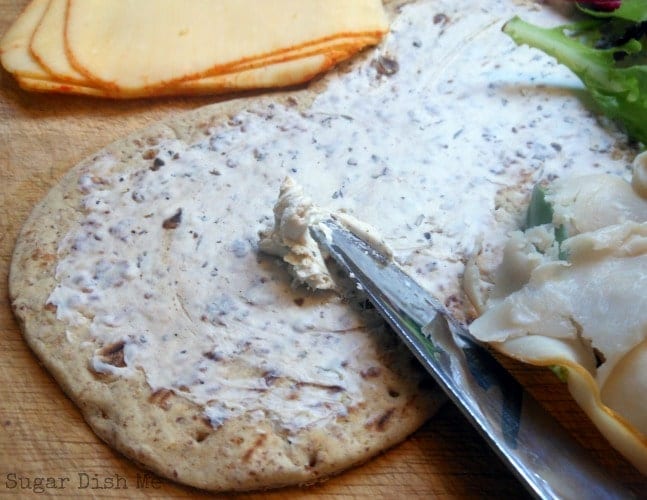 My favorite thing on the fancy bagel bakery lunch menu was an Herby Turkey Sandwich: an everything bagel smeared with herb and garlic cream cheese, sun-dried tomato spread, smoked turkey, muenster cheese, and a mountain of fresh veggies.
If you've never had one you are a) missing out and b) about to join the club.
I have not yet gotten to the point that I'm totally over my green bean casserole leftovers or pumpkin pie for breakfast. I basically don't really feel like cooking. I'm in a more let's-spike-the-apple-cider and live on turkey sandwiches kind of place.
Plus who has time for cleaning up kitchen messes when there is very obviously a perfect Christmas tree that needs to be decorated while blasting The Drifters on repeat in my living room?
Not me.
So I roasted some garlic and added it to light cream cheese with a few dried herbs. It was super fast and super easy and has made-over my leftover turkey enough that I won't be bored with poultry for at least another couple of days (provided Chad doesn't eat it all before I finish typing).

Garlic Herb Cream Cheese Spread & an Herby Turkey Sandwich
Ingredients
2 cloves garlic, skins still on, one side trimmed to expose the garlic
1 teaspoon olive oil
4 ounces light cream cheese, softened
1 teaspoon dried basil
½ teaspoon dried oregano
½ teaspoon kosher salt
⅛ teaspoon dried dill
4 small flatbreads or wraps
4 slices muenster cheese
8 ounces turkey or chicken (leftovers or deli cuts)
lots of fresh greens, cucumbers, radishes, onions, and sandwich toppings of your choice
Instructions
Pre-heat the oven to 400. Rub the teaspoon of olive oil all over the garlic cloves and place them in a small baking dish.
Roast the garlic cloves for 15-20 minutes, turning occasionally, until they are golden and could be smashed with a fork. Let them cool for a few minutes before handling.
Peel the roasted garlic. Smash it into a paste with the back of a fork.
Place the cream cheese in a medium bowl and stir in the basil, oregano, salt, and dill. Combine the garlic paste with the cream cheese mixture until it's evenly combined.
Spread 1 ounce of cream cheese onto each flatbread.
Place one slice of cheese on each.
Top the cheese with 2 ounces of turkey on each flatbread.
Add the veggies and roll the flatbreads up.
Enjoy!!
What are you doing to cure your holiday hangover?
Next week I'll be fasting forward; eating salad, baking cookies. It's a balance thing.