Tender Smithfield Garlic and Herb Roast Pork is served over sweet potatoes, onions, apples, and kale for an easy dinner hash bursting with the flavors of fall. Roast Pork Sweet Potato Has is as easy to make as it is impressive, hearty, healthy, and delicious.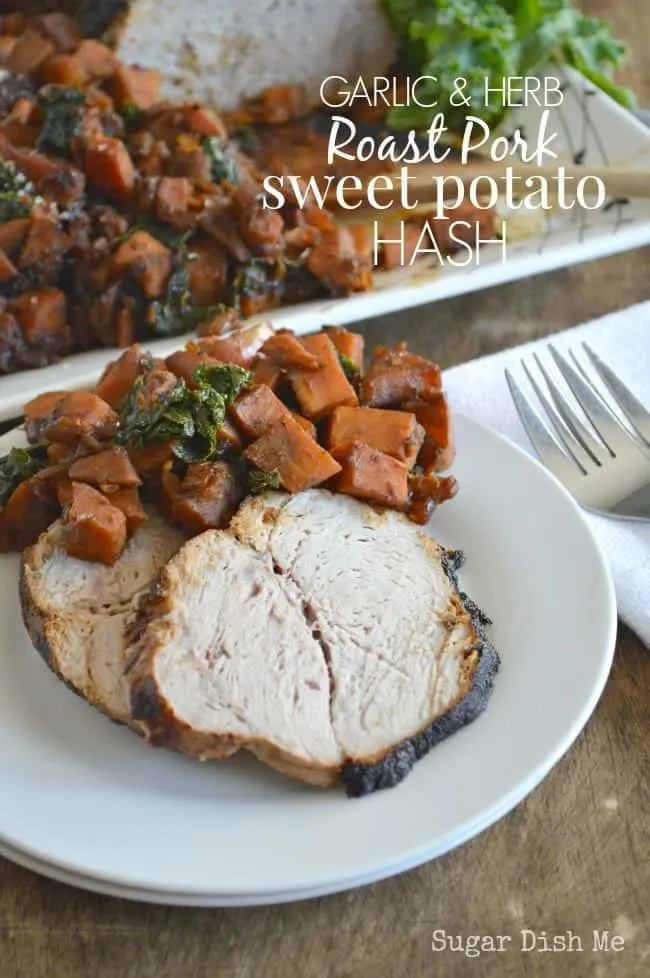 Save This Recipe for Later
Saved!
A pre-seasoned Garlic and Herb Pork Sirloin from Smithfield makes for a quick, hearty, and healthy meal! Sweet potatoes, apples, onions, and kale are cooked in the skillet to make a quick hash bursting with vitamins and fall flavors.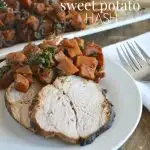 This post is part of a social shopper marketing insight campaign with Pollinate Media Group® and Smithfield®, but all my opinions are my own. #pmedia #PutPorkontheMenu http://my-disclosur.es/OBsstV
And now we will run full speed ahead straight into the holiday season.
I'm excited! Are you excited?
I mean, I am always a sort of celebratory uncontainable force. I really like reasons to throw confetti, bake cakes, and spend time with all the people I hold most dear. Birthdays? Yes. Labor Day? Yes. Summer Solstice? Yes.
You get the idea.
This year feels super special though, I guess because it's our first of everything in our new place so it all feels even more exciting. I'd like to host all the holidays.
K? Thanks.
The only problem with the holidays though, is that when you are cooking, cooking, cooking all the time, getting ready for guests, or going places, carting around cookies and pies — things like cooking dinner sort of get tossed because that feels like extra work. After I've been in the kitchen all day I'd like to serve cereal with a side of fruit at 6 p.m.
Mostly though, my family is not really feeling that. Unless I buy cereal with marshmallows.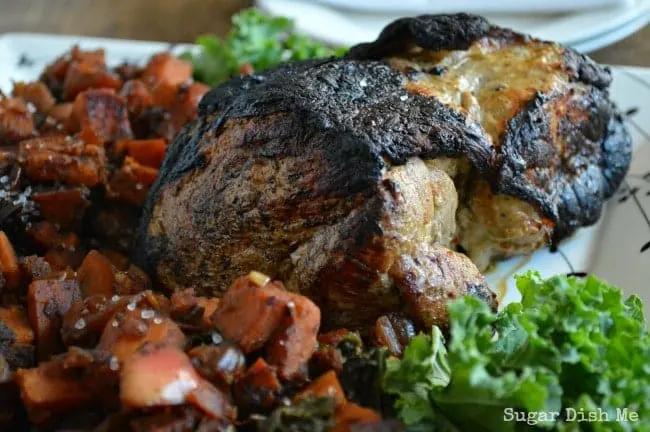 My family is very into having a "complete" meal on the table – you know protein, a couple of sides, maybe a dinner roll. I think it's because they are boys, and also because they don't wash the dishes. Complete meals = lots of dishes.
But I managed to work out a complete and family-pleasing meal that is hearty, filling, and good-for-you, PLUS it all comes together in one big 'ol skillet. I'm calling this a major win.
I started with a Garlic & Herb Pork Sirloin from Smithfield — it's pre-seasoned which is not a route I ever really go EXCEPT with Smithfield products. Every pre-seasoned cut I've ever bought has been spot on and has not needed any help at all from me. They are slow-marinated to give full flavor all the way through. Peppercorn & Garlic is another one that would work really well here, especially with the sweet potatoes (there are 7 varieties to choose from, and really any of them would be great — see recipe notes for suggestions).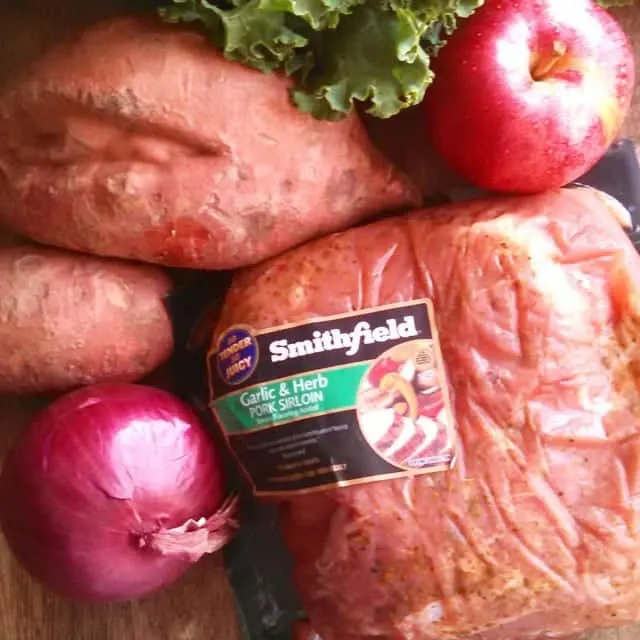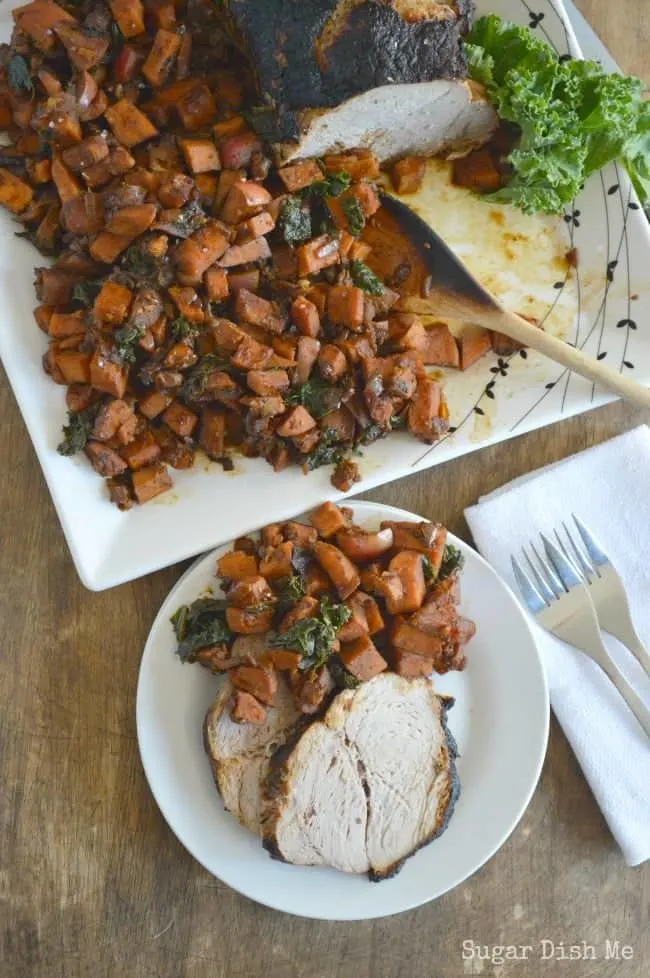 The pork is seared on all sides before roasting to seal in the moisture and flavor, and to give it a really delicious crust. The sweet potatoes, onions, and apples are cooked in the same skillet, using the drippings from the pork for extra flavor.
We had leftover pork! Enough to make these Pork Sliders with Caramelized Onions.
This is the kind of meal that requires such little effort and produces totally great results. If you have leftover hash you could heat it up for breakfast and serve it with an egg like I did with this other Sweet Potato Hash.
So basically this is the kind of dinner time cooking I can handle. Sear, roast, —>>>walk away and do something else for awhile<<<— stir, slice, serve!! AND it makes the dudes happy because it's 3 sides in one and totally fills the plate.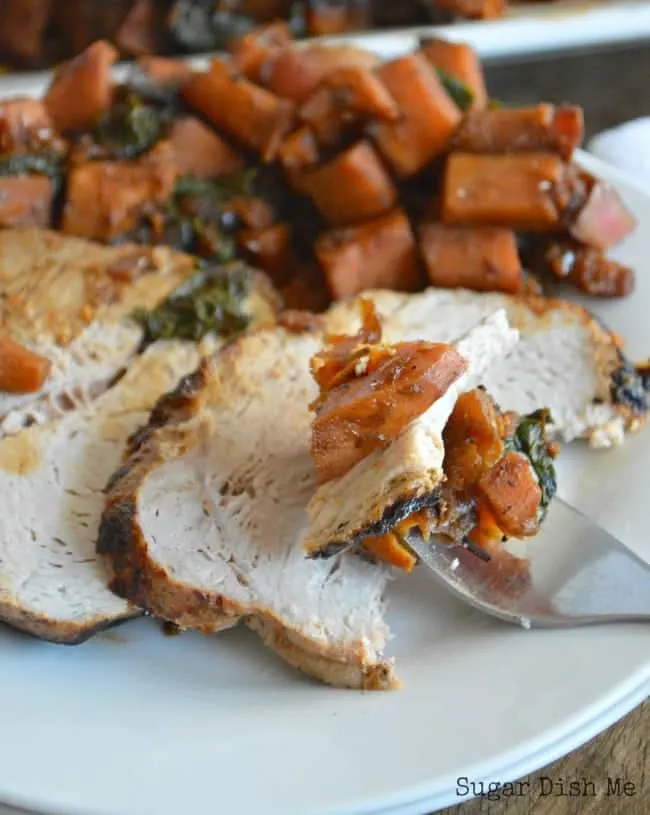 Smithfield products are available at Walmart. I put this meal together quickly and affordably which for me is always super important.
Visit the Smithfield website for more recipe ideas and some awesome quickie meals.
Follow Smithfield on Facebook so you can always stay in touch!
You can CLICK HERE for a special coupon so that you can enjoy 75 cents off a Smithfield pork sirloin or tenderloin at Walmart!
***while supplies last***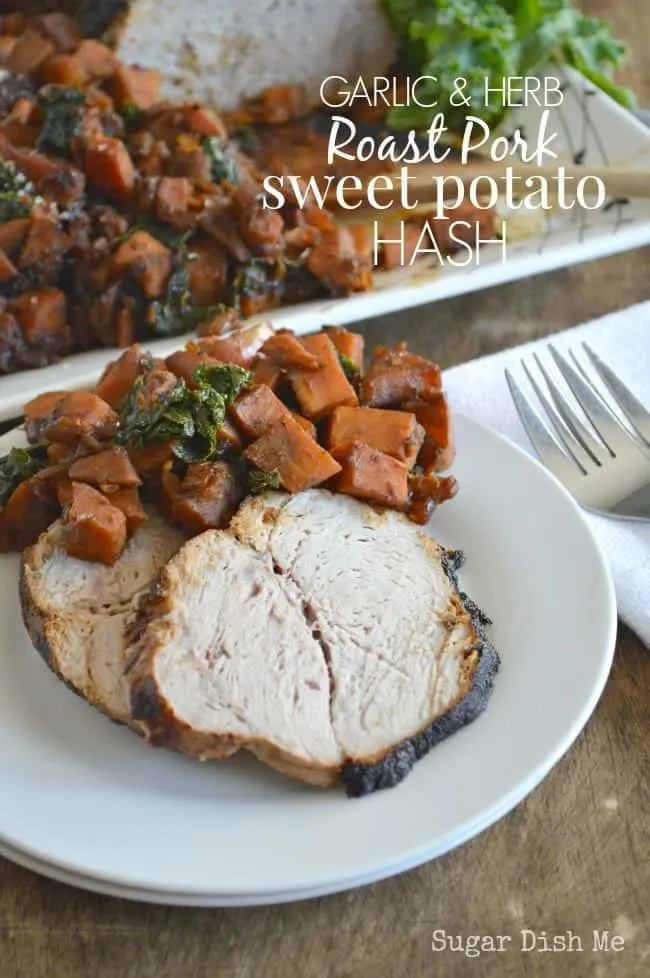 Ingredients
1

tablespoon

oil

vegetable or canola

1

approx. 3 lb Smithfield Garlic and Herb Pork Sirloin

4 1/2

cups

sweet potatoes

diced (1" pieces)

1

medium red onion

diced

3

cloves

garlic

finely minced

2

cups

tart

firm apples, diced (1" pieces, peeling is optional)

1

teaspoon

cinnamon

1/2

cup

water (more if needed

3

cups

kale

stems removed, leaves torn
Instructions
Preheat the oven to 375°F. Heat the oil in a large oven-proof skillet.

Brown the pork on all sides to form a crust. This will seal in all the juices. Place the skillet in the oven and let the pork cook until an internal temperature at the thickest part reads 160°F and the juices run clear. (pork is usually 25 - 30 minutes per pound)

Remove the pork from the skillet and let it rest.

Carefully place the hot skillet on a burner and set the heat to medium high. There will be drippings in the pan from cooking the pork. Toss in the diced sweet potatoes and onions and toss them around to coat. Let them cook for about 8 minutes, stirring occasionally. The onions will become soft and fragrant, the sweet potatoes will start to become tender.

Add the garlic. Let is cook for just a minute. Then stir in the apples.

Sprinkle the cinnamon over everything and pour in the water. Reduce the heat as necessary. Toss in the kale. Continue cooking until the sweet potatoes and apples are tender and the kale is wilted.
Notes
1. I like to prep my vegetables while the pork is roasting in the oven. This actually eliminates that 10 minutes of prep time
2. If you need dinner on the table faster, try a Smithfield Garlic and Herb Pork Tenderloin instead. It will sear faster and roast completely in about 25 minutes.
3. The hash recipe serves 6 but you will have plenty of pork leftover for sandwiches or appetizers. To use the leftovers try these Pork Sliders or these BBQ Bites.