A sweet buttery tart crust topped with thin slices of butternut squash that's been sauteed with brown sugar and spices. This Brown Sugar Butternut Squash Tart makes a gorgeous Thanksgiving side dish or a pretty addition to the dessert table.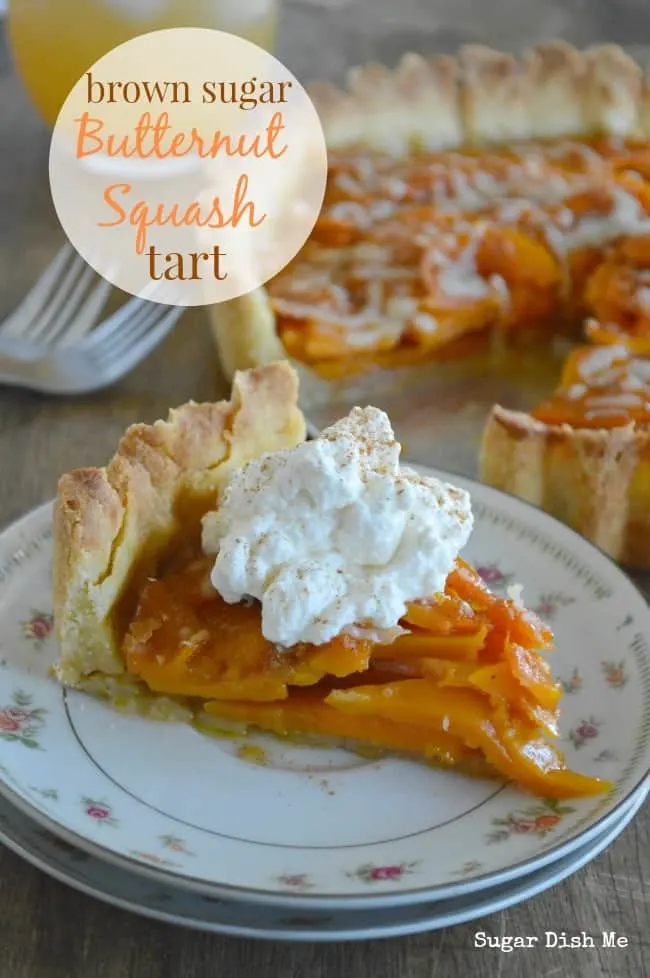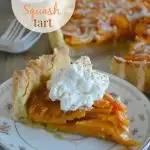 One thing I love about holiday meals: You can completely get away with serving these slightly savory but still sweet dishes and then also have dessert. Because things like Brown Sugar Butternut Squash Tart and Sweet Potato Casserole are called vegetables on holidays. Score.
If you're wondering, this falls firmly in the Sweet Potato Casserole camp, except it's not as sweet.
I've had two totally recurring flavor themes happening here since about late August. Apples and Butternut Squash. It's like I can't help myself. I realize the global farming climate makes these flavors available year-round, but they definitely taste better when the air is crisp and the leaves crunch under your feet when you go to get the mail.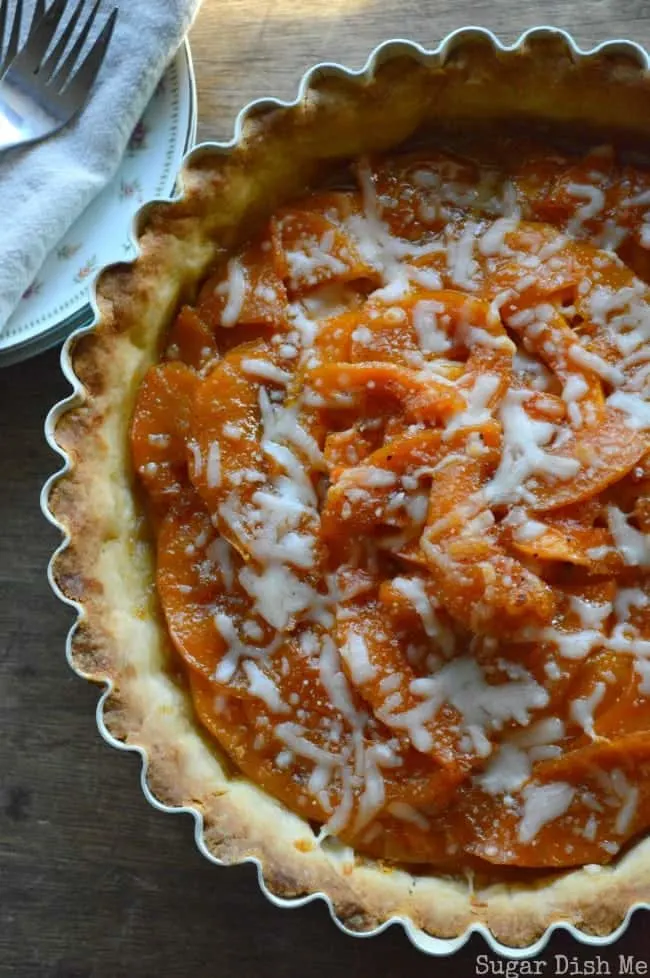 So anyway, I made this tart after sorting through a huge stack of old magazines and looking for some side dish inspiration for the upcoming holidays. I wish I could explain to you how much I wish there were some of this left.
The squash is already so rich and earthy sweet, but the brown sugar and nutmeg (plus butter… duhhh) turn this into a savory sweet masterpiece. Move over casseroles. We are going the way of the tart this year.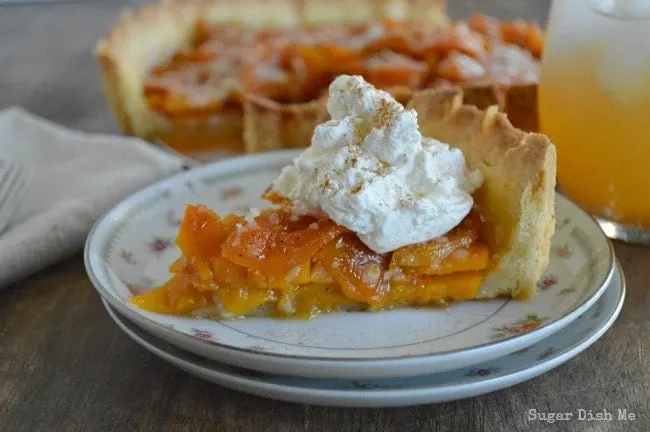 I am always a sucker for things layered in a crust, and gahhhhh it just looks so pretty on the table! This crust is a little extra rich with the addition of egg yolks. I'm loving it.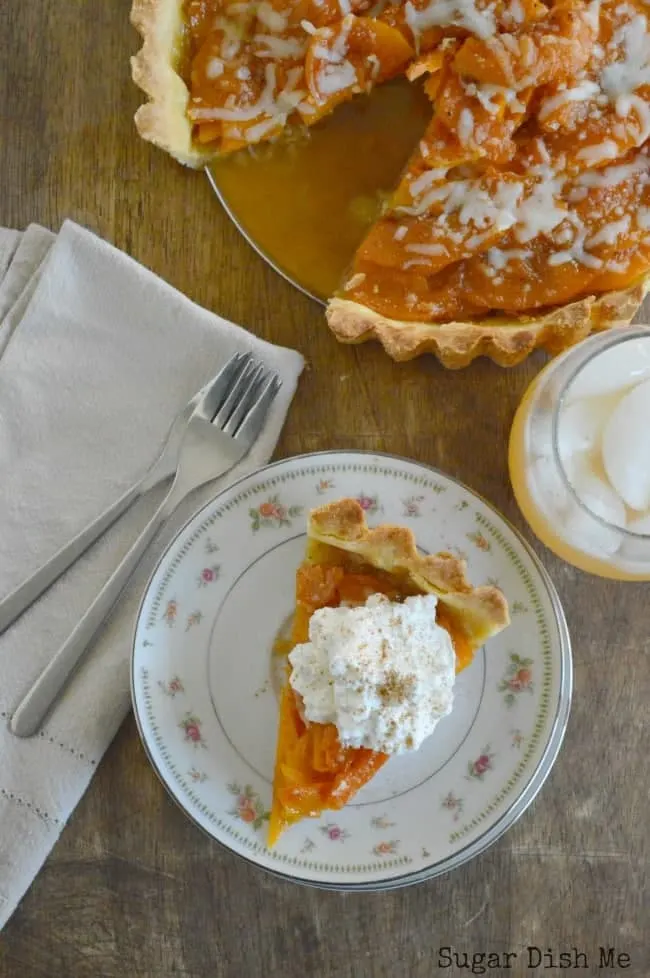 This is a recipe I saved from the October 2012 edition of Better Homes and Gardens. The original calls for an 11 X 8 tart pan which will give you a more shallow crust at the sides and less stacking in the center. It is beautiful and completely delicious either way. If you make it in a round tart pan like I did, make sure to read through the recipe notes and tips to help stabilize the crust so it doesn't come apart when slicing and serving.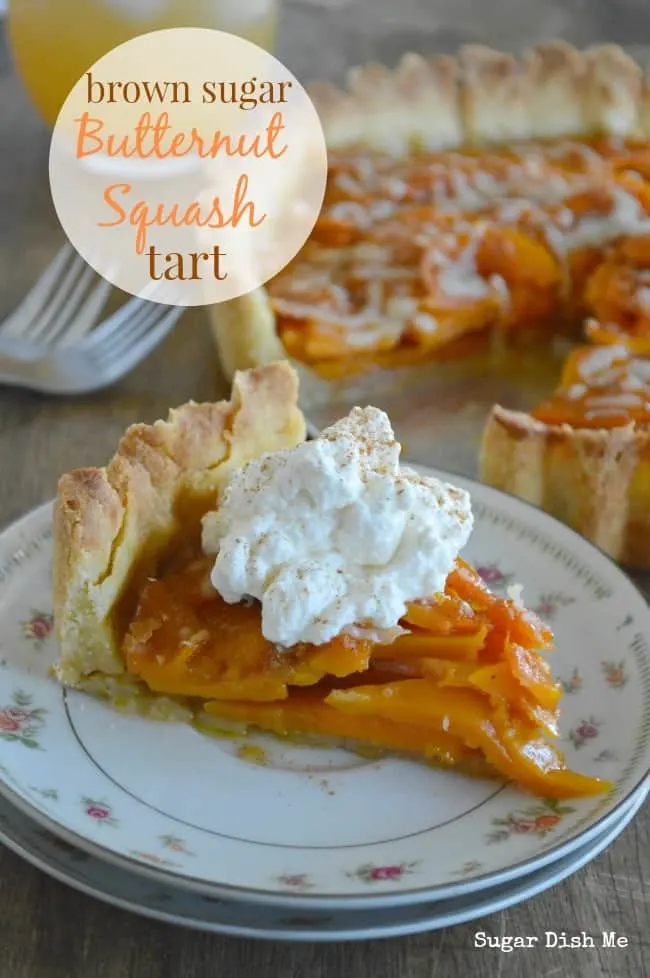 Servings:
10
- 12 servings
Ingredients
For the Crust:

1 1/4

cups

all purpose flour

1/4

cup

granulated sugar

1/2

cup

cold butter

2

egg yolks

1

tablespoon

ice water

For the Filling:

1/3

cup

unsalted butter

1/3

cup

packed light brown sugar

1/2

teaspoon

salt

3/4

teaspoon

ground nutmeg

1 1/2 - 2

lb

butternut squash

peeled, halved, seeded, and cut crosswise into 1/4" slices

2

tablespoons

coarse

turbinado sugar

1/3

cup

shredded mozzarella

whipping cream and more ground nutmeg for serving
Instructions
To make the tart pastry, whisk together the flour and granulated sugar. Cut in the cold butter (I like to grate the butter in with a cheese grater and then combine it with my fingers until coarse crumbles form). In a small bowl beat together the egg yolks and ice water. Gradually stir the egg mixture into the flour and then gently knead until a ball forms. Don't overwork the dough. Wrap in plastic and refrigerate for at least 30 minutes and up to an hour.

Preheat the oven to 450°F. Lightly flour a work surface and press or roll out your tart pastry to the same shape as your pan, just larger. ***See Notes*** Press the crust into the pan. Cover the crust with parchment paper and then pour dried beans (or pie weights!) over the parchment. Bake for 8 minutes. Remove the weight from the top of the crust and bake for 4 more minutes. Set the crust aside to cool and reduce the oven temperature to 400°F.

In a large skillet over medium high heat, melt the butter. Stir in the brown sugar, salt, and nutmeg. Then add the squash. Cook for about 5 minutes stirring frequently.

Carefully remove the squash from the pan and layer it in the prepared crust. ***See Notes***

Spoon the remaining liquid over the squash (you may not need all the liquid -- my squash was a little watery and I didn't need all of it) and then sprinkle with the coarse sugar.

Bake uncovered for 15 minutes. Sprinkle the cheese over the tart and then bake for 5 more minutes.

Serve slices topped with whipped cream and sprinkles of ground nutmeg. ***See Note***
Notes
1. I used a 9" round tart pan with a removable bottom. The original recipe calls for an 11 X 8 tart pan with a removable bottom. With either I'd recommend cutting a piece of parchment just slightly larger than the bottom of the pan to line the pan with before pressing the crust in. When you press the crust into the pan, keep the thickness even across the bottom and sides (this will help the crust stay together when you remove the tart from the pan).
2. If you do not have parchment paper, dried beans, and/or pie weights, you can line the tart crust with a double layer of foil before baking.
3. If you are using a round pan, layer the squash like you would apples for a pie. If you are using a rectangular pan, the slices will be spread farther apart, overlapping just slightly.
4. You can serve this with sweetened whipped cream or you can make homemade unsweetened whipped cream. If you go that route you may want to add the ground nutmeg to the whipped cream with a little orange zest.