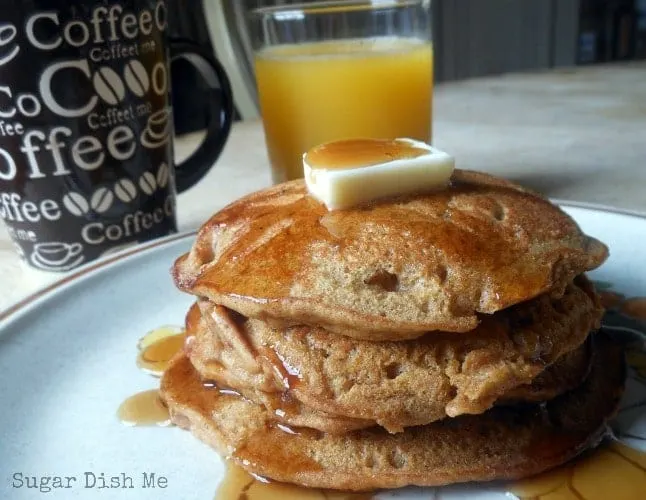 I am a morning person. I think it's some kind of genetic flaw, just like my magical ability to lose the whole world inside my purse and also misplace my sunglasses on top of my head. My eyes are open at least 15 minutes before the back-up-to-my-biological-clock alarm goes off on my phone.
My mom is a serious morning person. She always has been and still is, as evidenced by the text messages that she sometimes sends me at 5:30 a.m.
I am always the first one up around here. Norma Jean (Danger Kitty) is never far behind me. She talks to me while I put on the coffee, turn on the news, start a load of laundry, and set to packing lunches.
Once I call for the boys to wake up it's total rushing chaos all full of flying cereal bowls and missing socks. But before that it's just the ambient noise of the weather on TV and the a.m. antics of my fuzzy little companion.
Chad is always the last person to wake up. He will leap out of bed at the last possible second and get ready for work in 6 minutes flat.
Except for yesterday.
Because YESTERDAY, while I smeared peanut butter and jelly on thick slices of whole wheat bread, I dropped a glob of jelly on the floor next to my toe. In true Heather fashion I was in my bare feet. I took a step back and looked towards the floor to scope out the offending escaped jelly and that's when I saw it:
The HUGEST Black Widow Spider ever. EVER. I mean it.
And so I screamed. It wasn't really intentional. The shrill sound just involuntarily escaped my lips.
Norma leaped onto a kitchen chair, preparing for attack. I ran into the bedroom yelling, "Emergency! Spider Emergency! I'm serious this time!," because this is undoubtedly NOT the first time I've woken Chad up screaming because of a creature.
He begrudgingly swung his feet to the floor and then it dawned on me in the middle of my panic: Norma is going to jump on a highly poisonous and gigantic spider and it's going to bite her!!!
So I ran back into the kitchen just in time to see that Norma Jean had repositioned herself right in front of the black widow and as she lunged in to do what cats do best (play with things until they die) ugly mean spider lunged back!
I snatched up little Danger Kitty just in time and we ran back towards the bedroom to find relative safety.
Chad finally shuffled into the kitchen to handle the scary business while us girls peered around the corner waiting for things to be declared safe. By this time the boys were perched on the back of the sofa wondering why in the world I was screaming like a lunatic in the pre-dawn of a school morning.
Chad confirmed that yes, that WAS a black widow, yes it IS dead, and yes it WAS the most gimantico black widow any of us has ever seen and surely would have derailed our day with an emergency room visit.
To be clear, I do not usually advocate killing anything. I'm a catch and release kind of girl. But when it comes to poisonous spiders within an inch of my toe that also try to attack my kitty, I have a zero tolerance policy.
So that's the story of how I was almost killed in my own kitchen before the sun even came up yesterday morning.
I am still a morning person, which is why I inundate you with breakfast recipes.
But from now on I'm wearing slippers.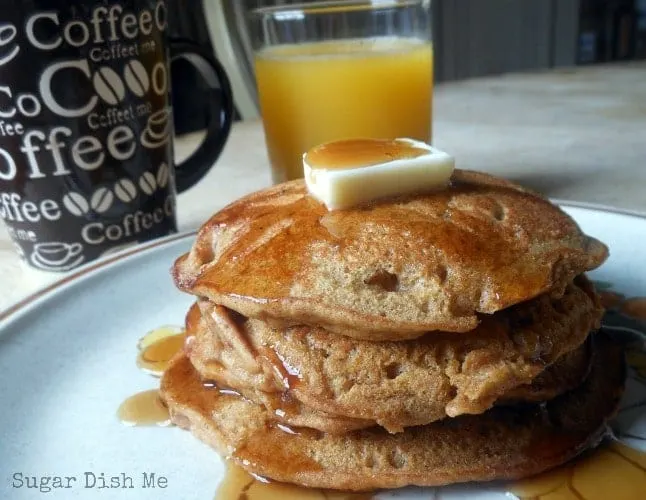 Yield:

6
Gingerbread Pancakes
Fluffy, delicious gingerbread pancakes that you can make with all purpose or whole wheat flour. This recipe is so easy!
Ingredients
1 1/2 cups whole wheat flour
2 tablespoons brown sugar
1 1/2 teaspoons baking powder
1/4 teaspoon baking soda
1 teaspoon ginger
1/2 teaspoon cinnamon
1/2 teaspoon kosher salt
1/8 teaspoon ground cloves
1 egg
3 tablespoons molasses
1 1/2 cups buttermilk
butter for the griddle or skillet
syrup, butter, and whipped cream for serving
Instructions
In a large bowl whisk together the whole wheat flour, brown sugar, baking powder, baking soda, ginger, cinnamon, kosher salt, and cloves.
In another smaller bowl slightly beat the egg, add the molasses, and then the buttermilk.
Add the wet ingredients to the dry ingredients, mix well, and then set aside for about 10 minutes.
Heat a large skillet or pancake griddle. Butter generously. Pour the batter onto the hot cooking surface about 1/4 cup at a time. When the surface of the pancake is bubbly, flip it. Leave on the second side for another minute.
Serve hot!!
Recommended Products
As an Amazon Associate and member of other affiliate programs, I earn from qualifying purchases.
Nutrition Information:
Yield:
6
Serving Size:
1
Amount Per Serving:
Calories:

258
Total Fat:

6g
Saturated Fat:

3g
Trans Fat:

0g
Unsaturated Fat:

2g
Cholesterol:

44mg
Sodium:

523mg
Carbohydrates:

46g
Fiber:

3g
Sugar:

20g
Protein:

7g
(crafted and adapted from
MY RECIPE
)