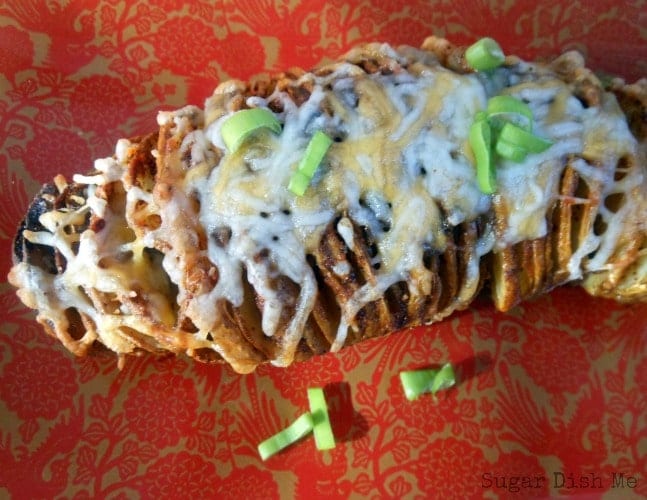 This was yesterday's lunch. Kind of.
I actually had lunch with Chad, but  in the interest of sharing with all of you, I made these at 2 in the afternoon.
Oh the sacrifices I make for the sake of this blog.
So here's the great thing about these potatoes: You can make a whole bunch OR you can make just one.
I made 4 to have with veggie burgers for dinner, and Andrew must have REALLY liked his because he asked me 3 times, "Hey… are there any more of those potatoes?"
I'm still buried under a pile of work, BUT!! I can promise you a couple of things for the coming days: gingerbread pancakes and the story about how a Black Widow spider almost killed me AND Norma Jean yesterday morning. So stay tuned.
In the meantime rub these potatoes with olive oil and chili spice, bake 'em, melt cheese on 'em, and eat.

Chili Spiced Cheesy Hasselback Potatoes
Ingredients
4 good baking potatoes, thoroughly scrubbed (I used these pretty Idaho potatoes)
olive oil for rubbing the skin of each potato (maybe a teaspoon per potato, plus a little more to go in between the slices)
4 teaspoons cornstarch
4 teaspoons chili powder
red pepper flakes to taste (I like spice!! I used ½ teaspoon)
¼ teaspoon cumin
¼ teaspoon garlic powder
2 teaspoons spicy grill seasoning (I like McCormick Grill Mates Montreal Spicy Steak Seasoning)
½ cup cheese, divided (1/8 cup per potato)
green onions to garnish (AND sour cream if you like!!)
Instructions
Pre-heat the oven to 400.
Slice your potatoes as shown in the photos; turn each potato horizontally in front of you and using a very sharp knife make as many little vertical cuts as you can manage, creating a row of very thin slices. BE CAREFUL NOT TO CUT ALL THE WAY THROUGH!! When you're done each potato will look kind of like an accordion.
Rub the potatoes all over with olive oil and use your fingers to rub in between the slices, while doing your best not to break the potatoes (but if you do, don't fret. Just place them back together when you're ready to bake).
Mix together the cornstarch, chili powder, red pepper flakes, cumin, and garlic powder.
Shake the grill seasoning (about ½ teaspoon per potato) over the potatoes.
Rub the potatoes with the spice mixture.
Drizzle just a little more olive oil over each potato so they'll brown and crisp at the edges.
Place the potatoes on a baking sheet or baking dish. Bake for about 40 minutes.
Take the potatoes out of the oven, sprinkle them with the cheese, and then put them back in the oven for 3-5 more minutes, just long enough to melt the cheese.
Garnish with the green onion slices and sour cream.
Want Some More?
Get new recipes plus a healthy dose of snarky humor delivered to your inbox each week. It's good stuff y'all.