Tender chicken marinated in a simple chimichurri made of parsley, cilantro, and oregano. Cooked (and if you can manage smoked!) over an open flame, this Grilled Chimichurri Chicken is full of fresh herb flavor and just a hint of spice. It's our year-round grilled favorite.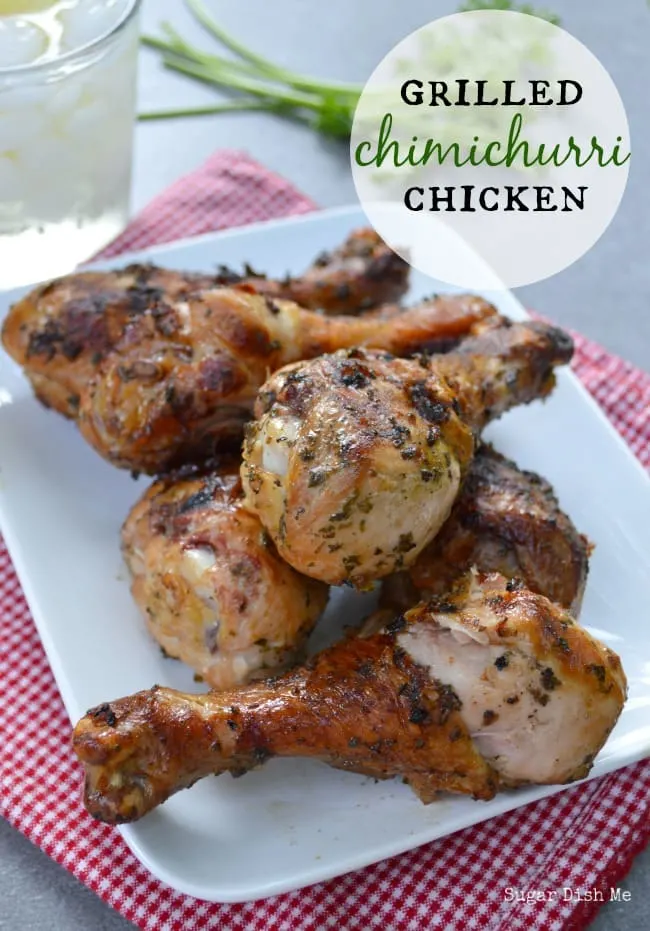 I feel like a schmo posting grilling recipes as we all head back to the weekday grind and routine of fall, but here it is. This is still appropriate until Labor Day, right?
Just agree with me.
Anyway I live in North Carolina, so it will be 90° and 800% humidity for another 40 days at least.
Because here's the deal: YOU HAVE TO MAKE THIS CHICKEN.
Like it really truly needs to be a part of your dinner routine just one time so that we can talk to each other about how freaking delicious it is.
I buy lots of drumsticks because we eat lots of chicken and they are the cheapest cuts. I will never understand why wings are more expensive, but they are. Always. If anyone happens to talk to the chicken wing gods, tell them to take it down a notch.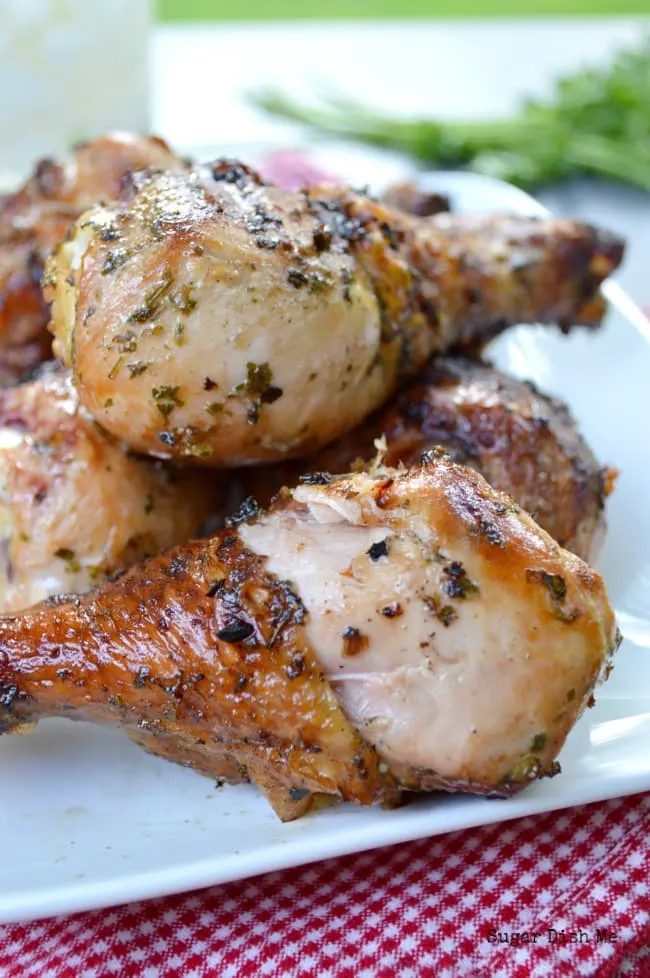 Anyway, drumsticks are my favorite thing to grill because you can prepare them a zillion different ways, feed all the hungry people, AND you still have leftovers. Also! You can eat them with your hands.
If you walk around with a slab of boneless skinless grilled chicken breast in your hand you will look like a crazy barbarian. If you walk around with a drumstick, even though you are technically eating off a bone and that is pretty barbaric, you will not look like your mama never taught you better. Only like a person that likes chicken.
Keep a plate nearby though, just in case.
This chicken is marinated for as long as you can manage in a simple oil and vinegar dressing, but the star of this whole dish is parsley. Herbs. Fresh herbs. Full of all that green taste and a little bit of bite. I also added fresh jalapeno and some garlic – you know I like my spice – but they don't overpower at all. The result is the most tender delicious chicken I have made all summer, and that's saying something, ya'll.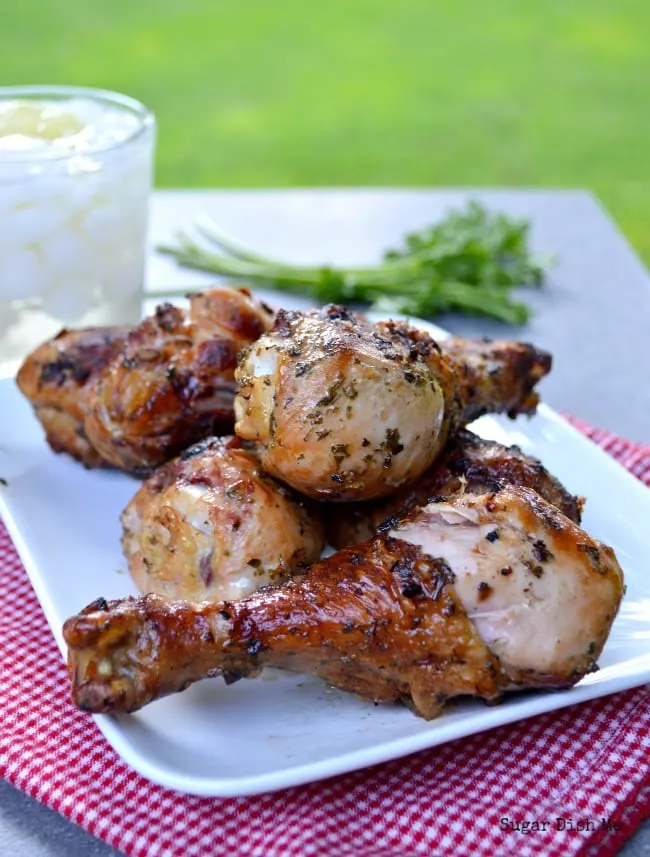 I usually see chimichurri paired with beef (also delicious!), but this chicken is kind of blowing all my skirt steak dinners away.
If you have an outdoor grill that will let you add a little smoke to these drumsticks DO THAT. We have a smoker attachment for the charcoal grill, but before my other half got all fancy grill-pro, we would just throw a little foil pouch with holes punched in it on top of the grate and close the lid. I used mesquite for the chicken here. I think if I'd asked, Chad might have done cartwheels for dinner privileges. I'm always behind the curve on these things.
Grilled Chimichurri Chicken! Let's talk about it.
Grilled Chimichurri Chicken
Tender grilled chicken marinated in oil, vinegar, and tons of fresh herbs. So much flavor and so delicious! Works great with any cut of chicken. Prep time includes time to marinate.
Ingredients
½ cup fresh parsley, finely minced
¼ cup fresh cilantro, finely minced
2 tablespoons fresh oregano, finely minced
1 medium jalapeno pepper, finely minced (remove the seeds if you don't like heat)
1 shallot, finely minced (OR! 2-3 tablespoons red onion works well, too)
3 cloves garlic, finely minced
½ cup red wine vinegar
½ cup olive oil
2-3 pounds chicken drumsticks, skin-on
kosher salt to taste.
Instructions
Combine the parsley, cilantro, oregano, jalapeno pepper, shallot, garlic, oil, and vinegar in a small container. You can make the marinade a day ahead if you'd like. It tastes better as it sits.
Pour the marinade over the chicken (see note) and let it sit for at least 30- 45 minutes.
Heat the grill to 350°F - 400°F.
Sprinkle the marinated chicken pieces with kosher salt to taste.
Place the drumsticks an inch or two apart over direct heat and close the lid. Cook for about 4 minutes on the first side and then turn for 4 more minutes on the second side.
Move the drumsticks just slightly to the side of the direct heat and close the grill lid. Continue cooking for about 16 more minutes, turning halfway through. Test the chicken for doneness. An instant read thermometer should read 165°F or the juices at the bone of the thickest piece should run clear when you cut into it.
Notes
This marinade works well with any cut of chicken. If you are only cooking a pound or so at a time, divide the marinade before it touches the meat and discard after using. Marinade keeps well in the refrigerator for up to 5 days.
Chimichurri Sauce recipe was just slightly adapted from bon apetit.