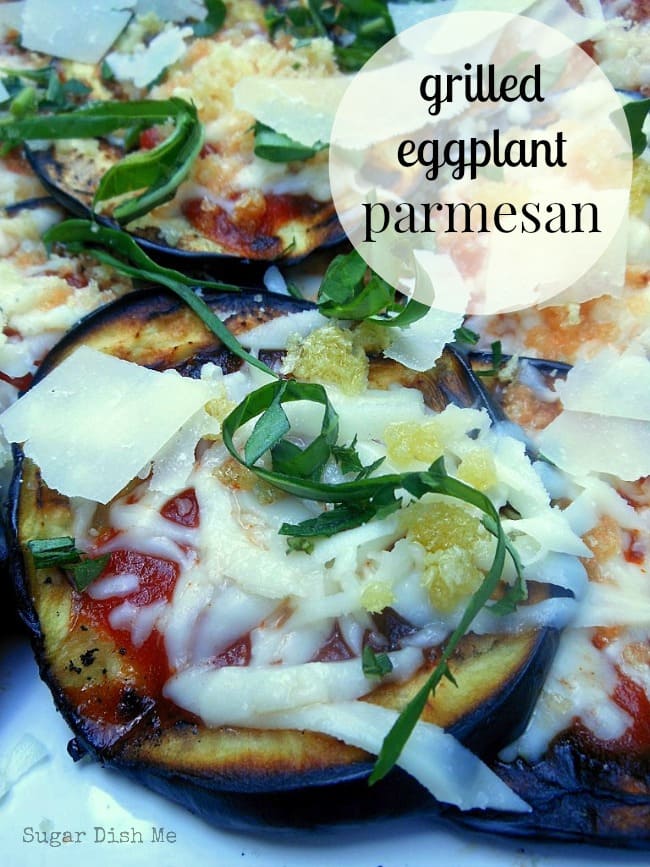 I know. I'm on a grilling kick lately.
It's because the heat has finally settled here- and most places I think (Except for the bizarre places that got snow last week. I need my flip flops in May/June. I can't handle snow.), and I have reached the place where having the oven on past 9 am seeks like the worst idea EVER. Which will probably help with my cookie problem.
Unless I switch cookies for ice cream.
So usually we are pretty boring and we grill chicken. Which is still boringly awesome because of this best grilled BBQ chicken recipe. But lately I've been grilling everything, and now we can add eggplant to the list.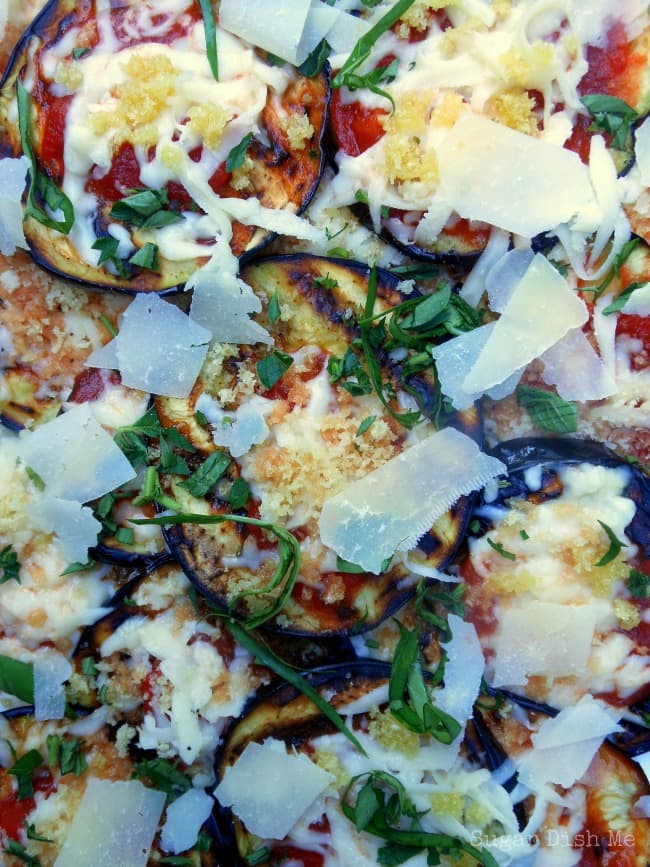 Traditional eggplant parm is one of my kids' favorite things. But I don't make it very often 1)because I'm not really into frying things at home. It's just not my thing. 2)because there are a zillion steps and my fingers get all gummy from the egg + breading and I manage to dirty every bowl in the kitchen, and 3)it feels kind of heavy for a summer meal. Eggplant parm, to me, is like cozy and comforting January food.
Until today.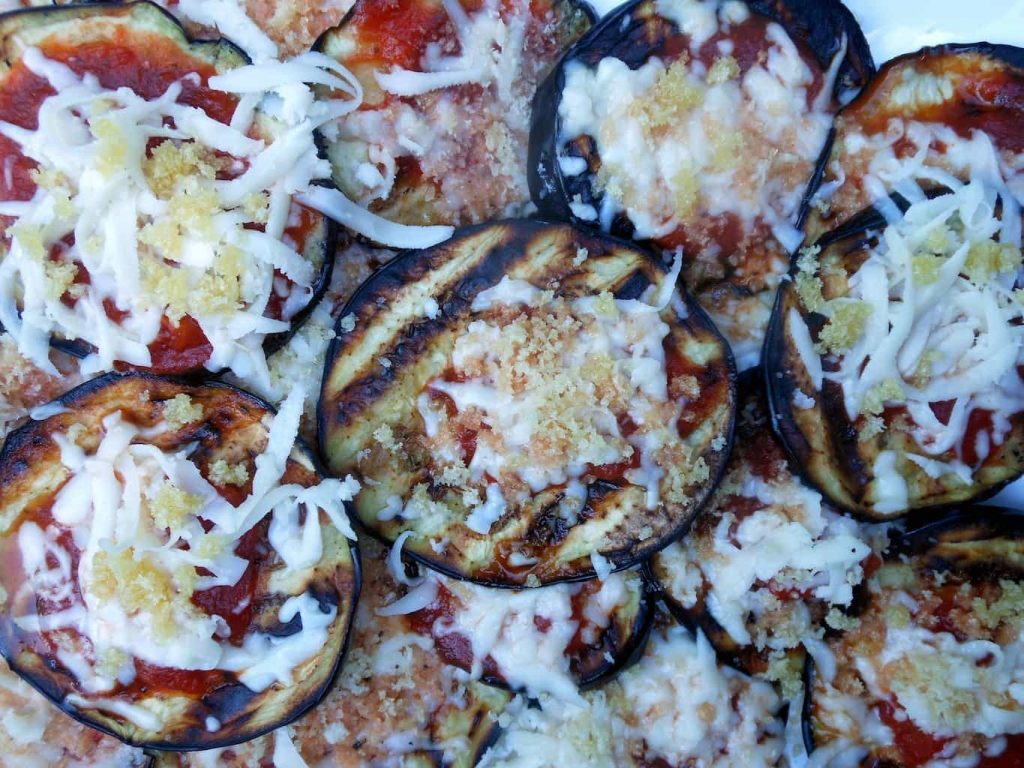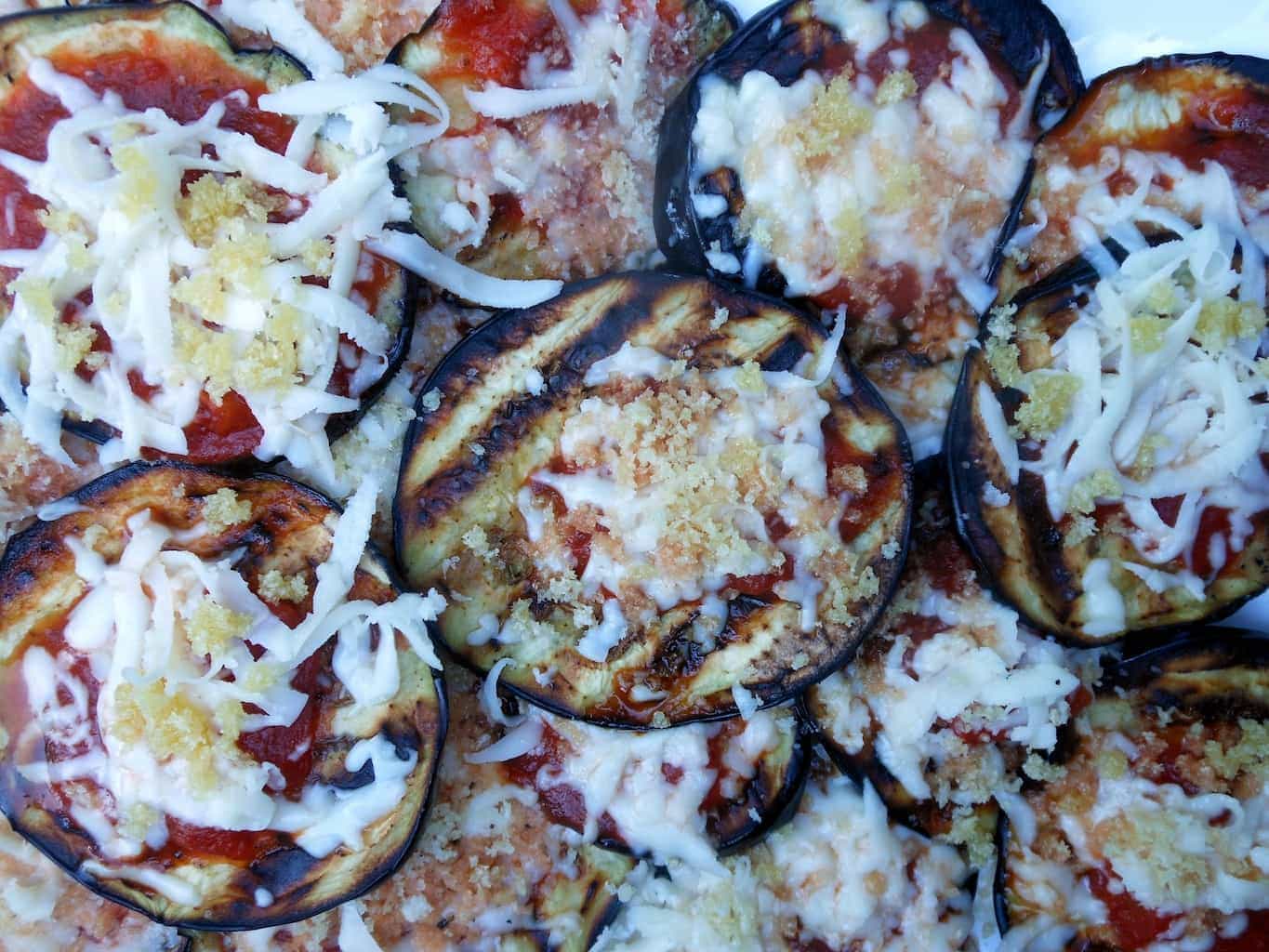 This Grilled Eggplant Parmesan is actually really fast, the mess can be confined to one little tray that you tote outside, and it's not heavy at all!
Welcome to May, eggplant parm. I might love you even more than your January cousin.
Grilled Eggplant Parmesan
Ingredients
1-2 medium eggplant, cut into ¼-1/2" thick slices
2 tablespoons salt
½ cup warm water + 8 cups cold water
3 tablespoons olive oil
kosher salt to taste (optional)
1½ cups tomato sauce
2 cups shredded mozzarella cheese
3 tablespoons Panko bread crumbs
2 teaspoons olive oil
sliced fresh basil, oregano, and shaved Parmesan cheese to garnish
Instructions
Place the eggplant slices in a large deep bowl or pan. Dissolve the salt in the warm water and pour it over the eggplant. Pour the cold water over it. The eggplant will float so find something to weigh it down- I flip a bowl upside down and place it right on top of the eggplant. Let it stand for 30 minutes.
While the eggplant soaks, gather the rest of your ingredients. I like to put everything on a tray so that cooking outside is a little easier because once you start grilling this goes fast! A small bowl for the oil + a brush is helpful. You'll also want to have a clean plate, a spatula, and a spoon for the sauce.
Combine the 3 Tablespoons Panko bread crumbs with the 2 teaspoons olive oil.
Heat the grill to about medium.
Drain the eggplant and pat it dry. Brush one side with the olive oil, sprinkle with the kosher salt if desired, and place the slices, oil side down, on the hot grill.
Cook for a couple minutes- until nice grill marks appear on the side touching the grill. While the eggplant cooks, brush the top with olive oil.
FLIP!
While the eggplant cooks on the second side, spoon tomato sauce onto each slice.
When the second side is done, remove the slices to the clean plate. Sprinkle with the mozzarella cheese, and then the bread crumbs.
Top with the fresh basil, oregano, and shaved Parmesan. Serve immediately.
Eggplant grilling method based on the
Perfect Grilled Eggplant
recipe at About.com