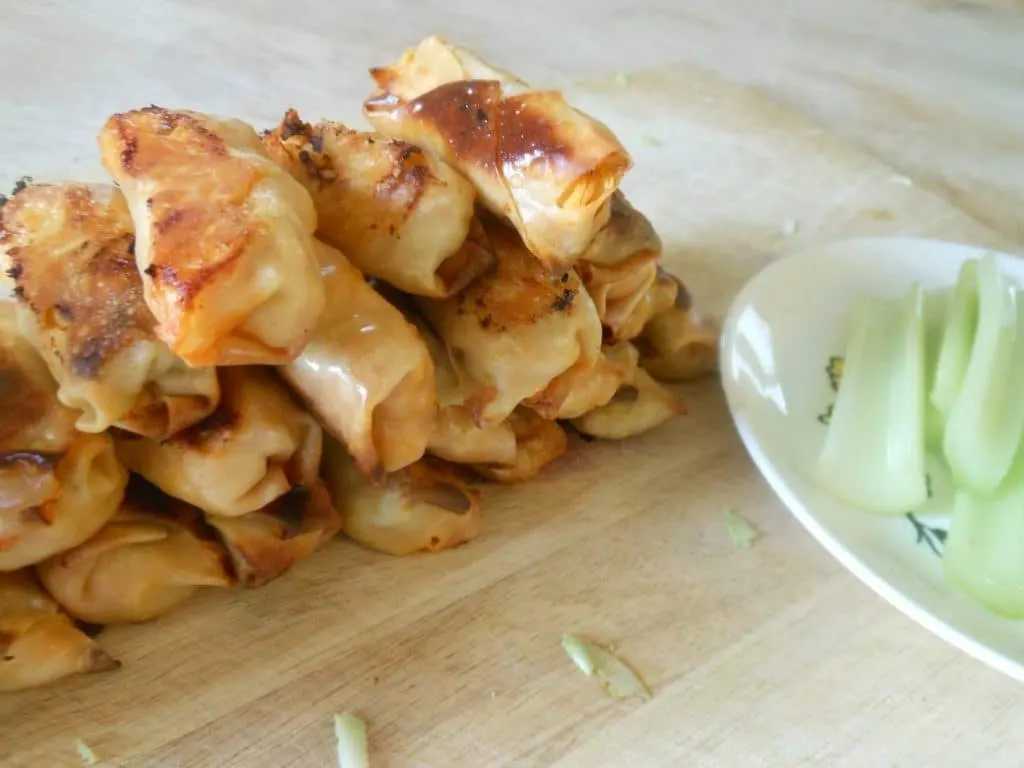 There are some things I never, ever get tired of.
morning coffee. getting magazines in the mailbox. finding a mix CD in the car that I haven't listened to in ages and the anticipation that goes with figuring out what's on it.
spicy chicken.
I know it's only been a couple of days since I unleashed the full heated flavor of Hot Habanero Sauce on you, but these Baked Buffalo Chicken Rolls were just begging to be shared.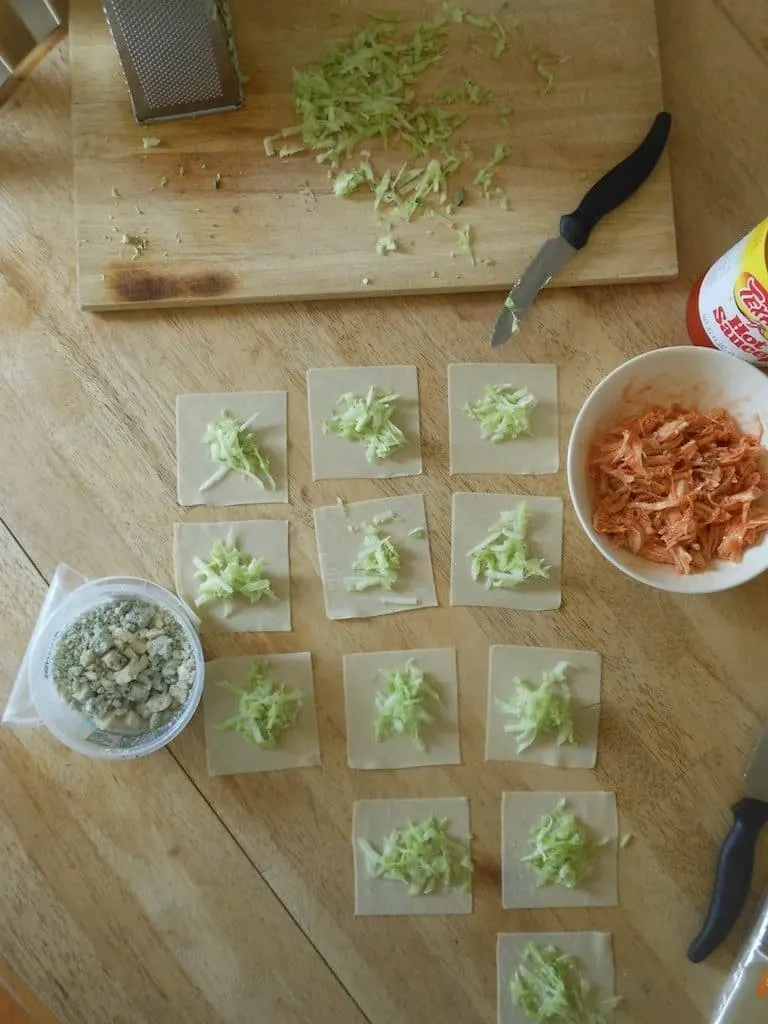 Speaking though, of found CD's in the car, I popped in a mystery disc the other day that was full of some really special surprises. That also was begging to be shared.
So anyway… spicy chicken.
I never ever lose interest in anything containing the words buffalo and chicken. Those two words coexist as appetizers, salads, sandwiches, pizza. Mac'n'cheese. Wings. The possibilities for buffalo and chicken together are pretty endless. You could probably even pile buffalo and chicken on top of waffles and call them breakfast. This is the south, after all.
But I'm not gonna do that.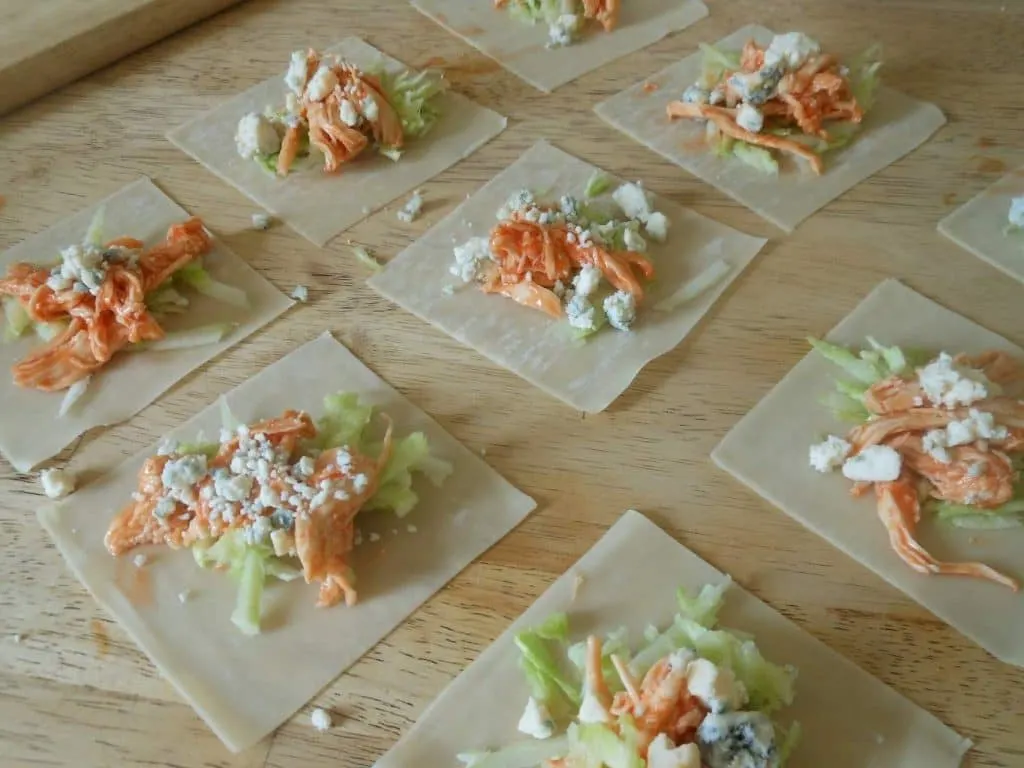 Baked Buffalo Chicken Rolls were easily the happiest lunch food we've had around here in awhile.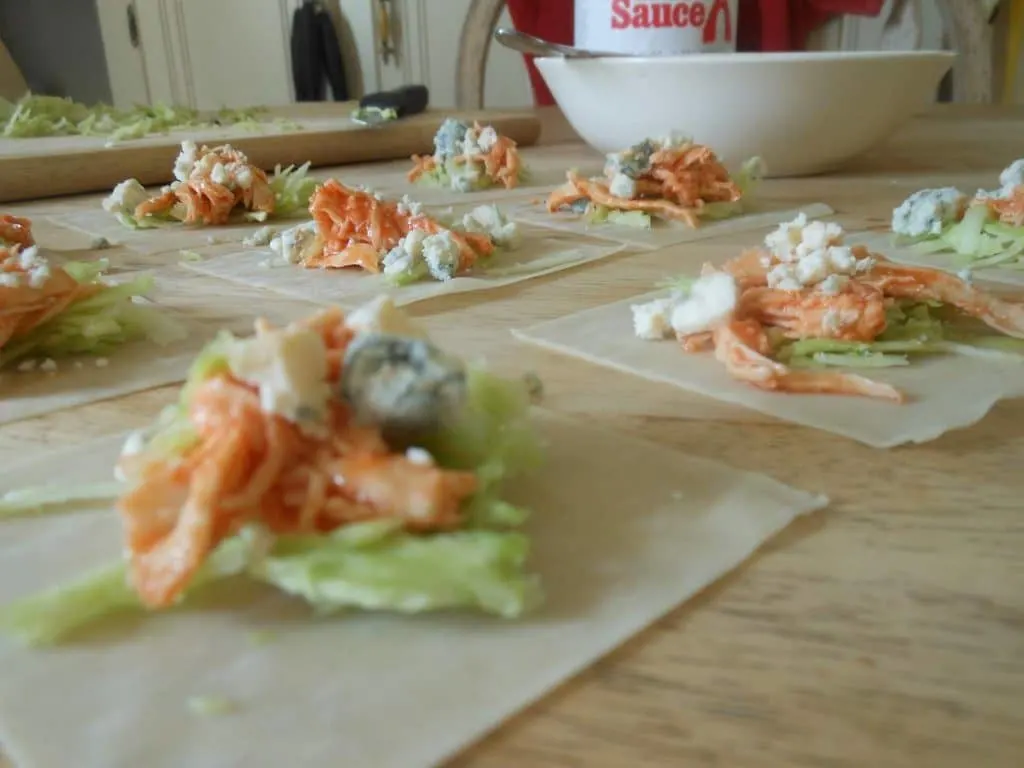 Wonton wrappers stuffed with broccoli slaw, shredded chicken tossed in your favorite hot wing sauce, and crumbly blue cheese. I know that 68% of the population wants nothing to do with blue cheese. Use something you like. Something un-greasy, like feta. Or spread a bit of laughing cow cheese on the wrappers before you pile on the broccoli slaw. You could opt for no cheese at all… but where's the fun in that?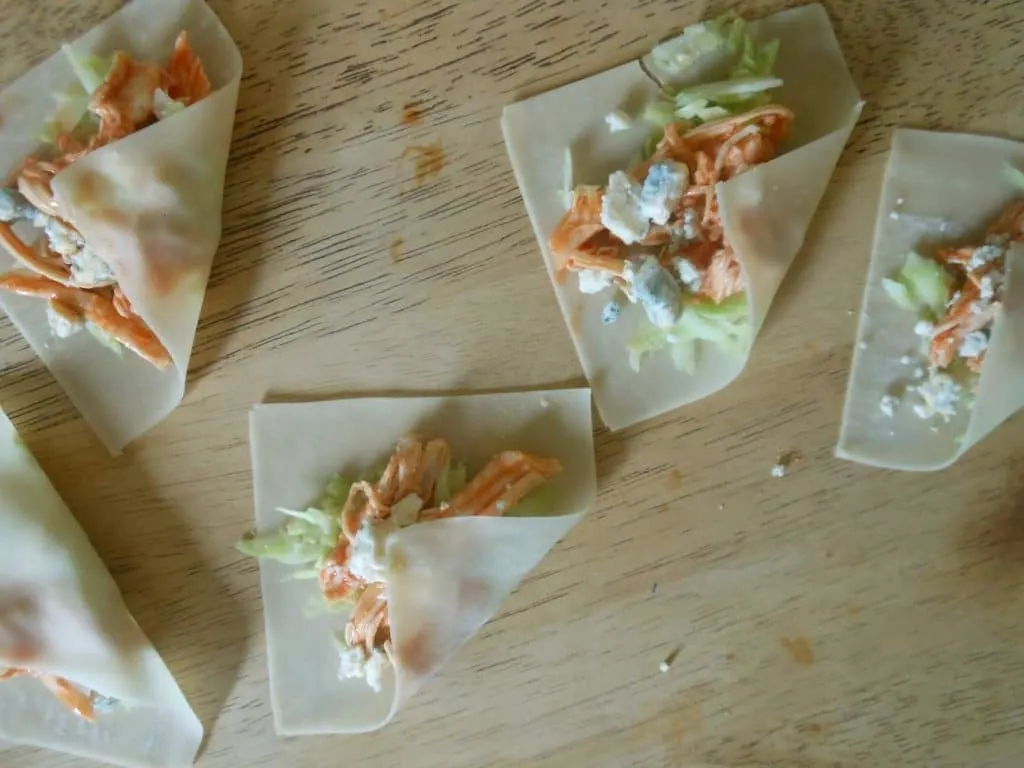 Situate everything in the center of your wrapper and start to roll.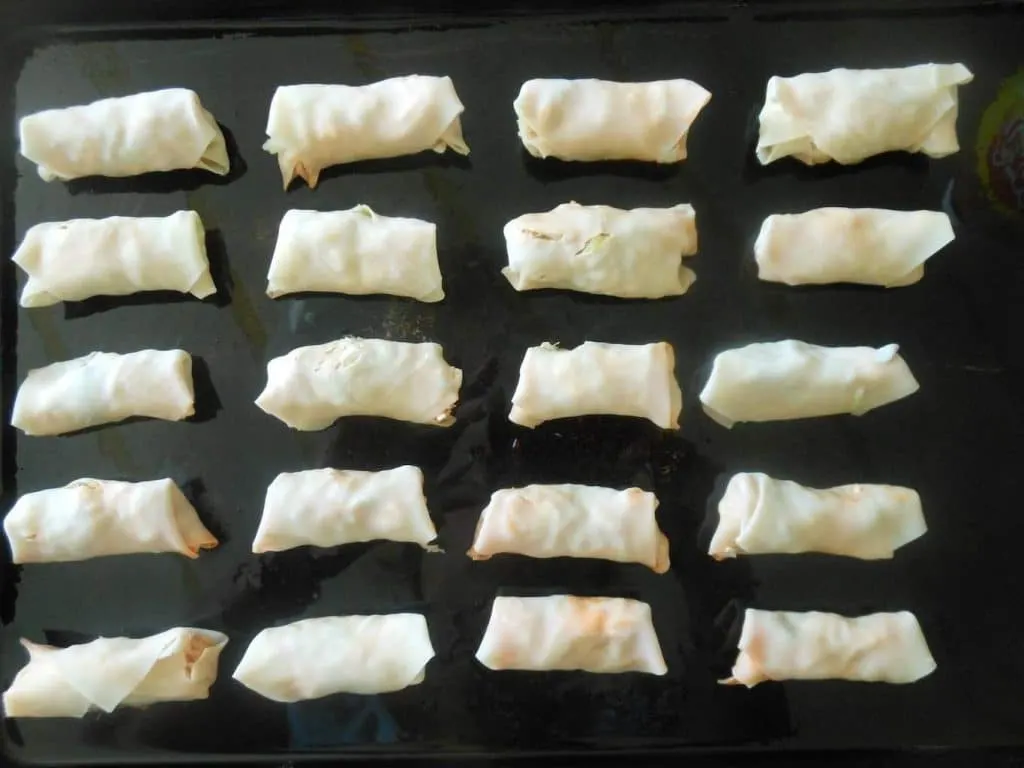 Non-stick cooking spray eliminates all the pastry brushing that wraps in the oven usually require. It's a modern marvel.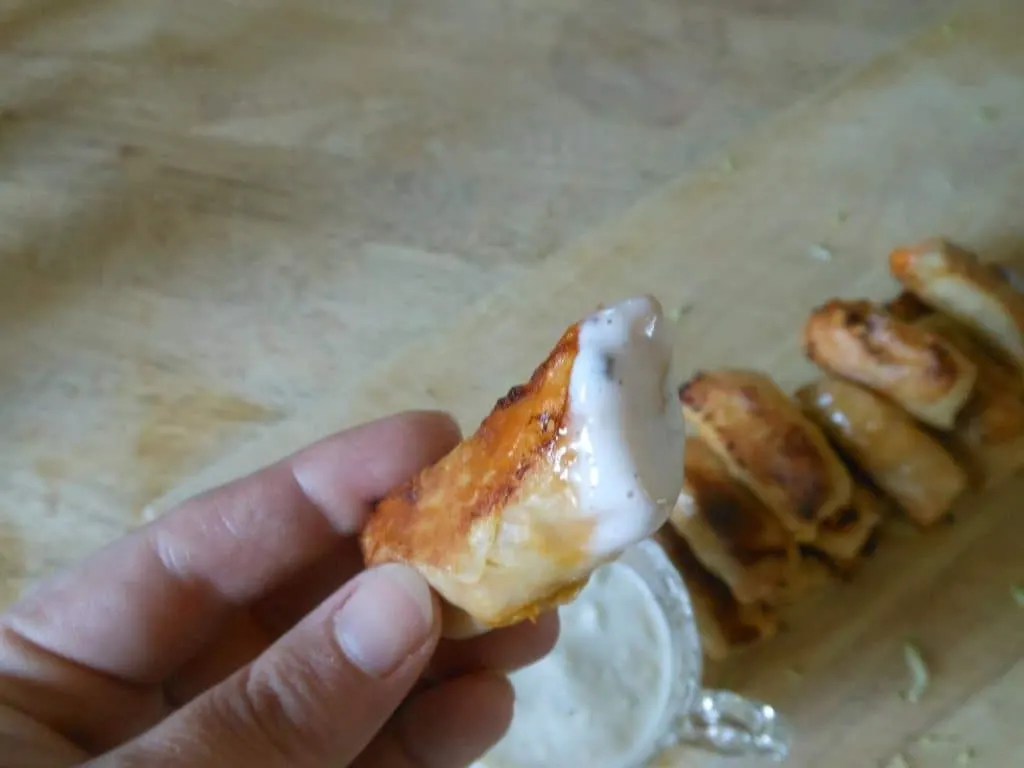 Dip the Baked Buffalo Chicken Rolls in creamy blue cheese dressing. Or ranch if that strikes your fancy. Serve with a pile of celery and carrot sticks and broccoli florets.

Baked Buffalo Chicken Rolls
Ingredients
24 wonton wrappers or 12 eggroll wrappers
1 cup shredded chicken
hot sauce to taste (I douse the chicken in Texas Pete)
1 cup broccoli slaw
½ cup crumbled blue cheese
nonstick cooking spray
blue cheese or ranch dressing for dipping
Instructions
Pre-heat the oven to 400. Spray a baking sheet with non-stick cooking spray and set aside. Prepare your ingredients.
If you need to cook the chicken, cover a boneless skinless breast with water, and bring it to a boil. Poach until the meat is done all the way through, about 10 minutes. Drain the water, let the chicken rest and then shred. Toss the chicken in the hot sauce.
You can use prepared broccoli slaw to save time, or you can use a grater to shred the cleaned and trimmed stalks (shown here). Serve the removed broccoli florets with the finished buffalo chicken rolls.
Lay out the wonton or eggroll wrappers on a clean work surface.
Spread a little broccoli slaw onto each wrapper. A little goes a long way, especially if you are using little bitty wonton wrappers. Top the slaw with a little chicken and then sprinkle a bit of blue cheese on top of the chicken.
Roll up the wrappers by situating them diagonally and folding the bottom corner towards the center. Stop halfway. Fold the two side corners in towards the center. The wrapper will resemble a tiny envelope. Continue rolling until the wrap is sealed. You can use a dab of water to seal the roll off, but usually my finers are damp from handling the hot saucy chicken and they seal off on their own.
Line the rolls up on the prepared baking sheet.
Spray them lightly with nonstick cooking spray and bake for about 10 minutes until they are a light crispy golden brown.
Serve with the blue cheese or ranch dressing.
(from
Can You Stay for Dinner
)