So I mentioned it a little bit last week, but I thought I'd take just a minute to talk about how much I really like to smash things into butter. Blueberries, strawberries, GARLIC!, and this week basil.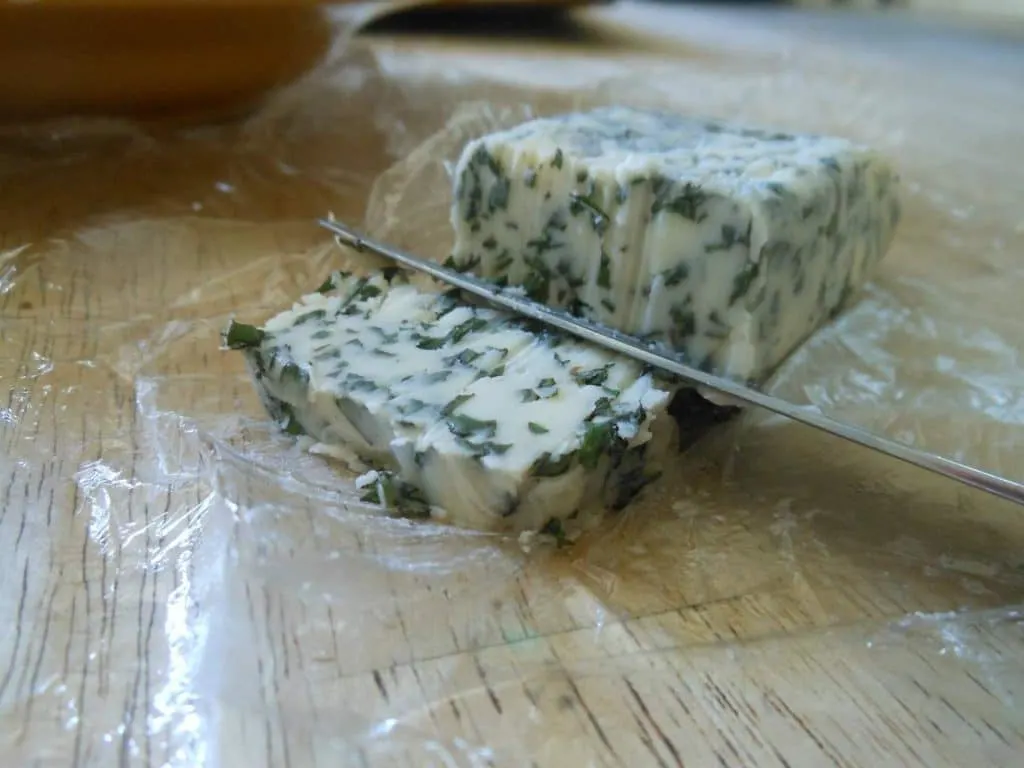 I have the fondest little girl memories of my dad and I sharing a big basket of hot popovers with freshly whipped strawberry butter. When I was big enough to want to recreate that happy memory in my own kitchen, I figured out that strawberry butter isn't that complicated (popovers are quite another story). If you haven't ever had pumpkin butter, you are missing out on one of the greatest things life has to offer, and I'm not even exaggerating about that. Apple butter? Almost as good (not that thick weird apple butter that's canned like jam and resembles nothing of apples or butter. Sorry. I can't get down with that stuff.). This week basil butter has made its way into my fridge, and my life, and I'm loving every buttery good bit.
I have these basil plants that are seriously the size of small trees. I have an over-abundance of basil. It's really out of control. Add to the gigantor basil crop this problem I have where I can't let anything go to waste; no leftover goes uneaten, no fresh garden herbs are left untouched. I've made more pesto (recipe for that coming up this week, just in case basil is taking over your life, too) and margherita pizzas than I really care to discuss right now. Let's not forget the bruschetta. But still there was MORE BASIL.
So I smooshed (technical kitchen term) the basil into butter.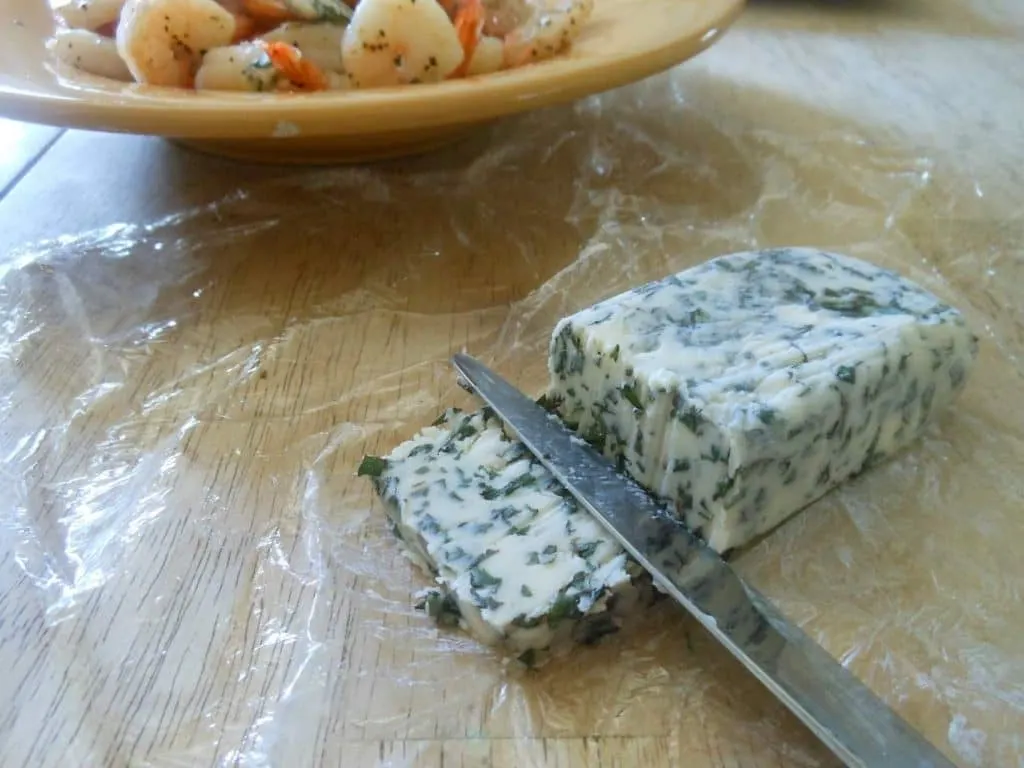 If you aren't sure exactly how to fit basil butter into your life, I have a couple of really amazing ideas. Why don't you…
spread it on warm crusty baguette. try not to eat the whole loaf.
slice the baguette horizontally like a giant sandwich, smear it with basil butter, and make a "french bread" pizza out of it. because vegetables may be included with this version, it's important to just go ahead and eat the whole loaf.
drop some basil butter into a pot of hot cooked and drained pasta, sprinkle with parmesan cheese, and call that dinner.
saute chicken in it
saute vegetables in it
use it to make some really fancy macaroni and cheese. use something sort of special like gouda.
I could keep going here, but you get the idea.
Oh! One more. I made this recipe from How Sweet It Is. Roasted Basil Butter Parmesan Shrimp. Gahhhhhhh.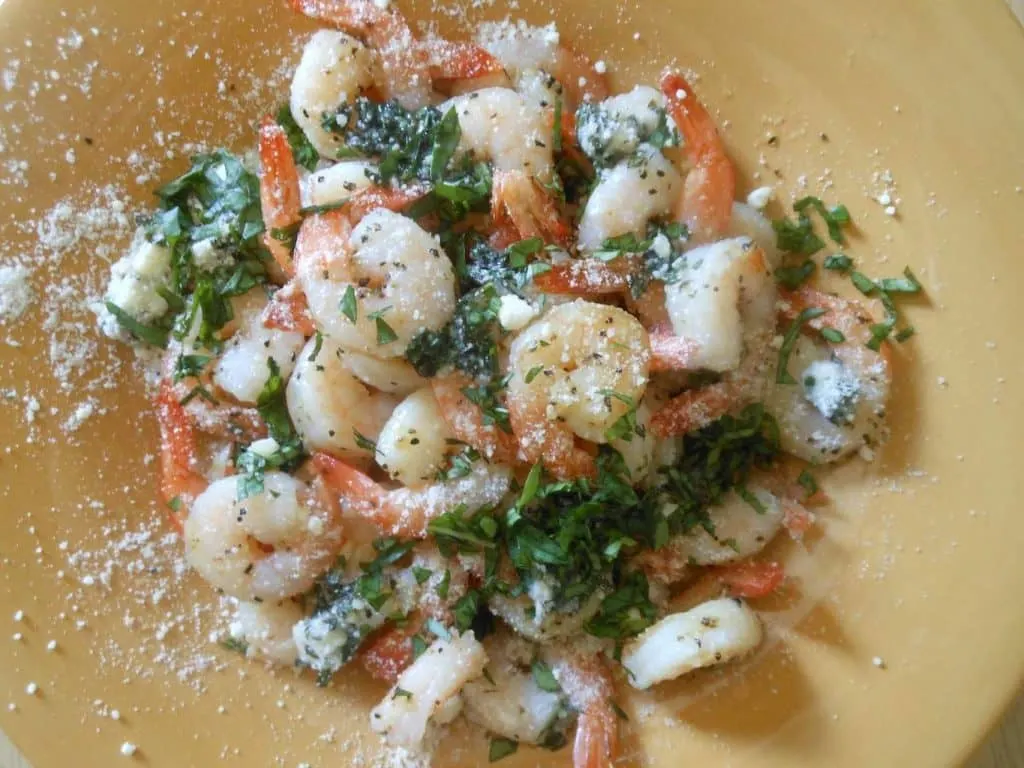 How much do you want basil butter in your life right now?
If you're anything like me, that photo made you want it A LOT. So here's the really great part: you only need two ingredients.

Basil Butter
Ingredients
butter at room temperature
basil, very finely chopped
**kosher salt is optional**
Instructions
Use half as many tablespoons of basil as you have of butter. So if you're using a whole stick of butter (8 tablespoons), then you'll need about 4 tablespoons of basil. If you are using salted butter, don't add any additional salt. It's too much. But if you're using unsalted butter, sprinkle in kosher salt about ¼ teaspoon at a time until you feel like it's right.
You could use a food processor to pull all this together, but I just use my hands.
In a medium bowl smoosh the butter together with the basil until the basil is evenly distributed throughout. If you're adding salt, smoosh it into the butter in the same way. Shape it into a log, or a circle, or get craaaaayzay and press it into those little molds that are cool shapes. Suuuper idea for a fancy schmancy dinner party. If you're shaping the butter into a log (as seen pictured above) wrap it tightly in plastic wrap and refrigerate.