Creamy and delicious chicken salad wraps make a perfect light lunch or dinner! Healthy Dill Chicken Salad Wraps are made with plain Greek yogurt and shredded poached chicken for a protein-rich, guilt-free, filling sandwich you'll love.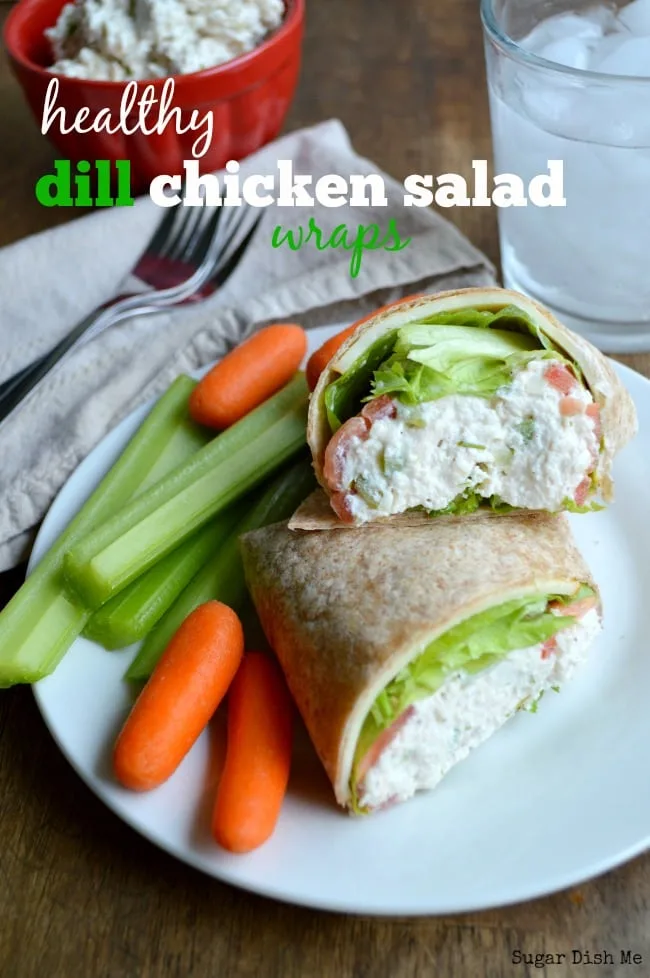 I love a good chicken salad recipe. If I find it on a deli menu I am always drawn to it, but I don't often order it because as awesome as it is, it can go reeeeaaally wrong in a pretty hot minute. Plus I love my favorite chicken salad recipe and it's pretty hard to beat.
Yesterday Chad called me on his lunch break all proud that he'd gone to a little lunch counter and emerged with not 3 cheeseburgers, but a chicken salad sandwich and a chili dog. It definitely never occurred to him that probably he was eating enough mayonnaise to fill the mayo quota for a month. And I think by now you guys probably know pretty well how I feel about mayo. Anyways, the point is that it is pointless trying to convince a dude that deli-in-the-gas-station chicken salad is not very healthy. It is like trying to talk Dr. Huxtable out of his giant sandwiches. #nothappening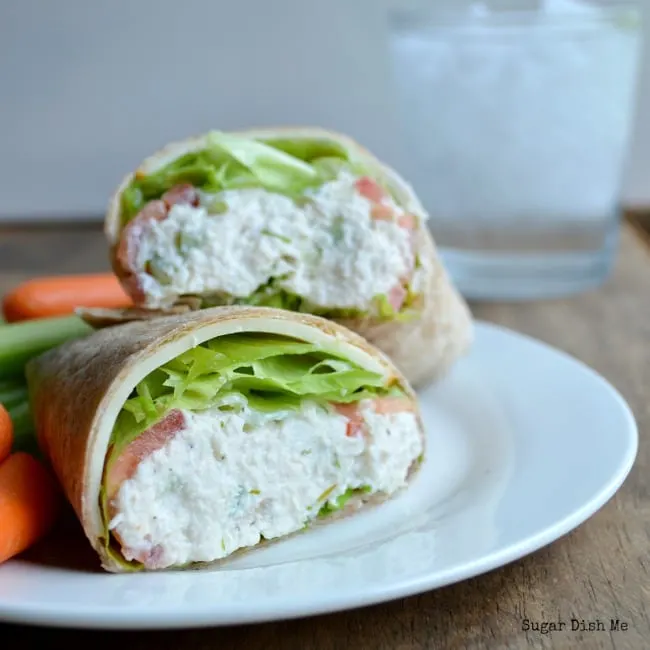 The only good news to come of this is that when I made this particular dill chicken salad, my other half totally annihilated all of it. He moved from eating the wraps to spooning it onto crackers. And then… it was gone.
So none of the healthy changes I imposed alerted him and his junk-food-eating ways.
The other good news is that these Healthy Dill Chicken Salad Wraps are crazy filling. I had half of one and I was done, even though my taste buds were screaming at me to have just one more bite.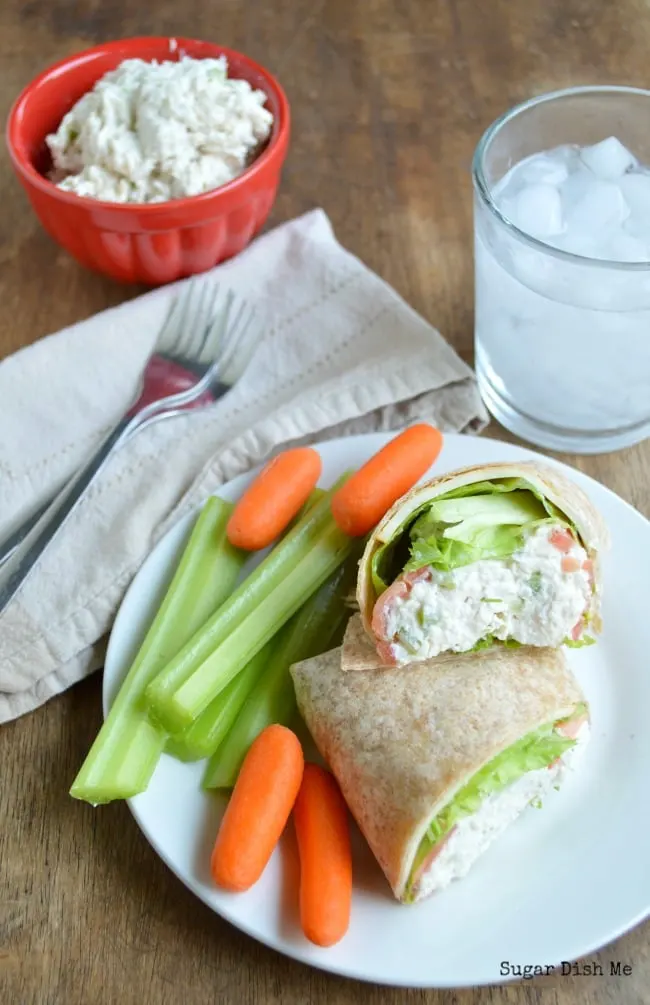 Dried dill is one of those herbs I only drag out once in a blue moon and then I wonder why I don't use it all the time. We did have a dill plant on the back porch, but this summer all of my herbs have fallen victim to 3 dogs that think it is a rockin' good time to snatch plants from the pots by the roots, and then run around the yard in a sage-basil-dill-scented game of keep away.
Rude.
Anyway – dill weed. Get some.
Healthy Dill Chicken Salad Wraps
Creamy chicken Salad made with Greek yogurt, poached chicken, and dried dill weed. Totally healthy, filling, and delicious!
Ingredients
For the Chicken Salad:
3 small boneless skinless chicken breasts (about ⅔ pound)
⅔ cup plain Greek yogurt
⅓ cup finely chopped celery
2 tablespoons very finely chopped sweet onions
1 tablespoon red wine vinegar
1½ teaspoons dried dill weed
Salt and pepper to taste
For the Wraps:
4 while wheat sandwich wraps
4 slices Munster cheese
3-4 cups shredded lettuce
1 tomato, sliced
Instructions
Place the Chicken in a medium saucepan and cover it with water, plus about 1 inch. Lightly salt the water. Bring it to a boil and then reduce the heat to a summer. Cook for about 10 minutes. Then turn the burner off and let the Chicken sit in the water for another 10 minutes.
Remove the Chicken to a plate and shred it with 2 forks. I shred mine pretty thoroughly, especially if I am using the chicken salad as a cracker spread.
In a bowl stir together the remaining chicken salad ingredients. Stir in the chicken.
To assemble the Wraps, lay one slice of cheese in the center of each. Top the cheese with lettuce and tomato. Spoon chicken salad onto the tomato slices.
Fold the left and right sides of the wrap towards the center and then roll the bottom side towards the top, like you are folding a burrito.
Slice each wrap diagonally down the center.
Healthy Dill Chicken Salad makes for crazy good wraps, sandwiches, and snacks with crackers!