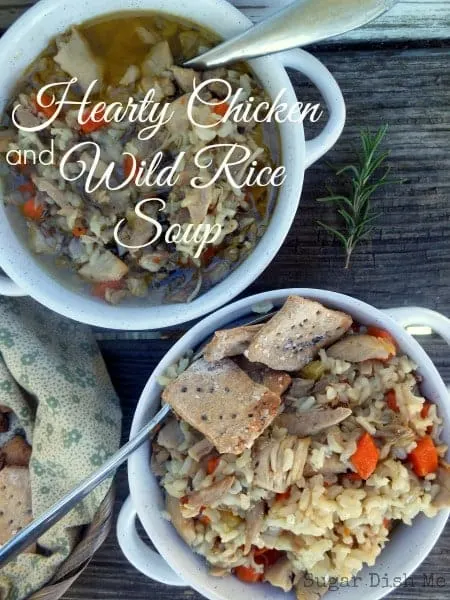 Today is a special day because …
dun DUN DUNNNNNNNNNNNNNNN … they are calling for snow flurries in south western North Carolina.
So.
Even though we live really really close to the mountains (like 20 minutes up the road and you start seeing peaks), they sort of act like a snow force field (I could have sworn forcefield was one word but my editor is squiggle- lining me. Is forcefield a word? Because my editor also fails to recognize buttercream and um… rude.). The mountain barrier basically makes snow a scarcity. We are those annoying people that have a flat-out SNOW PARTY when we actually get a little bit.
But the last couple of years we've gotten cheated. Barely-enough-to-cover-the-grass cheated. Freaker-outer forecasters-getting-my-hopes-up cheated.
Realistically I am sure that if we do have snow flurries they won't stick around and will probably happen while I sleep.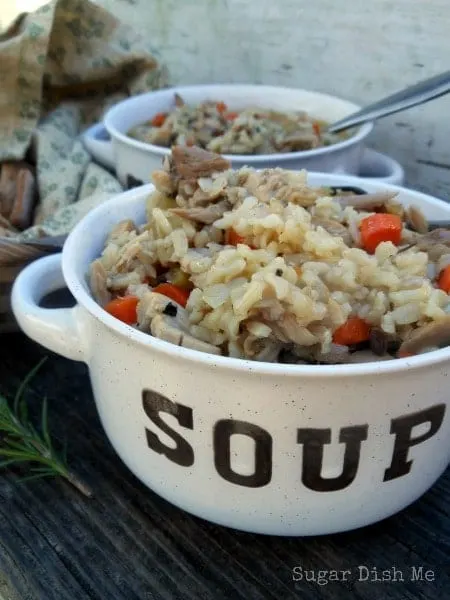 When my kids were little we lived where there was lots and lots and way too much snow. All the other people were always annoyed. But I sorta liked cutting a path to my front door. I really liked when Andrew would reach his fat little baby fingers out the kitchen window to grab a fistful of fresh powder off the porch roof just below. I will never forget my friend and I bundling the kids up to sled, and Evan's cute pudge face tied up with the knitted yarn of his hat, totally unable to put his arms down by his sides because of the bulk of his coat.
I like the cold weather. And I like the cold weather food!
So even though I am pretty certain this is just one of those weatherman fake-outs and next week they'll be all excited about 75° in November, I am just-in-case armed with a whole bunch of soup recipes plus hot chocolate because if a flurry flies I wanna be prepared.
You should be prepared too.
From-scratch soups are so so so worth it. This recipe is awesome delicious warm-your-soul soup from start to finish. If you are short on time you can use prepared broth, pull apart a rotisserie chicken, and grab some minute rice. Modify!
But if it's cold outside and you want to take the edge off and stand next to the warm stove for a little bit, this one's for you.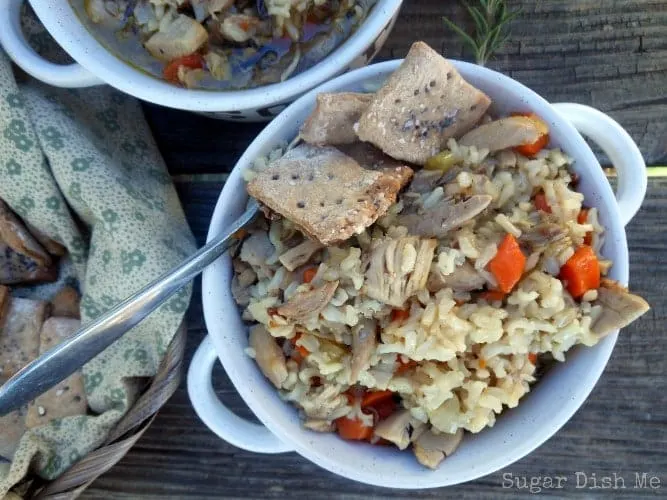 Hearty Chicken and Wild Rice Soup
Super delicious from-scratch chicken soup loaded with carrots, mushrooms, and wild rice.
Ingredients
4 chicken thighs, bone-in, skin-on (you can also use breast meat but for the most flavor the more dark meat you cook the better)
1½ teaspoons kosher salt
1½ teaspoons black pepper
2 sprigs fresh rosemary (or about 1 teaspoon dried)
1 tablespoon olive oil
1 cup onion, diced
1 cup carrots, diced
½ cup celery diced
1 cup mushrooms, coarsely chopped
2½ cups cooked wild or brown rice (see note)
Instructions
Place the chicken in a 4 quart stock pot (larger is fine) and cover it with water plus another inch or so. Add the salt, pepper, and rosemary and bring it to a boil. Reduce the heat to a simmer and cook for about 30 minutes, until the chicken is cooked through.
Remove the chicken from the liquid with a slotted spoon and place it on a cutting board to rest.
Pour the remaining broth into a large liquid measuring cup or bowl. I like to pour mint through a strainer to remove any loose chicken bits and the rosemary sprigs. Set the broth aside.
Place the pot back on the stove and heat the olive oil. Add the onion, carrots, and celery. Cook for 4-5 minutes. Add the mushrooms. Cook until they begin to brown.
Pour the reserved broth back into the pan. Bring it to a simmer and add your rice.
You may need to add more liquid. The chicken broth you made should be pretty concentrated so adding a little water to get the right consistency is fine.
While all this is going on, pull apart your chicken. Remove the skin and the bones and shred the meat. Add the chicken to the pot. Continue cooking for another 4-5 minutes. Serve hot!
Notes
I used a blend of leftover cooked brown rice and long grain wild rice in the soup photos here. If you don't have cooked rice hanging around I'd recommend adding 1 cup of uncooked wild rice when you add the chicken back to the pot. Let the soup simmer until the rice is cooked through.
If you are in a hurry you can use purchased chicken broth for your soup, in addition to leftover or already prepared chicken (such as a rotisserie from the grocery store. Just skip steps 1 - 3, add the broth to the vegetables, then add the chicken. You can use minute rice and be ready to go in 30 minutes or less!
I served this soup with my
Homemade Everything Crackers
. Yum.