The $2000+ mistake I won't make again. Here's why I'll Never Buy Another Samsung Appliance Again.

I've thought about writing this post once a month since LAST December. Every time my Samsung fridge starts making airplane noises I vow to never buy another Samsung appliance again.
In May 2014 we closed on our first house. A foreclosure that was move-in ready although a little less than visually appealing.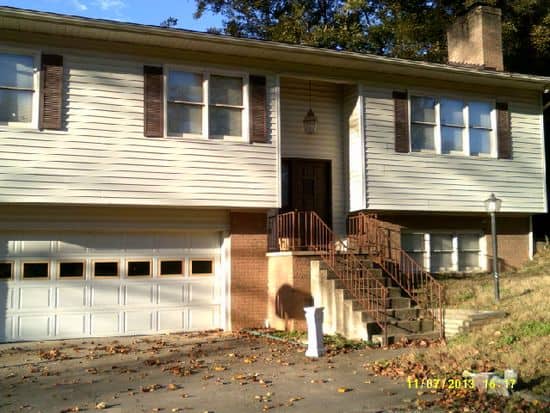 The whole house things was a done deal as far as we were concerned before the end of February that year. The rest was just lawyers, inspections, paperwork – you know all the annoying parts of buying a house.
I was over the moon though, and started making arrangements for all of the necessities right away. Topping the list were appliances.
Having lived in rentals for years and years, I'd had a few appliances over time, but never anything very nice. Some rentals include a refrigerator, others include a washer but no dryer – there's no rhyme or reason to any of it. So we'd had to purchase a washer at our last rental property, but the dryer and refrigerator belonged to our landlord.
As a food blogger I was obviously SUPER EXCITED to shop for a new fridge and had a list of qualities I wanted in my new appliance.
stainless steel
french doors
easy-to-organize freezer space
ice maker!
water dispenser
at least 28 cubic feet of space
So obviously we could have gone in a million different directions. There are LOTS of refrigerators that fit these specs. Not having a brand preference at this point in our refrigerator-buying consumer career, we were open to options and shopped … and shopped and shopped. We did our due diligence with price comparisons, and went around to all the stores so that we could open all the doors and drawers and look at the features in person.
After all the deciding we chose the Samsung RF28HFEDBSR. Here's my fridge y'all.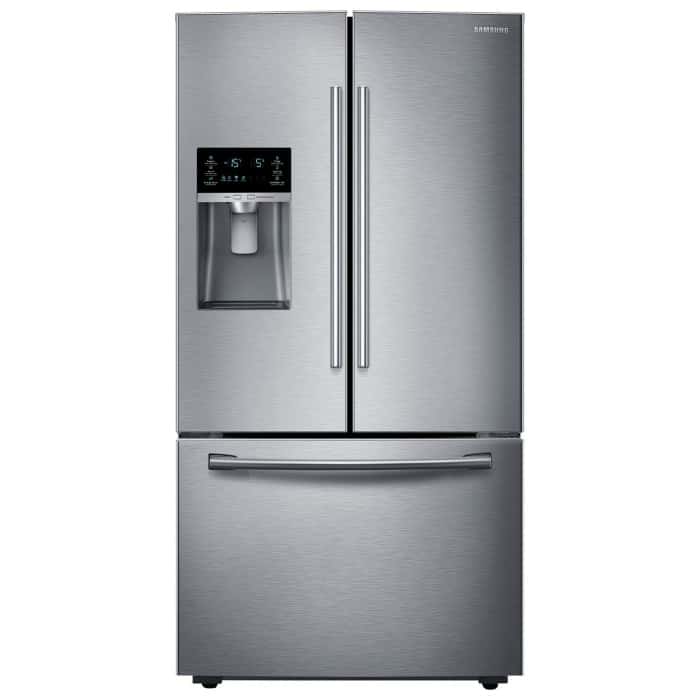 (Photo from the Samsung Website)
Looks good, right?
And it was good. Until December 2016.
So first, lets review the dates.
The sticker in my refrigerator says that it was manufactured in January 2014. I bought it from a local appliance store here in March 2014. We had it delivered and installed in our new house in mid-May 2014.
That means that my brand new $2000 appliance lasted exactly 2 years and 7 months before quitting.
What happened?
Just before Christmas last year the heating element in my stove went out. I had a bunch of client work due and was not super excited at the prospect of appliance shopping (except I WAS a little excited?!) in an emergency right before Christmas. But the stove came with the house and it had plenty of wear and tear before we moved in. Plus I am not a fan of the smooth electric cooktop. ????????
But my husband is really good at fixing things – like all the things (you can find him here at Wishon Works!) – and so he ordered an $11 heating element on Amazon and solved that problem. Crisis averted!
One day later my Samsung fridge started making a loud humming noise.
The next day it go louder.
And then louder.
And I got a little worried.
I made Chad look at it and he determined that the condenser was freezing up. And I'm like okay… well this thing is barely 2.5 years old. So let's see what's covered under warranty.
I called Samsung.
And it was a predictable nightmare. It was like that time I called Verizon and all I accomplished was wine and anger.
I was on hold for an eternity. I got transferred 22 times. There was a language barrier. And! I have 1 million things to do that are not sitting on hold because of an expensive-ass broken refrigerator that at this point was as loud as the air compressor in the garage.
When I finally got someone on the phone though, he was the nicest guy. He walked me through the steps of defrosting the fridge. He called me back to check on me. I was like OKAY! It's good! This is all good.
I thought it was fixed.
Thirty Days Later…
It started all over again.
I wasn't too worried this time though, because The Nicest Guy ever was somewhere on the other end. Except this time HE WASN'T. I never actually reached a person that gave a damn.
Someone finally scheduled a serviceperson to come out [which is SUPER FUN when you have 6 dogs at home] but that was a whole other nightmare. It was going to be weeks and weeks before a certified technician could come to where we live. I was worried the fridge was going to quit completely and it was SO LOUD THAT I COULDN'T HEAR MYSELF THINK.
So I Googled the steps to put the fridge back into maintenance mode, defrosted the fridge and…
… have been doing that once a month ever since.
Once a month it sounds like I have power tools in my kitchen. Every 30 Days I have to put the milk in the freezer and thaw out the fridge. Then I have to worry that all the food is going to spoil and why did I buy so much chicken?!
I'll Never Buy Another Samsung Appliance Again
This all happened about the same time that Samsung phones were banned from airplanes. Exploding phones, frozen condensers, and if you take a look at Consumer Affairs we are all having the same Samsung Refrigerator issues.
I'll never buy another Samsung appliance again.
Currently seeking a new brand to love – give me your recommendations!