Lofthouse Cut Out Cookies! Your favorite fluffy frosted sugar cookies except now you can roll them out and give them shape!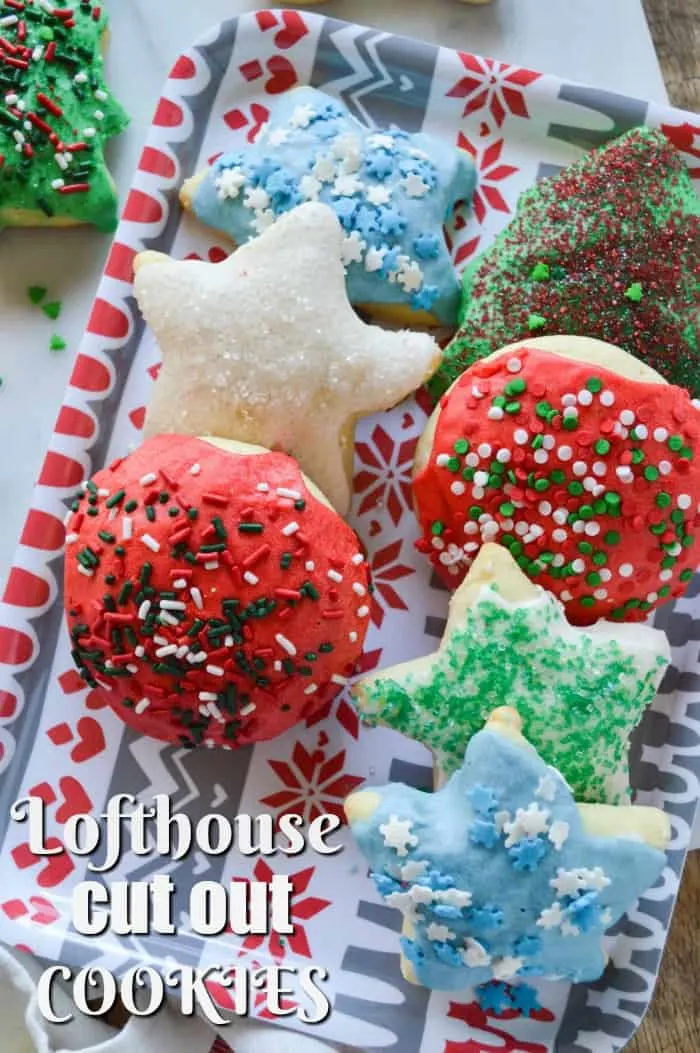 Before I go any further at all I wanna cut right to the chase so you can know why I made these Lofthouse Cut Out Cookies and it's up here at the top before you stop reading. (Don't worry; I do the fast scroll too. I won't hold it against you.)
ANYWAY. Every year some food bloggers get together and share a bunch of cookie recipes to benefit the charity Cookies for Kids Cancer. We all donate to participate (as little as $5 or as much as we'd like) and then we share share share. The more people we reach the more good we can do.
Here's why it matters:
Cancer is the #1 cause of death by disease of children in the U.S.

The National Cancer Institute's (NCI) federal budget was $4.6 billion. Of that, breast cancer received 12%, prostate cancer received 7%, and all 12 major groups of pediatric cancers combined received less than 4%.

2/3 pediatric cancer patients will develop long-term side effects, many life-threatening — a result of the treatments that "cured" them.

Only 4 of the 12 most common types of childhood cancers have average survival rates over 80%.

13,500 children in the U.S. are diagnosed with cancer each year.

40,000 U.S. children are actively battling cancer right now.
I really just can't imagine.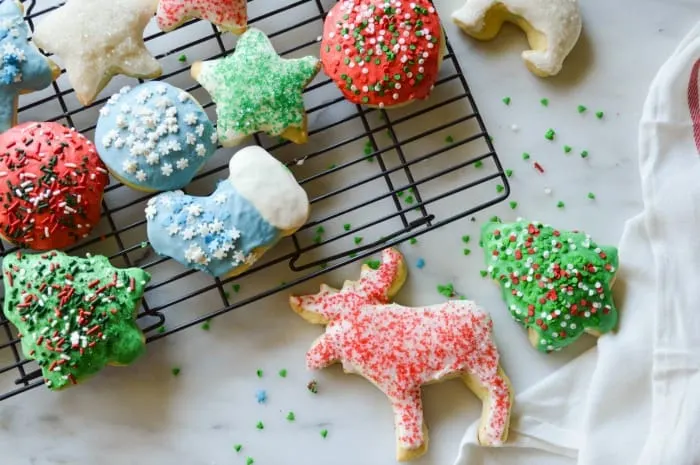 So in the interest of kids and charities and being part of a really great community, I give you my first cookie recipe of the holiday season. LOFTHOUSE CUT OUT COOKIES!!!
I was inspired by my grocery store bakery. You know, the place where the fluffy frosted Lofthouse Sugar Cookies live?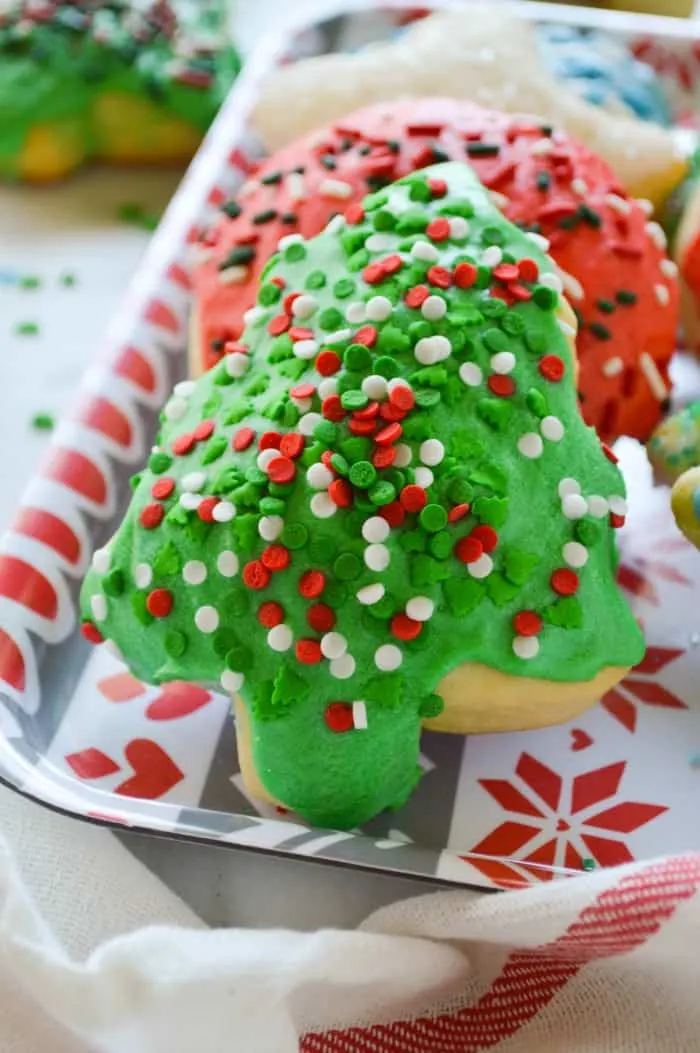 Usually Lofthouse cookies are round. That's because the dough is soft and stickier than your typical roll out cookie dough. Shaping the dough into a ball is usually all you can manage.
But the Lofthouse Cookies at my grocery story were shaped like stars when I was strolling by last week. And I thought WELL, IF THEY CAN DO IT I CAN TOO. So I came home to figure it out.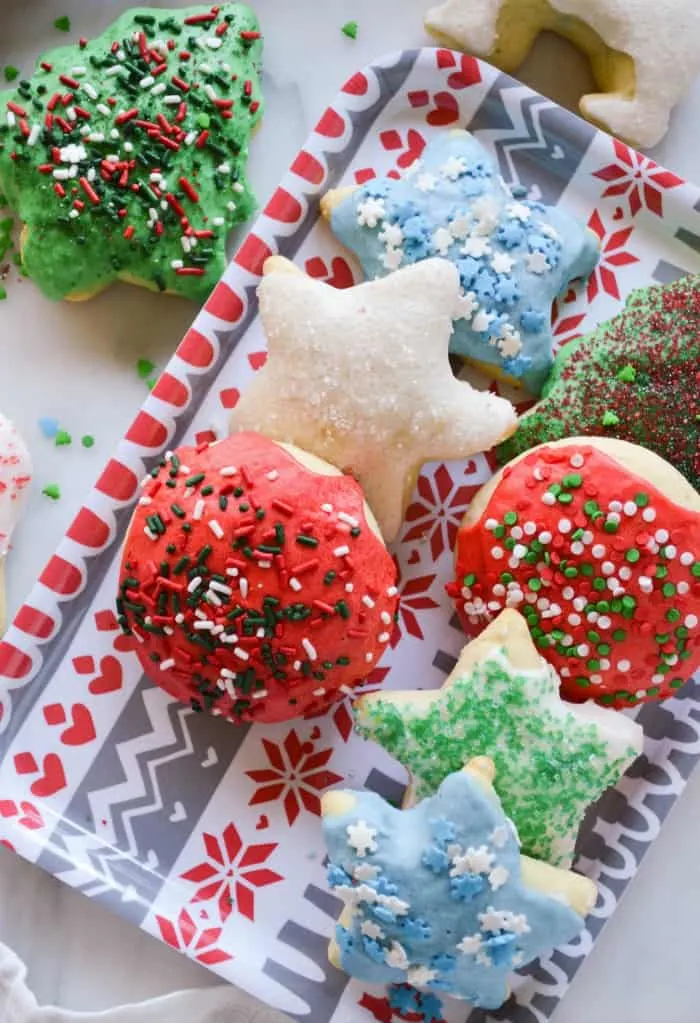 There are two tricks.
a little more flour
refrigeration
I knowwwwww. Refrigerating cookie dough is one of those things that makes you like STOPPPP complicating cookiesssss. But I promise it's not for long, and also it's necessary. I started with my friend Ashley's Lofthouse Sugar Cookie Copycat Recipe. The dough is perfect.
To get fun shapes like this moose, I used floured hands and rolled the dough into a ball. Then I chilled it for 30 minutes.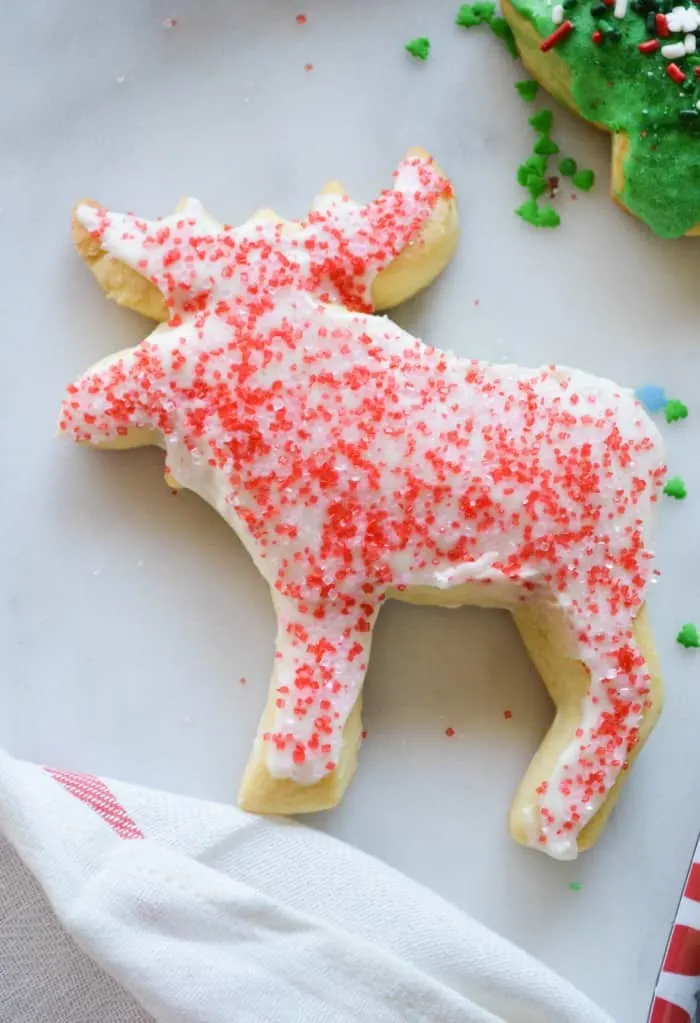 (these cookie cutters came from Ikea and I adore them)
The frosting I made is a little different. It sort of fills in smoothly and sets up – almost like royal frosting but less fussy. You can make it thick or more thinned by playing around with the amount of powdered sugar/milk.
And of course you'll need sprinkles.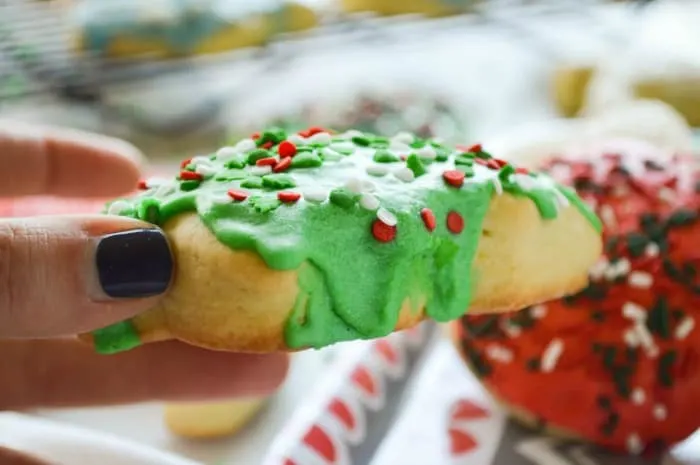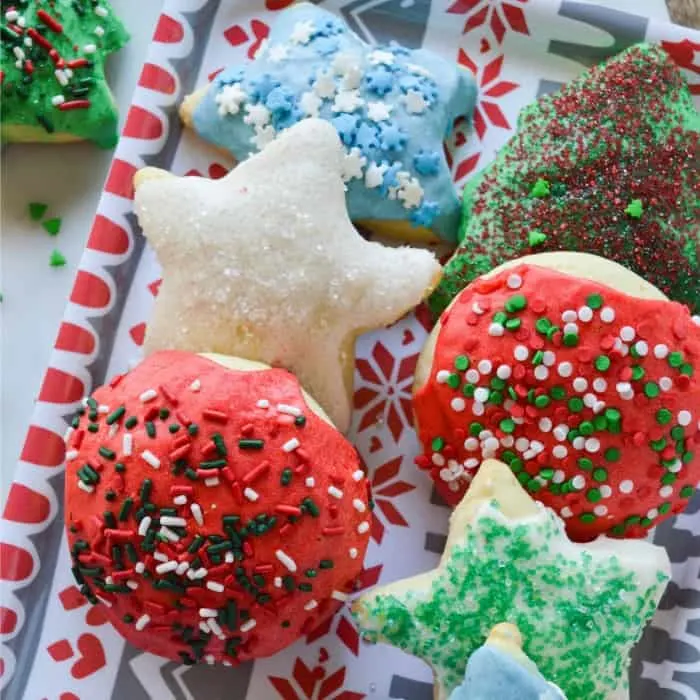 Yield:

12 - 16 large cookies
Lofthouse Cut Out Cookies
Lofthouse Cut Out Cookies are soft and fluffy and frosted - all the things a holiday cookie should be! Note that 30 mins of refrigeration is added to the prep time.
Ingredients
1 cup granulated sugar
1/2 cup butter, softened
2 eggs
1/2 cup sour cream
2 teaspoons vanilla extract
3 cups all purpose flour, plus more for rolling
1 1/2 teaspoons baking powder
1/2 teaspoon baking soda
1/2 teaspoon salt
For the Frosting
2 1/2 cups powdered sugar
1/2 cup butter
1 teaspoon vanilla
1/2 teaspoon kosher salt
3-5 tablespoons milk or cream
You also need
Instructions
Preheat your oven to 350° F.
Cream the sugar and butter. Then add the eggs one at a time. Mix in the sour cream and vanilla.
In a large bowl whisk together the flour, baking powder, baking soda, and salt.
Slowly add the dry ingredients into the wet and mix well.
With well floured hands, form the dough into a ball, wrap in plastic wrap, and chill for 30 minutes.
On a well floured surface roll the dough out to 1/3 - 1/2" thick. Dust your cookie cutter's edge with flour before you start cutting.
Place on ungreased cookie sheets, making sure to leave about 1 inch between each cookie.
Bake for 10-12 minutes, then immediately remove from the oven. The cookies will appear under-baked a bit but this is what you want. Carefully transfer the cookies to a cooling rack and repeat.
To make the frosting, beat together the powdered sugar and butter. Add the vanilla and salt and beat until combined. Add the milk 1 tablespoon at a time until you reach your desired consistency.
Divide the frosting and use food coloring to give yourself variety. Frost the cookies, add sprinkles, and let them set up.
Notes
I like to work in batches here because these cookies are on the larger size. I form the dough back into a ball and refrigerate between baking and the chilled dough with the extra flour worked in makes the cutting easier as you go along.
Recommended Products
As an Amazon Associate and member of other affiliate programs, I earn from qualifying purchases.
Nutrition Information:
Yield:
14
Serving Size:
1
Amount Per Serving:
Calories:

386
Total Fat:

17g
Saturated Fat:

10g
Trans Fat:

1g
Unsaturated Fat:

5g
Cholesterol:

69mg
Sodium:

370mg
Carbohydrates:

56g
Fiber:

1g
Sugar:

34g
Protein:

4g
Here's that link to donate again
About Cookies for Kids Cancer: Cookies for Kids' Cancer is a recognized 501(c)3 non-profit organization dedicated to funding research for new, innovative and less-toxic treatments for childhood cancer. Since 2008, Cookies for Kids' Cancer has granted nearly $15 million to pediatric cancer research in the form of 100 research grants to leading pediatric cancer centers across the country. From these 100 grants have stemmed 37 treatments available to kids battling cancer TODAY.
Cookies I shared in years past…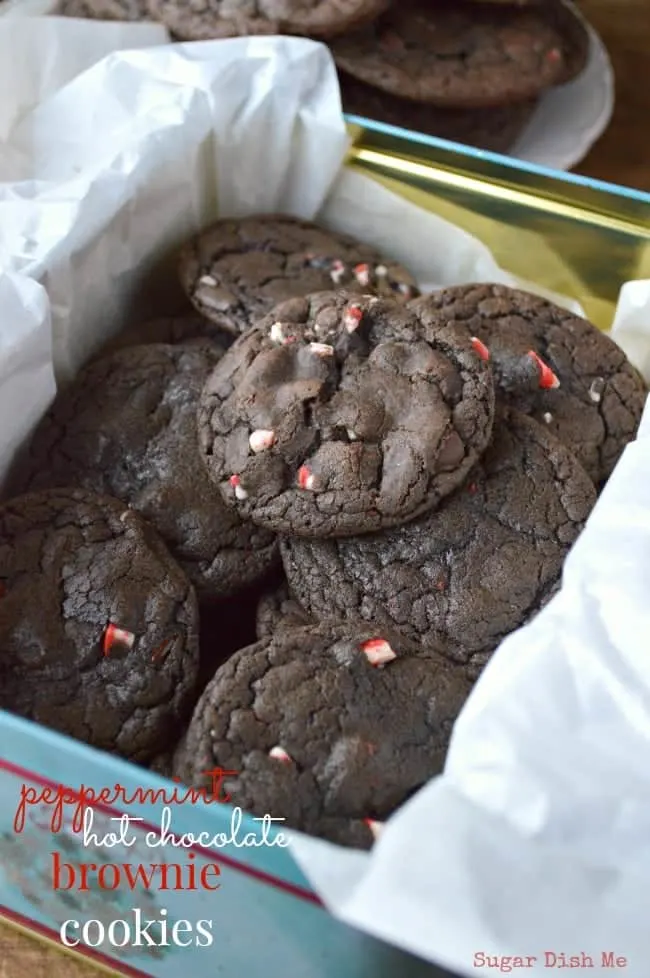 Peppermint Hot Chocolate Brownie Cookies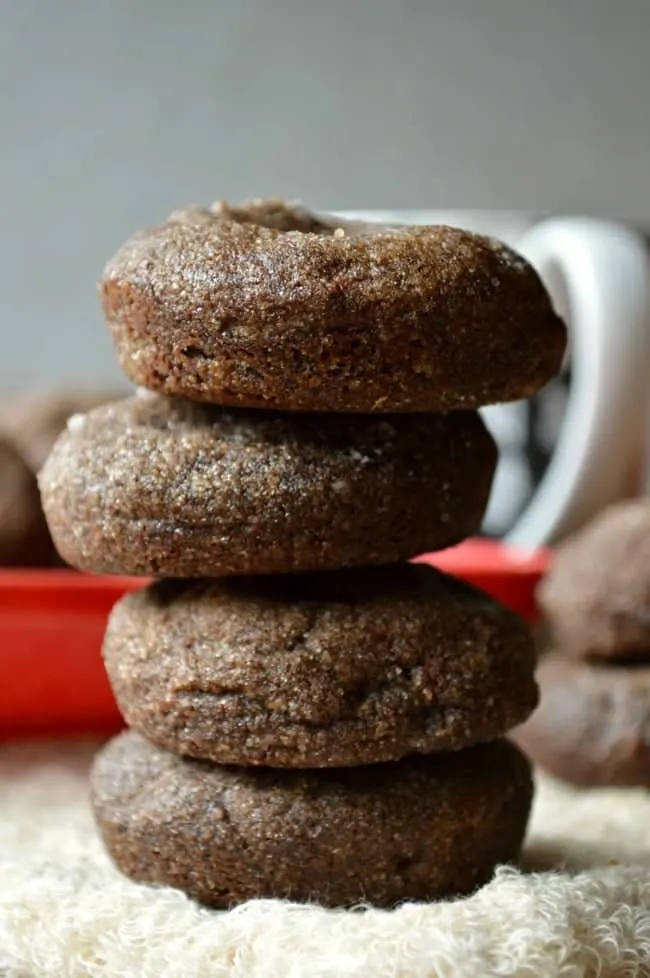 Double Ginger Molasses Cookies