Irish lemon Pudding Tart is creamy like a baked custard. It's not overly sweet and has a shortbread crust; perfect for baby showers or brunching.
This dessert. Ohhhhhh wow you guys. Smooth and creamy lemon custard in a totally perfect tart crust. Simple ingredients that you probably have on hand all the time put together in a pretty way. Just the right thing for a shower.
Which is exactly why I made it!
Because this is Omeletta's Surprise Baby Shower!
Let's take a second to meet Ruthy —>>>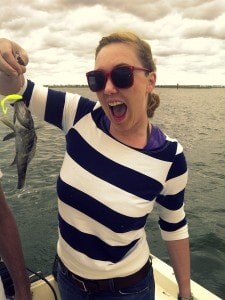 AKA Omeletta, self-proclaimed food nerd, who is having a baby!
A few months back we participated in the Leftovers Club and swapped some delicious baked goodies. Ruthy sent me some delicious apple sandwich cookies in the mail, but I've always loved her site!
She was one of the first food blogs I read on the regular, and I love her little space of recipes and writing, which bounces from inventive and creative to super cozy comfort foods. It's weird the camaraderie you develop working entirely remotely while talking about food all the live long day.
Ruthy is a favorite!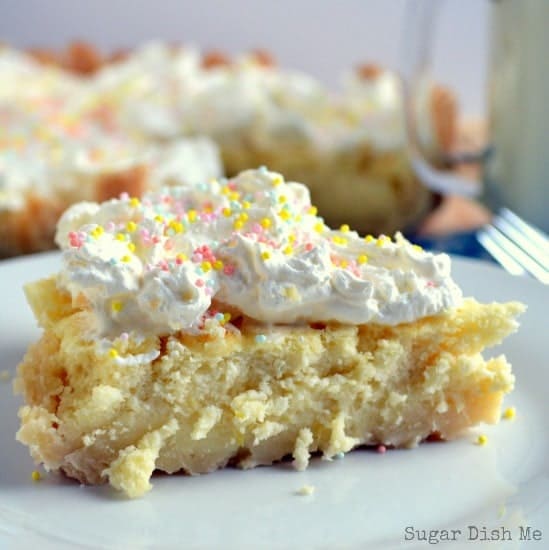 I was trying to figure out what to make for her little virtual baby shower here, and if you scroll to the end of this post for all the other baby shower goodies you'll see a running Irish theme.
Ruthy is married to the Big Man,who she met while living in Ireland for a few years.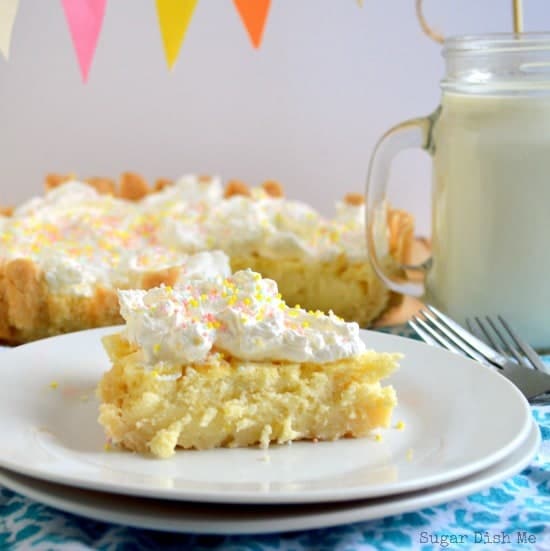 A traditional lemon pudding seemed like just the ticket. This dessert is not overly sweet and is definitely not "pudding" in the Jell-O sense of the word.
It's more of a baked custard — the texture is kind of like cheesecake except fluffy because it's all folded full of egg whites that are beaten meringue-style. You are gonna love it!
Happy Happy Baby Shower Ruthy!
Lots of people pitched in to make this little surprise baby shower happen and all of them made some delicious food. Be sure to check it out!!!
All the Other Delicious Baby Shower Food:
No-Bake Cookie Dough Bars – Food Babbles
Beef and Pepperoni Puffs – Food Ramblings
Mini Quiche Bites – Poet in the Pantry
Grapefruit Thyme Scones – Girl in the Little Red Kitchen
Smoky Kale and Potato Cakes with Red Kale Salad and Quick Pickled Apples – Joanne Eats Well
Blood Orange Egg Tarts – Kelly Bakes
Irish Cheese and Bacon Popcorn – Chocolate Moosey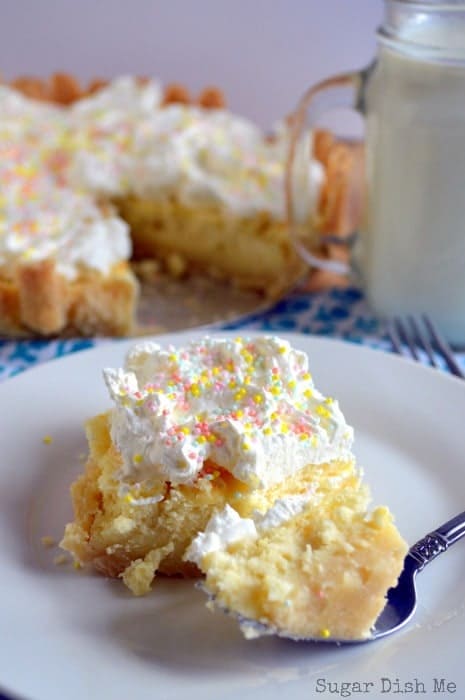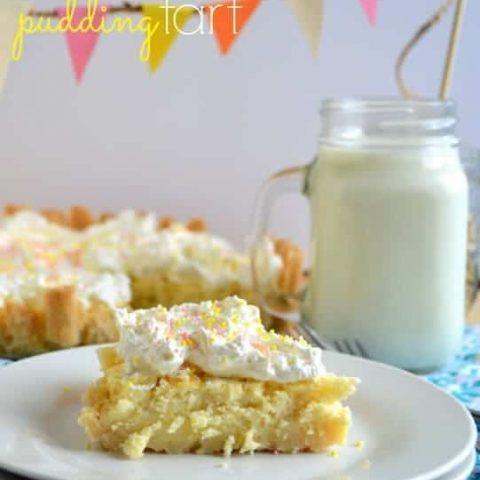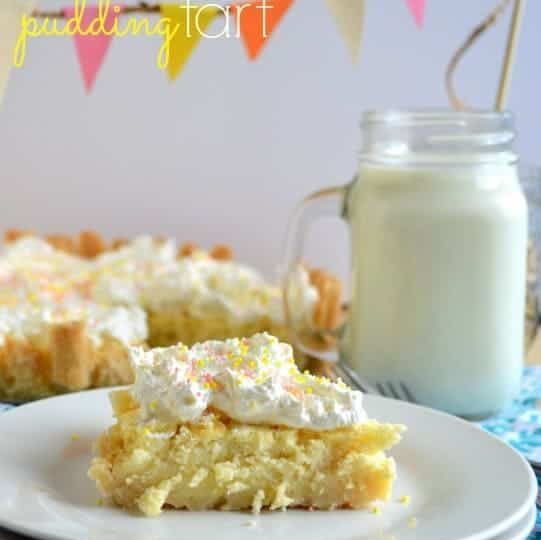 Irish Lemon Pudding Tart
Yield: 8

Prep Time: 20 minutes

Cook Time: 50 minutes

Total Time: 1 hour 10 minutes

A simple tart crust filled with a traditional fluffy and delicious Irish lemon pudding. Fresh and delicious and perfect for a baby shower or Brunch! Be sure to check the recipe notes for chill times and cooling.
Ingredients
For the Crust:
1/2 cup unsalted butter
1 1/4 cups all purpose flour
3 tablespoons granulated sugar
1/4 teaspoon table salt
For the Irish Lemon Pudding:
2 tablespoons unsalted butter, softened
1/4 cup granulated sugar
2 eggs, whites and yolks divided
2 large lemons, zested and juiced
1/2 cup all purpose flour
1 1/4 cups milk
Whipped cream and sprinkles to top!
Instructions
To make the crust, place the butter in a small saucepan over medium heat and melt it. In a large bowl whisk together the flour, sugar, and salt.
Pour in the melted butter and pull everything together with a wooden spoon or silicon spatula. Use your hands to completely incorporate all the bits and form a ball.
The dough will be smooth, soft, and pliable.Press it into the bottom and up the sides of an 8 or 9" tart pan (a springform pan is fine, too!), cover in plastic wrap, and refrigerate for about 30 minutes.
Preheat the oven to 350°F. Take the chilled dough out of the fridge and prick it all over with a fork. Bake for 10 minutes and then set aside while you prepare the filling.
In a large bowl cream the butter and sugar. Add the egg yolks and beat until fluffy. Place the egg whites in a medium bowl (one large enough that you can get the beaters of a hand mixer in it).
To the butter, sugar, and yolks add the lemon zest and juice. Beat until smooth. Add the flour and mix until just combined.
Slowly pour in the milk and mix completely -- the batter will be liquidy with bubbles appearing at the edges of the bowl.
Using the whisk attachments for your hand mixer (or an incredible amount of elbow grease) beat the egg whites until they form stiff peaks. They will look like meringue!
Fold the whites into the batter. You might not be able to fold it all in without it looking clumpy and lumpy. It's ok! You want those fluffy egg whites to stay that way.
Pour the batter into the crust and bake for 35-40 minutes.
Top with whipped cream and sprinkles. Serve warm or cold.
Notes
The crust will come together quickly but does need to chill for about 30 minutes before baking. Be sure you allow yourself time for that or make the crust ahead.
Recommended Products
As an Amazon Associate and member of other affiliate programs, I earn from qualifying purchases.
Nutrition Information:
Yield: 8 Serving Size: 1
Amount Per Serving: Calories: 324Total Fat: 18gSaturated Fat: 10gTrans Fat: 0gUnsaturated Fat: 6gCholesterol: 111mgSodium: 108mgCarbohydrates: 36gFiber: 1gSugar: 12gProtein: 6g

I adapted this recipe from an adapted version of this at The Baker Upstairs (gorgeous. You HAVE to look.) who found it in a book called Irish Traditional Cooking.