Irish Lemon Pudding Tart is creamy like a baked custard. It's not overly sweet and has a shortbread crust; perfect for baby showers or brunching.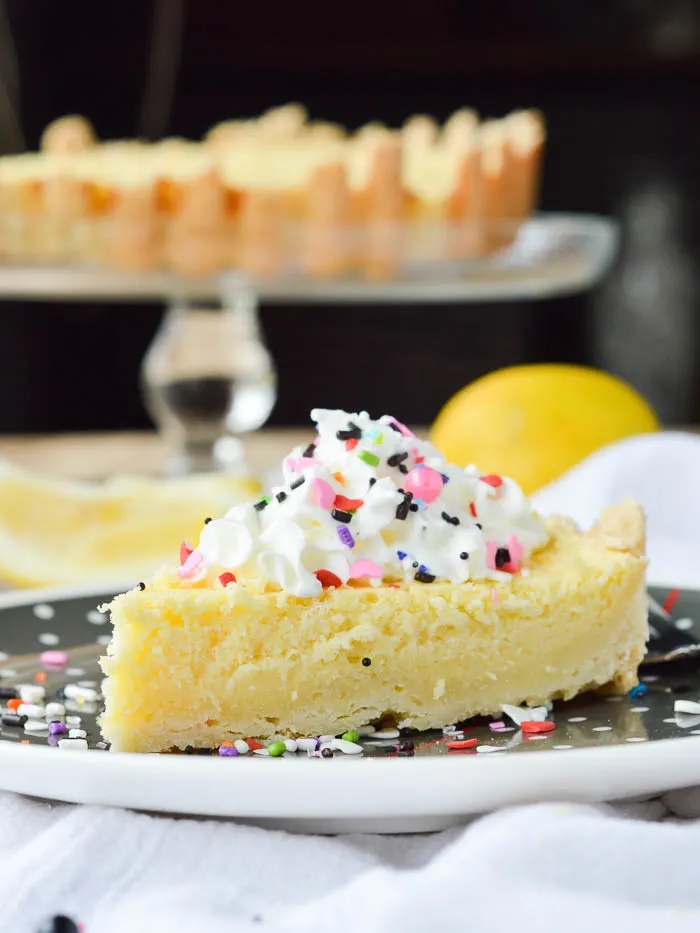 This dessert. Ohhhhhh wow you guys. Smooth and creamy lemon custard in a totally perfect tart crust. Simple ingredients that you probably have on hand all the time, put together in a pretty way.
Let me get my disclaimer in right away though. This is not going to be the most lemony lemon recipe you have ever made. If you are looking for a super lemony cake, you want this Meyer Lemon Bundt Cake. It's just as simple to make (it actually might be easier because you don't have to futz with crust) and is VERY lemony.
Irish Lemon Pudding Tart is creamy and mild. There's a lot of cream and egg whites happening that will temper the tartness of the lemons. I have tips for how to alter this to suit your lemon preferences, but just know that the original recipe (which I've adapted from the book Irish Traditional Cooking) is NOT very lemony.
Perfect for Baby Showers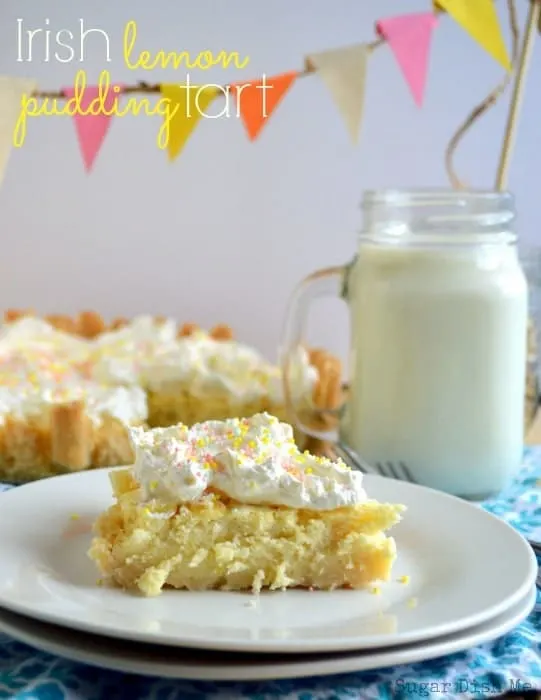 I originally made this recipe to celebrate a food blogger friend (who is sadly no longer blogging!) that married a man from Ireland and they were expecting their first baby.
Hers was one of the first food blogs I read on the regular, and I loved her little space of recipes and writing. It bounced from inventive and creative to super cozy comfort foods, so this lemon tart, its Irish heritage, and a little bit of my own twist seemed like the perfect thing to make.
It's weird the camaraderie you develop working entirely remotely while talking about food all the live long day.
Anyway, if you need a thing to make for a shower of any kind, this pudding tart will be just the ticket.
How to Make Irish Lemon Pudding Tart More Lemony
Once upon a rude comment from someone named Ren that didn't read all the directions in the post, I got this feedback:
"This cake did not have a clear lemony taste, it wasn't a nice looking tart, it did taste chalky; it had no redeeming qualities."
I should say that I really have a very low tolerance for people that behave badly on the internet, and I have censored the rest of Ren's crap comment because tastes are subjective and also literally every time I have ever made this it has been a hit, (and also because she was rude AF) BUT! I do firmly believe in learning from feedback. So I tested this recipe 3 more times and had a lot of success adding varying degrees of lemon.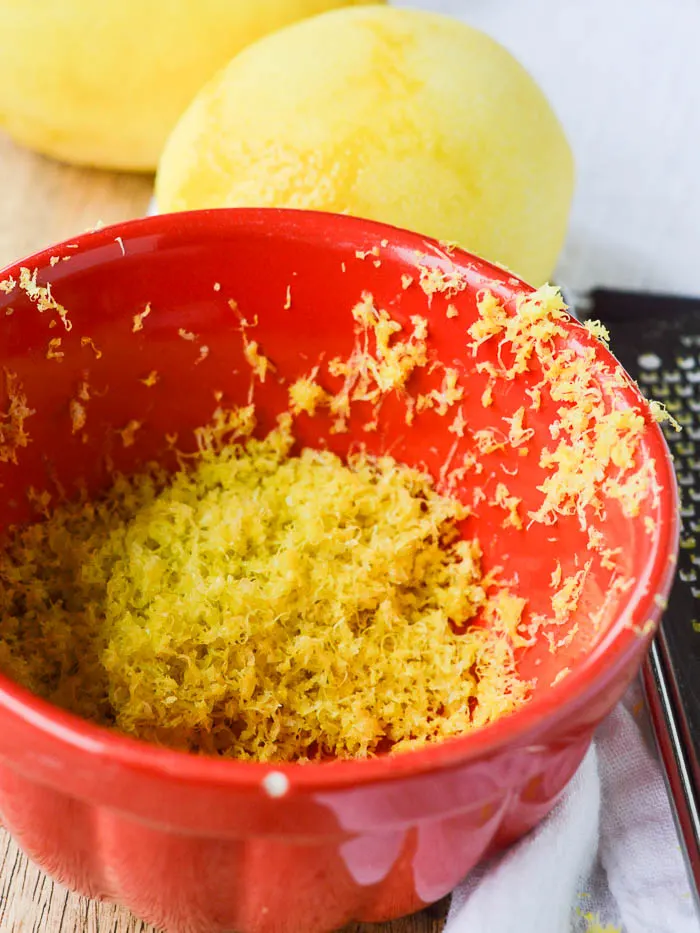 If you are looking for a more lemony tart, here are my tips!
Zest two large lemons – ALL OF THEM. Zest until you can zest no more. All of the fragrant and flavorful lemon oils are in the zest! If you need a good all-purpose zester that you can also use to do things like add Parmesan to your pasta as if you are fancy and dining out, I use this one.
After zesting, juice the lemons well. I use a plain old lemon squeezer (I like this little tool because it fits in a drawer)
In Step 6, when you are adding the lemon zest and juice, ALSO ADD A TEASPOON OF LEMON EXTRACT
If you are feeling fancy, King Arthur makes Lemon Juice Powder. You can add a teaspoon. You won't regret it.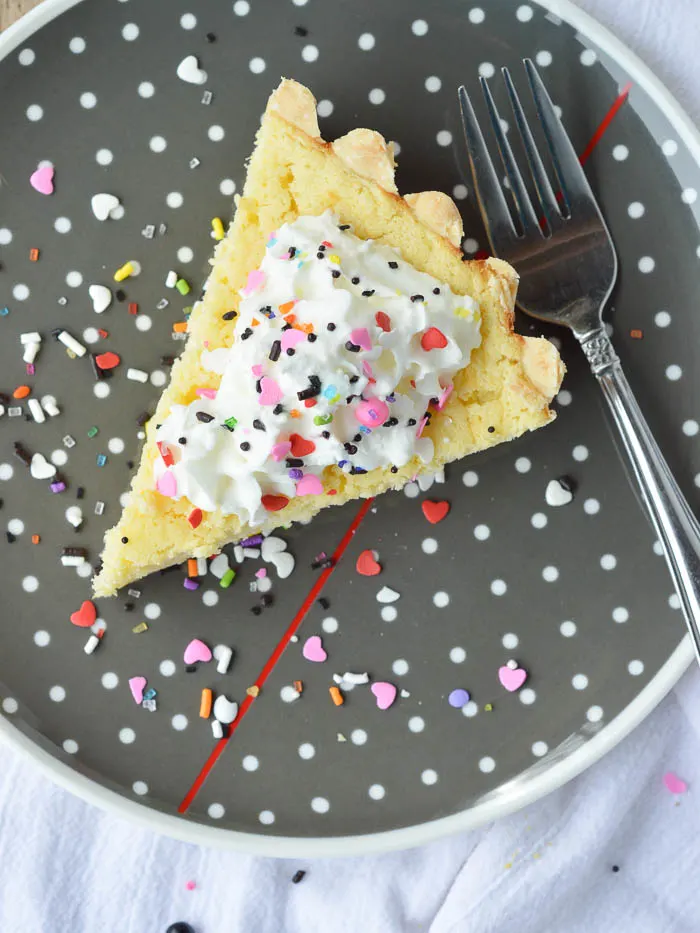 Let's Talk About Pudding
I've had more than a couple of readers be confused about the word "pudding" in the title of this recipe because in the US, I guess the most common reference to pudding is like … Jell-O Instant Pudding. Which is good. I have a whole post on How to Make Pudding Cookies! I am with you.
But this tart is definitely not "pudding" in the Jell-O sense of the word. It's more of a baked custard — the texture is kind of like cheesecake except fluffy because it's all folded full of egg whites that are beaten meringue-style.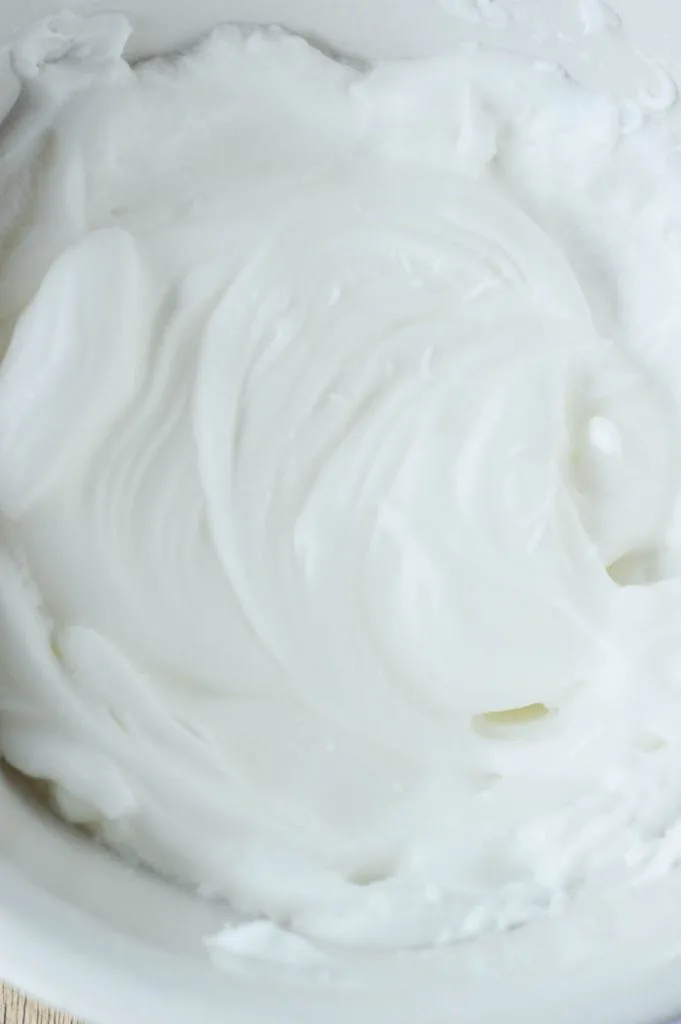 Since this recipe originated in an Irish Heritage cookbook, I am going to guess that "pudding" here just refers to the sweet course at the end of the meal, as is the common use of the word in the UK. It's NOT SAUSAGE, which is what you'll often get when asking for pudding in Scotland and much of Ireland – no worries there.
This dessert is cool and creamy and slightly fluffy – I love the texture.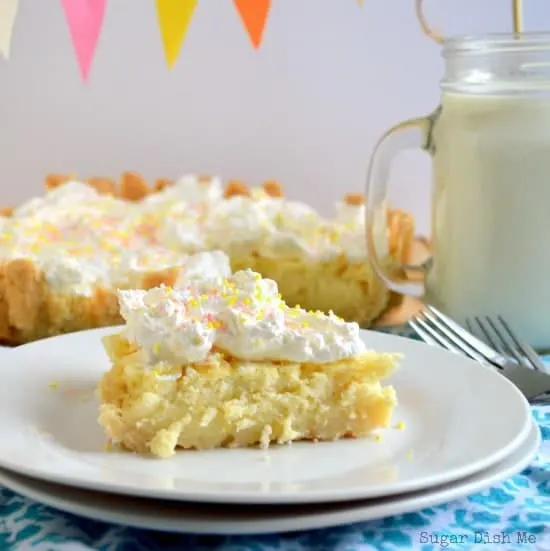 Other Delicious Baby Shower Foods
No-Bake Cookie Dough Bars – Food Babbles
Mini Quiche Bites – Poet in the Pantry
Grapefruit Thyme Scones – Girl in the Little Red Kitchen
Smoky Kale and Potato Cakes with Red Kale Salad and Quick Pickled Apples – Joanne Eats Well
Blood Orange Egg Tarts – Kelly Bakes
Irish Cheese and Bacon Popcorn – Chocolate Moosey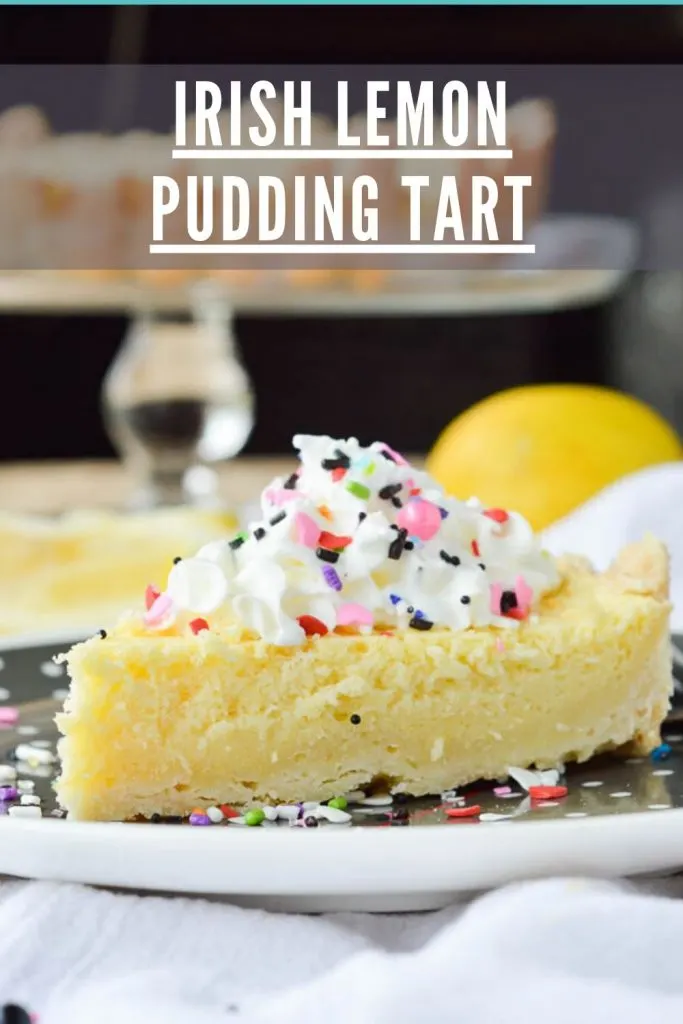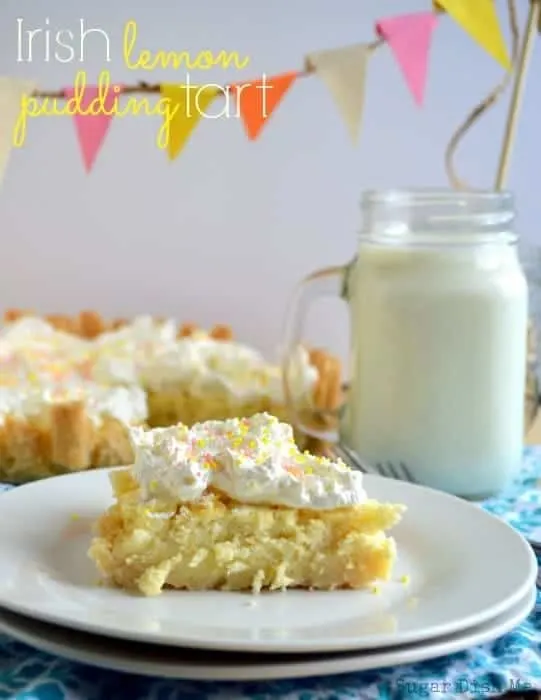 Yield:

8
Irish Lemon Pudding Tart
Total Time:
1 hour
40 minutes
A simple tart crust filled with a traditional fluffy and delicious Irish lemon pudding. Fresh and delicious and perfect for a baby shower or Brunch! Be sure to check the recipe notes for chill times and cooling.
Ingredients
For the Crust:
1/2 cup unsalted butter
1 1/4 cups all purpose flour
3 tablespoons granulated sugar
1/4 teaspoon table salt
For the Irish Lemon Pudding:
2 tablespoons unsalted butter, softened
1/4 cup granulated sugar
2 eggs, whites and yolks divided
2 large lemons, zested and juiced
1/2 cup all purpose flour
1 1/4 cups milk
Whipped cream and sprinkles to top!
Instructions
To make the crust, place the butter in a small saucepan over medium heat and melt it. In a large bowl whisk together the flour, sugar, and salt.
Pour in the melted butter and pull everything together with a wooden spoon or silicon spatula. Use your hands to completely incorporate all the bits and form a ball.
The dough will be smooth, soft, and pliable. Press it into the bottom and up the sides of an 8 or 9" tart pan (a springform pan is fine, too!), cover in plastic wrap, and refrigerate for about 30 minutes.
Preheat the oven to 350°F. Take the chilled dough out of the fridge and prick it all over with a fork. Bake for 10 minutes and then set aside while you prepare the filling.
In a large bowl cream the butter and sugar. Add the egg yolks and beat until fluffy. Place the egg whites in a medium bowl (one large enough that you can get the beaters of a hand mixer in it).
To the butter, sugar, and yolks add the lemon zest and juice. Beat until smooth. Add the flour and mix until just combined.
Slowly pour in the milk and mix completely -- the batter will be liquidy with bubbles appearing at the edges of the bowl.
Using the whisk attachments for your hand mixer (or an incredible amount of elbow grease) beat the egg whites until they form stiff peaks. They will look like meringue!
Fold the whites into the batter. You might not be able to fold it all in without it looking clumpy and lumpy. It's ok! You want those fluffy egg whites to stay that way.
Pour the batter into the crust and bake for 35-40 minutes.
Top with whipped cream and sprinkles. Serve warm or cold.
Notes
The crust will come together quickly but does need to chill for about 30 minutes before baking. Be sure you allow yourself time for that or make the crust ahead.
If you want more lemony flavor, add a teaspoon of lemon extract or lemon powder when you are adding the juice and zest.
Recommended Products
As an Amazon Associate and member of other affiliate programs, I earn from qualifying purchases.
Nutrition Information:
Yield:
8
Serving Size:
1
Amount Per Serving:
Calories:

324
Total Fat:

18g
Saturated Fat:

10g
Trans Fat:

0g
Unsaturated Fat:

6g
Cholesterol:

111mg
Sodium:

108mg
Carbohydrates:

36g
Fiber:

1g
Sugar:

12g
Protein:

6g