Learn how to make pudding cookies that are soft and chewy and turn out every time! Use this easy basic recipe as a base and change up the flavors!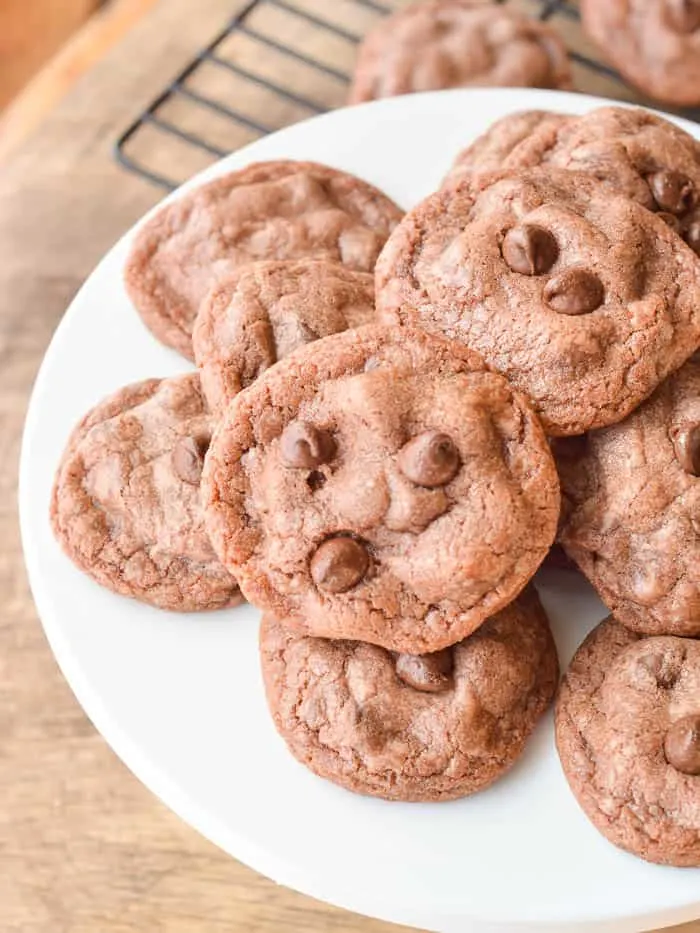 I put together this tutorial on How to Make Pudding Cookies because of a few comments from readers on my recipe for Pistachio Pudding Cookies.
The tagline and principle that guides the recipes I write for this blog is "If you can read, you can cook".
I've literally never had my Pistachio Pudding Cookie recipe turn out badly for me, but a reader named Vicki got a little bit rude (or a lot) with her comments and reviews, so I headed back to the kitchen to test AGAIN because she made me paranoid.
The zillion batches of pudding cookies I tested ALSO turned out to be soft and chewy and perfect every time, so I decided that the solution is to really breakdown the steps in detail and troubleshoot everything that could maybe go wrong. I did not change a single thing about the original recipe.
Instead of making changes, I just made notes of all the places there might be variations that can send your cookies south.
This one's for you, Vicki.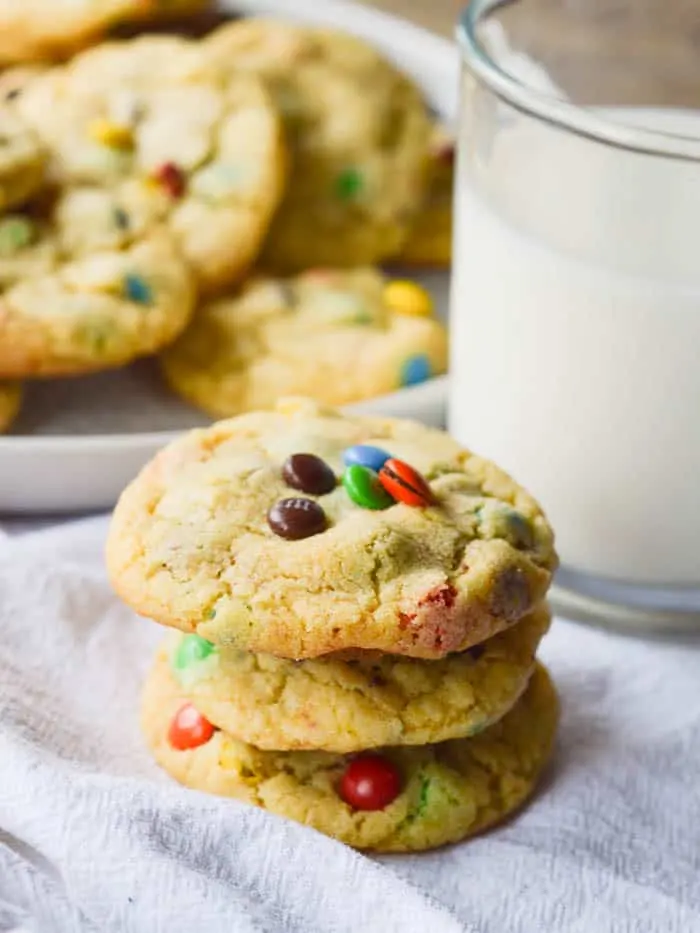 How to Make Pudding Cookies
It's so easy! I have broken down the steps here, and answered lots of common questions. To make pudding cookies you need a few really basic ingredients:
3/4 cup unsalted butter
3/4 cup packed light brown sugar
3/4 cup granulated sugar
1 egg
1 Tablespoon vanilla
1 3/4 cups all purpose flour
1 (3 1/4 ounce) package of pudding mix in the flavor of your choice.
2 teaspoons baking powder
1/2 teaspoon salt
1 1/2 cups of add-ins (nuts, candy, chocolate chips, etc)
Ingredient Weight Matters
I am not a baker that weighs everything in every recipe. To be specific, that IS the correct way to go about things. But I don't think that most people have kitchen scales hanging around, and weighing things can seem daunting – especially if you have recipes that don't specify weight.
The weight of your ingredients DOES matter though. Baking is very science-ey, and sometimes the weight of a particular ingredient is enough to throw you off.
The dry pudding mix in pudding cookies can have that affect. So to make sure that your cookie dough isn't too dry, be sure that you are using just 3 1/4 ounces. Some store brand packages that I've seen are a bit larger – a few by a whole ounce. Jell-O brand pudding mix comes in 3 1/4 ounce packages, and that was the base of my initial recipe developing.
If you are looking for the little 5 pound scale I use you can find it here. They also make an 11 pound version.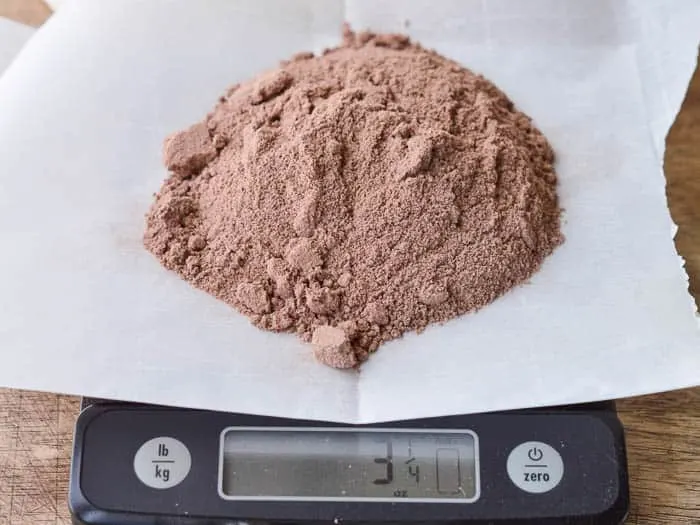 Can I Substitute Regular Pudding for Instant Pudding?
Yes. Instant Pudding Mix and Cook 'n Serve Pudding Mix both work equally well when making pudding cookies.
This Pudding Cookie Recipe Only Calls for One Egg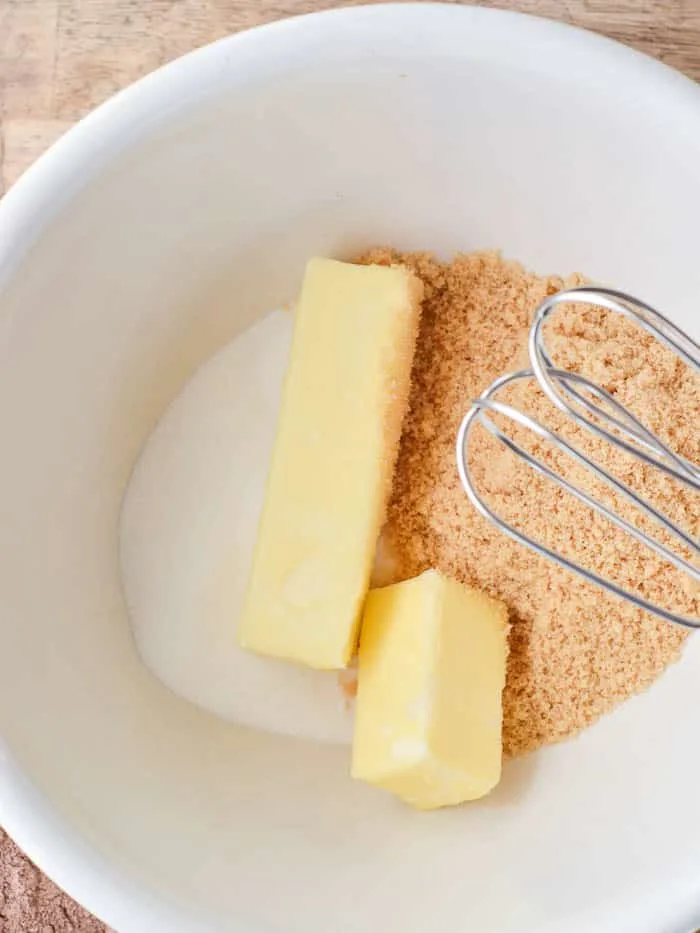 This speaks to the order of operations.
Recipe instructions are given in a specific order. Going out of order, or not completing a step can really affect the end result. In the context of how to make pudding cookies, after you preheat the oven, you have to beat together the butter and sugars until fluffy. To get the desired result, you do need SOFT butter. The finished "fluffy" result should look like the picture below.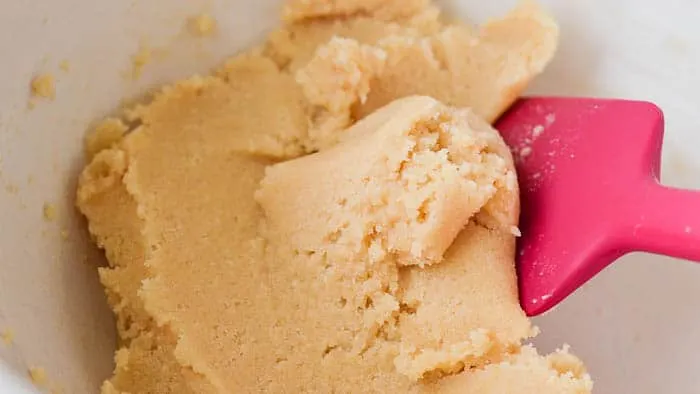 Once the butter and sugar is this consistency, add the ONE egg and the vanilla.
The batter will be wet at this point. THEN you add in your dry ingredients.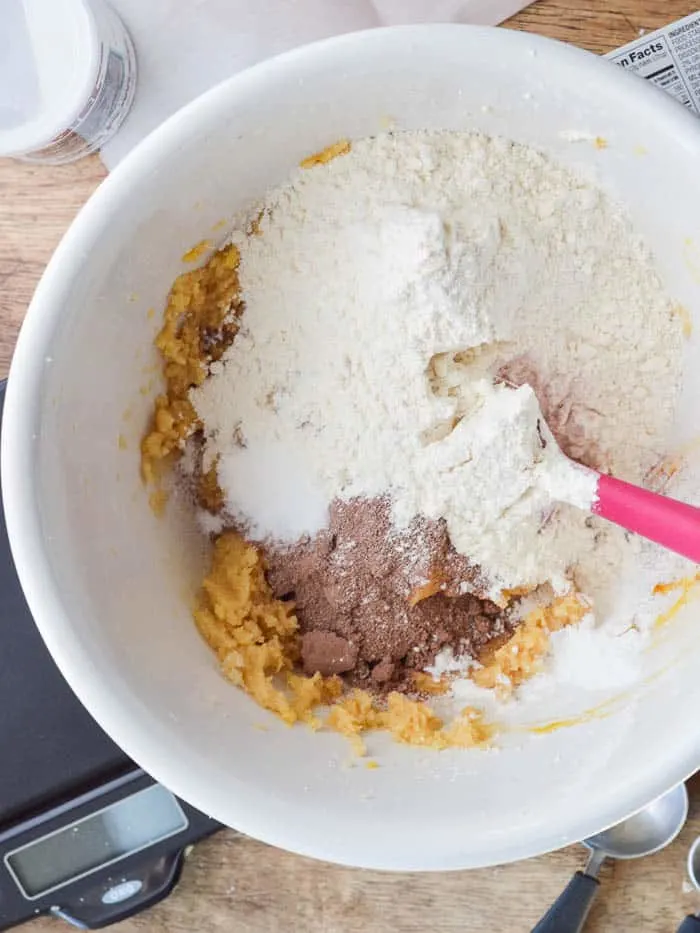 After it's all mixed to combine, the pudding cookie dough should look like the picture below. NOT dry. Definitely NOT crumbly. It's not as "wet" as some cookie doughs, but the butter and one egg is plenty of moisture. And the vanilla! This recipe calls for a whole Tablespoon.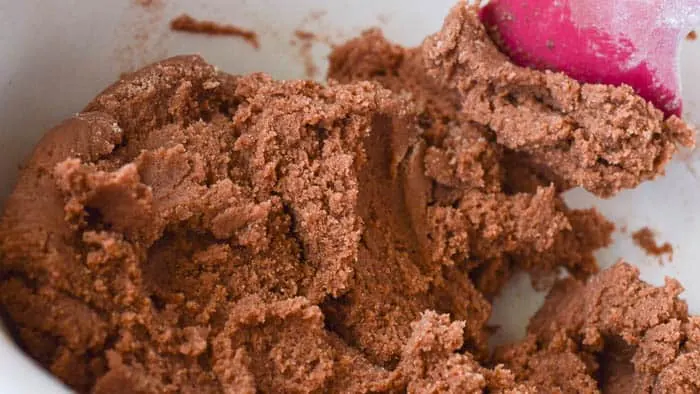 This dough is easy to work with and should form a ball easily.
PRO TIP
Make the cookie dough portions into balls that are a little bit oblong. More of an oval than completely round. When the cookies bake, the middle will stay a little bit thicker.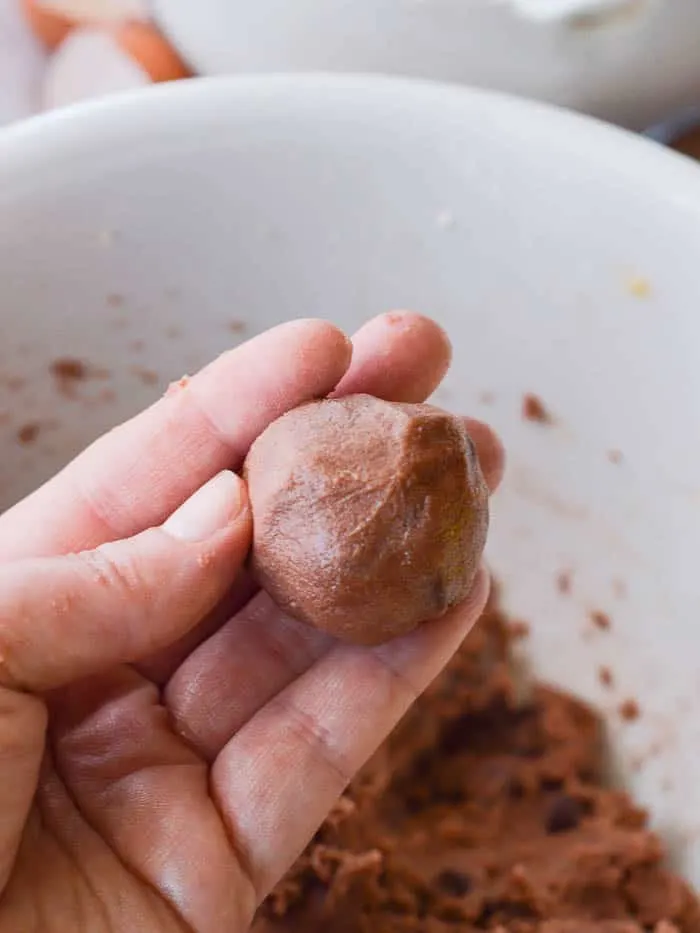 Can You Freeze Pudding Cookies?
Yes, you sure can! My recommendation is to freeze your pudding cookies after you've made the batter and rolled it into tablespoon-sized balls. Place the dough balls 1 inch apart on a cookie sheet lined with parchment paper. Put the cookie sheet in the freezer and let the dough freeze solid – about 3 hours or overnight. Remove the cookie dough balls from the cookie sheet and place them in a freezer bag until you are ready to bake.
To bake the frozen pudding cookies there's no need to thaw; just add 2-3 minutes to the bake time that the original recipe recommends.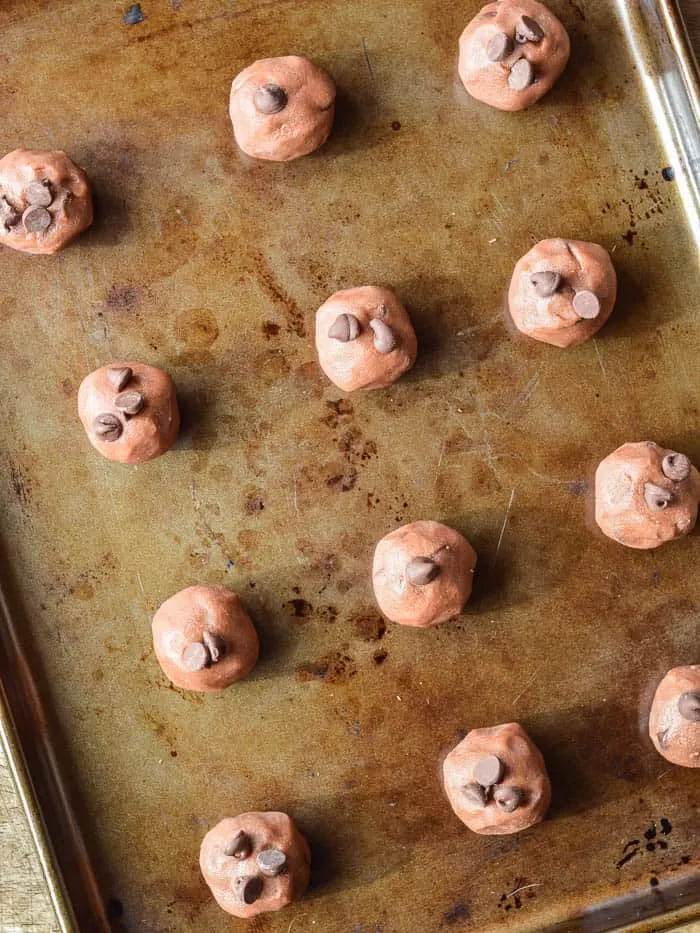 I like to add a few extra chips / nuts / candies / sprinkles to the top of the cookie dough portions before baking.
Bake for just 9-11 minutes. 10 minutes is usually perfect for me, but it depends on your oven and how accurate the oven temperature is.
Other Favorite Easy Cookie Recipes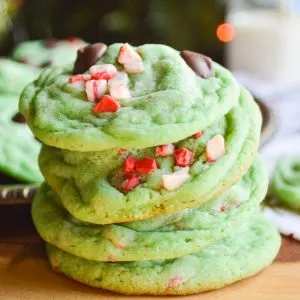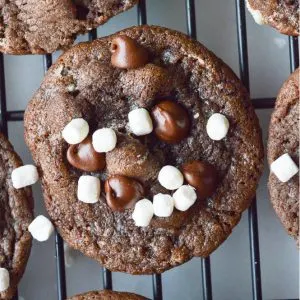 The Grinch Stole Christmas Cookies are probably my favorite cookies on the planet. They start with a cookie mix and are ready in like 20 minutes.
Hot Cocoa Cookies are perfect for rainy days, or days that you need tiny freeze dried marshmallows. Basically every day, amiright?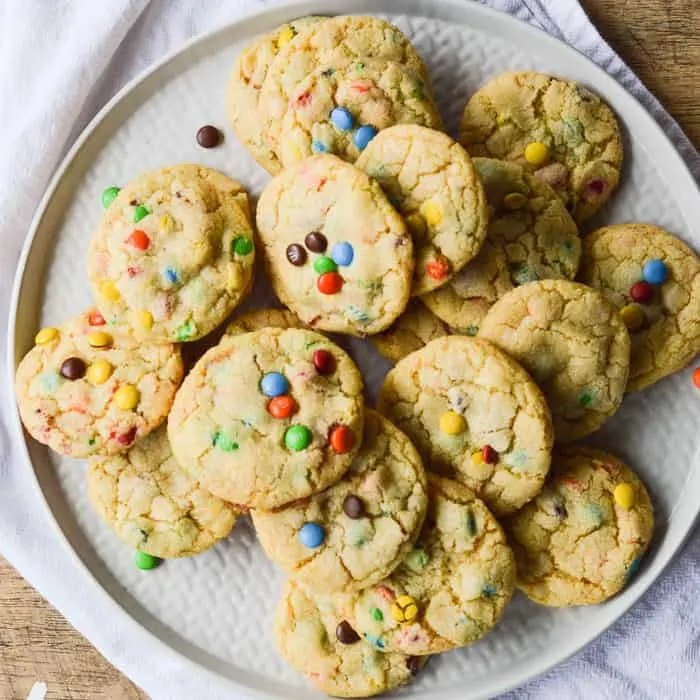 Yield:

36 cookies
How to Make Pudding Cookies
This basic easy pudding cookie recipe is so versatile! Learn how to make pudding cookies and you can change up your flavors and add-ins for delicious soft and chewy cookies every time.
Ingredients
¾ cup unsalted butter, softened
¾ cup packed light brown sugar
¾ cup granulated sugar
1 tablespoon vanilla
1 egg
1¾ cups all purpose flour
1 (3 ounce) package instant pudding mix
2 teaspoons baking powder
1/2 teaspoon salt
1 1/2 cups nuts, chips, sprinkles, or candies
2-3 drops food coloring (optional)
Instructions
Preheat the oven to 375.
In a large bowl beat together the butter and sugars until fluffy. Add the vanilla and egg and beat until just combined.
Mix in the flour, pudding mix, baking powder, and salt. Continue mixing until the dough *just* comes together.
Stir in the nuts, chips, sprinkles, or candies and the food coloring until the color is distributed evenly.
About a tablespoon at a time, portion the dough out onto an ungreased baking sheet, spacing the cookies about 2" apart.
Bake for 9-11 mins (10 is always perfect for me). Your cookies might look slightly under-cooked - it's ok!!! They are done. Over baking takes away the chewy texture.
Let them cool for a few minutes before removing to a rack to cool completely.
Recommended Products
As an Amazon Associate and member of other affiliate programs, I earn from qualifying purchases.
Nutrition Information:
Yield:
36
Serving Size:
2
Amount Per Serving:
Calories:

115
Total Fat:

6g
Saturated Fat:

3g
Trans Fat:

0g
Unsaturated Fat:

3g
Cholesterol:

16mg
Sodium:

87mg
Carbohydrates:

14g
Fiber:

1g
Sugar:

8g
Protein:

2g