A bright and citrus-ey cake that's just perfect for breakfast, brunch, dessert, and all your coffee dates. Meyer Lemon Bundt Cake is sweet and tart and loaded with lemon. So lovely for spring!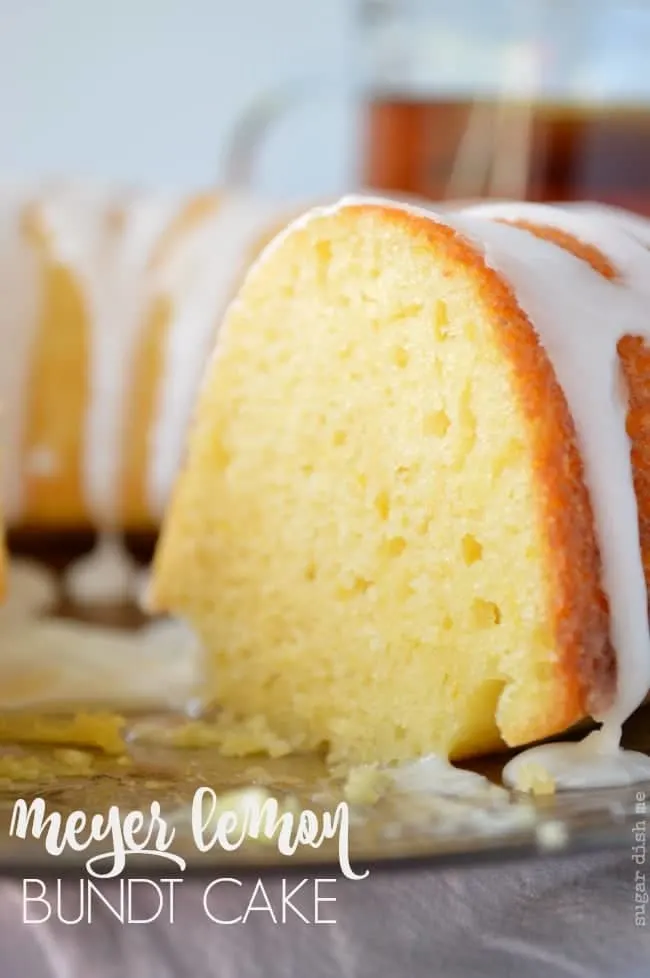 This recipe was originally posted in 2013. I have updated the photos and edited the recipe slightly because sometimes things need tweaking. It's even better now than it was before!!
I think I just went all week without posting a dessert recipe. How did that even happen?
I could offer excuses but really there's no good explanation. So I'm offering cake. Good? Good.
I bought all these Meyer lemons awhile back because it was the first time I'd ever been able to find them in my little corner of the middle-a-nowhere. I got into this sort of hoarding I'm-never-gonna-find-any-more-Meyer-lemons mentality and ended up with entirely too many. I knew I needed to use them in EVERYTHING because I had like 257 Meyer lemons in a bowl on my kitchen table, but at the same time I felt like they had to be used in just the right recipe because I may not be able to buy them again until 2019.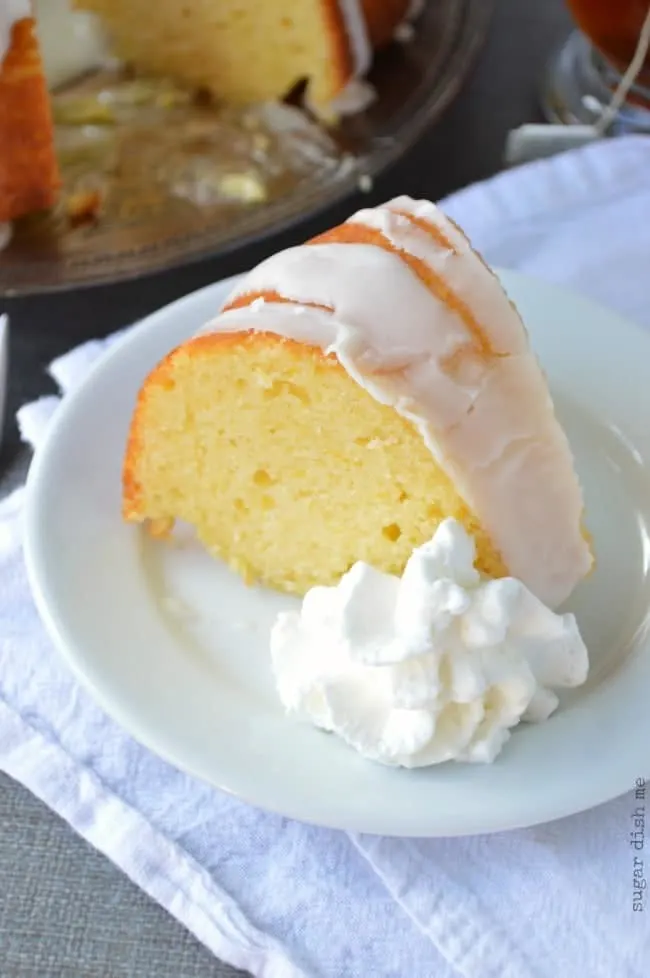 I made those Meyer Lemon Oatmeal Cookies, made some lemony dressings, added the juice to a chicken marinade, and then I was afraid to spend the rest of my lemons.
Worried I'd be some kind of strange rotten fruit hoarder, I finally caved and made this Meyer Lemon Bundt Cake. With Easter just around the corner it seemed light and seasonal and like the kind of thing I'd like to see on my own brunch table. The super adorable Easter non-pariels helped, too.
Typical bundt cake has like 2 tons of butter (just ask this to-die-for Whiskey Sour Cake… ohhh mah gosh so good), but this one is made with sour cream (can i get an amen?!) and oil. So moist, light, sweet and tart— add this one to your Easter menu for sure.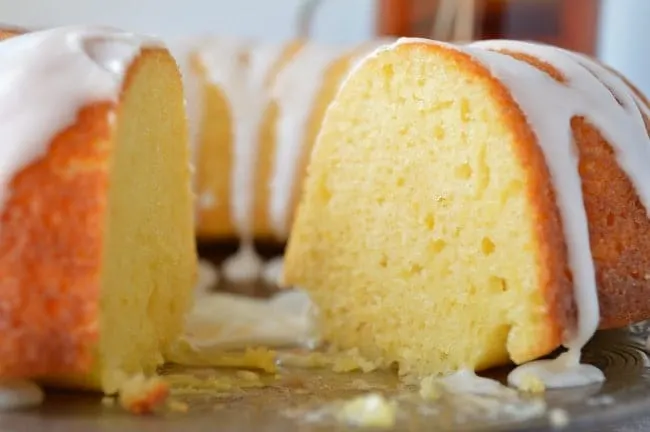 And stop hoarding the lemons.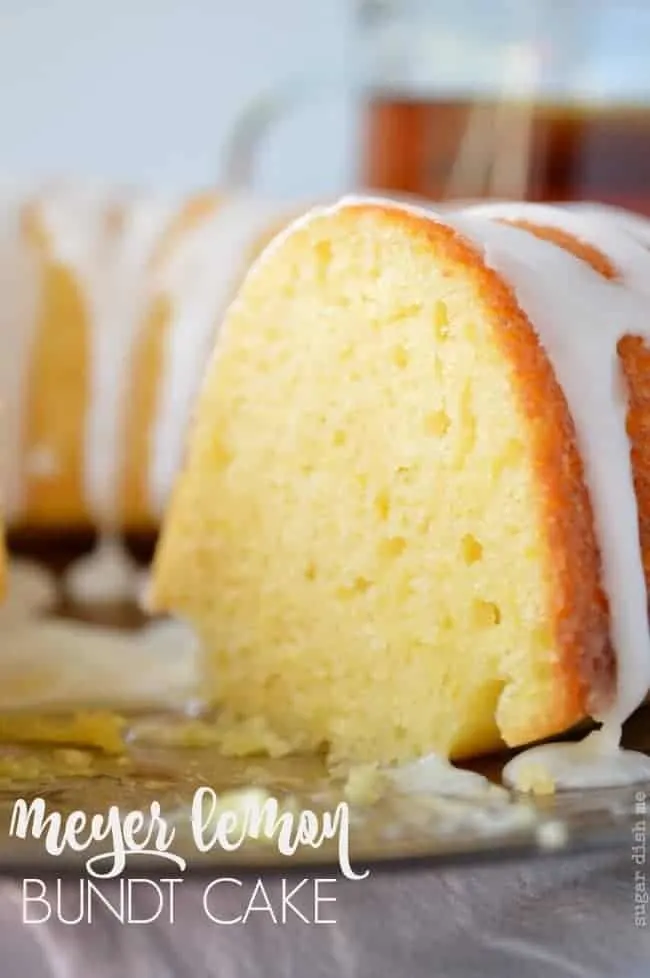 Yield:

serves 10-12
Meyer Lemon Bundt Cake
A simple (and small!) bundt cake recipe that's perfect for brunch or tea time. Meyer Lemon Bundt Cake is a lovely way to celebrate Meyer lemons!
Ingredients
Cake:
1 1/2 cups all purpose flour
2 teaspoons baking powder
1/2 teaspoon salt
1 cup sour cream
1 cup granulated sugar
3 eggs
1 1/2 teaspoons lemon zest (zest from 2-3 lemons)
1/2 cup vegetable oil
1/2 teaspoon vanilla
1/2 teaspoon lemon extract
Glaze:
⅔ cup powdered sugar
1 tablespoon fresh lemon juice
2 teaspoons milk or cream
Instructions
Preheat the oven to 350°F. Grease and flour a 9 or 10 cup bundt pan (see note)
In a medium bowl sift together the flour, baking powder, and salt.
In a large bowl, or in the bowl of your stand mixer fitted with the paddle attachment, whisk together the sour cream, sugar, eggs, lemon zest, oil, vanilla, and lemon extract.
Add the dry ingredients to the wet, and mix until just combined.
Bake for 30-35 minutes, or until a toothpick inserted in the center comes out clean. The "top" of the cake may split while baking; it's okay! You are going to flip it over before serving.
Let the cake cool for 5-10 minutes before turning it out of the bundt pan onto a serving dish to let it cool completely.
Make the glaze. Whisk together the powdered sugar and lemon juice. Add the milk or cream a teaspoon at a time to reach your desired consistency. Drizzle the glaze over the cake and let it set up before slicing to serve.
Notes
This is a small cake. If you are looking for a full size pound cake, try this Lemon Yogurt Pound Cake.
You can use a 9 or 10 cup bundt pan for this recipe. Obviously the 10 cup pan will yield a more shallow cake. Keep that in mind when you are selecting which pan to use. It's also a great recipe for mini bundt pans. Adjust the bake time accordingly.
Greek yogurt is a good substitute for the sour cream in this recipe. Low fat Greek yogurt also works if you are cutting calories.
Recommended Products
As an Amazon Associate and member of other affiliate programs, I earn from qualifying purchases.
Nutrition Information:
Yield:
12
Serving Size:
1
Amount Per Serving:
Calories:

293
Total Fat:

15g
Saturated Fat:

4g
Trans Fat:

0g
Unsaturated Fat:

10g
Cholesterol:

61mg
Sodium:

196mg
Carbohydrates:

36g
Fiber:

0g
Sugar:

24g
Protein:

4g
This recipe was based on the
Meyer Lemon Yogurt Bundt Cake
recipe found at
cookeatshare.com
.
You'll also love…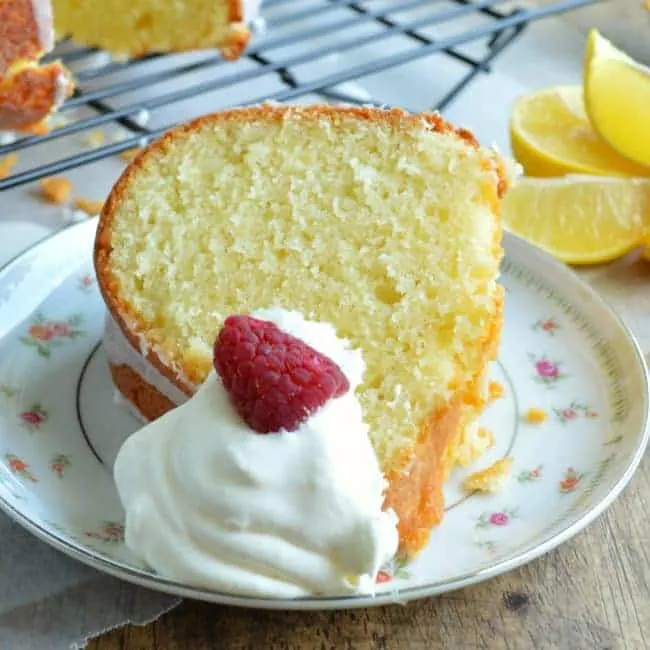 Lemon Yogurt Pound Cake