Rich, smooth, and completely decadent homemade chocolate truffles with the coffee scented flavor of Kahlua rum & coffee liqueur. Kahlua Chocolate Truffles are the perfect sweet treat for the chocolate lovers in your life.
For someone that straight up adores chocolate, I feel like I don't often share chocolate recipes with you.
Shame on me.
And to offer up my most sincere apology, I am going to give you the most wonderful, indulgent, happy, and sprinkled chocolate recipe ever. Plus there's booze.
It is the third week of January, officially the point where all the new resolutions sort of fizzle out, so I figured it was exactly the right time to entice you with chocolate.
Okay but don't fret because this is gift chocolate. Which means you can hide 3 in the back of the fridge, discreetly situated behind the broccoli so that it's sure to go unnoticed, and then give the rest away.
I gave these to Chad in his lunch box over the course of a few days thinking he would probably share with his work people, because as easy as they are to eat, they are RICH, but he did not share.
These Kahlua Chocolate Truffles are crazy easy to make. It's pretty much like making ganache with Kahlua in place of butter, letting it chill, and then rolling into sprinkle-covered balls. Your hands WILL GET MESSY. Rolling chilled chocolate in sprinkles is going to gunk your palms up. But it's a labor of chocolate love.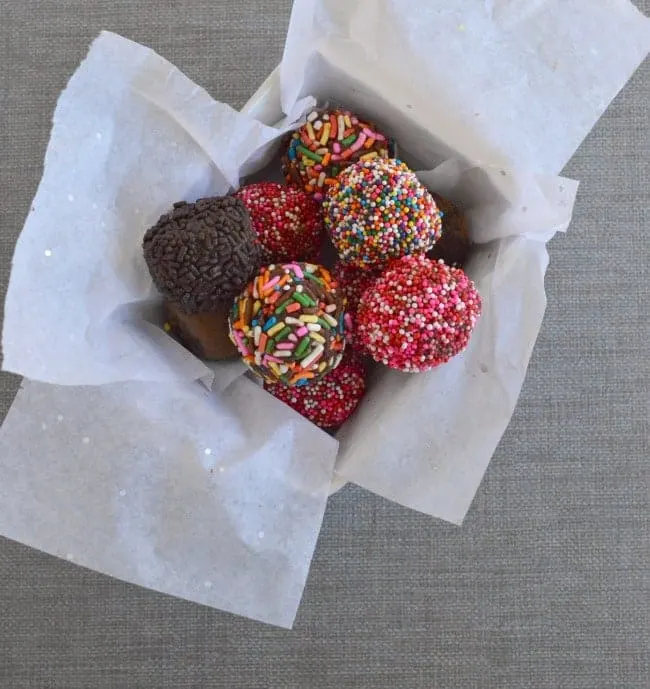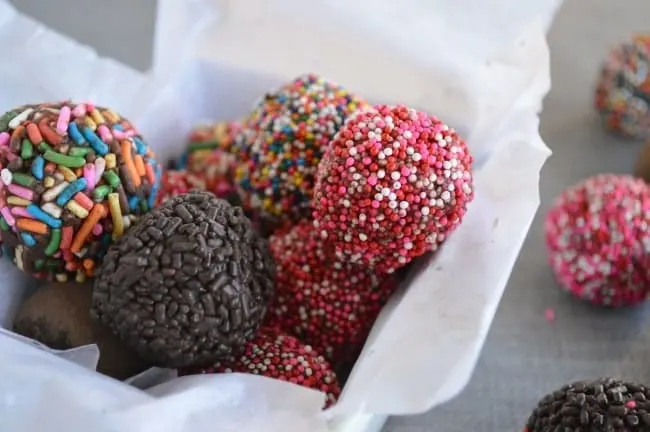 Okay, so here's what you need to know about the sprinkle rolling: Besides the chocolate getting on your hands, it will also make appearances on the outside of the truffles with sprinkles. To remedy this you can roll the chocolate in the sprinkles, wash and dry your hands, and then roll them in the sprinkles again. You can also opt for chocolate jimmies sprinkles — it hides all the chocolate smudges! Or you can opt for cocoa powder instead of sprinkles altogether. I am partial to the crunch of nonpareils and how nicely it complements the smooth texture of the truffles. So I was totally fine with a few chocolate smudges here and there.
However you decide to decorate these though — whether it be with rainbow birthday colors, Valentine's Day reds and pinks, Happy Holiday greens and golds, or pretty spring pastels — you just have to make them.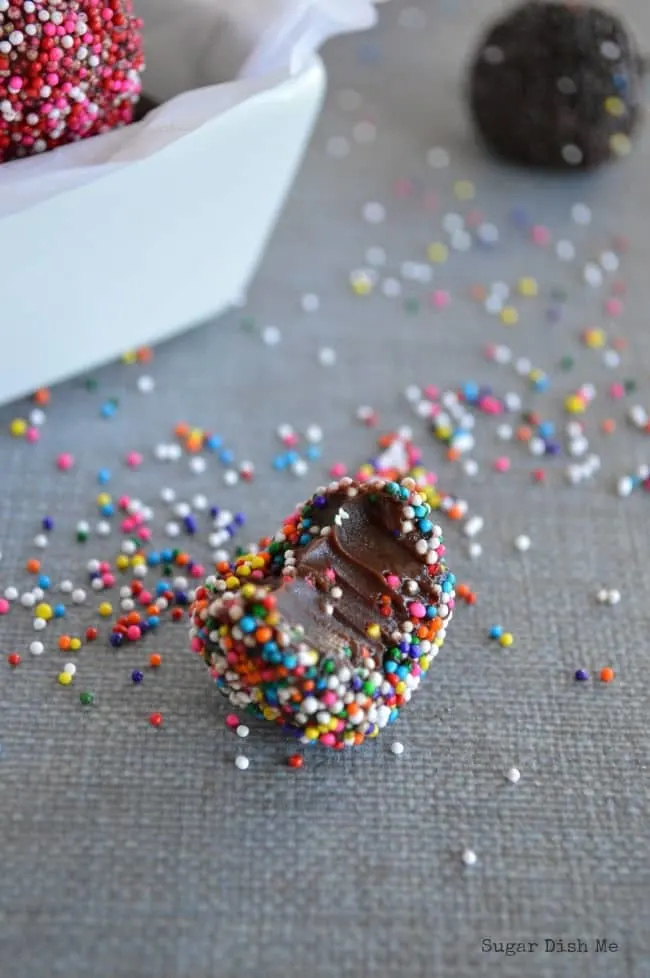 They are bite-size powerhouses of insanely rich chocolate flavor with the happiest hint of coffee rum. Make your sweetheart happy.

Kahlua Chocolate Truffles
Smooth and rich dark chocolate truffles with a hint of the delicious coffee rum flavor of Kahlua liqueur. Covered in your favorite sprinkles, these Kahlua Chocolate truffles are the perfect chocolate-lover's gift for any occasion! Please note that active time to make these is minimal but they will require 2 hours to chill before rolling.
Ingredients
10 ounces good quality dark chocolate
¾ cup heavy cream
3 tablespoons Kahlua liqueur
a variety of sprinkles or cocoa powder for coating the truffles
** you will also need plastic wrap and wax paper**
Instructions
Chop the chocolate into smallish pieces. Place it in a medium bowl.
Heat the heavy cream in a small saucepan over medium high heat until it just begins to simmer. Pour the hot heavy cream over the chopped chocolate and whisk until smooth.
Stir in the Kahlua. Cover the chocolate tightly with plastic wrap; it is helpful to press the plastic right down onto the surface of the chocolate. Refrigerate for at least 2 hours.
To roll the truffles I find it SUPER handy to have a separate sheet of wax paper laid out for each kind of sprinkle. So for the truffles pictured here I had 5 1' X 1' wax paper squares laid out - one for Valentine nonpareils, one for rainbow nonpareils, one for chocolate jimmies, one for rainbow jimmies, and one for unsweetened cocoa powder.
Use a small spoon to scoop out about 1½ teaspoons of the chilled chocolate. Roll in tin your hands to form a ball. Then roll it in the sprinkles or cocoa.
Repeat until you've rolled all the chocolate -- you will rinse your hands A LOT. Keep a clean dish towel handy.
Chill the truffles until you are ready to gift or serve.
Notes
I think the texture is best when these are chilled overnight after rolling in the sprinkles or cocoa. They are still smooth and creamy but are a little more firm, and the Kahlua flavor is more pronounced.
Based on
Cabernet Chocolate Truffles
at How Sweet It Is and
Bourbon Pecan Truffles
by Martha Stewart
Oh!!! And if you are a lover of Kahlua spiked treats you will DEFINITELY want to check out these Kahlua Mudslides and These Kahlua Chocolate Doughnuts.