Heyyyyyy…
It's Thursday and I'm really glad because this week I feel like I'm in over my head. The little guys are out of school tomorrow (because it makes COMPLETE sense to be out on Friday but to go to school on Monday which was a federal holiday…) and while I love when they're home with me out of the blue it sort of throws my schedule off and requires extra juggling. You know what I'm talking about. Also I. Am. So. TIRED today.
And I have no good excuse for that really. I got normal (for me) sleep, and other than my pledge to donate everything we own to charity because I'm tired of cleaning up all the messes, I haven't taken on anything extra or out of the ordinary. I'm just plain old sleepy.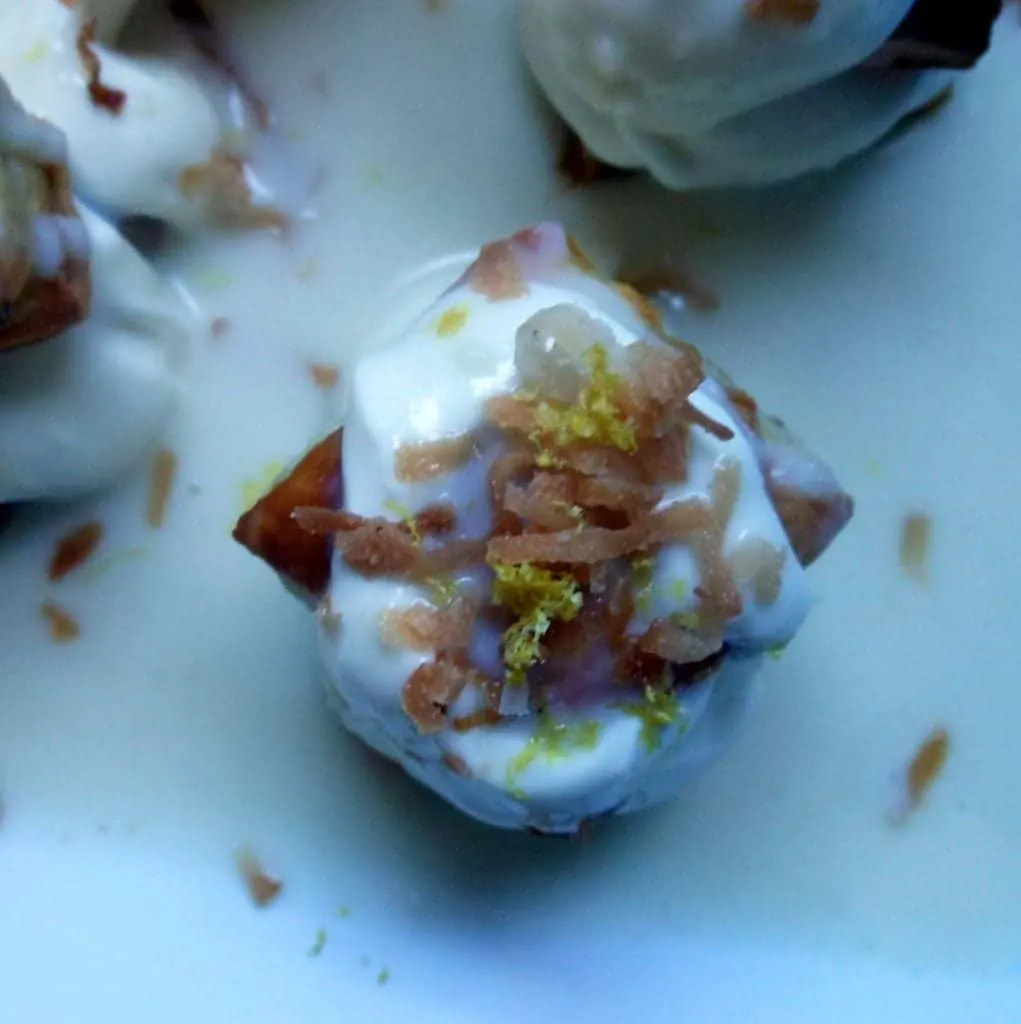 And I'm fighting it. Like crazy. Because I have way way way too many things to do. No time for napping.
So hey. Let me tell you about these petit fours for a minute.
I've been playing with birthday recipes all week- my sister and my little guy have birthdays next week and it is cake-testing mania in my kitchen since Monday (basically the most fun thing everrrrrr). Sister had a dessert somewhere with a lemon thyme pastry cream sandwiched in between cake layers and I thought that sounded fun. I don't have ANY practice with the savory herbs turned sweet desserts niche- I've seen many a basil cream and avocado fudge, but I've not been brave enough to venture into that direction. Plus I figured the boys would turn their noses up at herby dessert.
This week I got adventurous.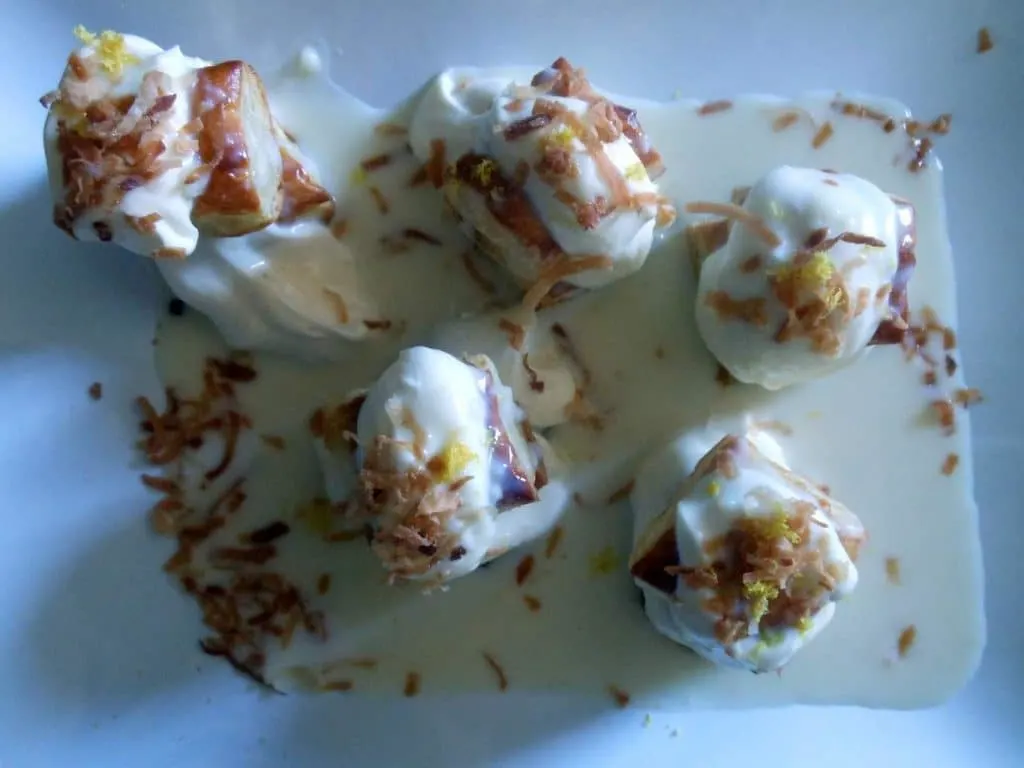 If you only make ONE part of this recipe, make it the lemon thyme pastry cream. Trust me on that one. I am a believer. I adapted this version just slightly from Martha Stewart. I simplified it (if you can believe that). You should know going in that you'll need 2 large bowls and a saucepan. The lemon thyme cream is heated, removed from the heat and whisked with other ingredients, and then heated again a couple of times.
I broke it all down in my ding-bat girl terms because well… I guess I was feeling kinda dingy. Also, Martha's way called for like 5 bowls and I basically don't have that many.
Truth.

Lemon Thyme Cheesecake Petit Fours with Toasted Coconut
Ingredients
1 cup whole milk
1 cup 2 % milk
2 sprigs fresh thyme OR ½ teaspoon dried thyme
zest of 1 lemon
½ cup granulated sugar, divided
⅛ cup plus ½ tablespoon cornstarch
⅛ cup plus ½ tablespoon all purpose flour
¼ teaspoon salt
2 eggs, beaten till smooth
1 tablespoon cold butter, cut into small pieces
*1 (8 ounce package) of ⅓ less fat cream cheese, softened
*1/2 of 1 (14 ounce) can of sweetened condensed milk
**1/2 package puff pastry, thawed
**1 egg lightly beaten
***1/2 cup sweetened flake coconut
Instructions
In a medium, heavy-bottomed saucepan, heat the milk, thyme, lemon zest, and ¼ cup of the granulated sugar. Stir to dissolve the sugar, bring it to a slow boil over medium high heat (stirring frequently so as NOT to scald the milk!), remove from the heat, cover, and let is stand for 15 minutes.
While the hot milk is standing, whisk together the remaining ¼ cup sugar, the cornstarch, flour, and salt in a large bowl. Stir in the beaten eggs. Set aside.
Prepare an ice bath (SEE NOTE) and set out a large CLEAN heat-proof bowl lined with a very fine mesh strainer.
Pour the hot milk through the strainer into the heat-proof bowl and discard the solids. Scrape the mixture back into the saucepan (make sure to thoroughly scrape down the sides of the bowl) and bring to a slow boil again, stirring frequently over medium-high heat to prevent scalding.
As soon as it boils, pour it into the egg mixture, whisking constantly until combined.
Scrape the mixture BACK into the saucepan and bring to a boil again, whisking constantly for about 2 minutes until the pastry cream is thickened.
Scrape the hot cream into the heat-proof bowl (the first bowl). Whisk in the butter a few pieces at a time until smooth and set the bowl down into the ice bath.
Stir periodically to cool the pastry cream. When it's cooled, removed it from the ice bath, place plastic wrap DIRECTLY onto the cream (to prevent a skin from forming) and refrigerate until ready to use.
To make the cheesecake filling for the petit fours, beat the cream cheese with the ½ can od sweetened condensed milk. Add 2-3 tablespoons of the lemon thyme pastry cream and beat until smooth.
Pre-heat the oven to 400.
Unfold the sheet of puff pastry. When unfolded, it will be creased in thirds. Cut along each crease making 3 pieces. Then cut those in half, lengthwise. Cut each strip horizontally into squares. You should get 5-6 little squares out of each strip, 30-36 altogether.
Brush the top of each pastry square with the beaten egg and lay them on a lightly greased baking sheet. Bake for about 12 minutes, or until the tops are golden brown (mine actually baked for only about 9 minutes).
Take the baked pastries off the baking sheet, scatter the coconut across it, turn the oven down to 325, and toast the coconut for about 5 minutes. It will be fragrant and golden.
To assemble the petit fours (you can assemble them in cupcake liners for ease), put down one square of pastry. Put about a teaspoon of the cream cheese mixture on top. Spoon the lemon thyme pastry cream over the cheesecake layer. Place another pastry square on top. Another dollop of cream cheese, and another spoonful of lemon thyme pastry cream. Sprinkle toasted coconut on top.
Refrigerate until you're ready to serve.
Notes
#1- An ice bath in my kitchen turned out to be a 9 X 13 cake pan full of ice with a little room to situate the heat-proof bowl in the middle
Lemon Thyme Pastry Cream just slightly adapted from Martha Stewart Living Christmas Cookbook
Get your pastry cream on. This recipe is a culinary ego boost (also known as How to Feel Fancy When You're Not That Fancy).