I am super extra excited today. And not just because I am loaded up on fresh greens and goat cheese.
I signed up this month to do something fun and different. It's the first time I'm participating and I love the concept of this Surprise Recipe Swap. If you want in, the details are at the end of the post. In the meantime, let's talk SALAD.

This recipe comes to you from Jess' blog, Simple, Clean, and Homemade (heyyyyyyyy Jess!). I sifted through so so so many of her recipes before finally landing on this one. I decided that Sugar Dish Me needed a little bit of lighter fare as of late (I'm talkin to you Chocolate Cake).
This salad feels kind of summery to me, but, in my defense, I definitely stood behind a girl in line today that was sporting flip flops and a french pedi.
It starts with two awesome things- sugared pecans and goat cheese pastries.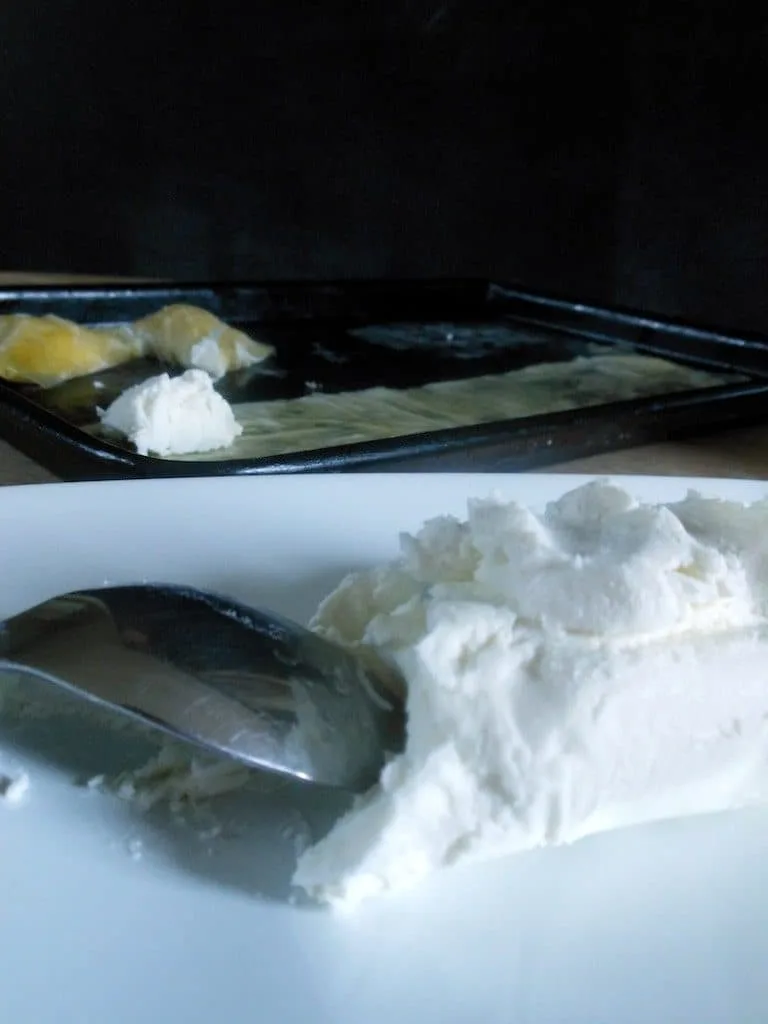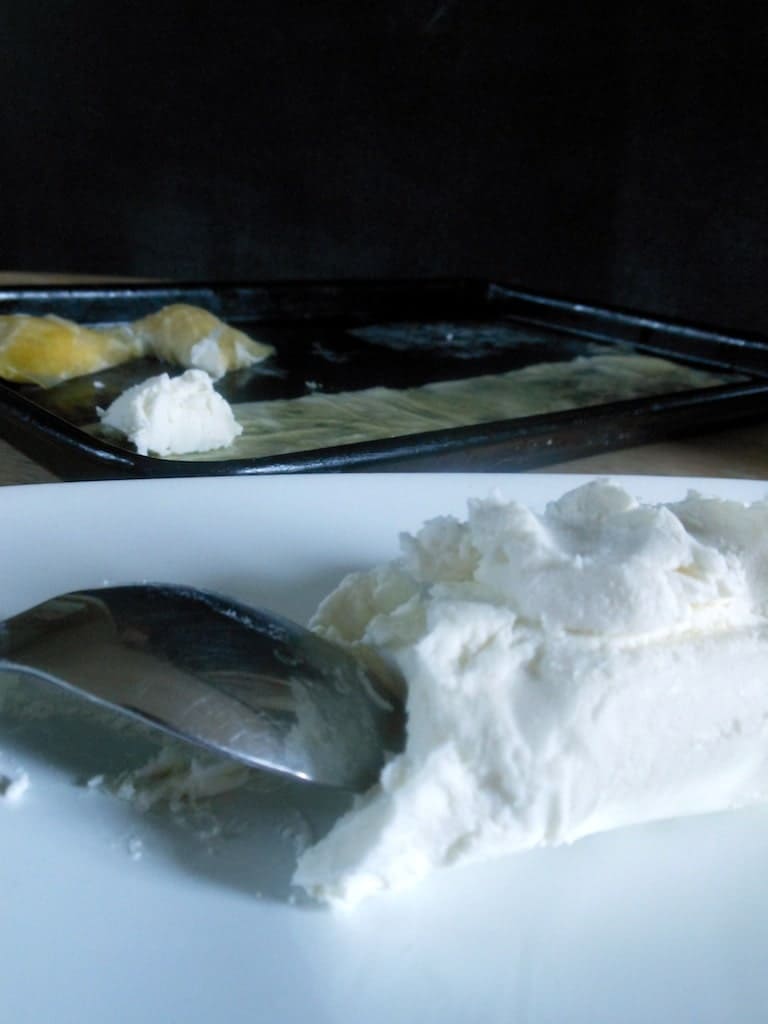 Both can be made ahead of time in about 40 minutes. Evan really likes goat cheese pastries and sugared pecans. He kept trying to sneak them out of the kitchen. Jess' salad was a little different than mine- I got sort of crazy with some strawberries, mixed greens, baby spinach, shredded carrots, and feta cheese. The whole thing was sweetly delicious and the feta lent a little salt to my sweet. This would also be most excellent with grilled chicken.
Fillo (phyllo) dough is brushed with olive oil and then gently folded over a dab of goat cheese into these little pockets and then baked. If you've ever worked with Fillo then you know it can be an exercise in patience. But the wispy crispy flakes of baked pastry dough are totally worth the effort in the end. These get drizzled with a little honey when they come out of the oven and- LET THEM COOL before you bite in!
I may or may not have scalded my lips on hot goat cheese in pastries because I am exactly the opposite of patient.
Truth: I will be making this salad, this dressing, and these simple pastries again and again and again and again.
Find Jess' original recipe HERE and spend a little time sifting through her stuff- there's a Chicken Mole' Chili recipe that would FOR SURE make us best friends if you made it and brought it to my house right now…

Honey Mustard Vinaigrette Salad with Goat Cheese Pastries
Ingredients
1 cup pecan halves
1 tablespoon unsalted butter
¼ cup sugar
2 tablespoons water
¼ teaspoon cinnamon
a pinch of salt
½ teaspoon vanilla
*1/2 package Fillo dough, thawed (SEE NOTE)
*4-6 tablespoons olive oil or melted butter (olive oil spray makes for fast work)
*4 ounces goat cheese
*2 tablespoons honey
**10-12 ounces mixed greens
**2 carrots, shredded
**2 cups chopped fresh strawberries
**2 ounces feta cheese
***2 teaspoons honey
***2 teaspoons Dijon mustard
***2 tablespoons rice wine vinegar
***2 tablespoons olive oil
Instructions
Pre-heat the oven to 250. Butter an 8 X 8 baking dish (I actually used a pie plate).
Scatter the pecan halves across a shallow ungreased baking sheet. Bake them for about 15 minutes, just until they are warmed.
While the pecans heat, melt the tablespoon of butter in a small saucepan. Stir in the sugar, water, cinnamon, and salt. Bring the mixture to a boil, stirring occasionally. Reduce the heat to medium, cover, and simmer for about 2 minutes. Uncover and stir- the mixture should have thickened a little.Stir in the vanilla.Toss the warmed pecans with the sugar mixture and empty into the prepared baking dish.
Bake in the 250 degree oven for about 30 minutes. Let them cool completely.
Unroll the Fillo dough onto a clean work surface. Cut the sheets of dough in half, lengthwise. Set the oven at 350. Lay out a clean baking sheet.
Working with one half of one sheet at a time, lay out the dough, brush or spray with the olive oil, and repeat, layering the brushed sheets on top of each other. Each pastry pocket will be made up of 4 brushed (half) sheets.
Spoon about a tablespoon of the goat cheese into the top left corner of the brushed and layered dough. Fold that corner to the bottom. Then fold the bottom corner up towards the top. When you're done you'll have a little pastry triangle.
Lay the pastries onto the clean baking sheet. When you've run out of dough and cheese (you'll have 8-10 pastries), bake them for 15-17 minutes. The pastries will be golden brown and flaky. Drizzle the 2 tablespoons of honey over the warm pastries. Cool.
Toss together the greens, carrots, strawberries, sugared pecans and feta.
In a small bowl, whisk together the honey, mustard, and rice wine vinegar until smooth. Slowly pour in and whisk the olive oil.
Drizzle the vinaigrette over the salad. Serve each portion with a couple of the goat cheese pastries.
Marvel at JUST HOW GOOD THIS IS!!!
Notes
#1- Fillo dough takes 2 hours to thaw at room temperature or can thaw overnight in the fridge- plan for the defrosting! #2- You can purchase prepared sugared pecans to save time. If you go this route, skip over the first 7 ingredients AND the first 4 steps.
Sugared Pecans adapted from
THIS
recipe at A Taste of Home.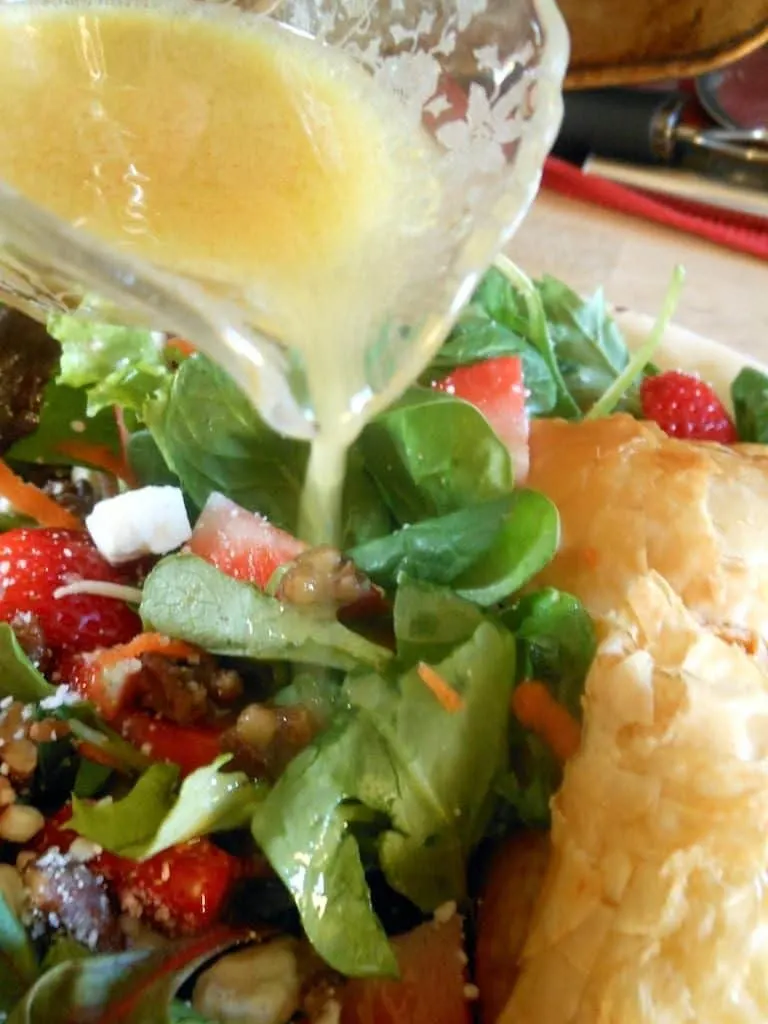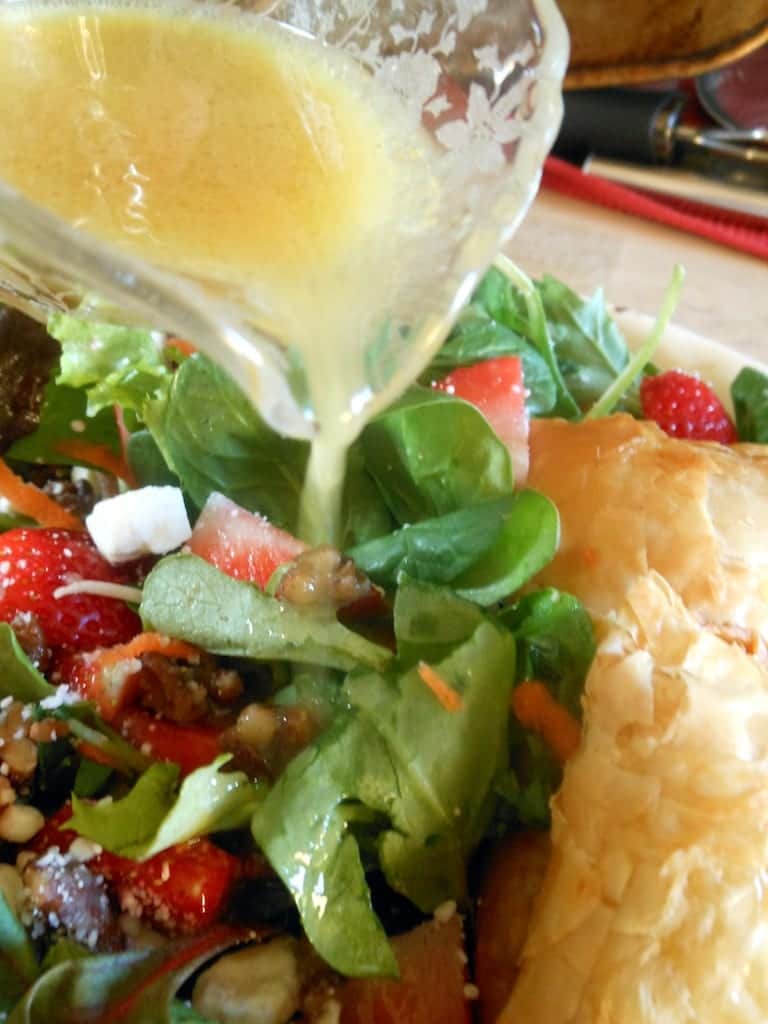 If you would like to participate in next month's Surprise Recipe Swap, click on the image link below to sign up! Someone will be assigned your blog and you'll be assigned to someone else. You pick any of their recipes that strikes your fancy, make it, and post it. It's the internet version of swapping recipes on index cards.