Progress reports and curriculum nights.
Yeah. Already!
Two days this week we have to race out of here in the evening to be at the school right smack in the middle of what should be dinner time and I find myself scrambling for what to feed everybody.
Peanut butter and jelly for dinner you guys!!
Actually that is more than fine for me but I think the hungry guys might go to Burger King and boycott.
This week has been very enlightening. I have learned that Evan likes to talk. A lot. Actually that is not a new revelation — he has always been a chatterbox — but usually if you give him a book he will be quiet. 5th grade seems to be a different story and he is just talking all the time to everyone. He talks my head off at home but I figured maybe he was just trying to get it all out of his system from being quiet at school all day. The teachers told me that Evan is never quiet.
I'm not super sure what he has to talk about all the time, but some of the things he talks about are tall tales that make me laugh. He told his teachers that I am the greatest cook in the world and that my blog is very famous and that a thousand million people read it everyday. It's kind of really cute that he is so proud of me, but I had to break the news that actually I am not famous and definitely could not win Master Chef ever ever in my life.
I can feed a family though. And I can virtually feed you! All thousand million of you.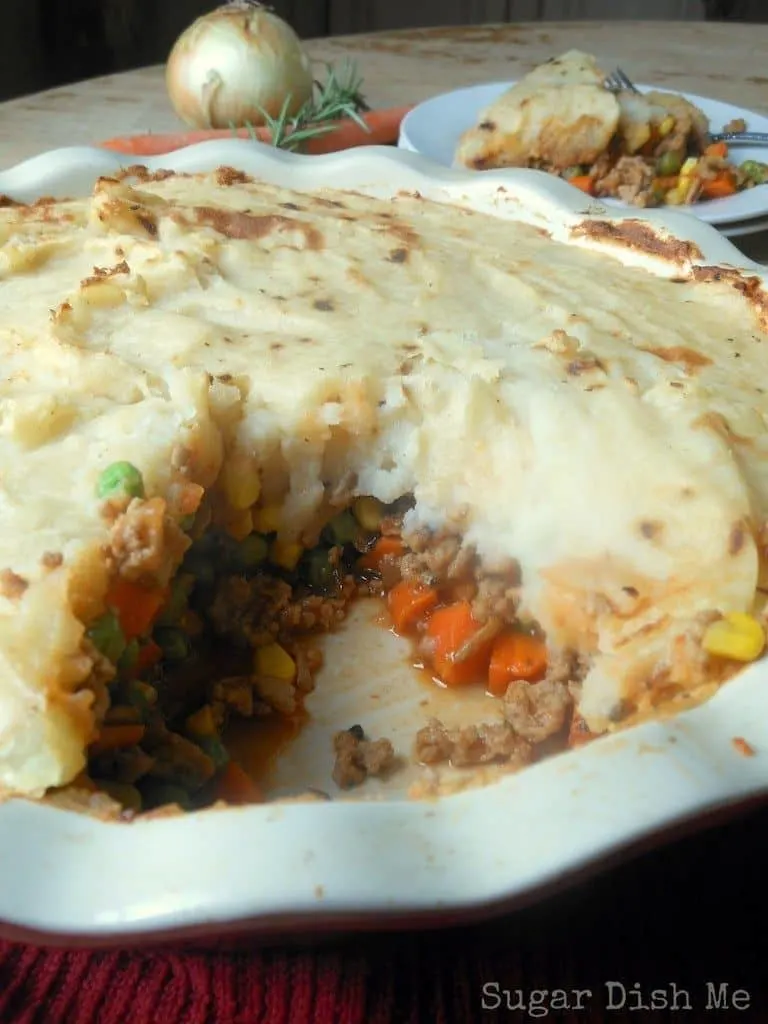 This is a really super flexible meal! The whole thing can be made ahead of time and refrigerated. I read a great article this week on freezing casseroles and the best tip said that it takes about as much time to make two of something as one! So if you have just a minute to think ahead this meal totally fits that bill, especially when you have to be somewhere when you'd rather be at the dinner table.
Don't let the ingredient list scare you– it looks a little bit long but most of this stuff should be lurking in your pantry. I almost always have potatoes, carrots, onions, garlic, Worcestershire, and chicken broth. They are called staples for a reason! To use dried herbs instead of fresh herbs just use 1/3 of the amount called for– that's a good rule of thumb.

Lightened Up Shepherd's Pie
Cozy comfort food at its best! This version of shepherd's pie uses lean ground turkey instead of ground beef (which you could easily substitute if beef is what you have on hand). The sauce is lighter with low sodium broth and fresh herbs. Topped with creamy mashed potatoes this dish is sure to be a hit! This recipe will require you to have two things going stovetop at the same time: a pot of potatoes & a skillet with the filling. Be sure to read through the recipe entirely before beginning to make sure your meal is on the table fast!
Ingredients
Filling:
1 tablespoon oil
1½ cups diced onion
1½ cups carrots, peeled and diced
1½ pounds ground turkey
3 cloves garlic, minced
1 cup low-sodium chicken broth
1 tablespoon all purpose flour
1 tablespoon tomato paste
2 teaspoons Worcestershire sauce
2 sprigs fresh rosemary, leaves stripped away & finely chopped
2 sprigs fresh thyme, chopped
salt & pepper to taste
½ cup frozen corn, thawed
12 cup frozen peas, thawed
Topping:
5-6 cups peeled & diced potatoes
½ cup plain Greek yogurt
½ cup sour cream (I opt for low fat; it tastes the same in potatoes!)
1 teaspoon kosher salt (more to taste)
¼- ½ cup milk, as needed
Instructions
Pre-heat the oven to 350. Lightly spray a 9" pie plate (or a 9" square baking dish) with non-stick cooking spray (the filling will not stick but the potatoes do so pay more attention to the top/edges).
Heat the oil in a large skillet. Add the onions and carrots, and cook over medium high heat for about 2 minutes. Add the ground turkey and brown it, breaking it up as it cooks.
While the turkey browns, place the potatoes in a pot, cover with water plus an inch or two, and bring them to a boil. Cook until the potatoes are fork tender (15-ish minutes), drain and set aside.
When the turkey is brown, add the minced garlic. Pour in the chicken broth and give it a minute to simmer. Stir in the flour. Then stir in the tomato paste, Worcestershire sauce, rosemary, thyme, salt & pepper. Cook for 1-2 minutes and remove from the heat.
Stir in the corn and peas. Spread the mixture into the bottom of the pie plate.
To the drained potatoes add the Greek yogurt and sour cream. Mash and stir. Sprinkle in the salt and add the milk just a little at a time to reach a thick creamy consistency. Spread the potatoes over the top of the turkey filling.
Bake for about 15 minutes-- everything is already cooked you just want it to come together. I like to turn on the broiler for the last minute to give the potatoes a tiny bit of brown on top.
Serve!