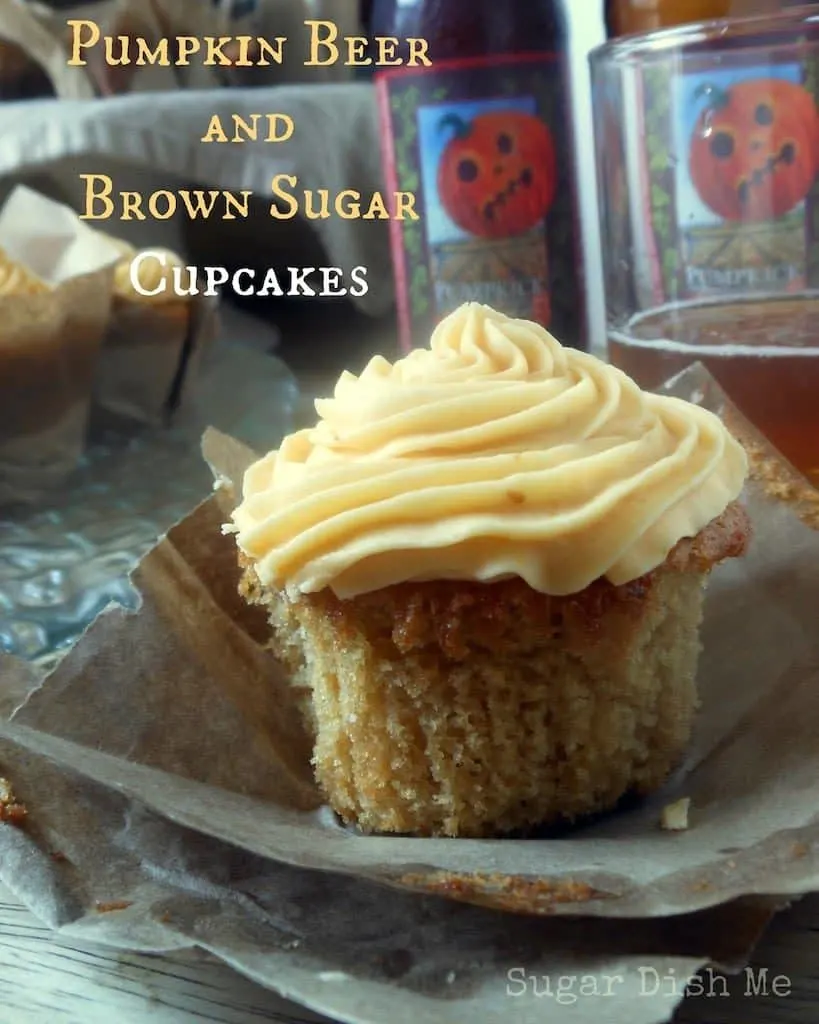 I have this huge chalkboard in my kitchen– it takes up one whole wall. It's where I scribble ingredients I'm out of, notes about my schedule, and my random lists of ideas for blog posts. At the top of the list of things to develop for a month now was "Brown Sugar Cupcakes with Pumpkin Buttercream" in purple chalk. So when I signed up to participate in this month's Spiked challenge and "Harvest Beers" were the booze of choice, I knew I needed to get the beer into the cupcakes.
One of the most popular recipes on Sugar Dish Me to date are my Death by Chocolate Guinness Cupcakes. They are moist and rich and I wanted to see if I could translate that into a fall-ish recipe with a lighter beer.
It worked!!!
These brown sugar cupcakes are super soft with a tender crumb. The beer lends a richness to the flavor that I really love. Lots of times when I bake or cook with beer the flavor profile sort of gets lost which would have been kinda sad since fall flavored beer is so delicious! With this recipe I managed to hang onto the hint of pumpkin juice, cranberry, and spice from the New Belgium Pumpkick Ale I chose.
Annnnnd yum.
I already worked out the pumpkin buttercream with my Autumn Spice Cake Mix Cookies— I adjusted it a little, adding more cinnamon to give it some extra fall spice.
I really love how these turned out! Have a fall party and make an excuse to bake some.

Pumpkin Beer and Brown Sugar Cupcakes
Soft and fluffy brown sugar cupcakes made with delicious pumpkin beer or your favorite harvest ale and then topped with a sweetly spiced pumpkin buttercream. The frosting recipe can be cut in half if you don't like a ton of frosting; I included enough in this recipe to be able to pipe all 24 cupcakes as shown.
Ingredients
For the Cupcakes:
2¼ cups all purpose flour
1¾ cup packed light brown sugar
4 teaspoons baking powder
1 teaspoon salt
¾ cup butter, almost room temperature (still slightly cool)
1 cup pumpkin beer or fall harvest type ale
3 eggs
2 teaspoons vanilla
For the Frosting:
1 cup butter, softened
½ cup canned pumpkin
7 cups powdered sugar
1 teaspoon cinnamon
2 -4 tablespoons cream, as needed
Instructions
Preheat the oven to 350. Line a standard muffin tin with paper liners.
In a large bowl whisk together the flour, brown sugar, baking powder, and salt.
Cut the butter into small cubes and add it to the flour. Mix with a hand mixer on medium speed for about 1½ minutes. The butter should incorporate into the flour pretty evenly.
Pour the beer into a large liquid measuring cup and let the foam settle. Add the eggs and vanilla and just lightly beat with a fork; it will be sort of foamy.
Add half of the beer/egg/vanilla mixture to the bowl. Beat on medium for about a minute. Add the remaining liquid and beat for 1½ minutes, scraping down the sides.
Fill the prepared muffin cups about ¾ full.
Bake for 18-20 minutes or until a toothpick inserted into the center comes out clean.
While the cupcakes bake make the frosting. Beat the butter and pumpkin together until smooth. Sift in the sugar a cup at a time and beat in between each addition. Add the cinnamon, beat, and add in the cream to reach the desired consistency.
Let the cupcakes cool completely before frosting.
I entered this recipe into the Spiked! Recipe Challenge- a bi-monthly awesome competition using boozey ingredients to flavor up your food. You can find more details on entering by clicking the image below.