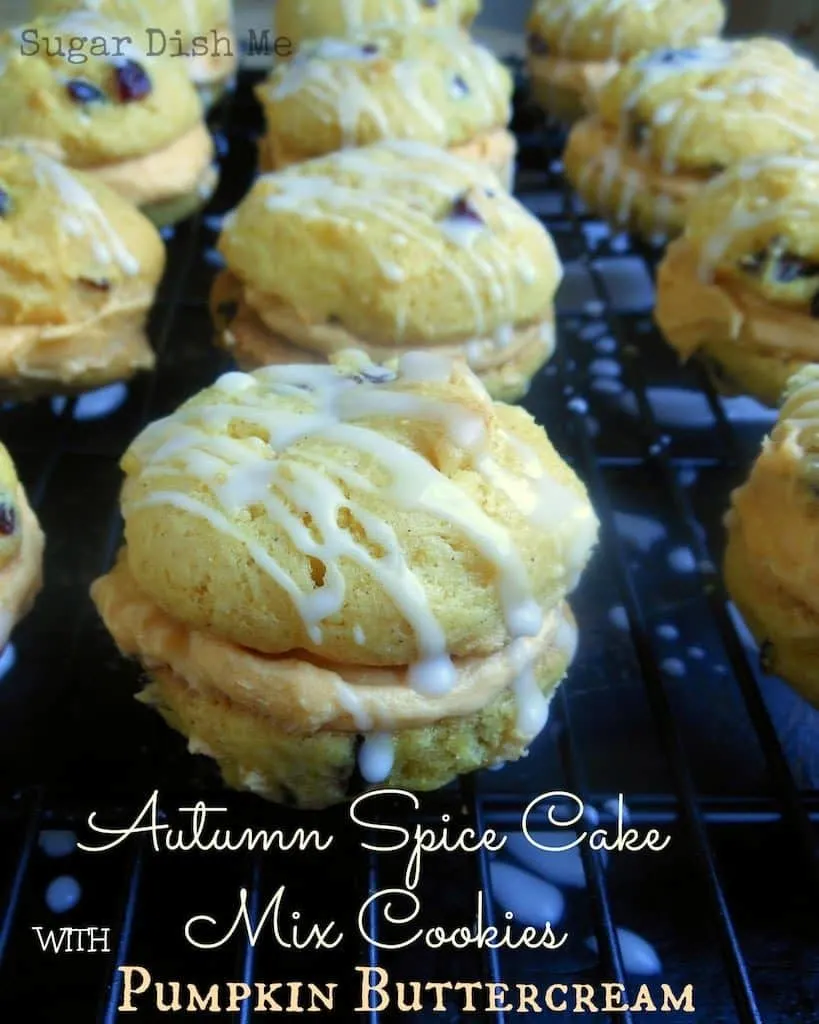 These cookies are basically the easiest cookies ever.
I mean it.
Also they boys took them to school in their lunchboxes a few days in a row and I am now being solicited by hoards of school children to pack their lunches.
Andrew and I had a brief moment of entrepreneurial genius in which we thought we could maybe bake up treats a few days a week and he could take them to school and sell them. He is convinced that all of his friends would totally buy them everyday. Remember that kid at school that always had a backpack full of Airheads and Blow Pops and pencils? That kid was brilliant and is probably a zillionaire right now. So we were really sold on our baked goodie sale idea, EXCEPT.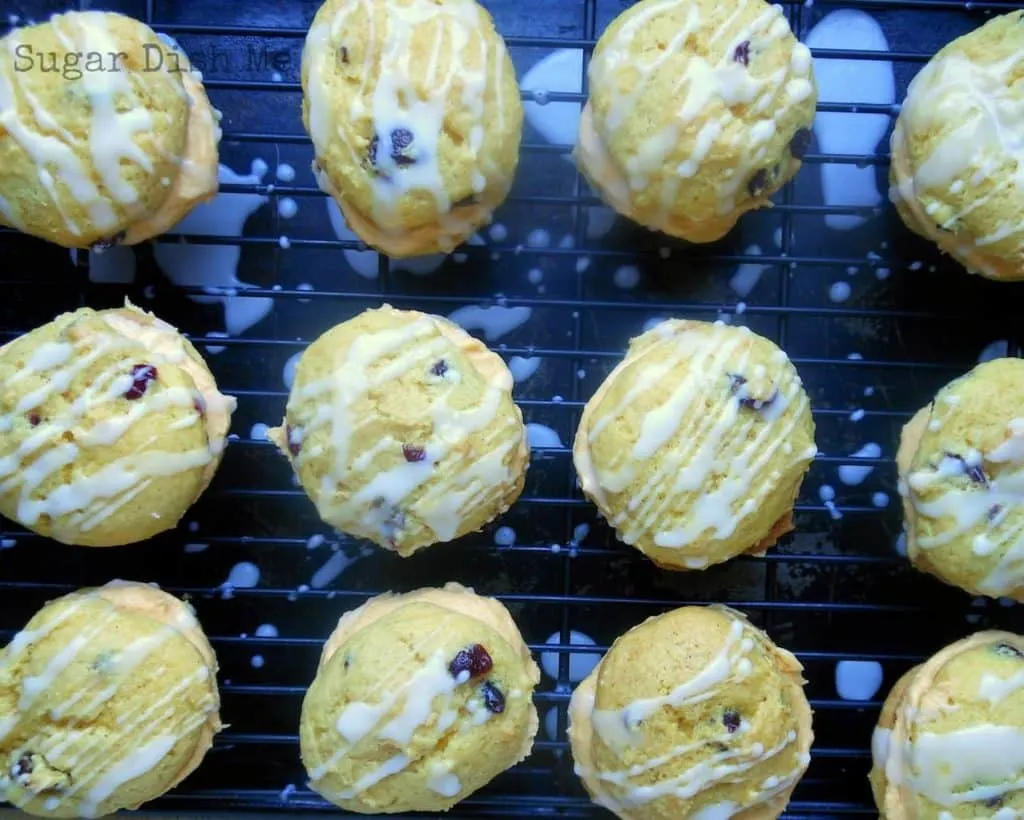 The school has this really lame hard and fast rule this year about no home baked goodies. Last year Andrew and I circumvented that rule a few times for class parties and a chocolate chip cookie science project (the best kind), but this year they are very serious about that being a no-no. I asked one of Evan's teachers at the elementary school why they are being so extra about it, and she said that last year a mom was carrying in cupcakes for a class. The mom dropped them on the sidewalk, picked 2 cupcakes up off the pavement, and then tried to serve them anyway.
Way to ruin it for the rest of us, lady.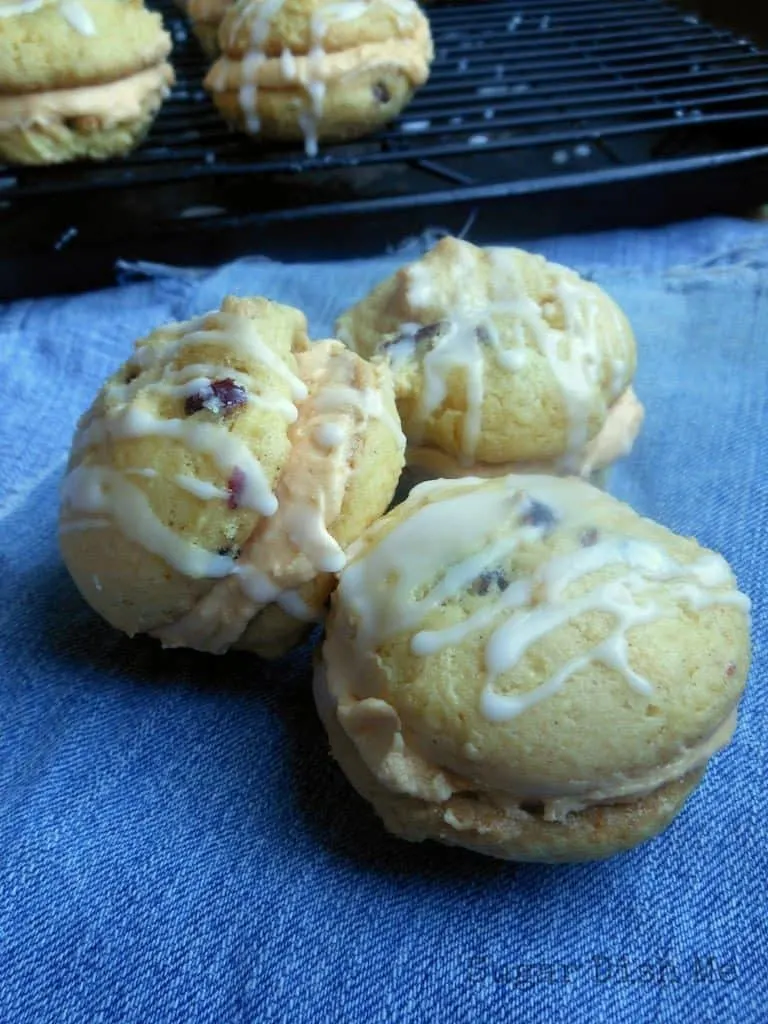 Also this year you cannot bring outside food in when you have lunch with your kid at school. Am I the only person that thinks this is a MAJOR injustice? The whole point of subjecting yourself to a school cafeteria is so that you can bring your kid delicious junk in the middle of the day. Tell me surprise french fries on a boring old Tuesday wouldn't make any kid super happy? And it's NOT ALLOWED!
In addition they will not let the parents bring in their own food. Pffft. Like as if I'm eating your cafeteria concoctions. NO.
So my plan is to continue to send delicious homemade treats in my kids' lunchboxes to school with the hopes that all the other children will whine about it and the ban will be lifted. Or maybe their moms will also bake them cookies.
Like these.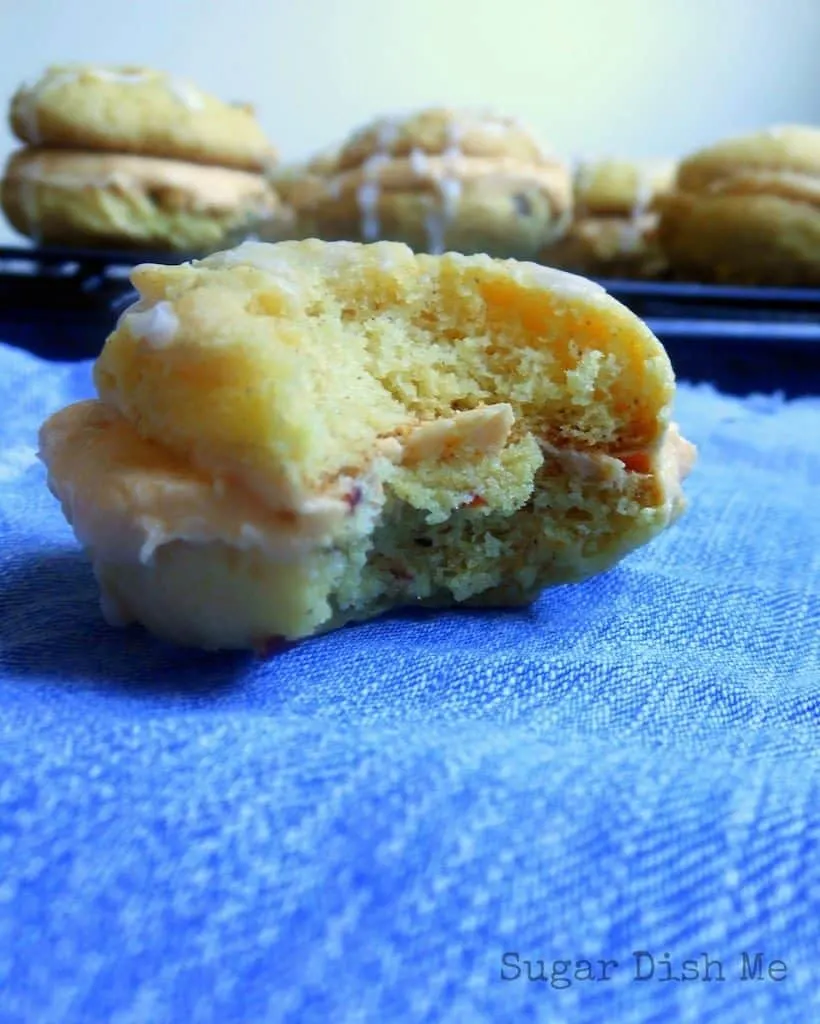 Autumn Spice Cake Mix Cookies with Pumpkin Buttercream!!!
This recipe was inspired by my friend Ashley at Center Cut Cook. Her blog is full of super delicious homestyle recipes — meals, desserts, and other treats that pretty much make me hungry all the time. I asked her if I could play around with her cake mix cookie recipe and these little beauties are what I came up with!! The sweet glaze that I drizzled across the top is totally optional if you are in a hurry and want to skip a step. But I like my cookies with some tasty decoration so I glazed mine up a bit.
Enjoy!

Autumn Spice Cake Mix Cookies with Pumpkin Buttercream
Serves:
18 sandwich cookies
Ingredients
Cookies:
1 box yellow cake mix
1 egg
¼ cup water
¼ cup vegetable oil
1 teaspoon cinnamon
1 teaspoon pumpkin pie spice
¼ cup chopped pecans
¼ cup dried cranberries
Pumpkin Buttercream:
½ cup butter, at room temperature
¼ cup canned pumpkin
3½ cups powdered sugar
¼ teaspoon cinnamon
½ teaspoon vanilla
1-3 tablespoons cream (or milk), as needed
Glaze:
2 tablespoons powdered sugar
1 teaspoon milk, cream, or water
Instructions
Preheat the oven to 350. Line a baking sheet with parchment paper OR lightly grease it and flour it (like you would a cake pan).
In a large bowl mix together the cake mix, egg, water, oil, cinnamon & pumpkin spice until combined. Stir in the pecans and dried cranberries.
Spoon the mixture onto the prepared baking sheet by the tablespoon-full, about 2 inches apart. The cookie dough will be slightly sticky.
Bake for 8-10 minutes. Cool slightly before removing to a baking sheet to cool completely.
To make the buttercream, beat the butter and pumpkin together until smooth. Sift in the powdered sugar ½ cup at a time, beating between each addition. Add the cinnamon and vanilla, beat, and then add the cream a tablespoon at a time to reach the desired consistency.
Spread the flat side of 18 of the cookies with the buttercream and add a second cookie to make a sandwich.
Mix together the powdered sugar and cream to make the glaze. Place the cookies on a wire rack with a sheet of parchment or wax paper underneath and use a fork to drizzle the glaze over the cookies.
I like to keep mine refrigerated but they are fine at room temperature. Just don't let it get so warm the buttercream melts!