An easy pasta dish that screams comfort-food delicious. Linguine Carbonara with Bacon is one of those dishes you nearly always have the ingredients for and comes together in less than 30 minutes.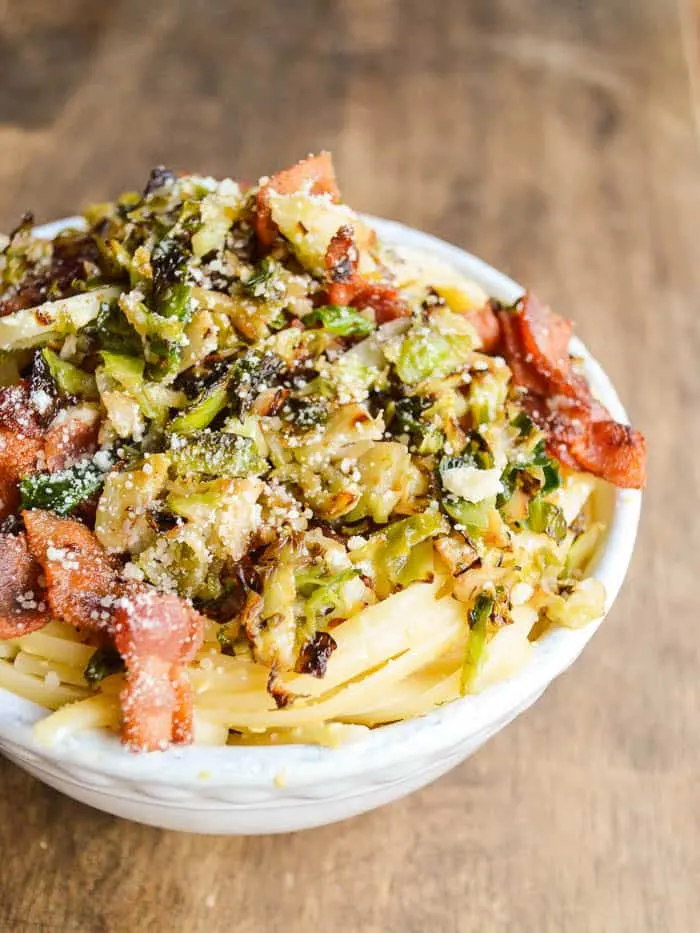 Save This Recipe for Later
Saved!
Linguine Carbona with Bacon and Crispy Brussels Sprouts is easy cozy comfort food! Linguine tossed with a sauce made from egg and Parmesan cheese - when you have no idea what to cook for dinner this simple pasta is a great bet.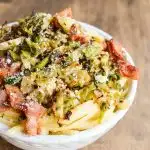 I am such a pasta-lover. It's so easy and versatile — you can dress it up hundreds of different ways and it is always delicious.
The problem with pasta is that my freak-of-carb-nature other half is not so crazy about pasta.
I know, right? Weird.
So have have to reserve my pasta recipes for days of complete necessity.
Days that are crazy and I pretty much only have time to boil water. Or days that I have strategically avoided the grocery store for a week because it feels like a chore. Or days where the washing machine floods the downstairs with an inch of water. Twice.
Just kidding.
That day I ordered sandwiches and washed them down with 3 glasses of wine.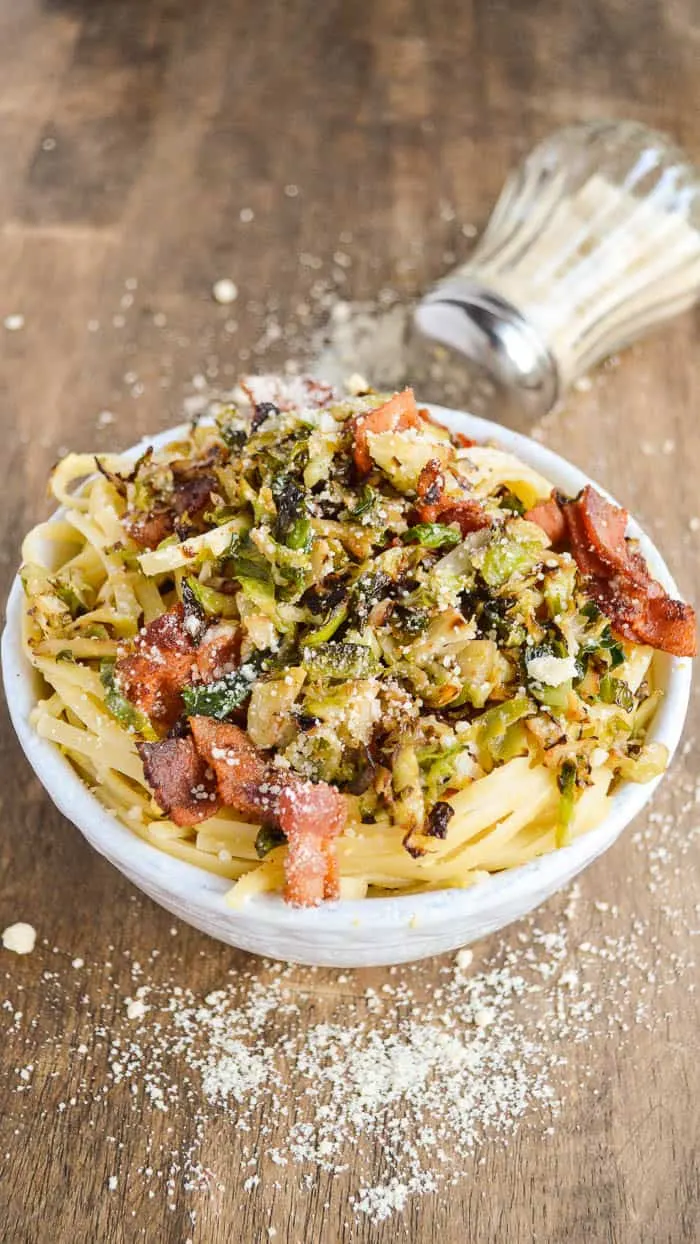 But for all the other days, this super simple, stick-to-your-ribs pasta dish is THE BESSSST.
The cheese and eggs coat the linguine to make a rich creamy sauce. The bacon is… well it's BACON. And Brussels sprouts are my favorite! The crispy Brussels sprouts with a hint of garlic are my favorite part. But let's start with some basics.
What is Carbonara Sauce Made of?
Traditionally, carbonara sauce is the simplest of sauces made with eggs, cheese, pork, and black pepper. The eggs and cheese coating the pasta, mixed with just enough of the reserved cooking liquid to keep things moving, is really what makes this sauce. It's rich and cheesy and doesn't actually taste like eggs at all. It tastes … decadent. And definitely like something that took you longer than 30 minutes to make.
Is Carbonara Safe to Eat?
We wouldn't be talking about how delicious it is if it wasn't. But I'll humor this question because if you are not a runny-egg-eater it's legitimate.
People like to ask questions about the eggs (because as with adding eggs to any thing hot WITHOUT them scrambling, you have to have a strategy) since you are adding raw eggs to hot pasta, and just letting the heat from the pan and the pasta do the cooking. There are rules for carbonara, since it's a traditional sort of recipe. For every one pound pasta, there should be a half pound of pork and ½ cup to 1 cup of Romano or Parmesan cheese. For different carbonara recipes, there are different calls for the egg part of the recipe.
In this recipe we are using 4 eggs. And I am going to share my fave egg-cooking-carbonara tip.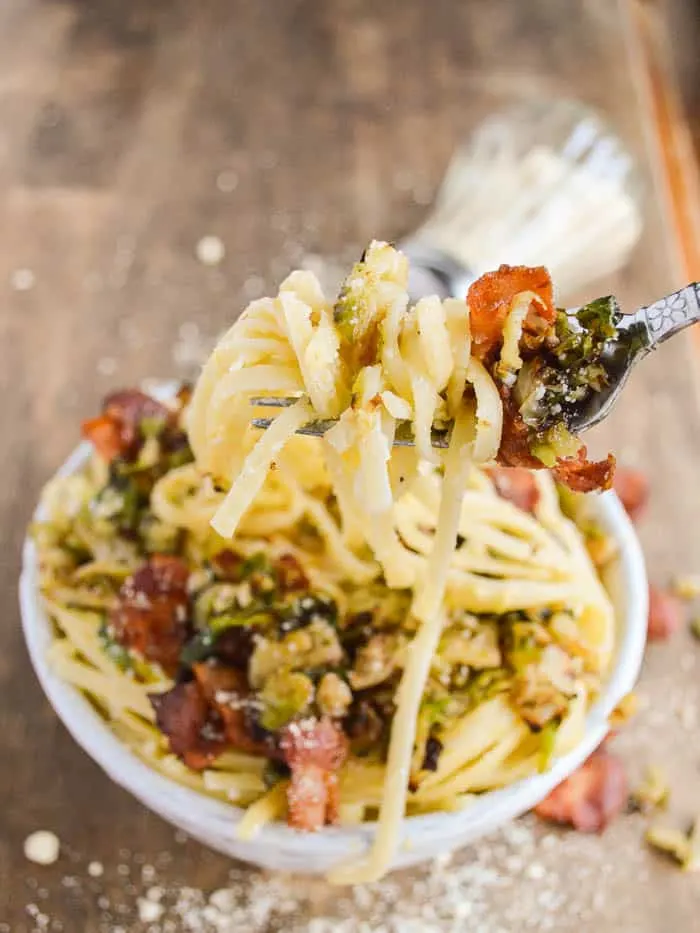 The Trick to Making a Great Carbona Sauce
You know how recipes are always telling you to reserve a cup of the pasta water, and you are looking at the hot, heavy pot, and the scalding hot water, and you are like mmmkayyyyyy… WTF?
We are gonna solve that problem AND learn how to make a really great carbonara sauce all at once.
First you need a glass mixing bowl. Serving bowls tend to be too shallow, and a metal bowl will be too hot to the touch from the outside. I like these (affiliate links here >>>) non-slip ceramic mixing bowls. You need a strainer to drain the pasta. This one collapses so it doesn't take up all the space and it's dishwasher safe. You are going to drain the pasta water INTO the glass bowl. The water heats the bowl up AND makes it easy to dip in a glass measuring cup to reserve a cup of pasta water for the rest of your cooking. Then you can toss the rest of the pasta water and add the hot drained pasta back to the hot bowl.
Be sure your eggs aren't cold. That also helps. I like to crack them into a bowl, beat them, and let them hang out near the stove while I am cooking the pasta, bacon, and Brussels sprouts.
TADAAAAAA! Carbonara sauce that is smooth and cheesy and sans any trace of scrambled eggs.
Love a good, easy pasta recipe? You can also try…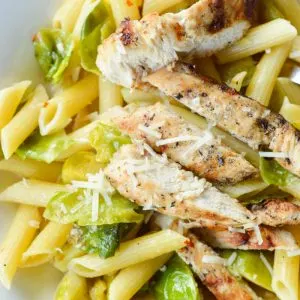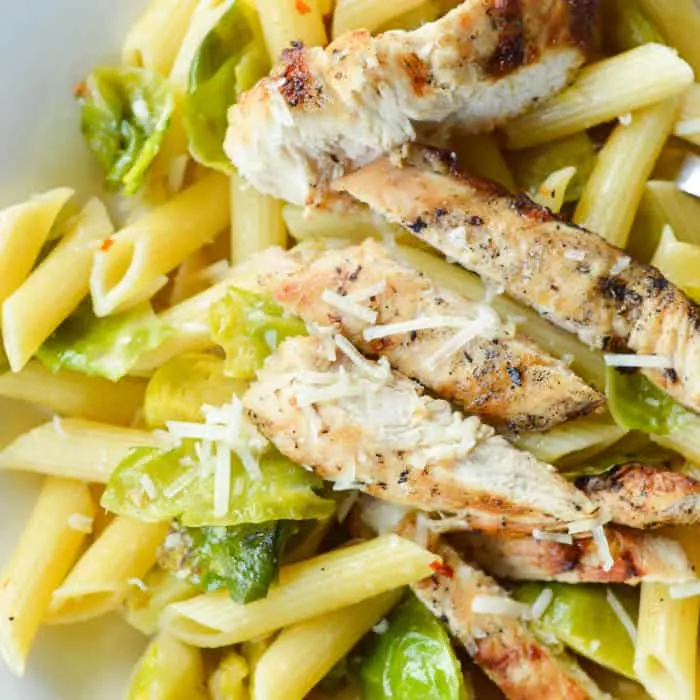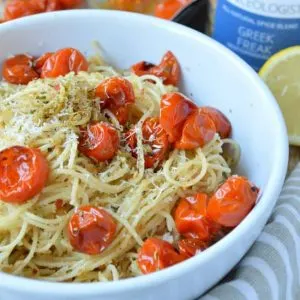 Penne with Grilled Chicken and Brussels Sprouts is an OLLDDDDD recipe, which basically just means I have made it 1000 times and it's really really good. Also less than 500 calories per serving so it's a winner. Oh! And it's ready in 30 minutes or less.
Easy Roasted Tomato Pasta is another quick, easy recipe. I like to use my garden tomatoes here, but since cherry tomatoes are pretty easy to grab year round, this fast dish is a weeknight lifesaver.
Only need a little bit? Fettuccine Alfredo for Two is just the ticket.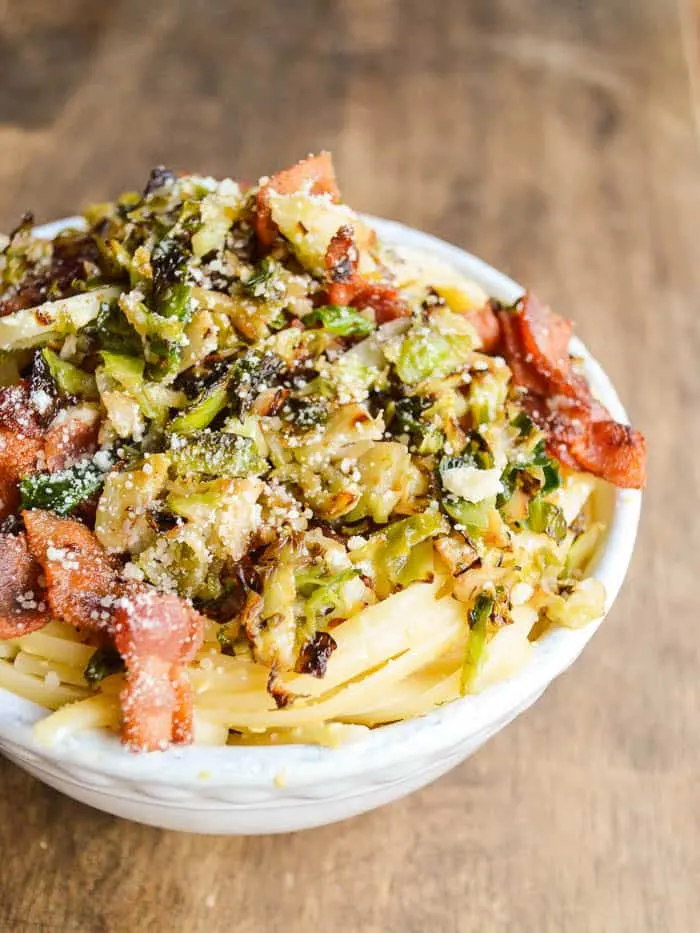 Ingredients
1

pound

linguine

6

slices

bacon

cut into 1" pieces

2

tablespoons

olive oil

2

cloves

garlic

minced

3

cups

Brussels sprouts

chopped

4

eggs

lightly beaten

1

cup

Parmesan cheese

grated
Instructions
Boil water for the pasta and cook according to package instructions. Make sure to reserve 1 cup of the cooking liquid before draining the pasta.

In a deep skillet cook the bacon until crisp and then set it aside on paper towels to drain. Remove any excess grease in the pan, leaving only about a tablespoon to cook the Brussels sprouts.

Add the olive oil to the skillet and let it heat up. Then add the garlic and let it cook over medium heat just long enough to be a little fragrant -- burned garlic is bitter so be careful. It will only need a minute. Add the Brussels sprouts and let them cook for about 5 minutes over medium to medium high heat until they are crispy and toasted. Remove the Brussels sprouts from the skillet and set aside for just a minute.

Leave the skillet off the heat. Pour in the eggs and the cooked linguine. Toss the pasta with the eggs to coat, adding a little of the cooking liquid to the pan just to move things around.

Add the cooked bacon and Parmesan cheese, tossing a little more to coat the pasta and mix it up well.

Top with the crispy Brussels sprouts and serve warm.
Notes
For leaner, meatier bacon and less grease to drain, go with a center cut (on the package labeling)
Careful when adding the eggs! You don't want the skillet to be too hot, or the eggs will scramble. The eggs should cook as they coat the pasta, not on the surface of the skillet itself.

You can test the heat of your skillet by adding just a very small amount of beaten egg and stirring it into the cooked pasta before adding in the rest.
Nutrition
Serving:
1
g
|
Calories:
406
kcal
|
Carbohydrates:
46
g
|
Protein:
18
g
|
Fat:
16
g
|
Saturated Fat:
6
g
|
Polyunsaturated Fat:
2
g
|
Monounsaturated Fat:
7
g
|
Trans Fat:
0.03
g
|
Cholesterol:
101
mg
|
Sodium:
353
mg
|
Potassium:
332
mg
|
Fiber:
3
g
|
Sugar:
2
g
|
Vitamin A:
471
IU
|
Vitamin C:
28
mg
|
Calcium:
188
mg
|
Iron:
2
mg