Penne with Grilled Chicken and Brussels Sprouts is a 30 minute meal that rings in at fewer than 500 calories per serving!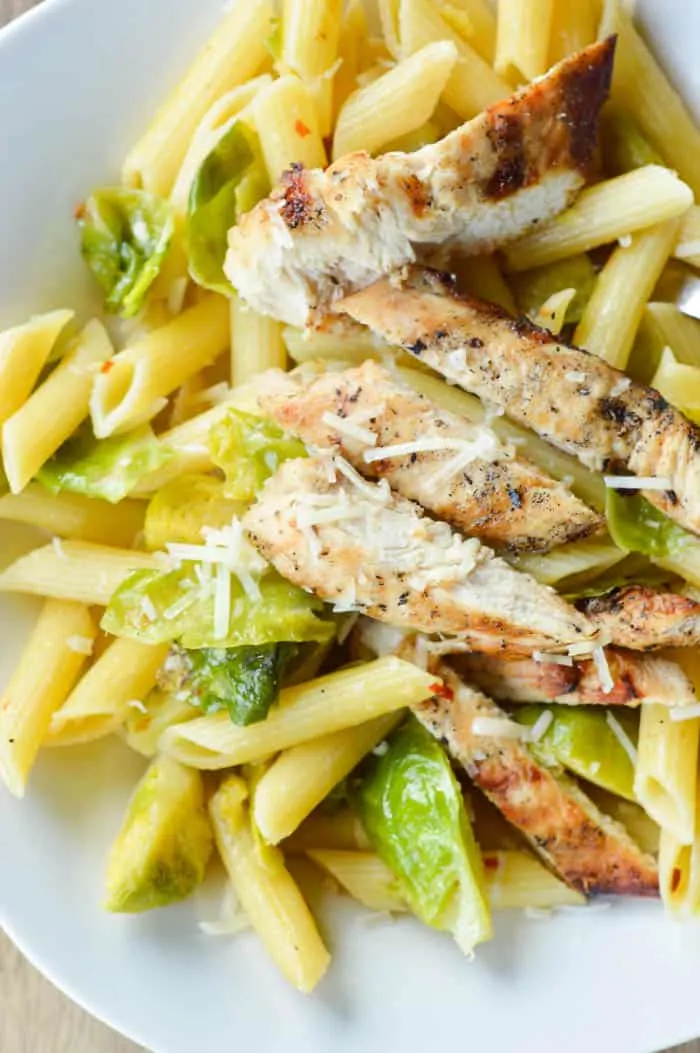 This is an OLD post. Like yes – Old with a capital "O". Blast from the past here circa September 2011, and was one of the very first recipes I shared on Sugar Dish Me.
Honestly, some of my oldest recipes are the best recipes. They are the recipes I'd already made 1,000 times over in my kitchen before ever having a place to share them. They are tried and true and are all things I successfully fed to 2 kids that sometimes only wanted to eat chicken fingers and other times only wanted to eat sushi.
Brussels sprouts were a definite hurdle for my moderately adventurous eaters though. Every time I made them for 3 solid years I was met with resistance.
Have you ever tried to feed your children something that they are determined not to eat? They take a bite and hold the food on their tongues, and when they finally decide to chew and swallow, the action is followed by this supremely annoying and exaggerated gagging.
I literally cannot roll my eyes hard enough.
I just ate the SAME THING. It was good. I'm not dead.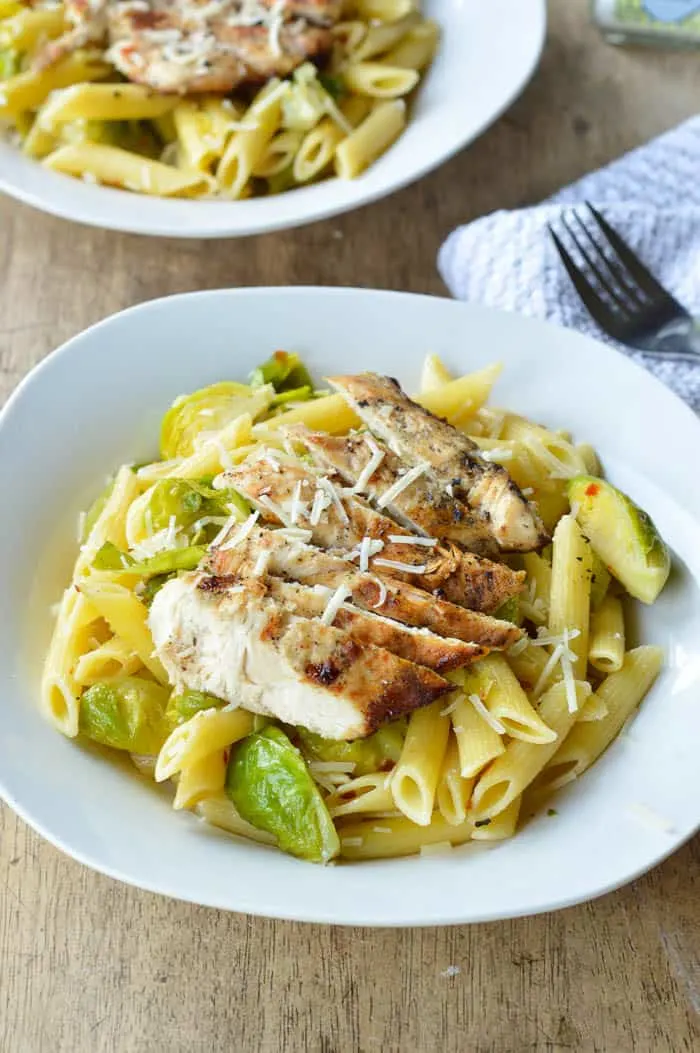 Personally, I love Brussels sprouts. We usually roast them, but I also like them shaved or or in this Brussels sprout salad. Adding bacon is also a really great plan.
Creamed corn is my Brussels sprout. It is the food that I flat out refuse to take a bite of. It induces gagging and dry-heaving and all manner of 5 year-old-I-hate-food behavior. I blame my dad.
"The Incident" dates back to like … 1991. My dad was determined that my sister and I were going to eat creamed corn from a can and it turned into a total battle of sheer stubborn will. He told us that we had to sit at the table until we ate the creamed corn.
We sat.
And sat.
And sat and sat and sat and sat and sat and sat and sat and sat and sat and sat and sat and sat and sat and sat and sat.
In a battle of wills I will always win. Unless it's a battle with one of my sisters. That would be debatable.
Sometime around 11:30 or 12 that night our mom came home from work and told us to go to bed.
So while I still refuse to eat creamed corn, I am a total hypocrite and was determined that my kids WILL LIKE BRUSSELS SPROUTS.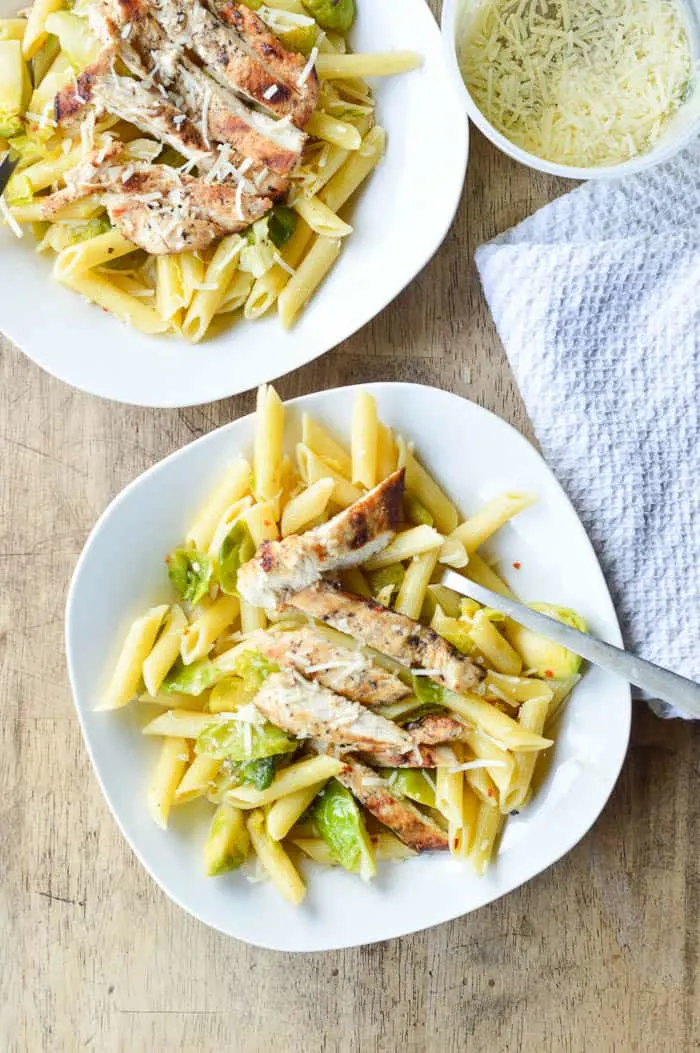 Penne with Grilled Chicken and Brussels Sprouts was a step in the right direction.
There's garlic, a little cheese, a zingy marinade for the chicken, and BRUSSELS SPROUTS. They are tender but still have a little bit of a bite. Not overcooked. Never mushy.
Looking for more creative ways to use Brussels Sprouts? I got ya covered.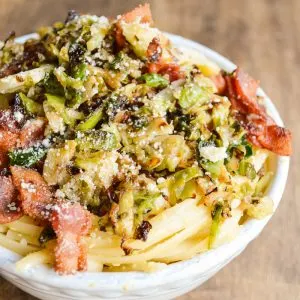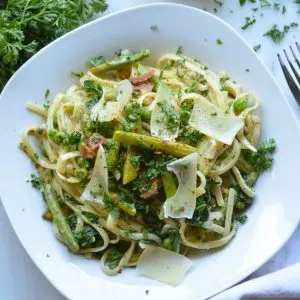 This Linguine Carbonara with Bacon & Crispy Brussels Sprouts is another easy pasta dish with my very favorite vegetable.
Eat Your Greens Linguine is LOADED with green veggie goodness. It doesn't actually call for Brussels sprouts, but they could be added easily for pasta that packs a veggie-power punch.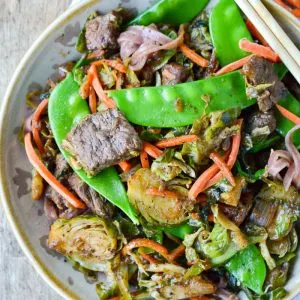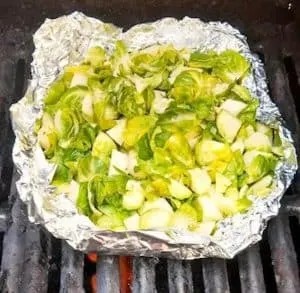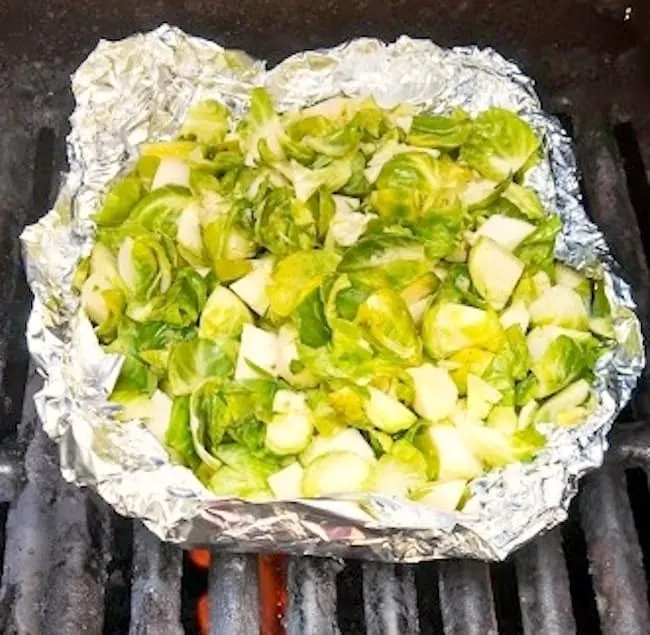 I also LOVE this Beef and Brussels Sprouts Stir Fry. Healthy and delicious. A definite keeper.
How to Grill Brussels Sprouts remains one of the most popular recipes on Sugar Dish Me 5 years after I wrote it. If you are firing up the grill and need an easy, healthy side dish, you'll love these.
Honey Soy Roasted Brussels Sprouts are another one you should definitely try. Simple, quick, and totally mouth-watering. For real.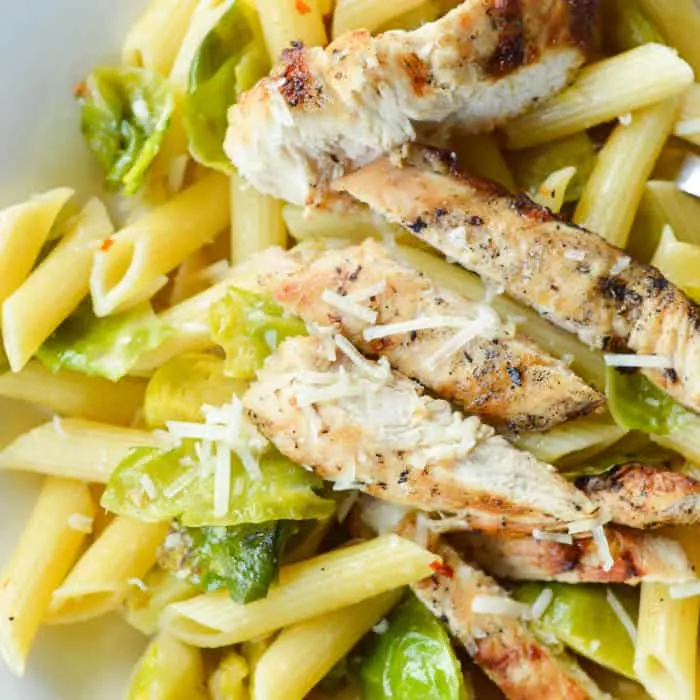 Yield:

4-6
Penne with Grilled Chicken and Brussels Sprouts
Penne with Grilled Chicken and Brussels Sprouts is a simple pasta dish that comes together fast and is a crowd-pleaser! Marinate the chicken the night or morning before and you can have dinner on the table in 30 minutes flat
Ingredients
Chicken Marinade
1/2 cup lemon juice
1/2 cup olive oil
2 cloves garlic, minced
1 teaspoon kosher salt
1 teaspoon dried basil
1- 1 1/2 pounds thinly sliced boneless skinless chicken breast
Pasta:
1 (12 ounce) box of penne
12-14 Brussels sprouts, quartered
2 cloves of garlic, finely minced
1/2 teaspoon crushed red pepper
4 tablespoons olive oil
2 tablespoons fresh lemon juice
Instructions
Step 1

In a large bowl whisk together the marinade ingredients (lemon juice, olive oil, 2 of the cloves of garlic, salt and basil). Add the chicken and cover tightly. Marinate for at least 30 minutes, but as long as overnight. Preheat your grill to high (500°F or as hot as you can get your coals if cooking with charcoal)

Step 2

Cook the pasta according to package directions and reserve 1/2 cup of the cooking liquid before draining.

Step 3

Place the Brussels sprouts in a bowl and cover with water. Cover the bowl with plastic wrap, poke a few holes in the plastic, and microwave to quickly steam for 1 1/2 minutes. If you don't have a microwave you can also do this in a small pot on the stovetop and use a lid instead of plastic wrap to steam.

Step 4

Grill the chicken (you can also pan-sear the chicken). Depending on the thickness, 4 - 5 minutes per side is about right. Check the internal temperature to be sure it's 165°F at the thickest part of the chicken.

Step 5

Put the empty pasta pot back on the stove and add the 4 tablespoons of olive oil, the last 2 cloves of garlic, and the crushed red pepper. Sauté the garlic over medium low heat just until it's fragrant.

Step 6

Drain the Brussels sprouts and add them to the pot. Cook until tender, about 5 minutes. Add the reserved liquid and then the pasta, and toss.

Step 7

When the chicken is done, let it rest for about 2 minutes, slice, and serve over the pasta and Brussel sprouts. Serve with grated Parmesan cheese.
Notes
If you don't have penne you van use bowties, rotini, or even spaghetti.
Recommended Products
As an Amazon Associate and member of other affiliate programs, I earn from qualifying purchases.
Nutrition Information:
Yield:
6
Serving Size:
1
Amount Per Serving:
Calories:

486
Total Fat:

32g
Saturated Fat:

5g
Trans Fat:

0g
Unsaturated Fat:

25g
Cholesterol:

96mg
Sodium:

455mg
Carbohydrates:

12g
Fiber:

2g
Sugar:

1g
Protein:

38g