This Easy Roasted Tomato Pasta Recipe is ready in just 20 minutes. It's the perfect way to use up those cherry tomatoes from the garden!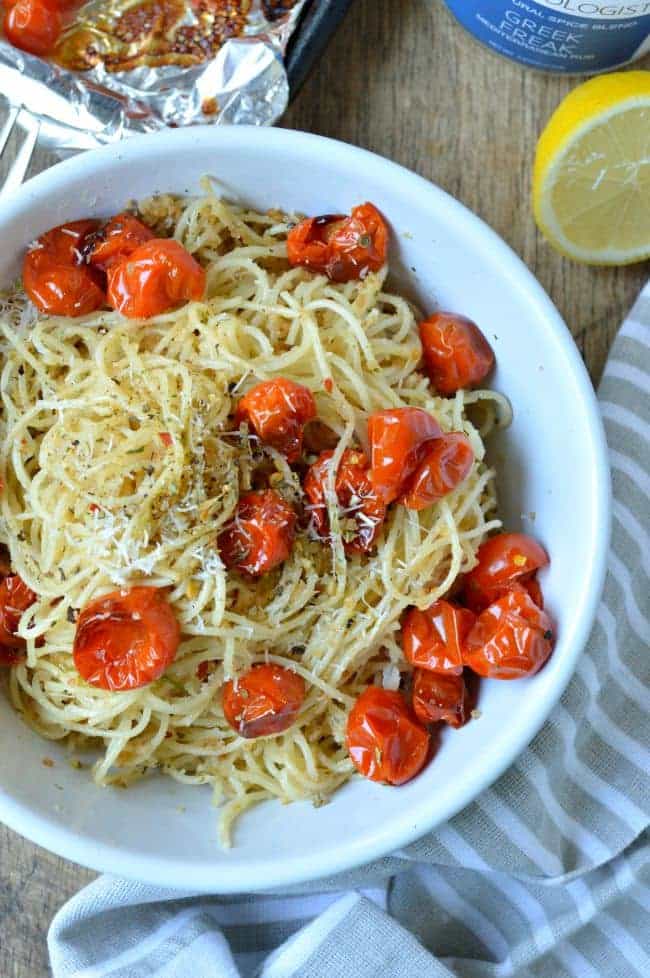 Tomato season is HERE in full effect.
We have tomatoes everywhere! And I don't even have a garden.
Chad's mom tilled up a spot behind her house this past spring, and she got a little overzealous with how much she planted. So a couple weeks ago I came away with an insane amount of tomatoes when we left her house. And I bet if I went back now there would be that many more. I'm pretty sure this problem is not exclusive to us, so I've been pulling together all my favorite ways to use up fresh garden tomatoes. Last week it was Tomato Bruschetta. This week it's this Easy Roasted Tomato Pasta.
Remember last year when we did the Easy Lemon Herb Spaghetti? I am all about a 20-minute meal. I basically made a version of that again, but added a ton of the cutest little roasted cherry tomatoes.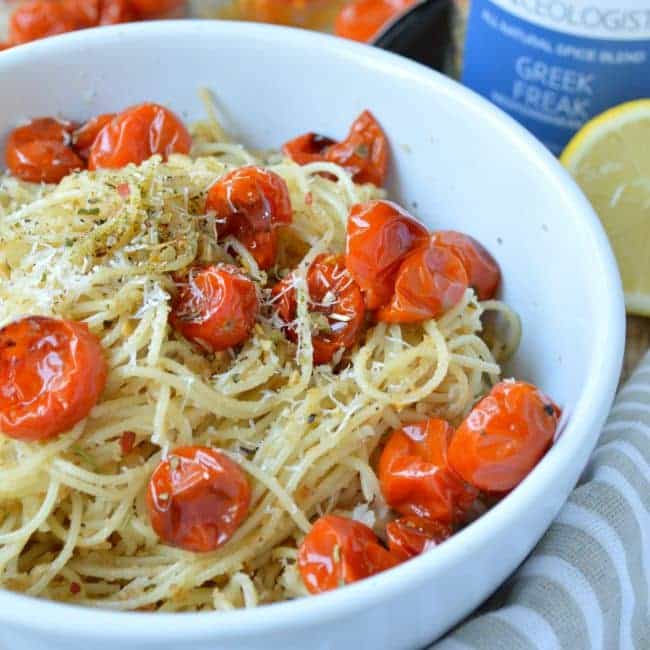 Roasting tomatoes is like roasting fruit. It just makes them even better. I've been loving them in omelets, spread on toast (because #carbs4life), and tossed in chili. But I love them most in this pasta recipe.
If you look back at the Lemon Herb Spaghetti Recipe, you'll notice that I just grabbed some dried herbs from the cabinet to season things. But with this recipe, I used the Greek Freak Seasoning from Spiceologist. I have 8 or 10 different Spiceologist blends in my cabinet, but Greek Freak is the one I reach for most often. It's the perfect balance of rosemary, basil, garlic, onion, orange, and sundried tomato. I Freaking love it.
[you can get the same spice blends I keep on hand from Spiceologist HERE ]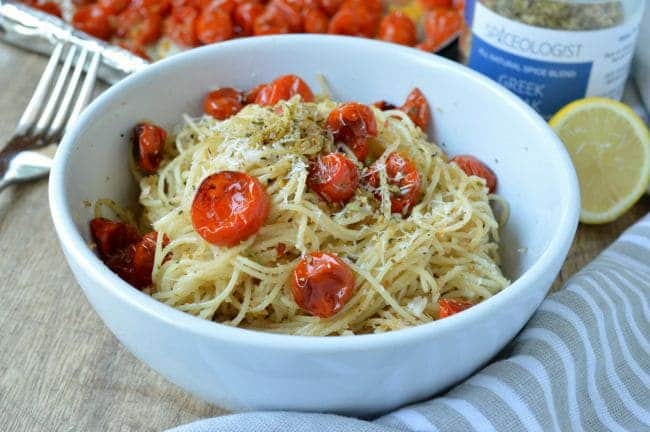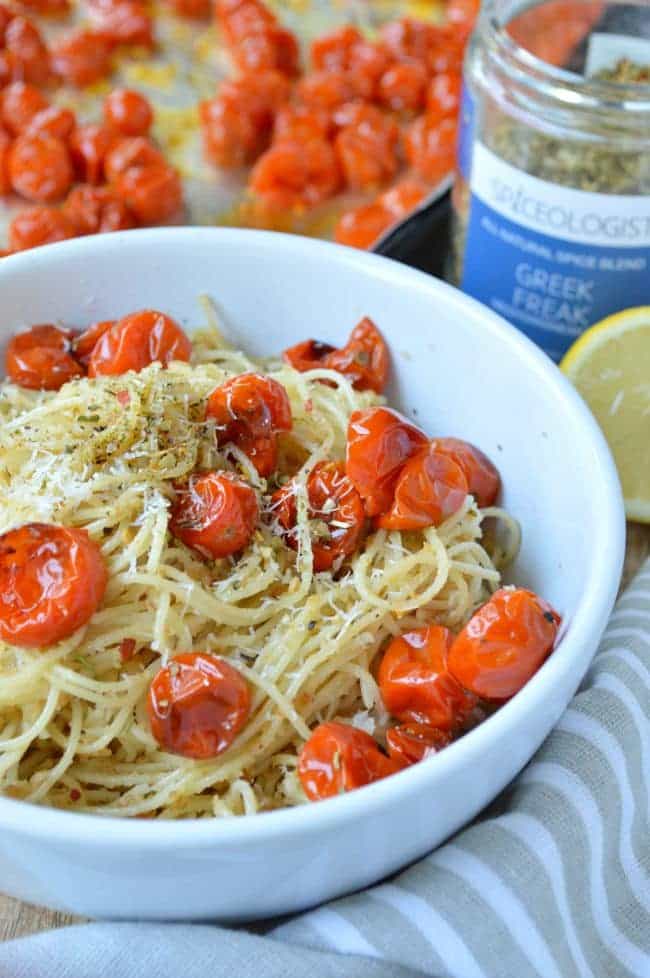 If you wanted to turn this into a more hearty meal, you could definitely add sliced grilled chicken, or even some seasoned ground beef. As-is, it is a perfect little vegan pasta dish that is guaranteed to fill you up.

Easy Roasted Tomato Pasta
A quick, fresh recipe using cherry tomatoes and one of my favorite seasoning blends. Dinner on the table in 20 minutes or less!
Ingredients
3 - 4 cups cherry tomatoes
2 tablespoons olive oil, divided
kosher salt & coarse ground pepper to taste
12 ounces angel hair spaghetti
¼ cup seasoned breadcrumbs
4 cloves garlic, finely minced
juice of ½ a lemon
3 teaspoons Greek Freak seasoning (see note)
Instructions
Preheat the oven to 400F. Line a baking sheet with parchment paper or foil. Toss the tomatoes with 1 tablespoon of the olive oil and spread them out on the prepared baking sheet. Sprinkle with the salt and pepper and roast for 15 minutes.
Bring a large pot of salted water to a boil and cook the pasta according to package directions. Reserve 1 cup of the pasta water before draining the spaghetti.
Put the pot back on the burner over medium high heat. Add the last tablespoon of olive oil and the seasoned bread crumbs. Cook for 1 minute. Add the garlic, lemon juice, and Greek Freak seasoning and cook for another minute. Put the pasta back in the pot and toss to coat. Add the pasta water just a tiny bit at a time to keep things moving. You won't need the whole cup.
Add the roasted tomatoes and sprinkle with a little more seasoning to serve.
Notes
If you do not have the Greek Freak seasoning, you can use the following:
1 teaspoon dried basil
1 teaspoon dried oregano
½ teaspoon kosher salt
¼ teaspoon coarsely ground black pepper
¼ teaspoon crushed red pepper flakes (optional)
Got too many tomatoes? You'll also love these..

Mini Tomato and Havarti Grilled Cheese Sandwiches with Balsamic Glaze