The BEST Sweet Potato Chili is a delicious, healthy, vegetarian meal that's super easy to make and loaded with flavor. This simple recipe is spicy, sweet, and will be a hit with the whole family!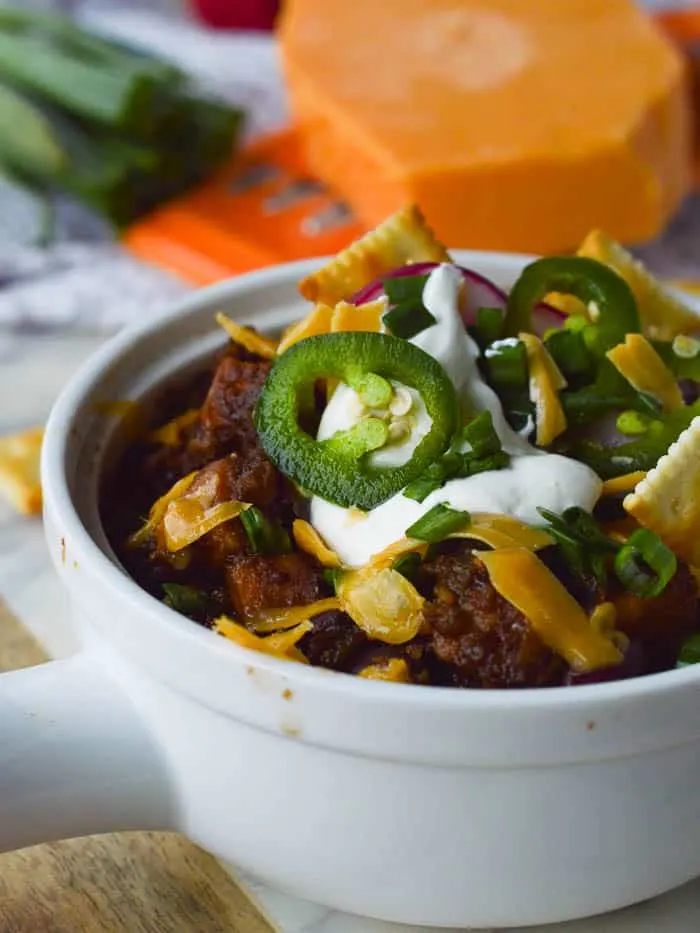 I should preface this post with a disclaimer about my love of curing all ailments with fruits, vegetables, vitamins, green tea, and the occasional hot toddy. Getting me to the doctor means I am probably basically dying. SO. I'm crediting this Sweet Potato Chili, and all it's vitamin-rich vegetableness with my health and well-being.
I am not completely recovered, but compared to yesterday I feel like a million bucks. All it took was a bowl of this chili, something like 10 little cutie oranges and an endless supply of pomegranate juice.
The good news is that this easy vegetarian chili is fah-reaking delicious even if you are not sick at all. It's loaded with red onions, green peppers, and duh – SWEET POTATOES. Plus there are chipotle peppers in adobo sauce to lend a little heat. Don't worry; I'll tell you how to temper it.
Ingredients for Sweet Potato Chili
Obviously I am going to tell you that you need sweet potatoes. To make sure that they don't take all day to cook, you will want to peel your sweet potatoes and cut them into uniform 1″ pieces. There are tips for cooking sweet potatoes faster a little further down; I wouldn't leave you hanging. You will also need:
red onions
green bell peppers
garlic
chipotle peppers in adobo sauce
chili powder
unsweetened cocoa powder
cinnamon
cumin
diced tomatoes
black beans
red kidney beans (light or dark)
YES. This chili has CHOCOLATE. Well – unsweetened cocoa. Not a ton, but enough. I also use chocolate – the real melty kind – in this Mole Chili con Carne.
Anyway, this recipe has just enough cocoa to make it rich, and give it a depth of flavor, so that when you're eating this bowl of sweet potato goodness you notice it's special. It's not your average bowl of chili.
Most of this list is just basic pantry staples; hopefully you have the majority of these things lurking in your kitchen cabinets and you can just toss it all together.
How to Cook Sweet Potatoes Faster
You can really cut down the prep / cook time with this recipe by doing these two easy things. I use both of these tips in my Sheet Pan Chili Chicken with Sweet Potatoes recipe (also an excellent 30-minute meal if you need!).
FIRST! Prep the sweet potatoes ahead of time. If you are a meal-prep person, peel and dice those potatoes ahead of time. Store them in the refrigerator in a Ziploc bag or other airtight container. If you're like me and are always doing everything last minute, most stores offer bagged pre-diced sweet potatoes. I grab these when it's like 7:45 pm on a school night and I am just heading to the store to figure out WTF we are going to eat.
The second tip I have to speed up the process is to MICROWAVE THEM! It's easy. You are basically just steaming the sweet potatoes so that they are softer when you add them to the pot of chili.
place your peeled and diced sweet potatoes in a microwave-safe bowl
cover them with water
cover the bowl with plastic wrap
poke two holes in the top of the plastic wrap
microwave on high for 4-5 minutes
You want the center to still be a little firm because you are going to cook them a bit more with the rest of the chili, and you don't want sweet potato mush.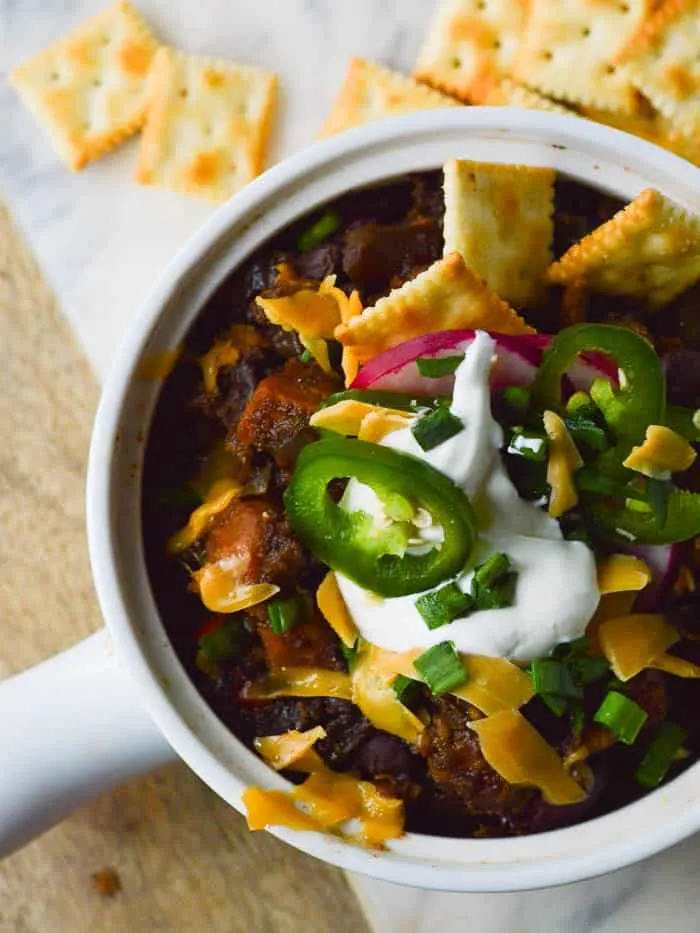 Too Hot! How to Temper Your Chipotle Chilis
It's true – I love spicy food. Some of you guys DO NOT. Since I promised to tell you how to temper your chipotle peppers, I wanted to be sure to give you a few tips.
split open the peppers and scrape out the seeds – it helps if you have an aversion to the heat
use the sauce instead of the pepper flesh! Chipotle peppers are packed in adobo sauce which is rich and full of flavor on its own. But it's not as hot as the peppers themselves. You can get the flavor and LESS of the heat by just using the sauce
add a little brown sugar to the chili. The sweet cuts the heat!
serve with sour cream. The cool bite of dairy is your friend.
Looking for More Healthy Easy 30 Minute Meals?
This Rainbow Ground Turkey Skillet is a lifesaver. AND it is cheap.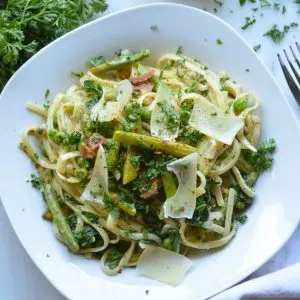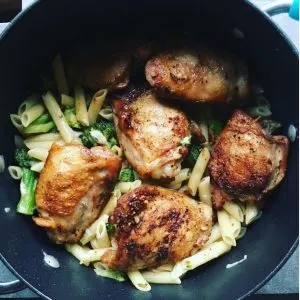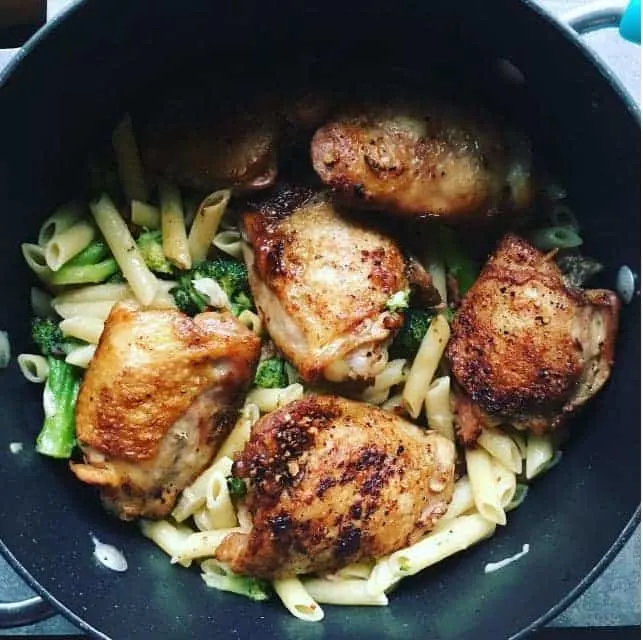 Eat Your Greens Linguine is another dish that's loaded with veggies and comes together really easily. If you want to eat all the green veggies this pasta is the ticket.
One Pot Garlic Chicken Thighs with Broccoli and Penne is a RELIABLE standby over here. Seriously – it's fast, SO tasty, and comes together really quickly.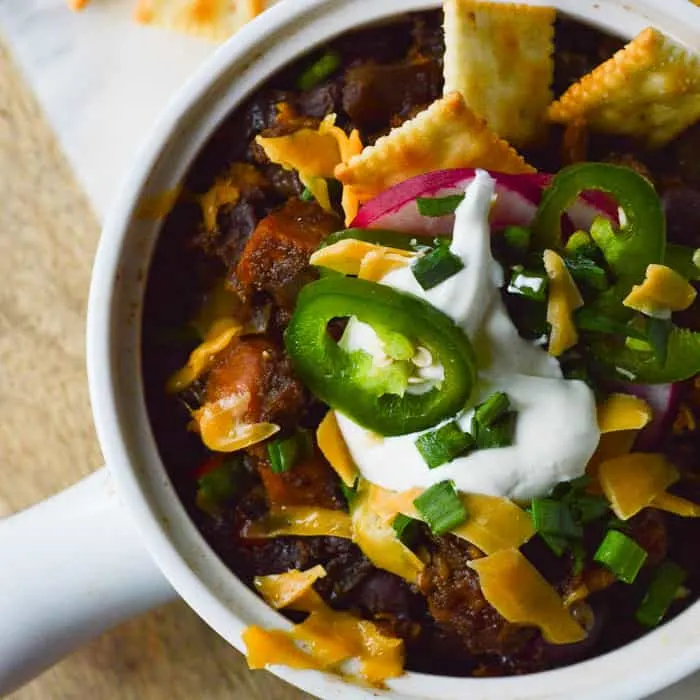 Yield:

6-8
The Best Sweet Potato Chili
Cook Time:
1 hour
30 minutes
Total Time:
1 hour
40 minutes
The Best Sweet Potato Chili is loaded up with veggies, black beans, kidney beans, and is SO FULL of flavor. This easy recipe is great for busy nights, is cheap to make, and comes together quickly!
Ingredients
2 tablespoons olive oil
1 medium red onion, diced
1 green bell pepper, diced
2 sweet potatoes, peeled and cut in 1/2 inch cubes
4 cloves garlic, minced
2 tablespoons chipotle chiles in adobo sauce, very finely chopped
2 tablespoons chili powder
2 teaspoons unsweetened cocoa powder
1 teaspoon ground cumin
1/2 teaspoon salt
1/4 teaspoon ground cinnamon
1 (28 ounce) can diced tomatoes, with the juices
2 cups vegetable broth
3 cups black beans (about 1 1/2 - 15 ounce cans)
1 1/2 cups light red kidney beans (one 15 ounce can)
green onions, sliced radishes, shredded Colby jack cheese, and oyster crackers for serving
Instructions
In a deep skillet or stock pot heat the olive oil.
Add the red onions and cook until soft, about 3 or 4 minutes.
Stir in the green peppers and sweet potatoes. Cook until the sweet potatoes take on a little bit of caramelly color, about 5 minutes, stirring frequently.
Stir in the garlic and chipotle chiles in adobo sauce. Add the chili powder, cocoa, cumin, salt, and cinnamon.
Stir in the tomatoes and broth and bring everything to a slow boil.
Toss in the beans, cover, and reduce the heat to a simmer. Continue cooking for about an hour, stirring occasionally.
Recommended Products
As an Amazon Associate and member of other affiliate programs, I earn from qualifying purchases.
Nutrition Information:
Yield:
8
Serving Size:
1
Amount Per Serving:
Calories:

295
Total Fat:

9g
Saturated Fat:

3g
Trans Fat:

0g
Unsaturated Fat:

5g
Cholesterol:

13mg
Sodium:

527mg
Carbohydrates:

41g
Fiber:

11g
Sugar:

9g
Protein:

14g